If you're looking for a quick snack or even something healthy, it's all here. We even have carrot fries!
Some of these recipes would match up perfectly with our other roundups so remember to mix-and-match!
Let's check it out!
Fantastic Fries Recipes
Baked Garlic Pepper Polenta Fries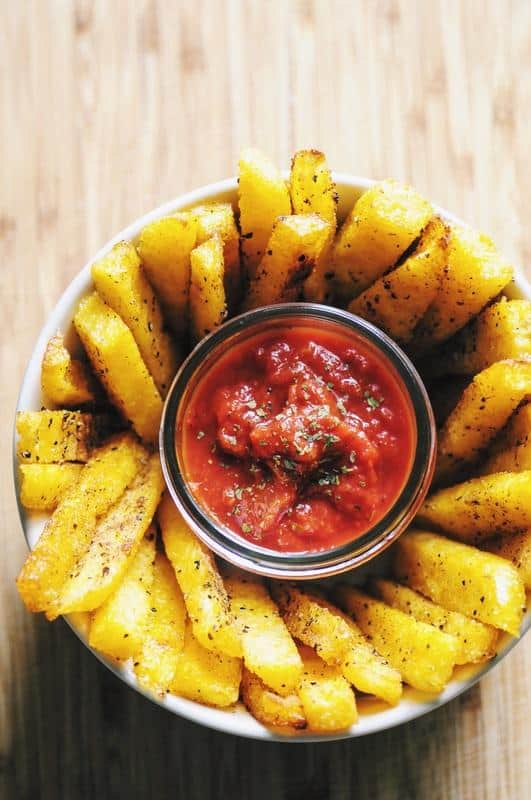 A fries recipe without any potato?! Here, the main ingredient is polenta which essentially is ground cornmeal. It has been used a lot in northern Italy since the 16th century!
As polenta has quite a benign taste, it lends perfectly to imitating fries. It's also gluten-free! If you've never tried it before, now is definitely the time.
Broccoli Stem Fries and Chimichurri Tahini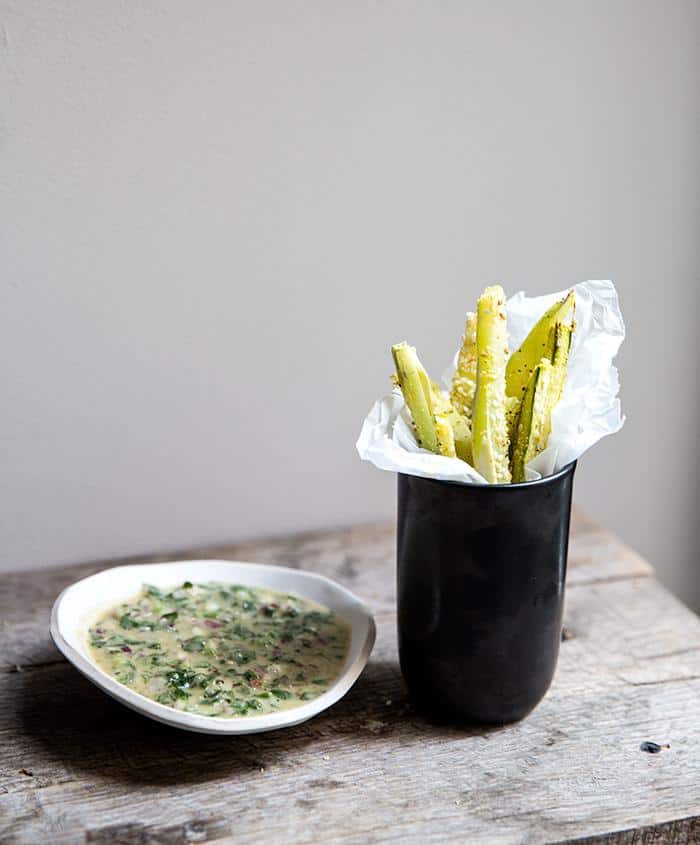 Who would have thought broccoli stems would make good fries? Well, prepared correctly they are excellent, and this is what this recipe is all about.
In addition to the fries, the dip/drizzle is exquisite and something I can even see myself using as a salad dressing. You have to try this out!
BBQ Beet Fries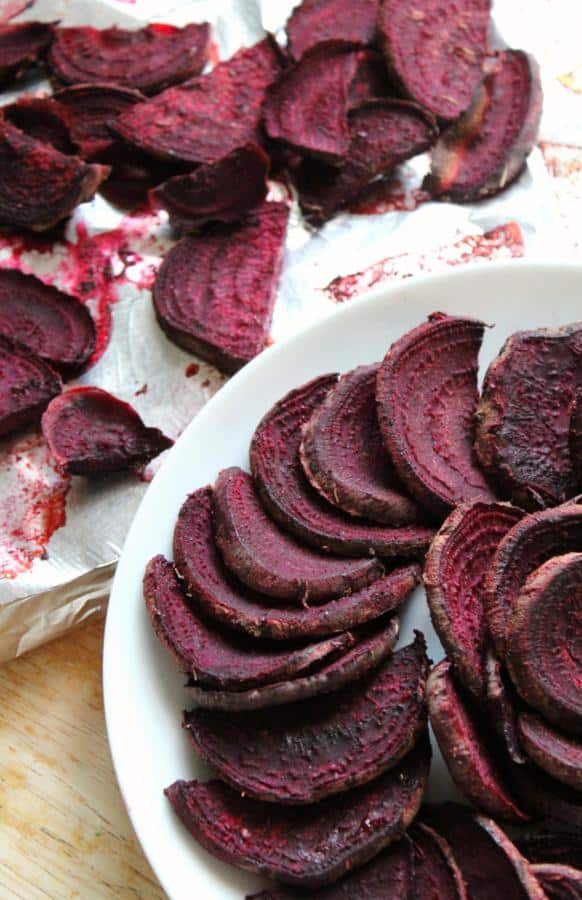 They're fries Jim, but not as we know them. William Shatner said that, right?
A different shape to traditional fries, but that's expected given as were dealing with beets.
This healthy recipe is low-carb and perfect for a summer cookout. Gluten-free and paleo too!
Honeydew Melon Fries with Lemon Poppyseed Cherry Dip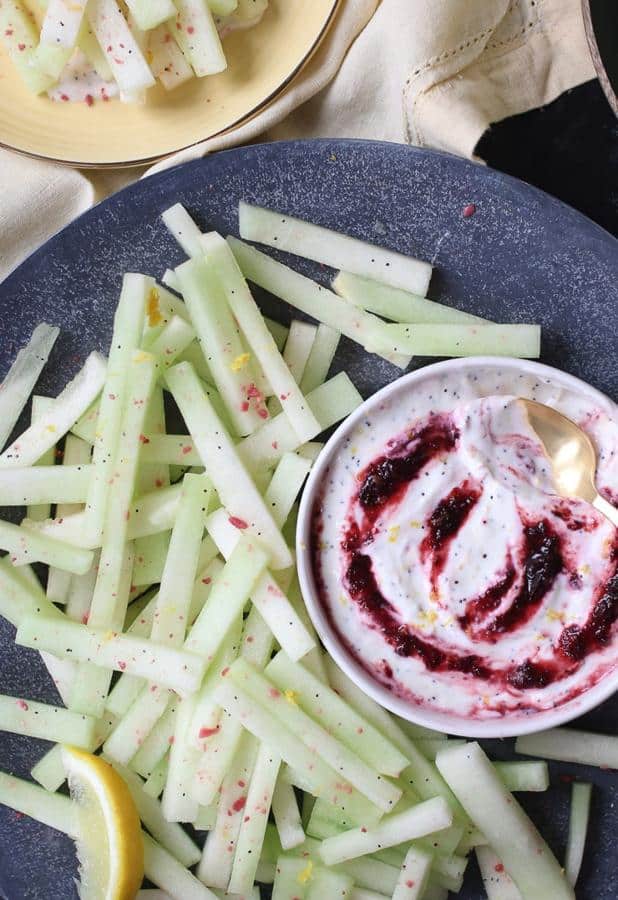 We're certainly pushing the boundaries here but why not?
If you're on a health kick and worried about falling off the wagon, or you just want to have healthy food in a different way, check this out.
Fresh tasting, full of natural foods and the dip is honestly a home-run!
Parsnip Fries with Aioli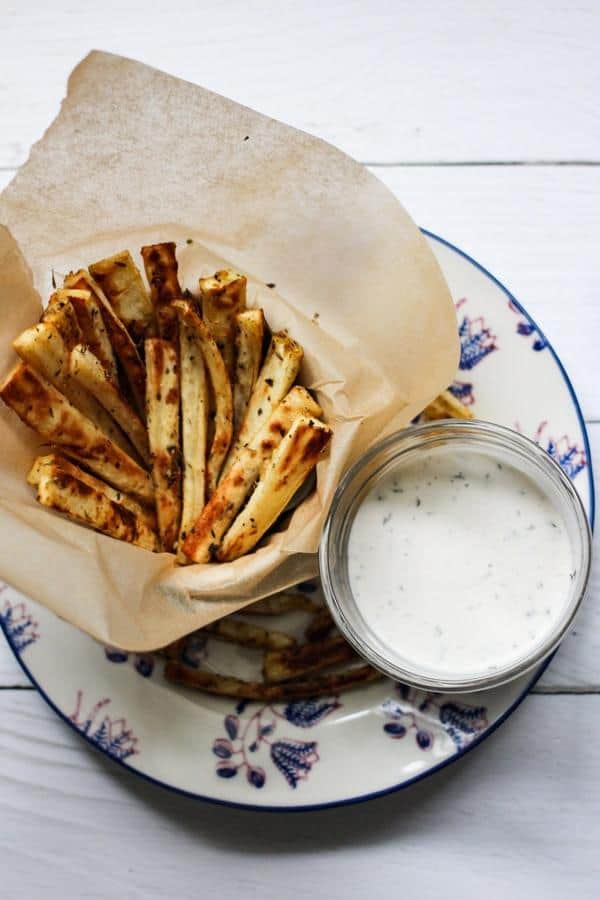 I was never into parsnips as a kid and sort of grew into them.
Honestly, I have never had them taste as good as they are in this recipe. Baked to perfection using avocado oil, seasoning and some wonderful spices.
The egg-free dip is the perfect accompaniment.
Easy Oven Fries with North Idaho Fry Sauce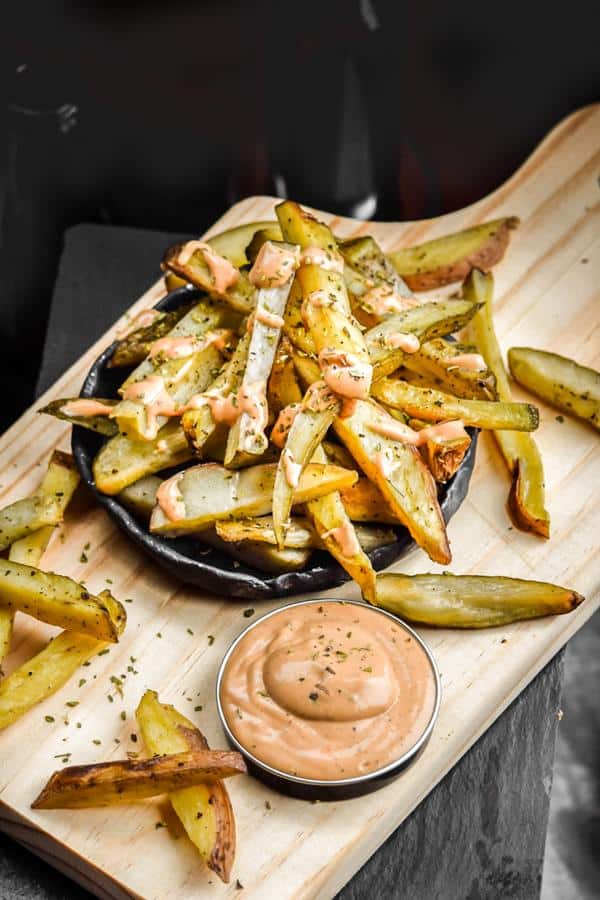 Real comfort food at its finest!
What you get here is a solid recipe on how to make delicious oven fries, this will be your go-to every time.
Where this really stands out is the North Idaho Fry Sauce. You're going to be using this again and again, that's for sure!
Mexican Loaded French Fries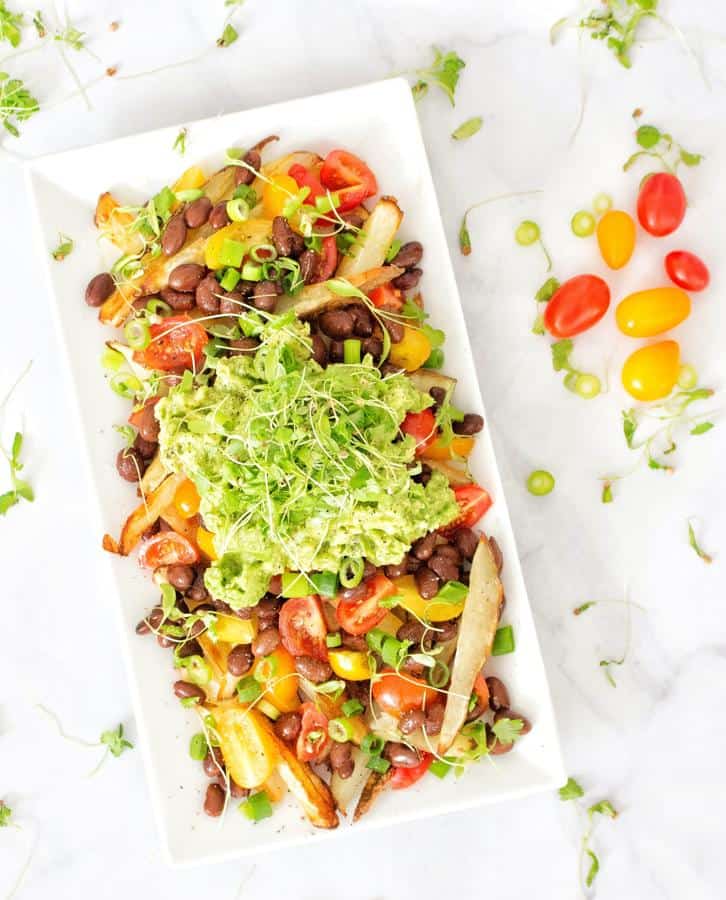 This isn't just about fries, this is a complete meal and a tasty one at that!
Comfort food heaven as, along with your fries, you get tomatoes, black beans, avocado and more. Easy to make, looks great, tastes even better!
Cajun Polenta Fries with Smoky Tomato Sauce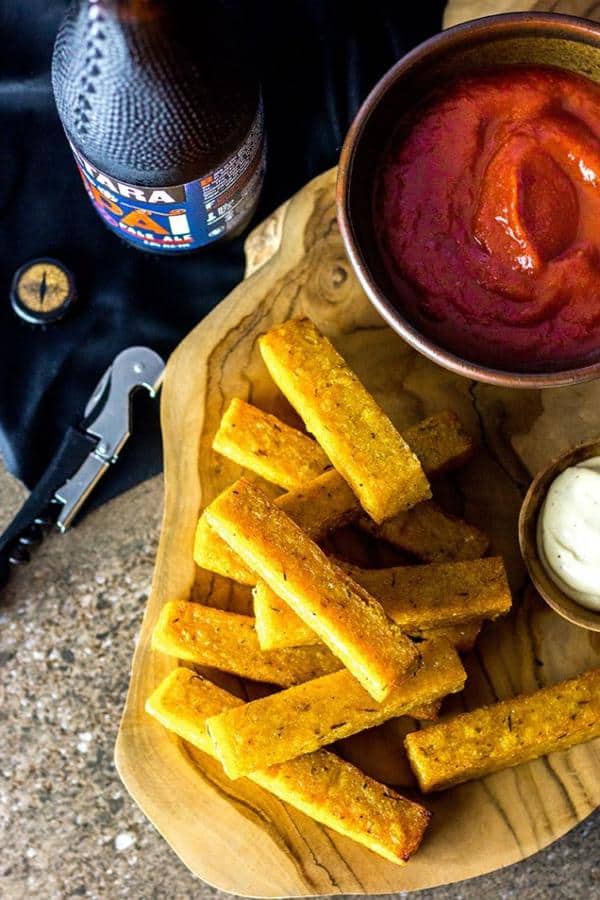 One of the best polenta fries recipes I have seen is right here.
The fries have amazing spices such as oregano, thyme and more.
The smoky tomato sauce is absolutely exploding with flavor and has a little maple syrup to counteract the spices. Perfect balance, perfect recipe.
Garlic Herb Carrot Fries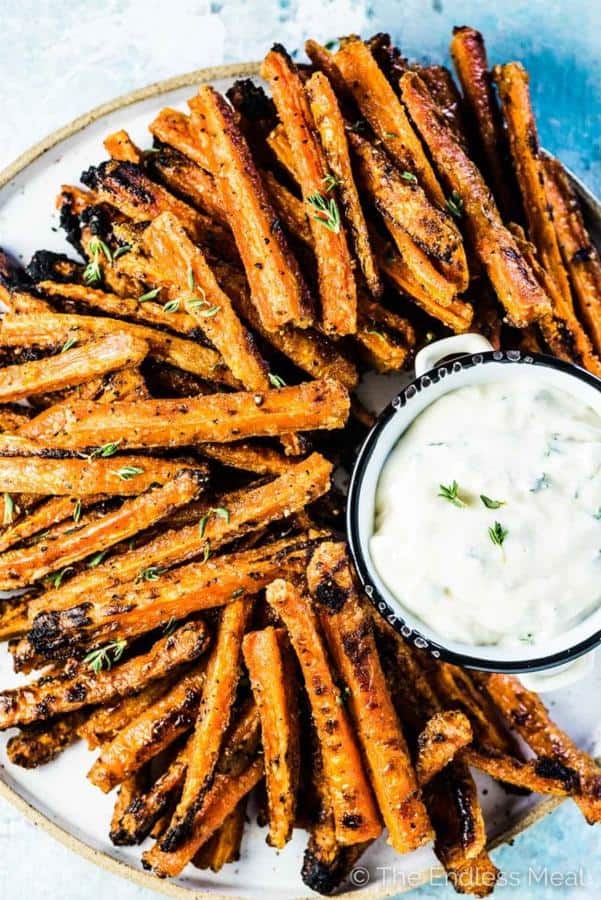 If you think fries made from carrots are going to be bland and boring, think again.
These really are crispy and they're seasoned with garlic (which you can omit if needed) and a fantastic array of herbs.
This is gluten-free and paleo friendly. Serve with your favorite dipping sauce or as a side as you would with a meal.
Carrot Fries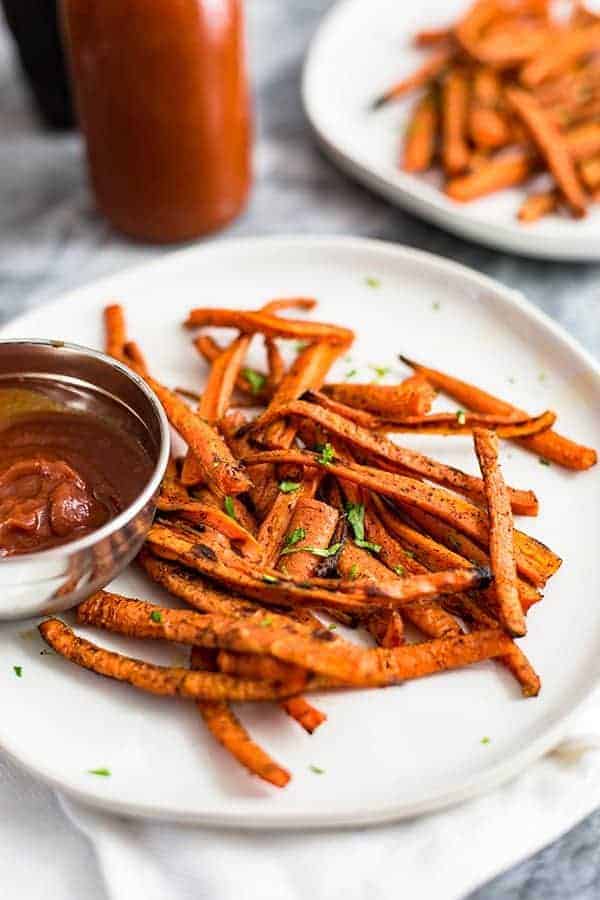 One of the reasons why I love this recipe so much is in its simplicity.
You can have the fries as a snack or as an accompaniment to your meal.
But what you can also do is use this recipe as a base to perhaps add your own herbs and spices. Perfect on its own, the rest is up to you.
Easy Peri Peri Oven Baked Carrot Fries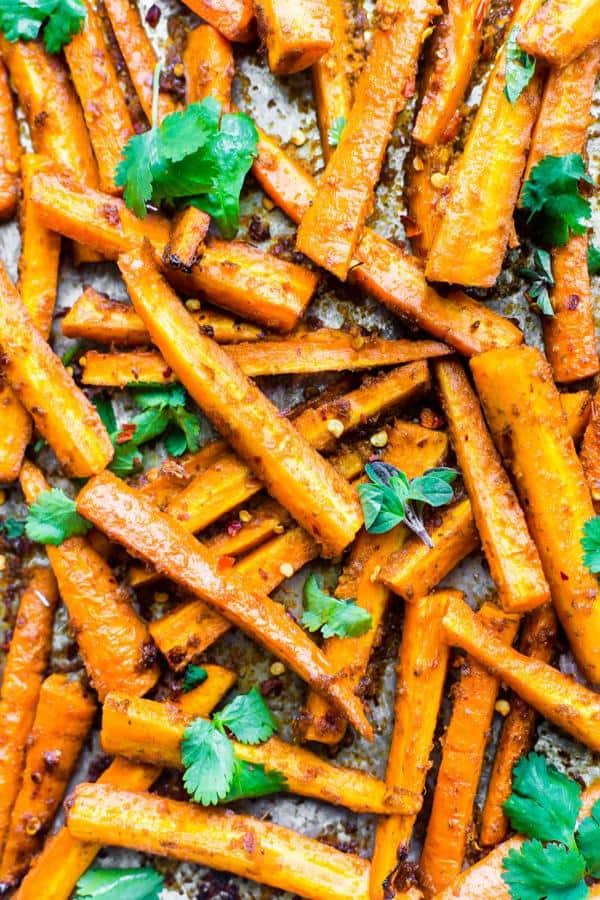 If you want to take carrot fries to the next level, this is exactly the recipe you need.
When people think of carrot fries they're not usually that inspired. This dish changes all that and the recipe author has thought this through to say the least.
Wonderful ingredients such as jalapenos, smoked paprika and, if you can get it, Peri Peri sauce.
Roasted Carrot Fries with Garlic Basil Ketchup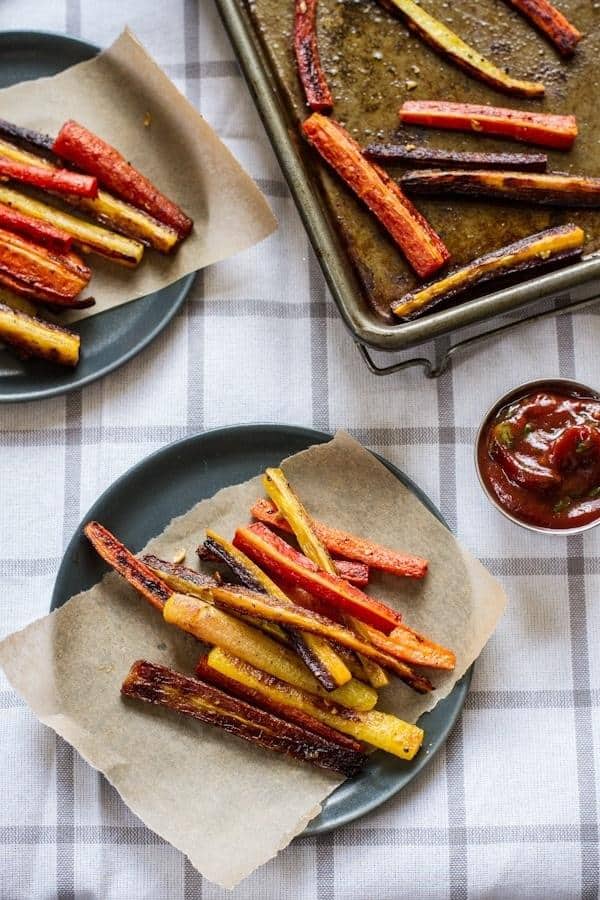 You don't need to get multicoloured carrots for this recipe although you can, it would be great.
I love how the fries have been seasoned but most of all, the 'ketchup' is something you're going to be making on a regular basis. Try it!
Crispy Panko Crusted Tempeh Fries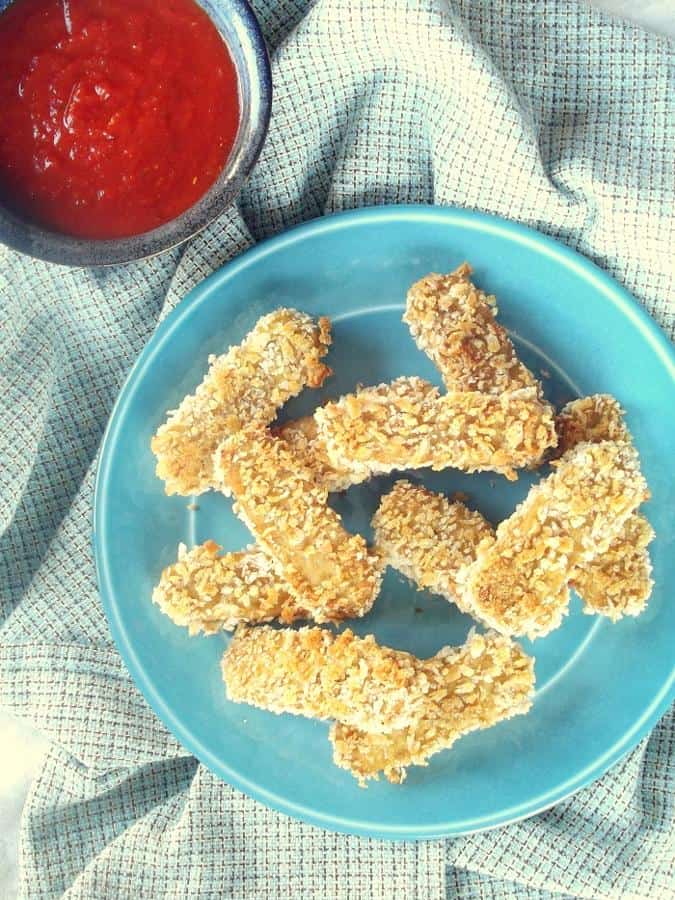 This recipe isn't the quickest and ingredients is divided into several parts. However, overall it's very simple to make and the outcome is divine!
If you can source panko breadcrumbs then perfect but if you can't, regular breadcrumbs would do just fine.
For when you want to go that extra step rather than just baking a vegetable, Reach for this recipe.
Jicama Home Fries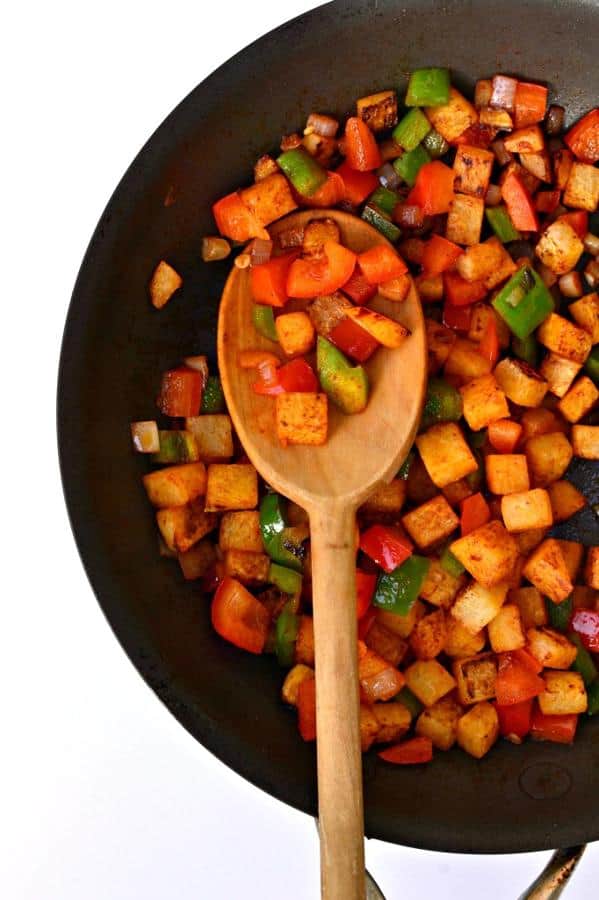 When you're trying to avoid potatoes and you need that fix, this is your recipe, trust me.
Along with bell peppers and wonderful herbs and spices this is a meal on its own, a perfect side dish and an even better breakfast!
Golden Baked Jicama Fries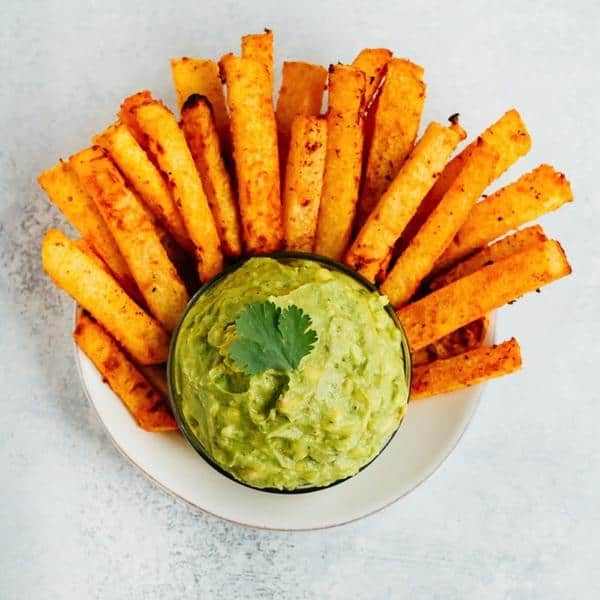 Perfectly baked jicama fries using avocado oil, and a small handful of spices.
If you don't get on with something like garlic powder, feel free to swap with paprika or whatever takes your fancy. A delicious recipe.
Baked Crispy Portabello Mushroom Fries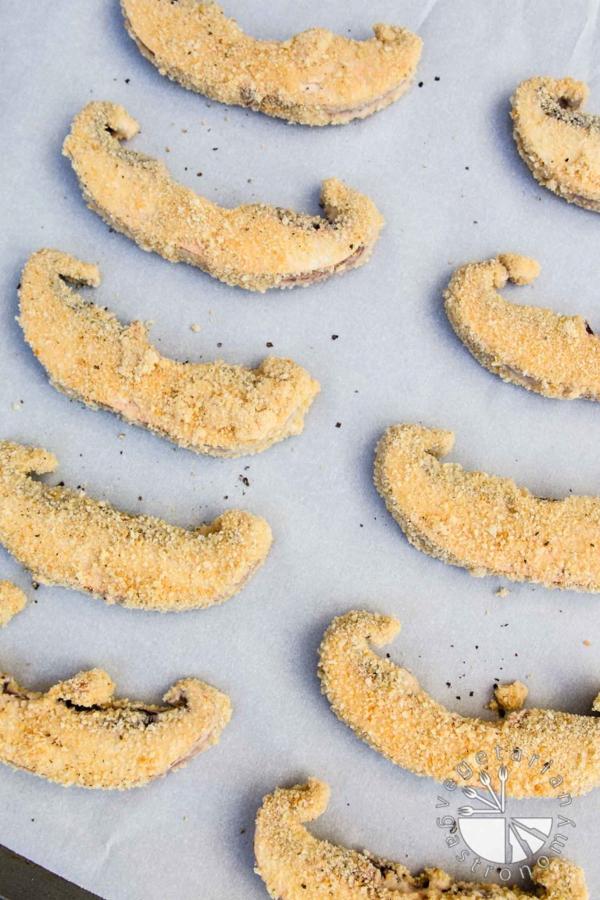 Wow, this is just awesome!
The reason we chose this recipe is because two days before we came across it, I had something very similar.
I thought to myself, baked mushrooms that are crispy? Let's give it a try. You definitely should too!
Loaded Nacho Cheese Fries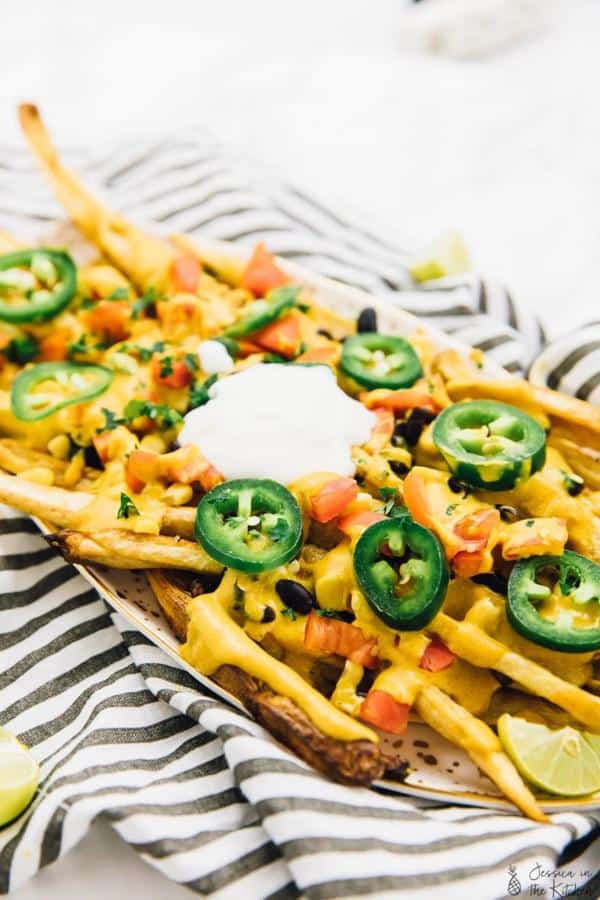 Time to get serious!
This is a loaded meal plan comfort food at its finest. The fries are amazing and so are the accompaniments such as jalapeno, sour cream etc.
What really knocks this out of the park is the vegan nacho cheese sauce. You'll be finding other dishes where you can use this, it's that tasty!
Baked Green Bean Fries with Hemp Seeds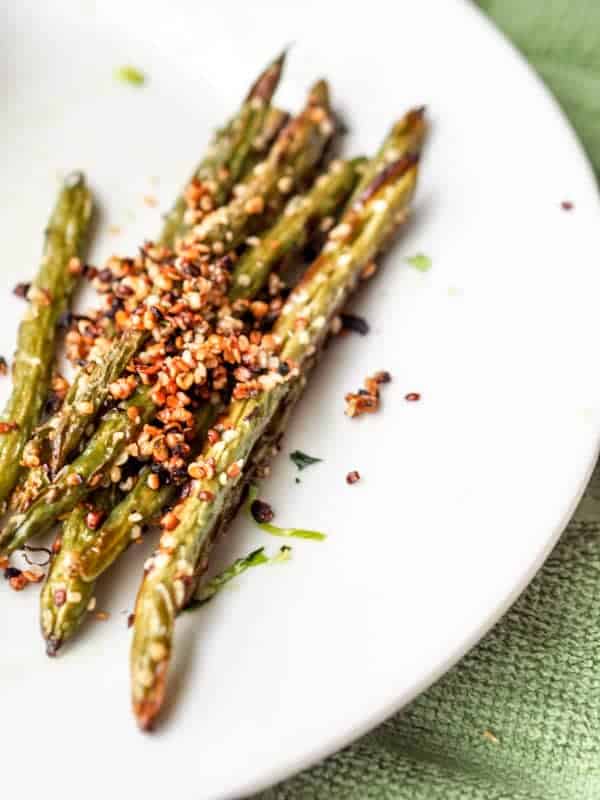 An excellent dish for when you need that fix when you're on a health kick.
Just four ingredients (including the green beans) are all you need. The secret is in the two-step instructions.
It's actually listed as three steps but I'm going to ignore preheating the oven!
You end up with deliciously crispy beans that will satisfy your craving. Wonderful as a snack or a side dish.
Crispy Baked Sweet Potato Fries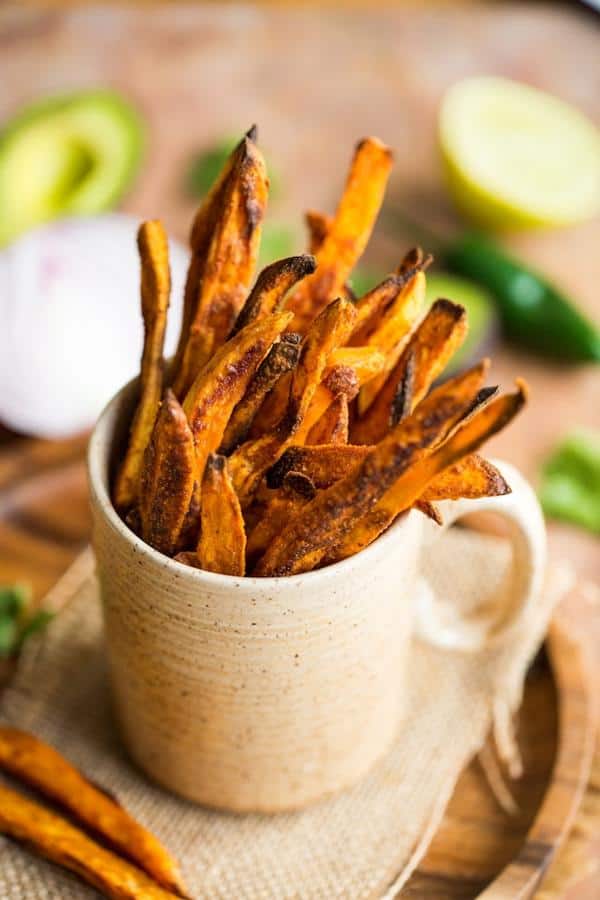 I've had many sweet potato fries recipes in my time and honestly, this one tops them all.
A lot of thought has gone into the ingredients because the fries are baked to perfection.
Crispy on the outside light and flavourful in the middle. Great coating as well. It's a win!
Harissa Baked Sweet Potato Fries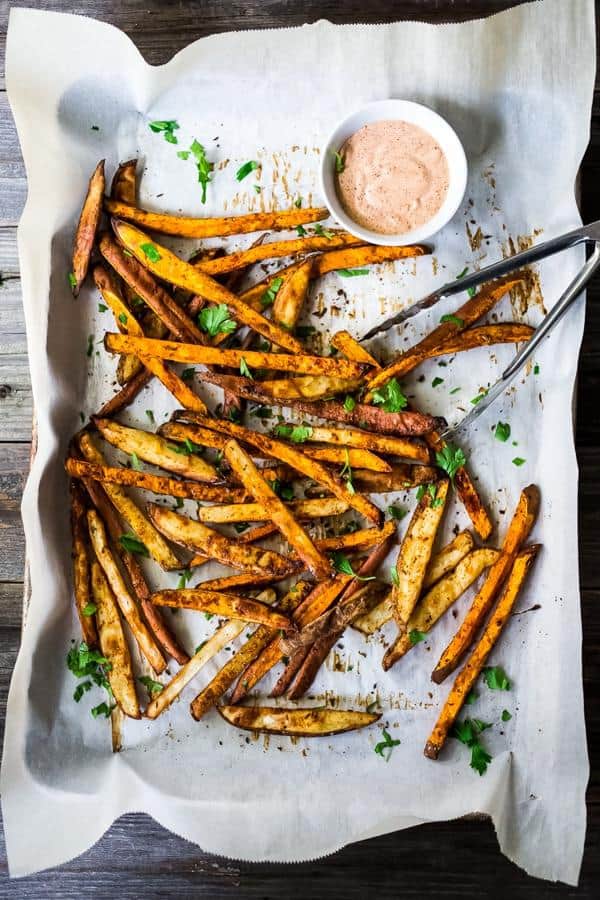 Don't these just look delicious!
I think the secret ingredients for me is the cornstarch.
A simple addition that, in itself, doesn't add any flavor but it creates the perfect texture and somehow brings everything together. You simply have to make this, you won't regret it!
Cheezy Baked Sweet Potato Smiley Fries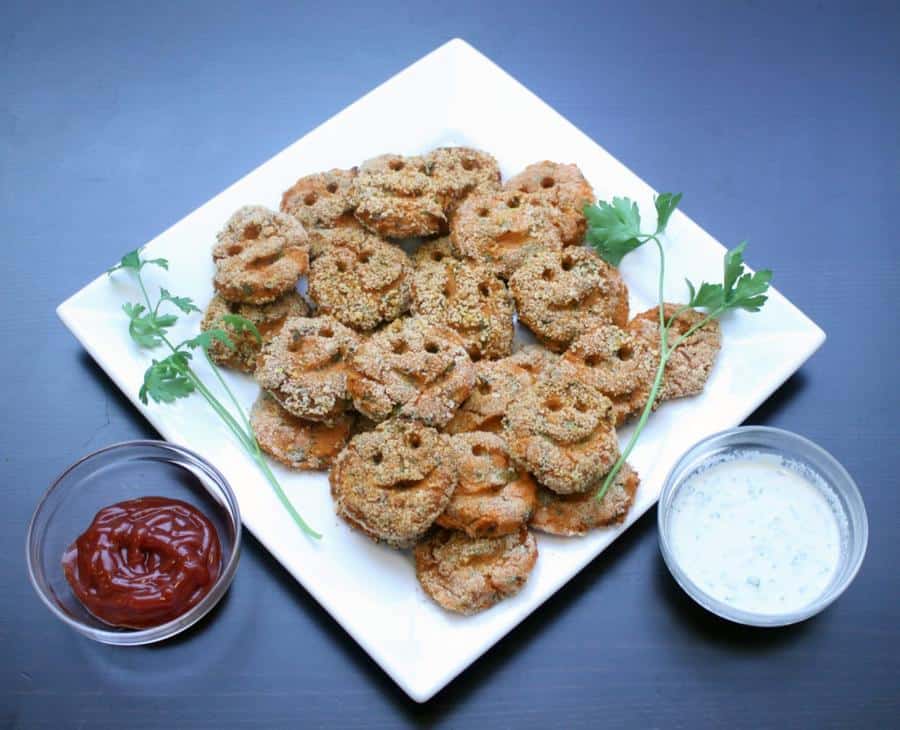 Perfect for the kids, these fries will make everyone smile.
The cheesy flavor comes from nutritional yeast but you have a handful of herbs and spices as well.
You also have chickpea flour which is the hidden gem. If you are unable to source this at your regular supermarket, try any Asian store. Great for parties or the weekend!
Cinnamon Paprika Sweet Potato Fries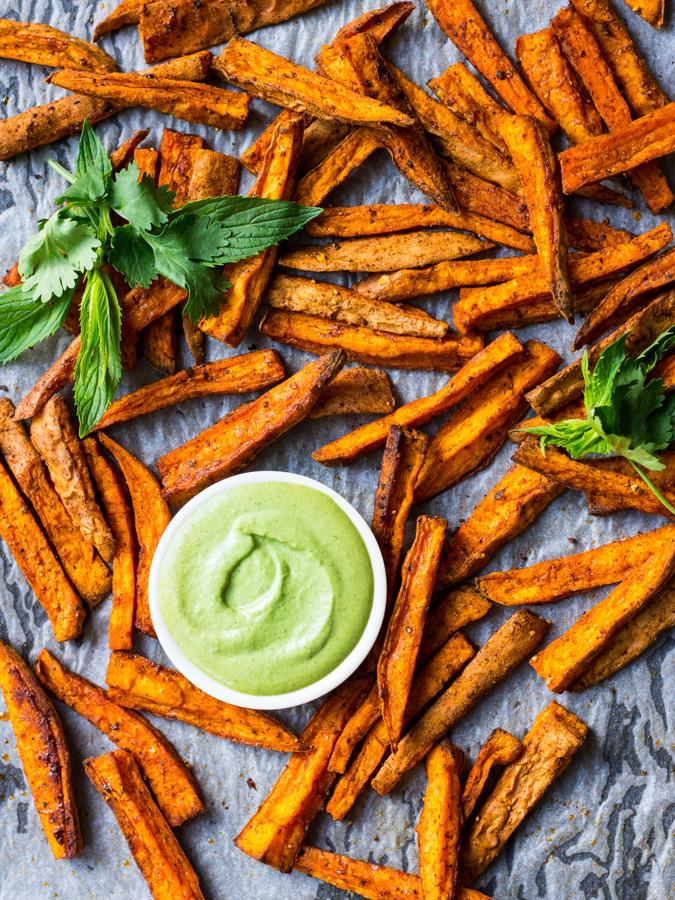 When I first saw this, I had to give a doubletake, cinnamon and paprika? That's an interesting combination! Trust in the power of bold and unusual flavors, though. You won't be disappointed.
These look like your average, everyday sweet potato fries, but they are so much better! Sweet and smoky, with a hint of spice. Take them up a notch if you're feeling brave with some crushed red pepper!
Loaded Spring Fries with Green Goddess Tahini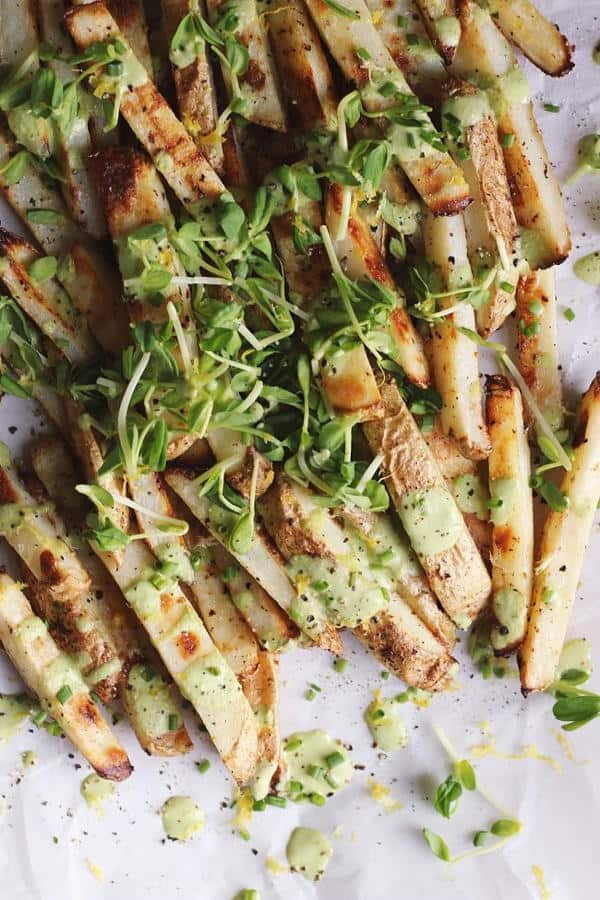 These russet potato fries would make a perfect, savory lunch or dinner.
Instead of some generic ketchup or other basic dipping, you'll be making a fantastic, healthy 'Green Goddess Tahini' which is a real winner in my book.
Be sure to give this recipe a try!
Tofu Fries with Avocado Crema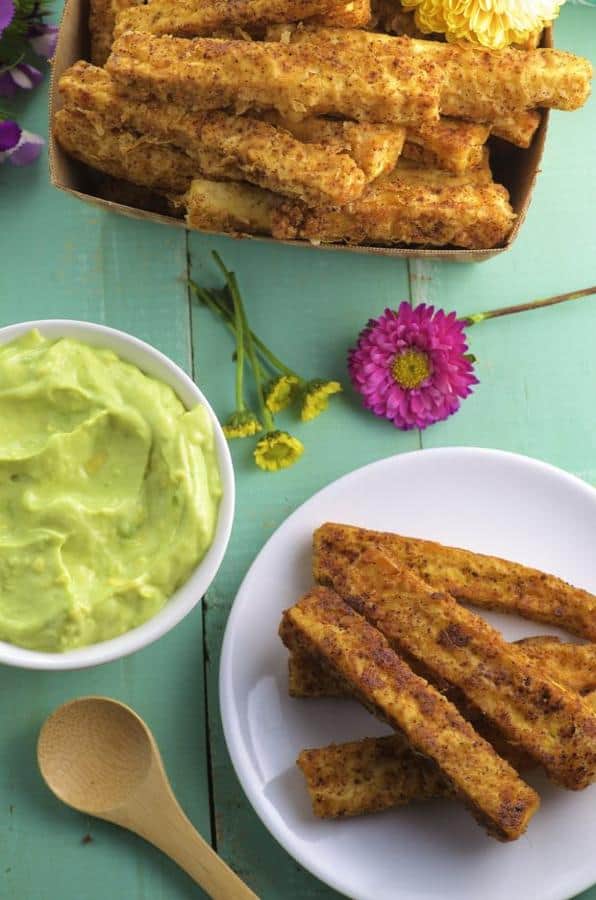 Tofu Fries? I can personally vouch for this recipe because it looked too good not to try.
Perfect herbs and spices and the tofu fries have just four steps in the instructions. Crispy yet light on the inside. I love them and you will too!
Chickpea Fries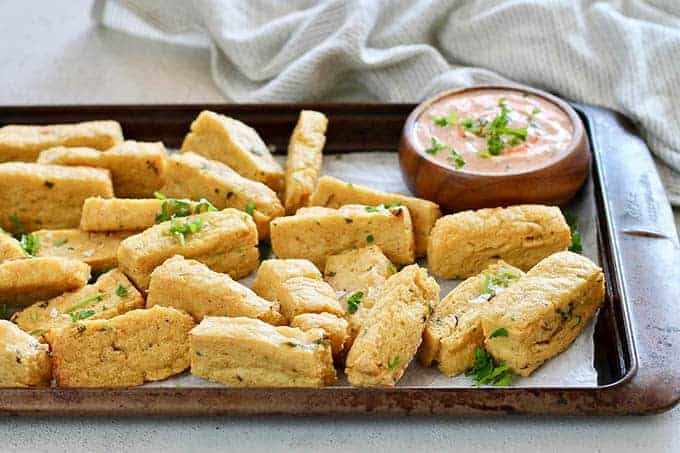 This recipe is actually a thing in certain parts of France and Italy.
If you've never had anything like this before, I urge you to go for it.
You just need chickpea flour and the most basic ingredients you are likely to already have in your kitchen. Get cooking!
Parsnip Fries with Red Lentil Miso Hummus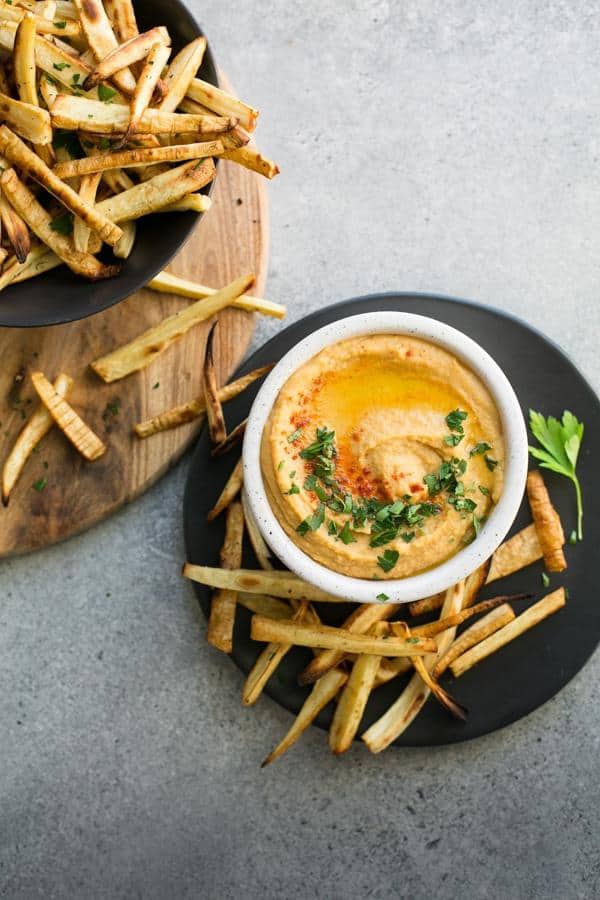 The parsnip fries are a good solid recipe on how you would roast most vegetables. These are classics for a reason.
What makes this recipe stand out from the crowd is the hummus. Red lentils and a small handful of special ingredients make this dip the best you've ever had!
Celeriac and Cumin Oven Fries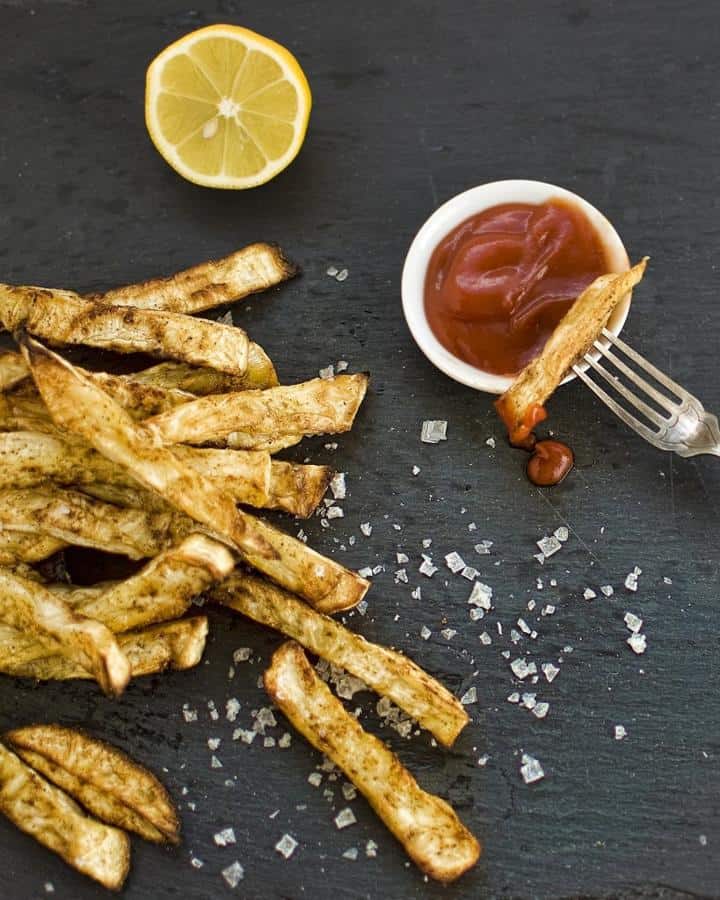 If you're trying to avoid potatoes are one something as near as you can to it, this is your puppy!
You need just three ingredients and another to make this work. A perfect side dish although if you're looking for a quick snack when nobody is looking, this will do the job!
Super Crispy Yuca Fries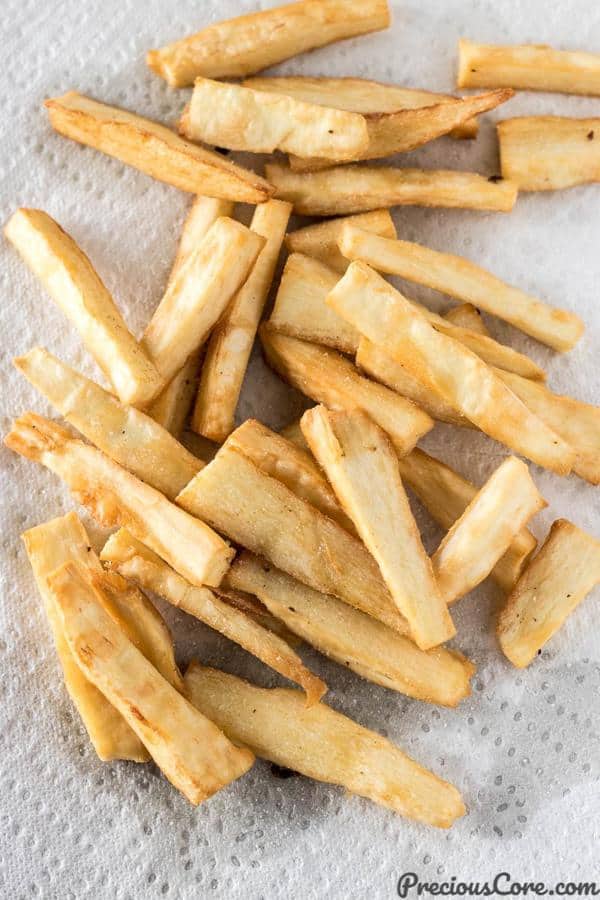 Have you ever had yuca fries before? I haven't so this recipe was a must. All for quality control purposes you understand!
Other than a little seasoning you're looking at just two ingredients! Just a little prep time to prepare the vegetable and fry for 20 minutes.
If you want to avoid frying, my recommendation is to bake and you will get great results.
Crispy Healthy Baked Zucchini Fries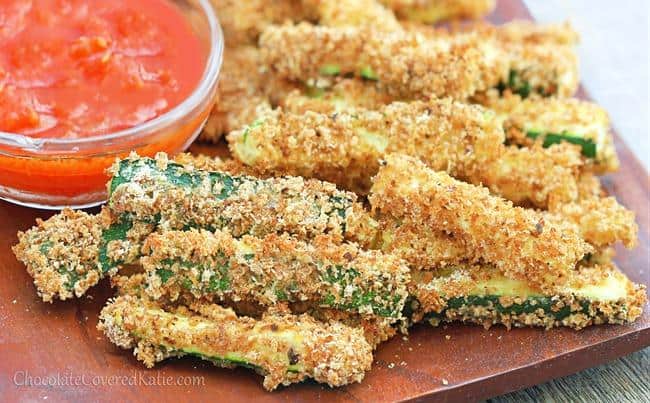 Zucchini Fries? Absolutely!
The recipe author describes this as having the junk-food taste but without the junk and I completely agree.
This is baked and full of goodness. Try it, you won't be disappointed.
Butternut Squash Fries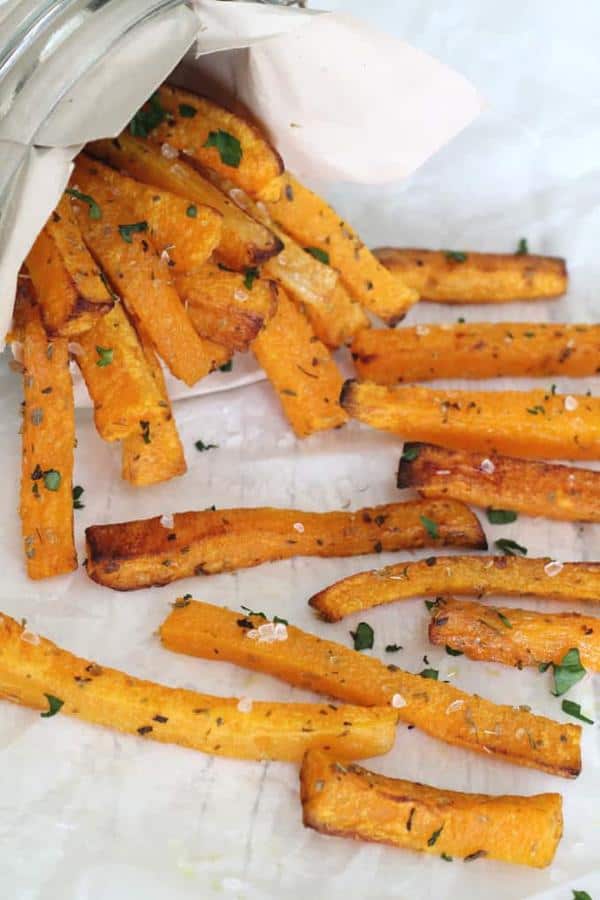 If you thought butternut squash was just about steaming or baking, think again!
How many ingredients other than the squash? Two, and I guarantee you already have in your kitchen. My words, you have to make this!
Oil-Free Lemon Herb Potato Fries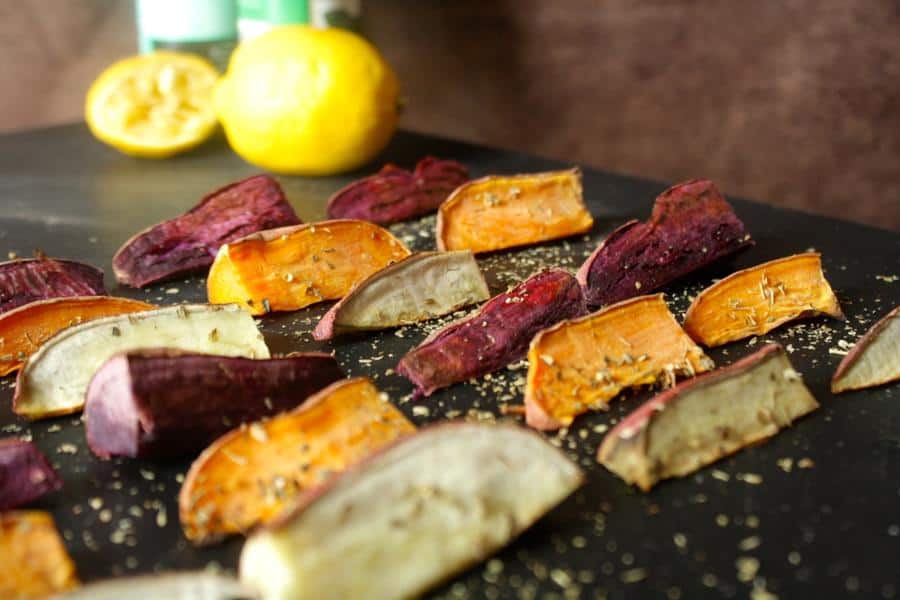 Fries without the oil? If you love the taste but often avoid things like this because of the oil, this is the recipe for you.
If you can source different potatoes as per the recipe, then all the better. If you can't, don't give it a second thought.
These fries are fantastic whatever type you use. You're going to love them!
Wrapping Up
Whether you're on a health kick, or even if you're on a fruit fast (!) There's something here for you, yes really.
We have potato free, gluten-free and even oil free dishes for you to try.
Life is about experience and enjoyment so no need to miss out.
Whether you're looking for a snack, side dish or you just want something different to treat yourself with, it's all here.
Get the popcorn, I mean, get the fries!