No, there are oodles of ideas out there, the trick is, sifting through the hundreds and thousands of them, and this is just what we did!
They make great desserts or snacks. If you don't want to live on just cookies check out our very best vegan dishes roundup and then you'll have all bases covered.
Are you ready? I am!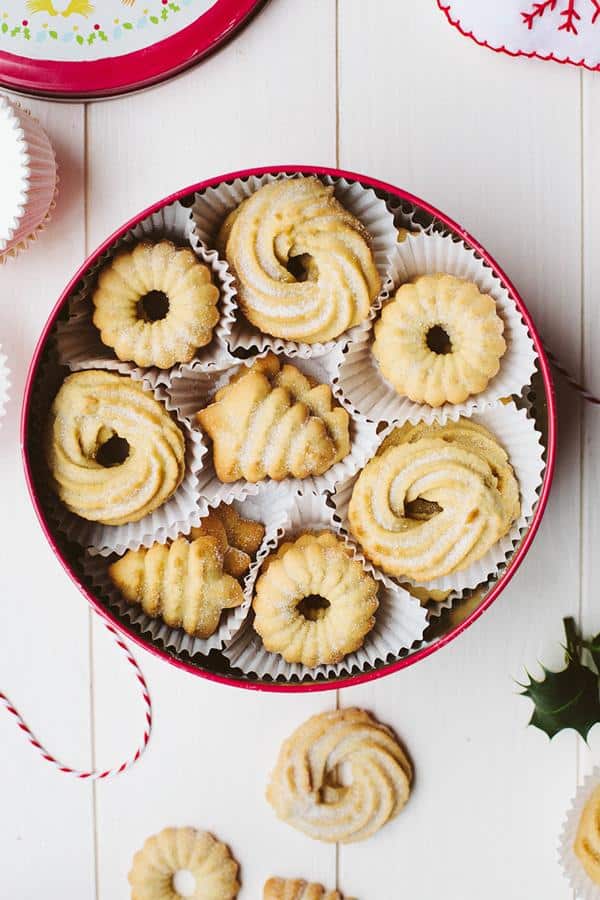 The Danes love their cookies so seeing this authentic plant-based recipe was great!
A lovely simple recipe with just a handful of ingredients, and if you bake at least sometimes, you're bound to have most of them in your pantry. Fantastic!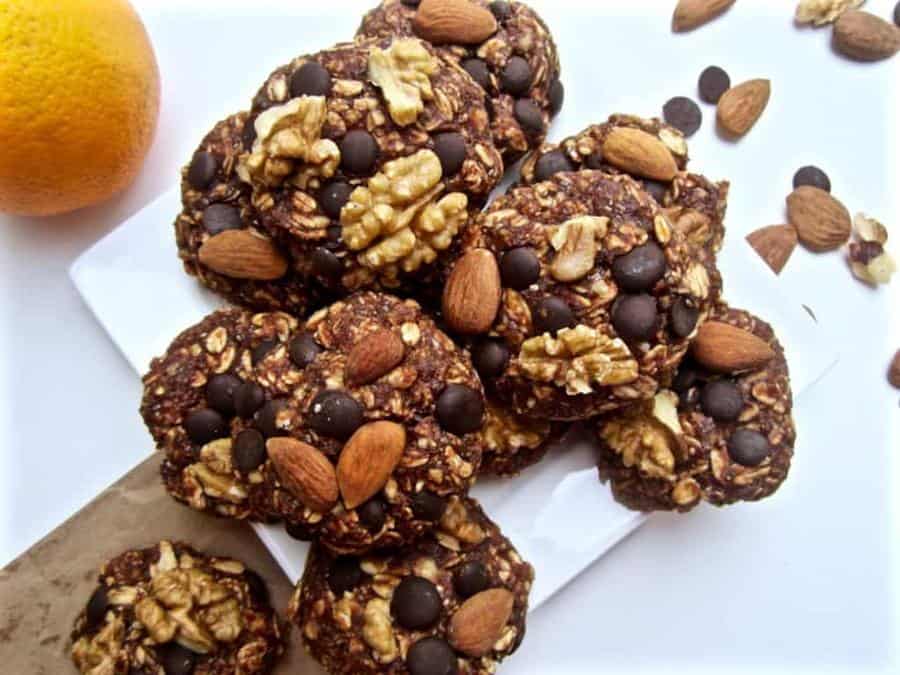 Don't these puppies just look amazing!
I love the presentation with the whole (or halved) nuts. Best part about this recipe? There is no baking involved. It couldn't be easier!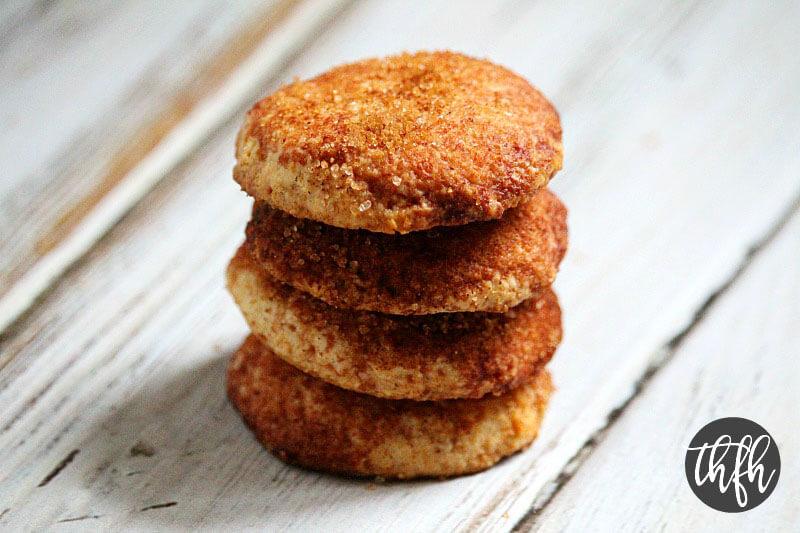 A healthy cookie made with 'clean' ingredients? It almost sounds impossible, right? Maybe, but that's just what we have here.
The cookies themselves have just five ingredients, then there are just three little extras for the toppings.
You're looking at bringing these to the table in less than 20 minutes. Gluten-free too!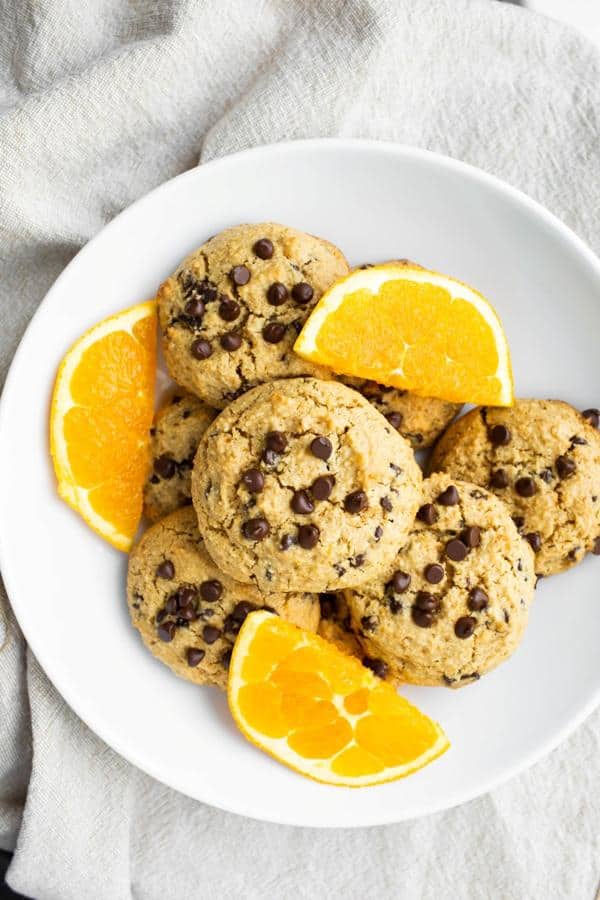 I love orange flavored cookies but whenever I see them in the store, the ingredients scare me!
Nothing to worry about in this recipe, scanning the handful of ingredients you'll see that everything is real food. Can't beat it!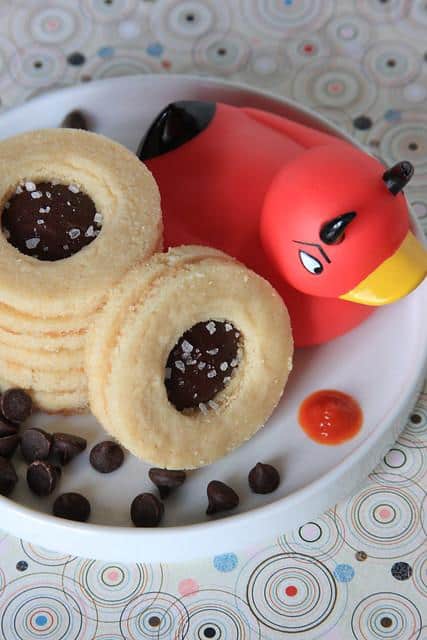 This was certainly an interesting recipe, chocolate and shortbread seemed normal, but sriracha as well? Let's check it out.
Chocolate bars containing chili are a thing, so this doesn't sound so strange after all.
The ingredients have the perfect balance of giving you a wholesome cookie with a slight hint of sriracha in the background. Delicious!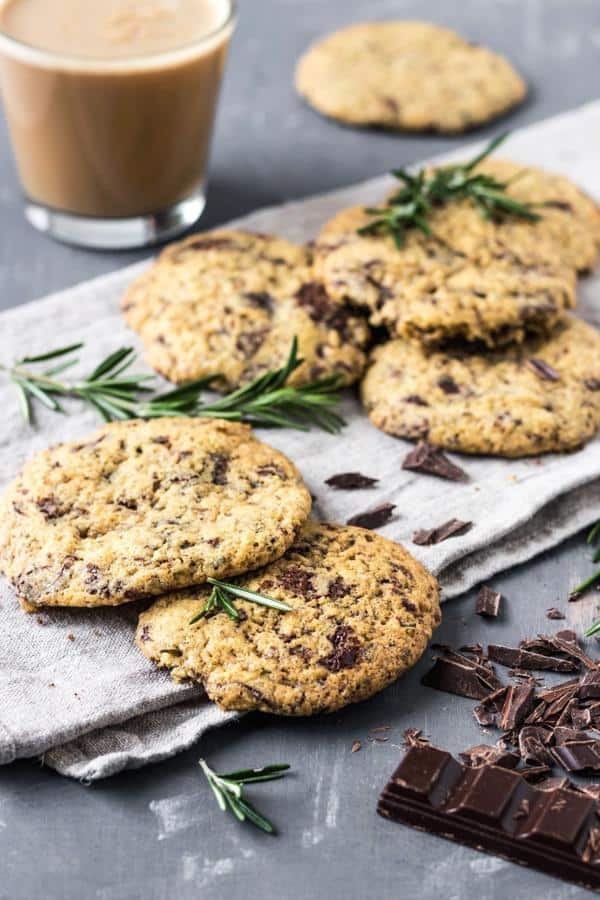 What a lovely combination of ingredients in these cookies!
The Rosemary is not overpowering and complements the vanilla perfectly. This is a quick recipe, just 15 minutes prep and even less baking. What are you waiting for?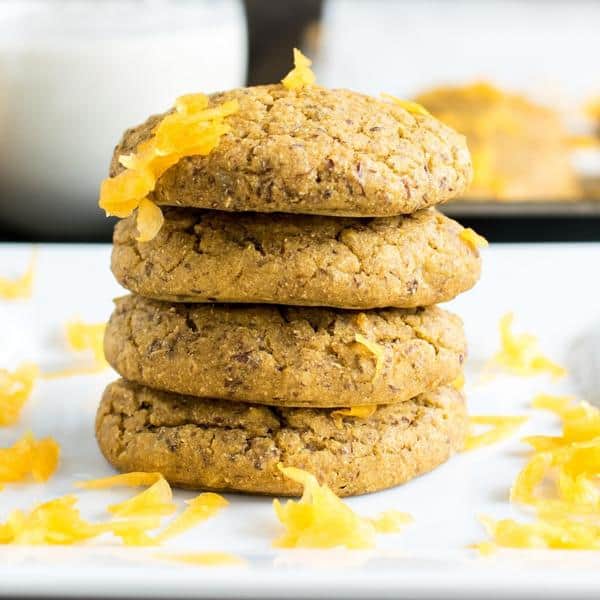 Butternut squash in a cookie? You bet!
The squash makes these cookies light and gives them a soft texture. The main flavors come from the maple syrup and vanilla which blend to perfection. A truly wonderful recipe.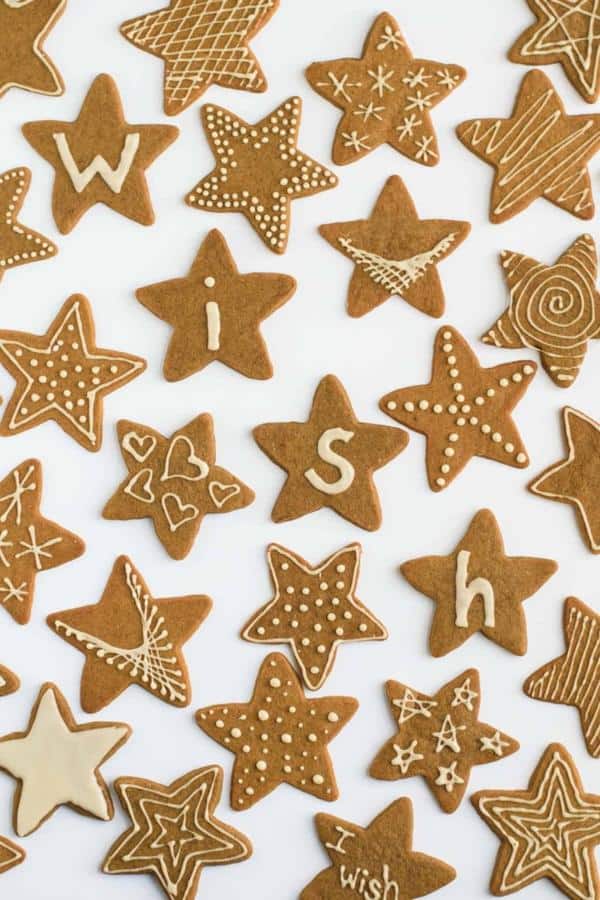 If you've never used molasses before, let this be your introduction.
Perfect for the holidays, you can make these cookies as you wish. Get the kids involved with the decorations. What will you wish for?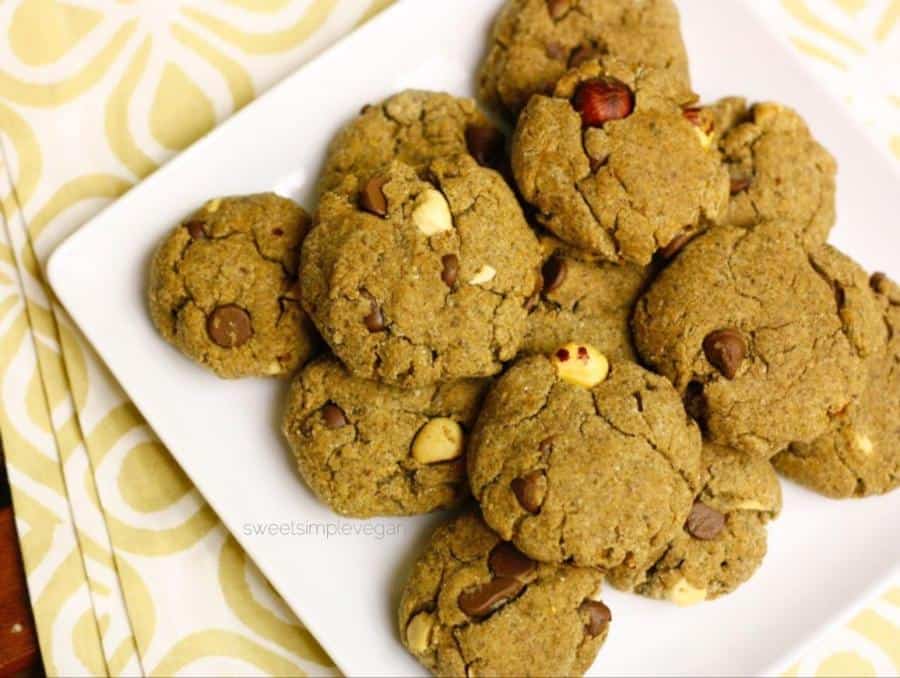 I was completely intrigued by this recipe, all the expected ingredients to make cookies, but white beans too? Stay with me.
The beans add a fantastic texture and they have a benign taste so it's not like you're eating bean cookies!
A great dish and you'll have them ready in around 35 minutes or less and that includes prep and cooking. Fantastic!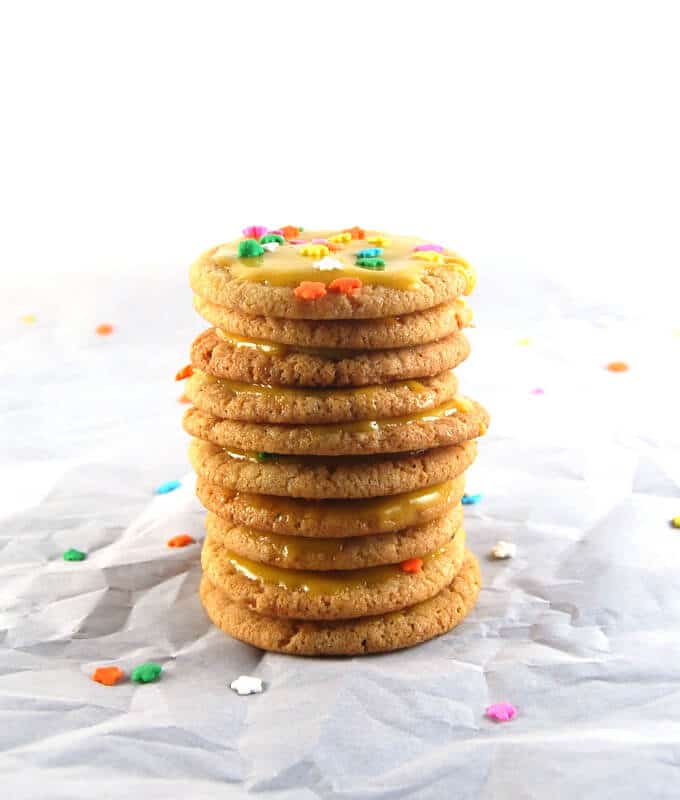 If you're a cardamom fan, you absolutely have to try these.
Easy to make and if the cookies weren't great enough on their own, the mango icing knocks them out of the park for a homerun!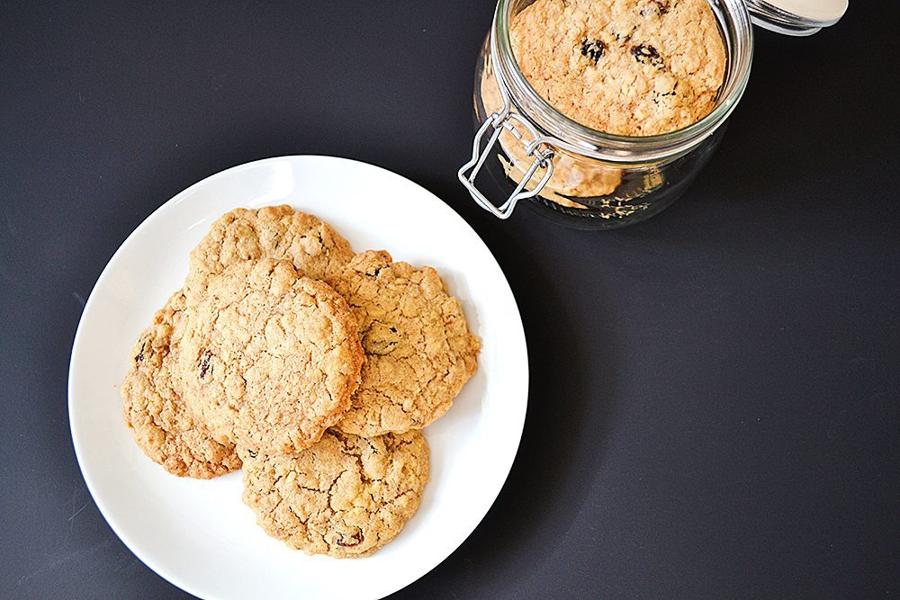 In my book, you simply can't beat chewy cookies (not related to Star Wars!)
Cinnamon, vanilla and raisins in every bite. If you're not a fan of the little dried fruit, feel free to leave them out.
We do believe with prep and cooking these are ready to rock within 20 minutes. Make the cookies be with you!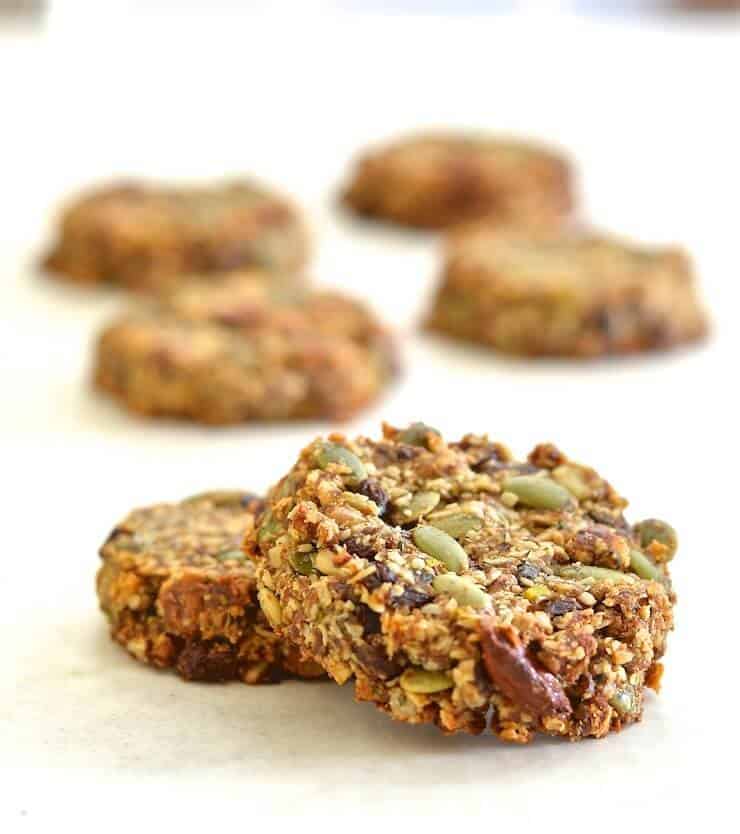 If you go to the gym, taking something with you for a post-workout snack is infinitely better than buying anything from the vending machine.
Filled with super foods, nuts and seeds this gluten, grain and oil-free recipe will leave you wanting more!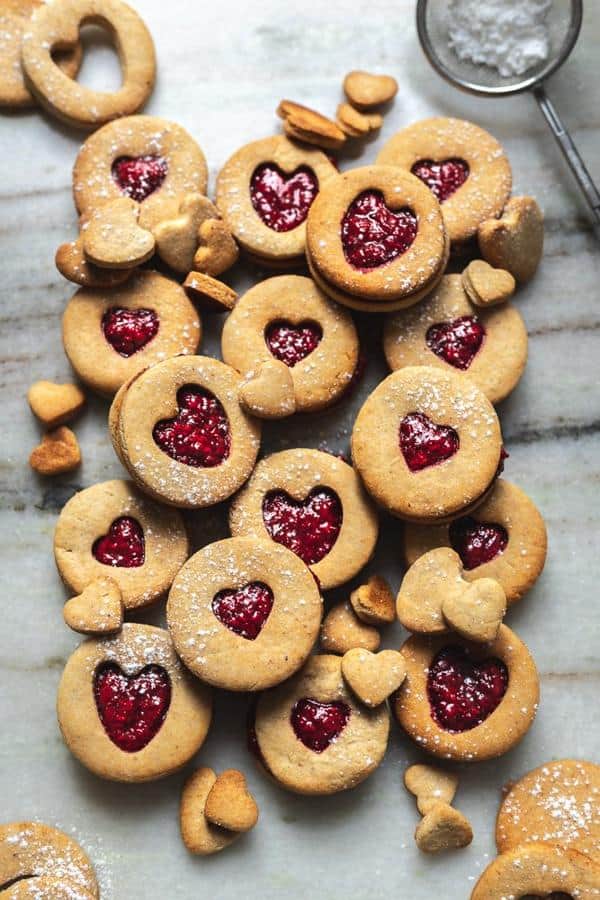 Don't these just look lovely?
Nothing goes to waste as you can make little hearts from the cut-outs. Great for Valentines, date night or just to give to someone you love.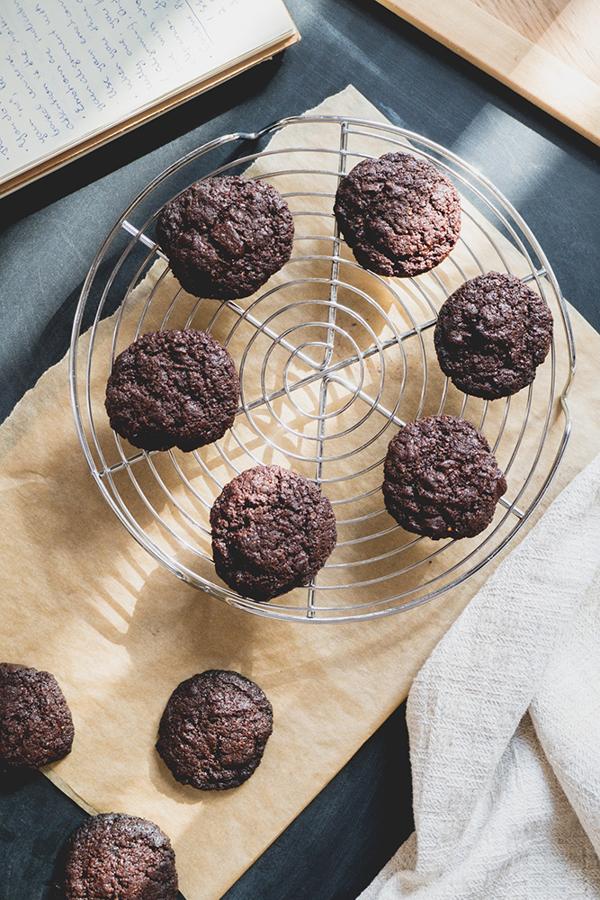 It's all well and good having some fantastic cookie ingredients that are unique and different. But what about the classics that have stood the test of time?
You can never go wrong with double chocolate chip cookies.
This plant-based version it super and I guarantee no cookie connoisseur will be able to tell that its dairy free! Delicious.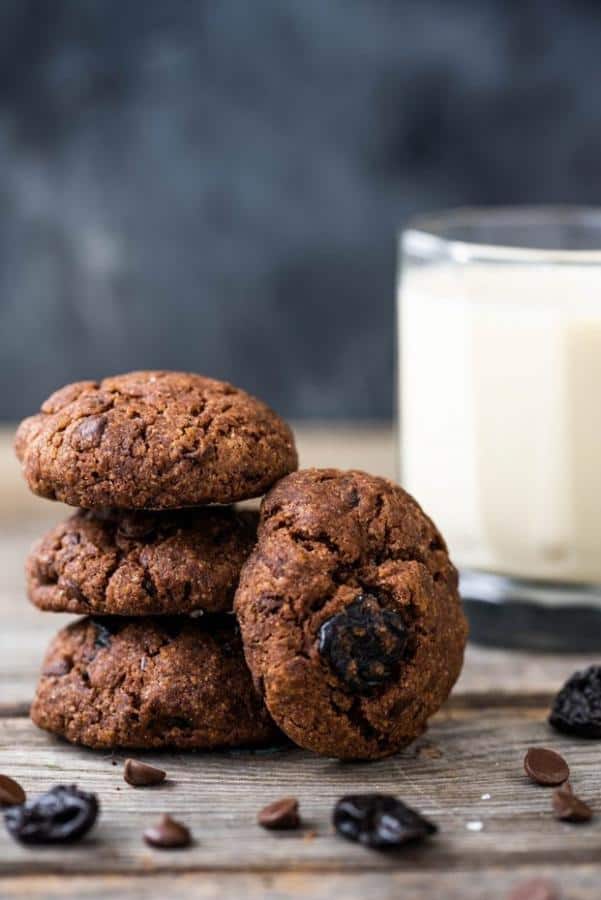 As a kid and before I knew anything about veganism, I used to love black forest gateau, this is what first attracted me to this recipe!
Then we gave it a quick scan and realized it was also very high-quality.
As with all fantastic recipes, the best always seems to be the most simple and this is what you're looking at here.
I imagine you'll have most, if not all, of the ingredients already. Get baking!
These are obviously perfect for holidays, but it would be unfair just to restrict them to certain times of the year!
The ingredients are divided into three sections, the wet, dry and what you mix in. Follow the simple instructions and you'll be eating in no time. Yum!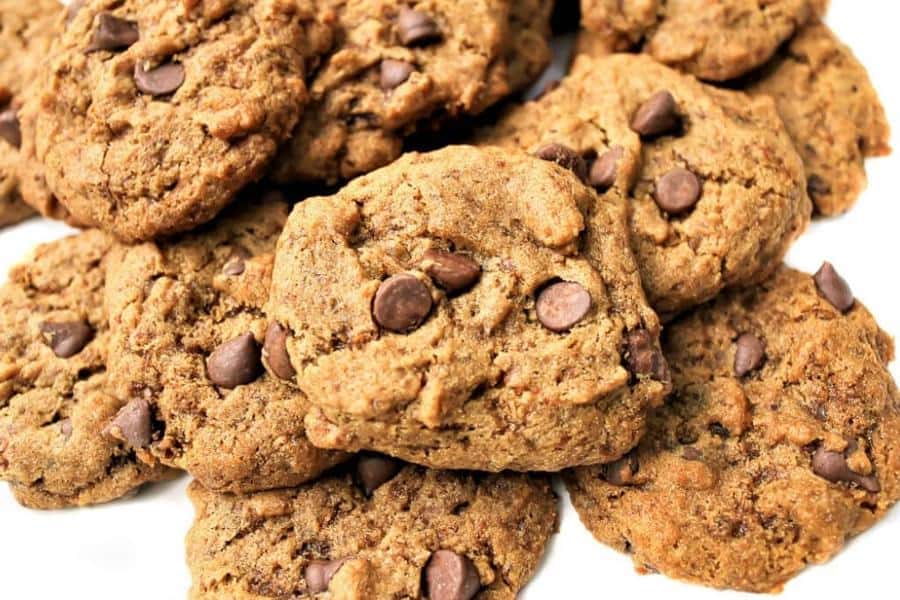 It's ridiculous that these cookies do not contain any chocolate! If you've never tried carob before, this would be a great place to start.
A fantastic simple recipe that takes 20 minutes in total and this includes prep and cooking. Even if you're a chocolate purist, give these a try.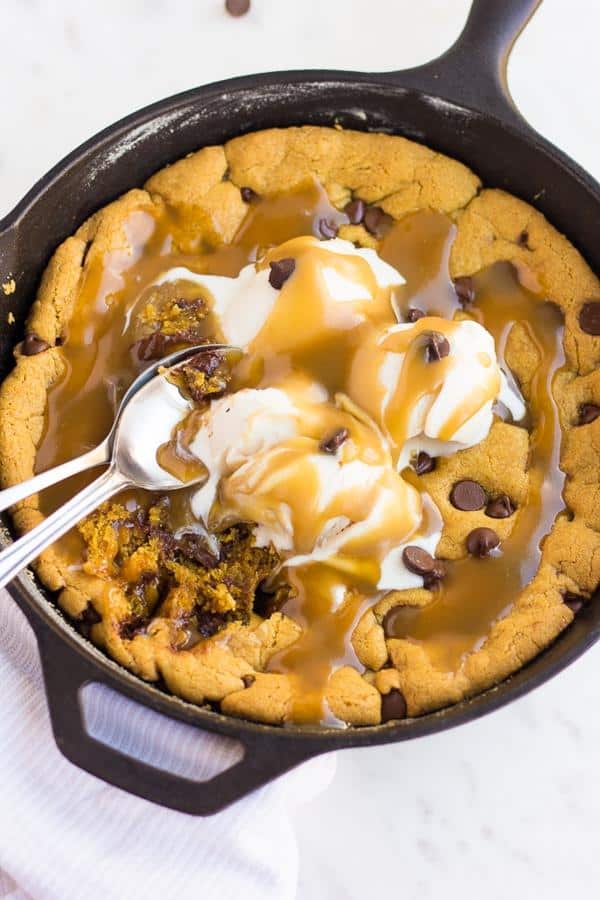 You've tried salted caramel before, right? What you mean, no?
There is so much to say about this cookie, it's big, it's soft and it's all gooey!
Add the vegan vanilla ice cream and dairy-free caramel sauce and the cookie becomes the best edible plate you've ever seen!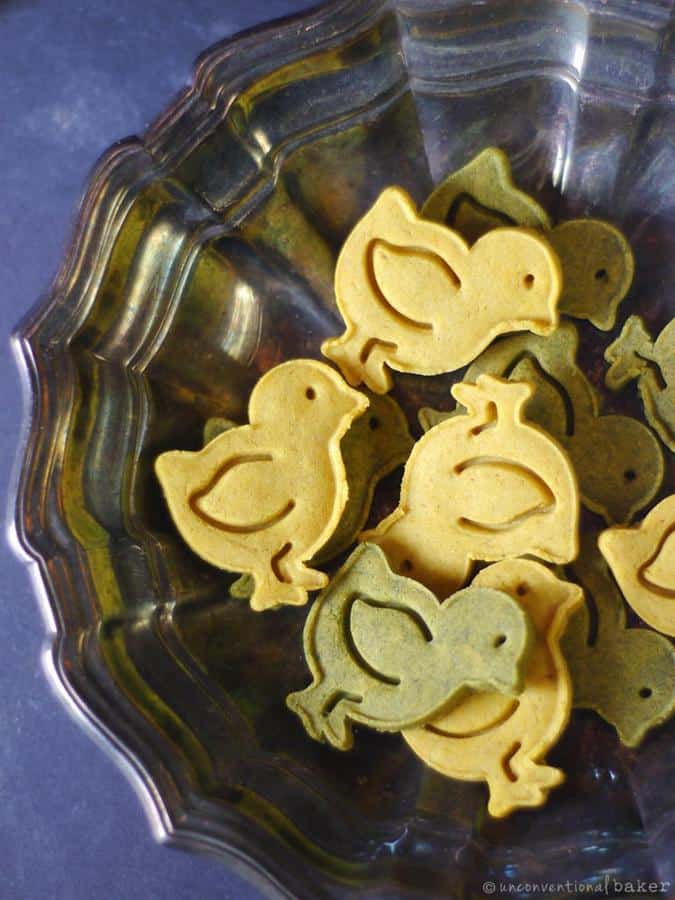 These cookies are really good for you! Turmeric is well-known for its anti-inflammatory properties and here, it's used to make cookies!
There are just seven ingredients in these cookies and most of the time (20 minutes) is prep. You just bake for less than 10 minutes.
The amounts listed in the ingredients make for approximately 28 cookies. That's a great amount!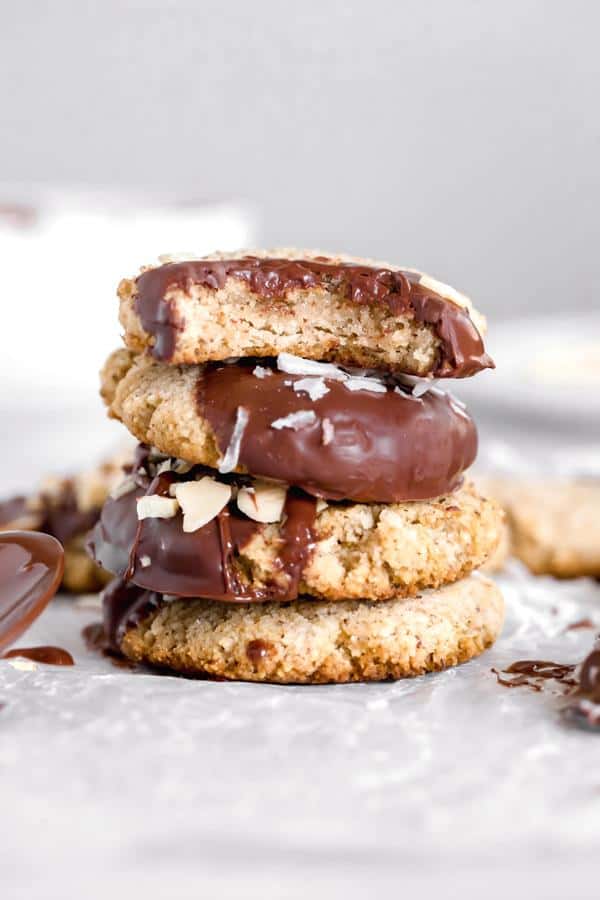 Don't just look fantastic!
I love how they are half dipped in melted chocolate and then shredded coconut sprinkled over the top.
Prep time? 5 minutes and 15 in the oven. You can't afford not to make these!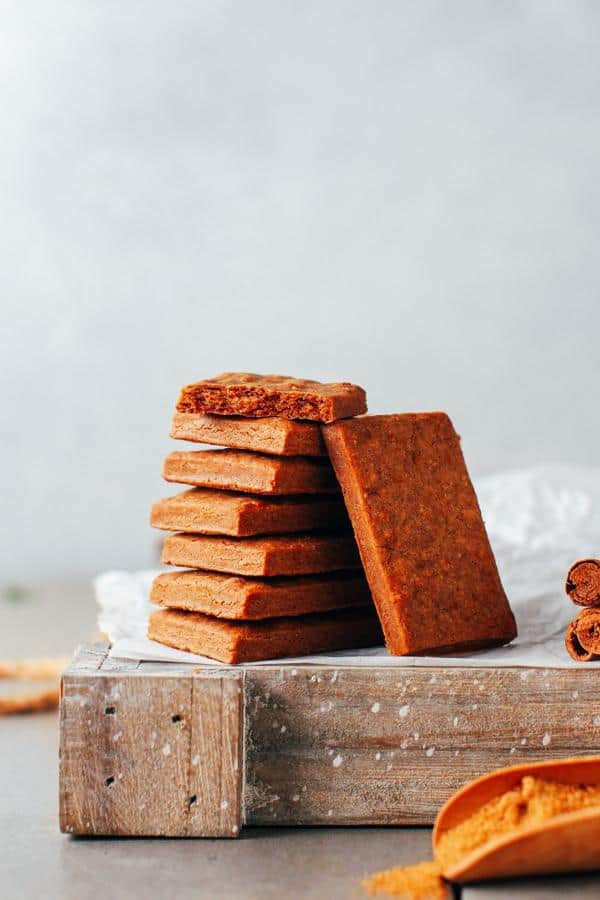 If you're a fan of biscoff cookies but you're never too sure about all of the ingredients, here you can make your own!
The recipe author has done his homework, you'll recognise the ingredients as just everyday foods and yet combined you have exactly what you're looking for. Perfect!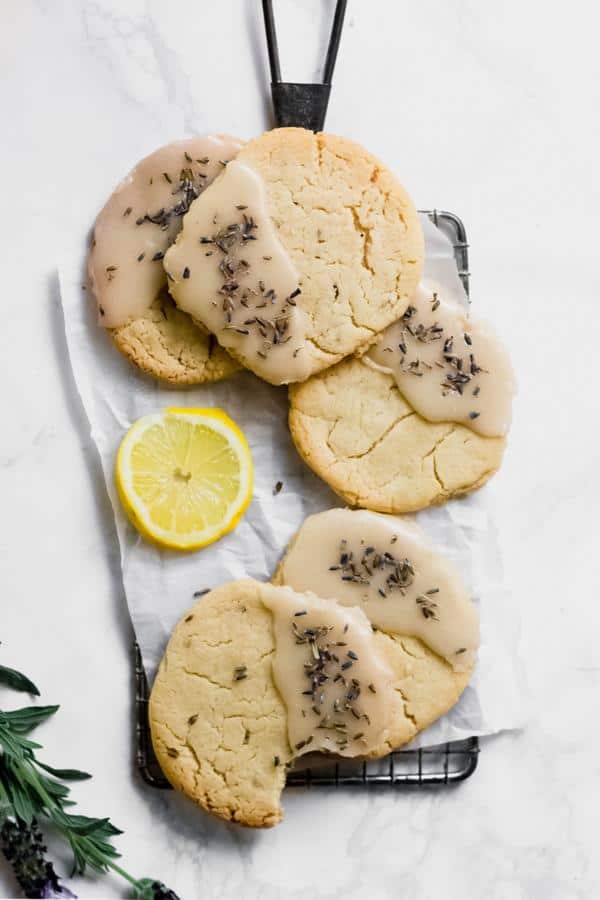 I love lemon cookies; add a hint of lavender and you're cooking with gas!
Super easy to make which is surprising given the extremely high-quality of the end product.
When you taste them it will feel like they were bought from a pricey store. You made them!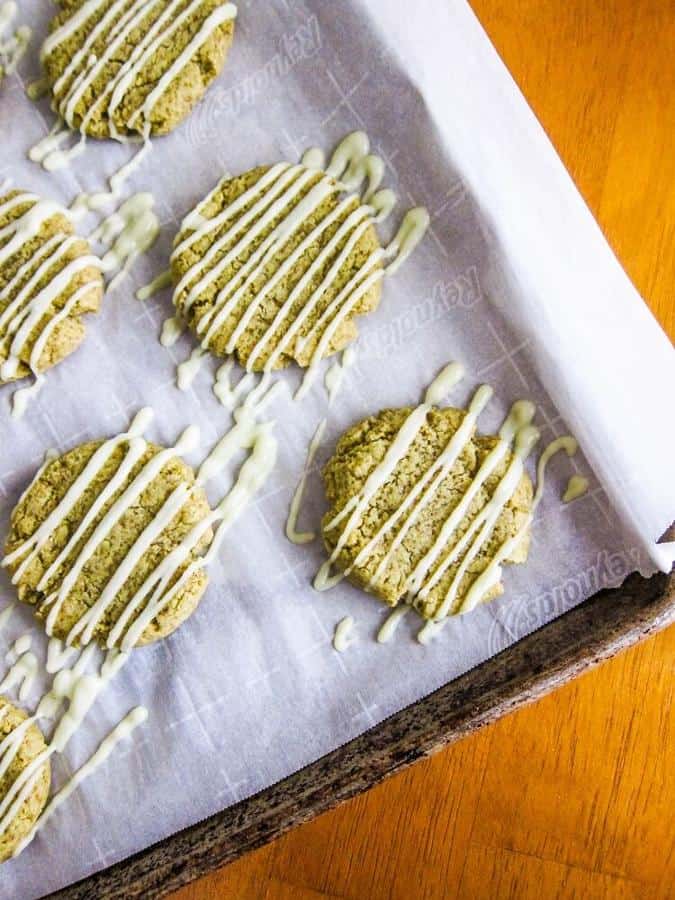 All my prayers have been answered!
A plant-based key lime cookie, there's really nothing else to add because we're already talking perfection.
Easy to make and believe me, you should make!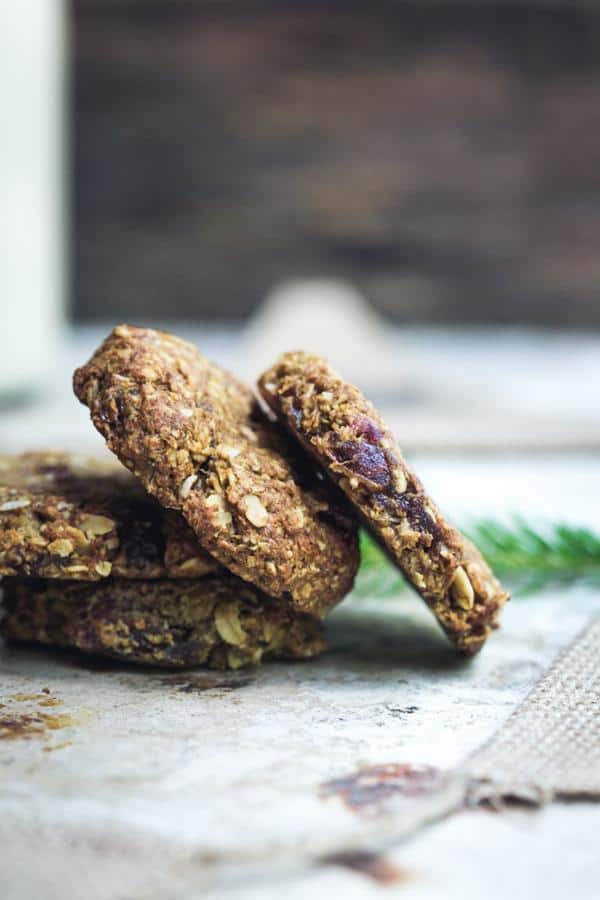 I just love this recipe, it's a classic in so many ways.
This recipe is in a different league to your standard cookie recipes.
There is certainly some prep and cooking time, but you'd expect that for the quality. Certainly for a very special occasion.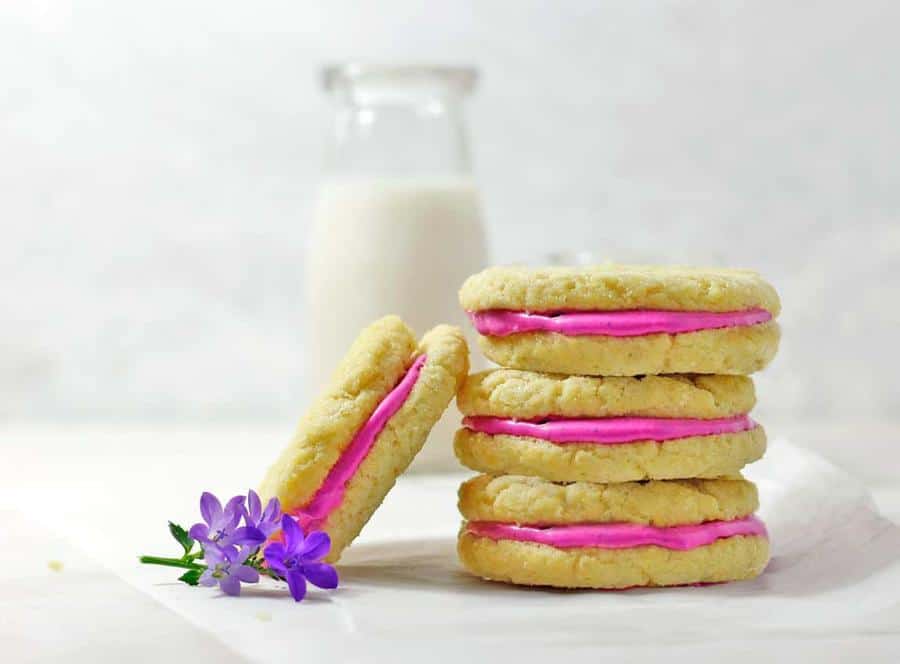 I've never seen Dragon fruit cream, let alone in a cookie. We had to feature this recipe!
What first comes to mind is these will be perfect for Halloween, but they are too good to restrict to just once a year.
Anyway, you need to test them first, right? Quality control purposes, and all that. Wink!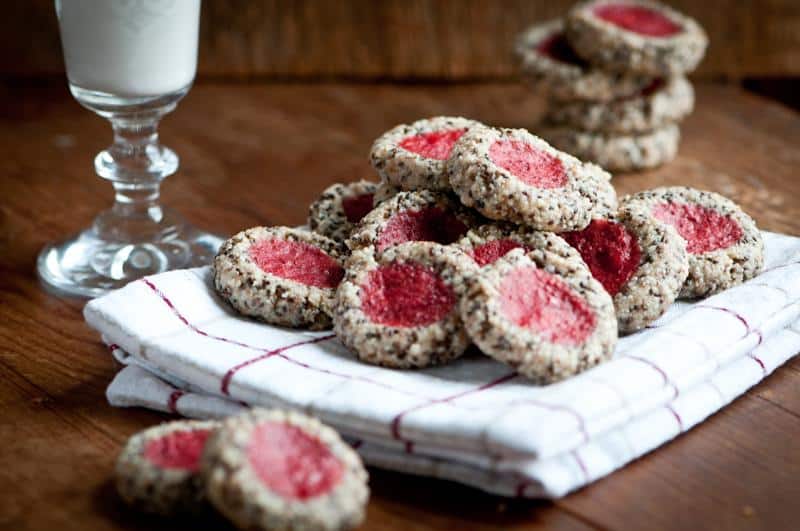 If you're having more raw food in your diet, there's no reason for you to miss out on cookies.
These beauties are made with almonds, coconut with some other ingredients. Put everything in the food processor as directed in the simple instructions and then dehydrate for a few hours.
If you don't have a dehydrator, use your regular oven at the lowest setting and just keep an eye on them. Don't they look just fantastic?
Peanut butter cookies, chocolate drizzle; the two best descriptors for a cookie, right?
The author of this recipe has created a wonderful page for you. The recipe is straightforward, and the instructions are extremely clear.
If that wasn't enough, you also get a video that talks you through each step. This one is definitely a must!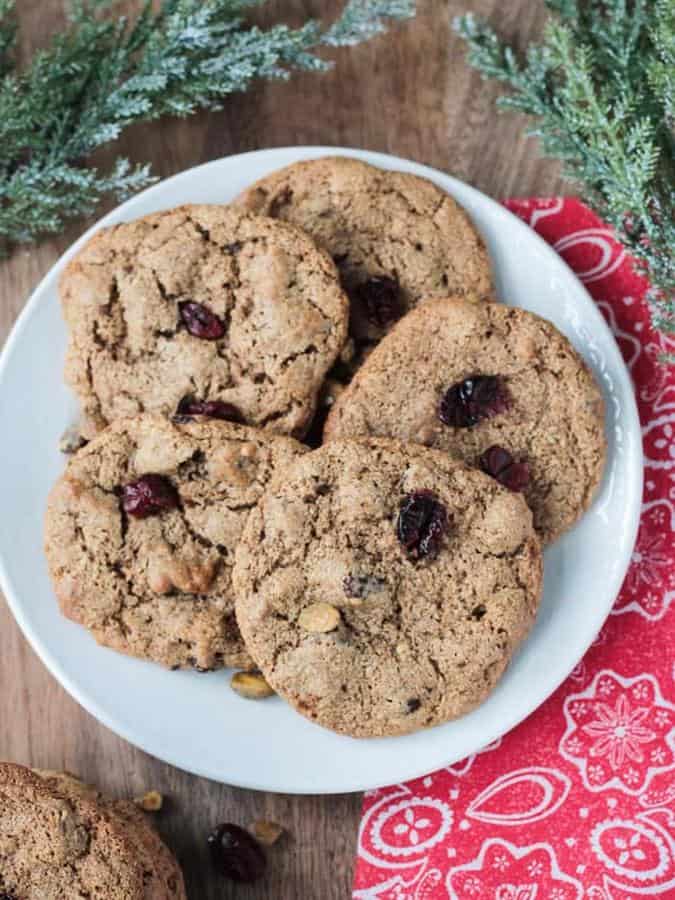 Something festive for the holidays? Look no further.
Not only gluten-free but this recipe does not contain any oil either.
The cookies are moist and chewy and best of all, if you add the prep and cooking time, you're looking at less than half-an-hour to bring them to the table. Can you wait till Christmas?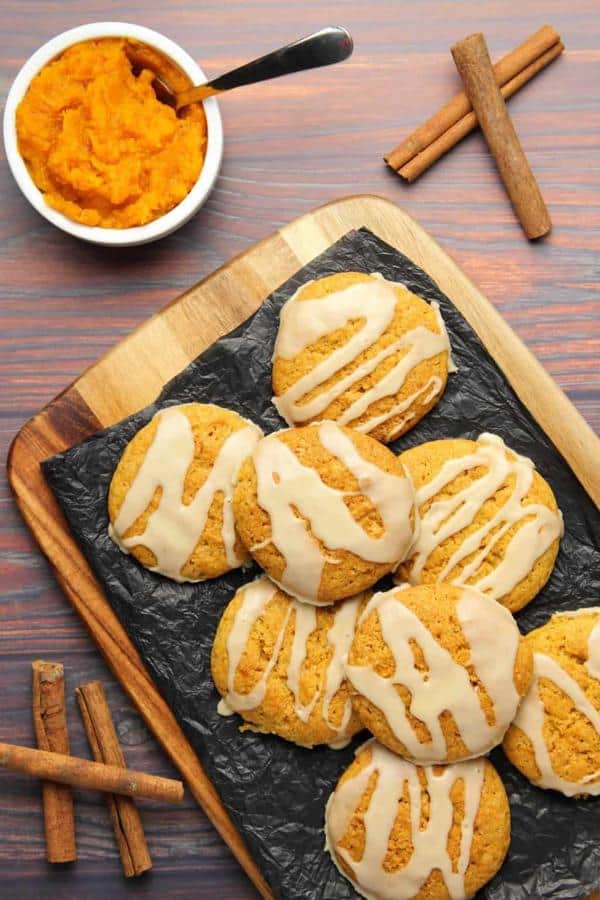 Prepare for fall with this great cookie recipe!
Quick, easy and if you bake at least occasionally, you're bound to have most of the ingredients in your kitchen already.
The maple glaze really is the icing on the cake, I mean, cookie!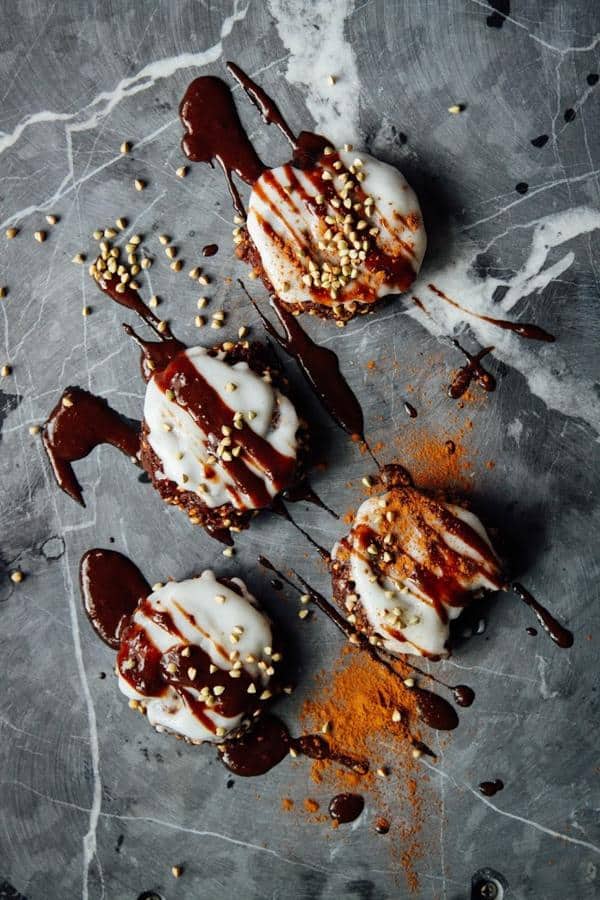 This is a fantastically unique recipe. Banana bread, but in a cookie!
The title of this recipe tells you everything, it is the very definition of awesome!
As if the cookies weren't great enough on their own, they have coconut cream and chocolate sauce poured over them. What are you waiting for?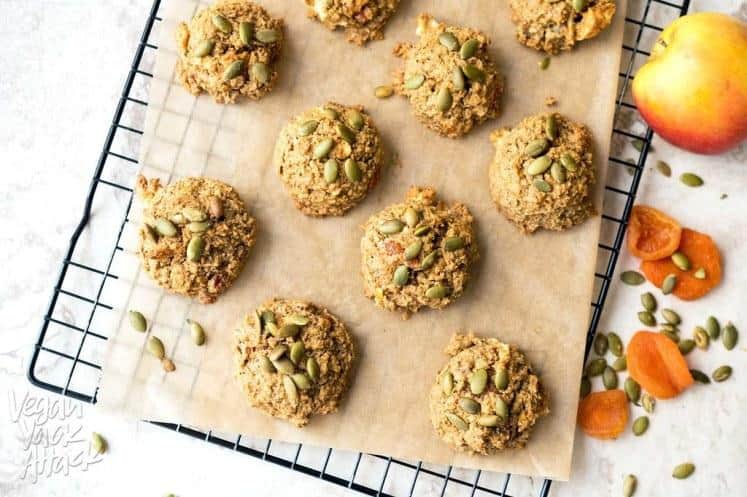 Quinoa in cookies? Absolutely!
When you think about it, quinoa has quite a neutral taste so it's perfect for a dessert as well, or in this case, cookies!
They are extremely light, flavorful and packed with protein! The Apple and the apricot make them absolutely delectable!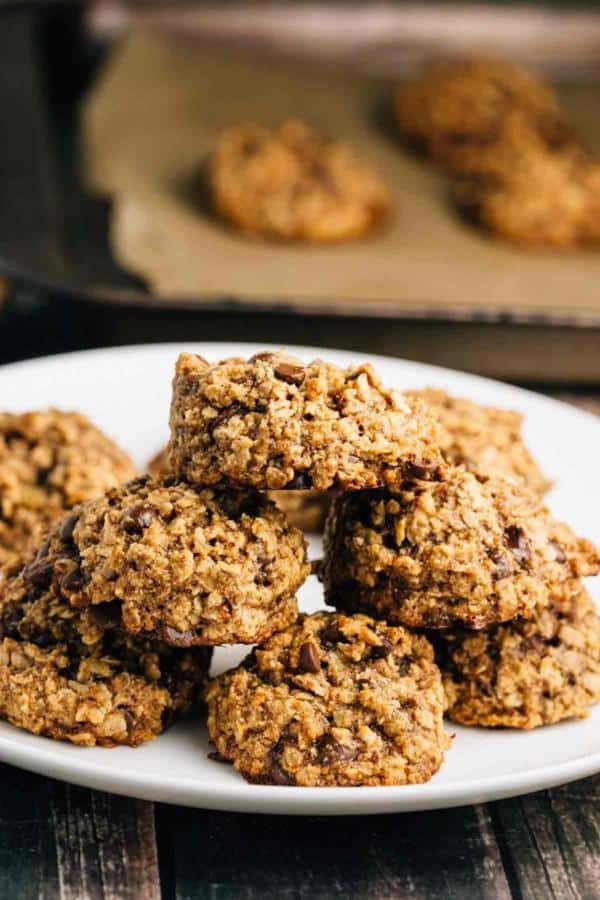 If anyone in your family has to avoid gluten, life can be tough sometimes. You don't want your kids missing out. This is where this recipe comes in!
When I first saw a picture, I thought the list of ingredients would be as long as your arm.
Not the case! Grab your gluten-free oats, almond flour and just a handful of other goodies. Time to get baking!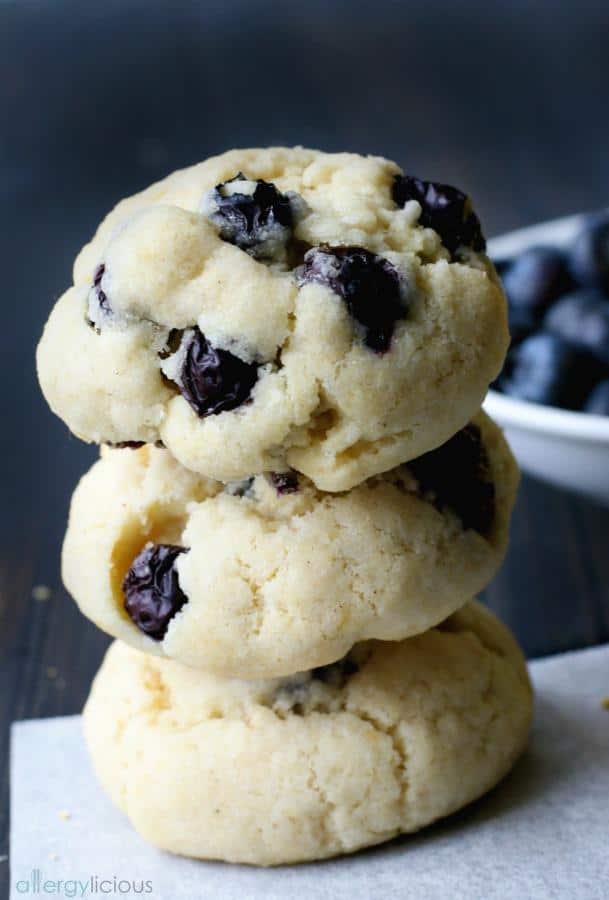 They say we eat with our eyes first and these cookies certainly are one of the most tempting!
A high-quality recipe with just a small amount of ingredients. You're looking at 15 minutes prep time and a little less baking. They just look great and taste even better!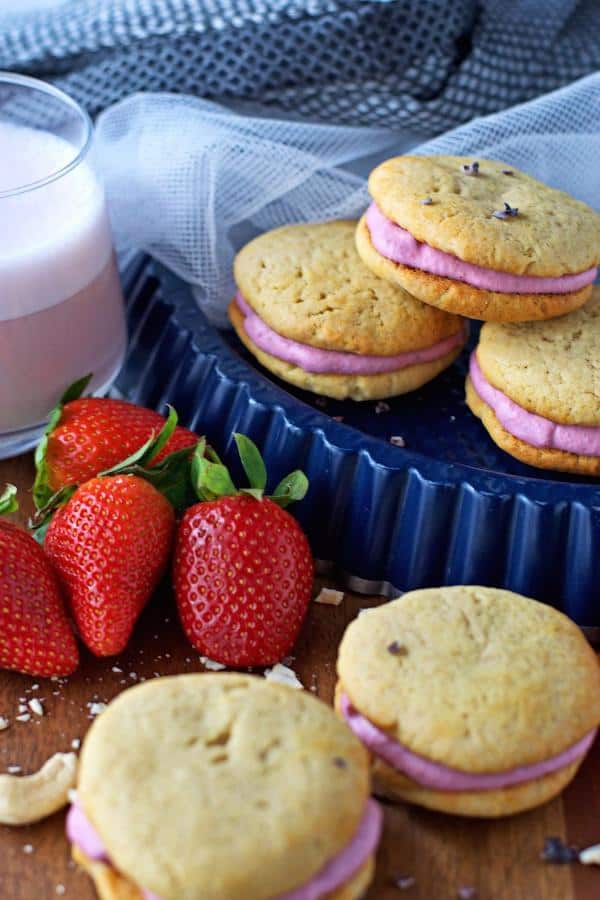 We love Florian from Contentedness Cooking, all of his ingredients need only six ingredients and even less steps to make them.
If you're a tennis fan, these would be perfect to make while you're watching Wimbledon!
They have a cashew strawberry cream filling and within the dough you have delicious peanut butter. Don't they look great? Wait until you taste them!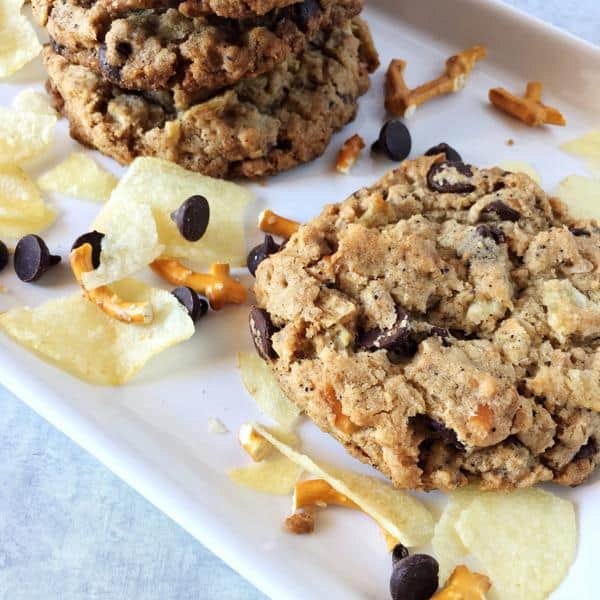 With a recipe name like this, these cookies had to be investigated!
Don't let the name put you off, it's designed to stand out and it does, because the cookies do!
This is almost like an old-fashioned recipe with a twist. Your ingredients look completely regular, then you get to the potato chips and mini pretzels! Intrigued? You should be, make them!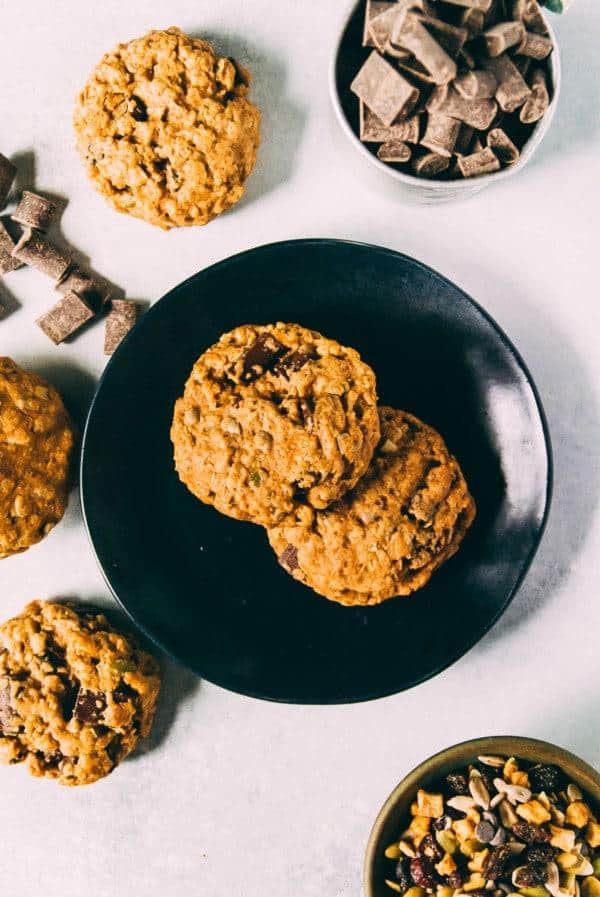 Look, anything that has the words, chocolate and chunk in the title has to be eaten, it's like the law.
These wonderful breakfast cookies are filled with seeds, dried fruit and yes chocolate chunks! Super easy to make with everyday ingredients, you have no excuse!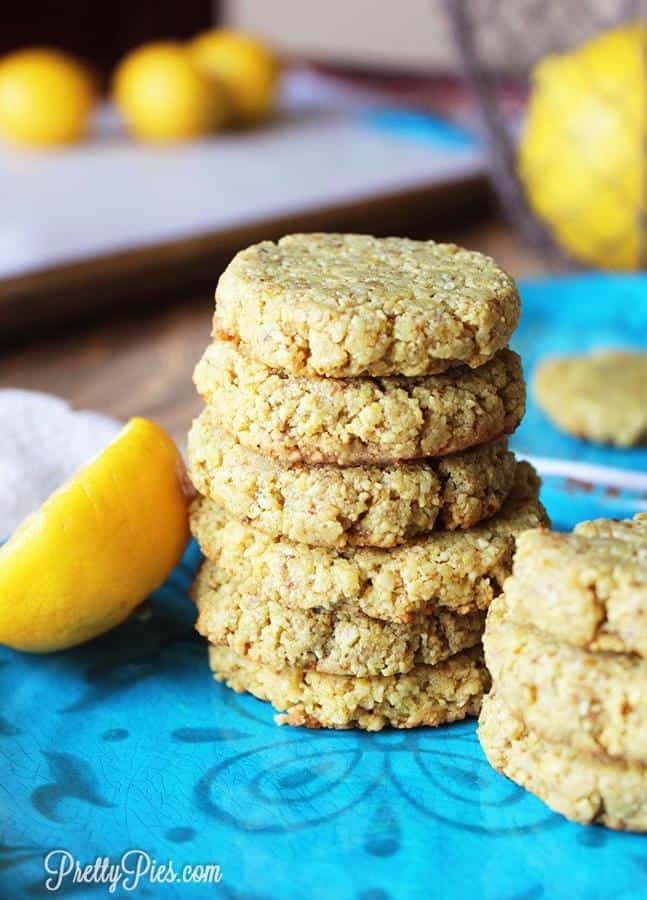 The title of this recipe could be described as an exaggeration.
However, for some people with allergies or certain dietary restrictions, life sometimes can feel like you're missing out on foods you want to eat!
This recipe is flour-free, of course it's plant-based and unusually for a cookie recipe, it's sugar-free as well.
I don't know if they're life changing, but I promise you they are absolutely delicious.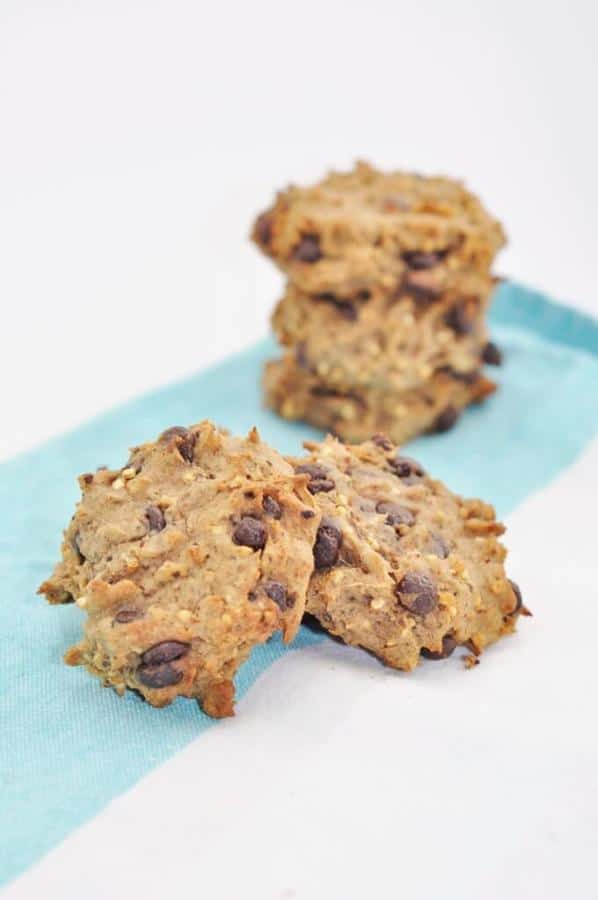 The perfect partner to take with you to the gym so you can have a great snack after your workout.
An unbelievably small amount of ingredients are all that's needed to create these.
The amounts listed make for 16 cookies although there is a drop-down menu where you can change the number of cookies you want to make, and this will alter the ingredients amounts.
15 minutes prep time, and just 8 minutes baking.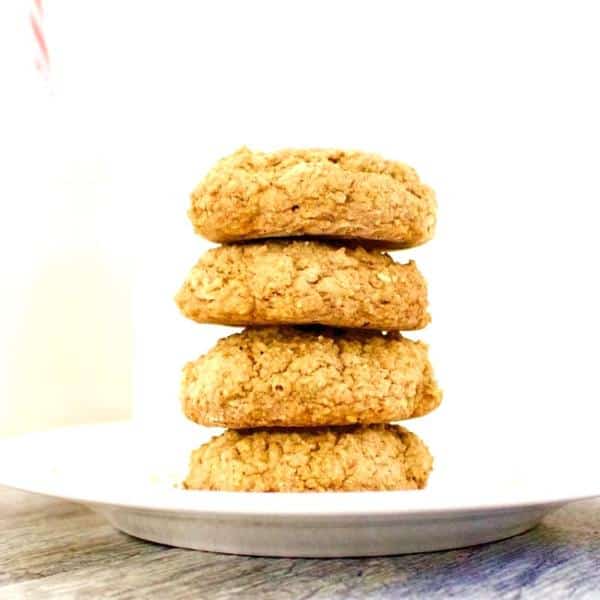 The perfect recipe for the holidays!
If you're a fan of moist and chewy cookies, this recipe is definitely for you. Low-fat and oil free and would you believe each cookie contains just 46 calories!
What are you waiting for?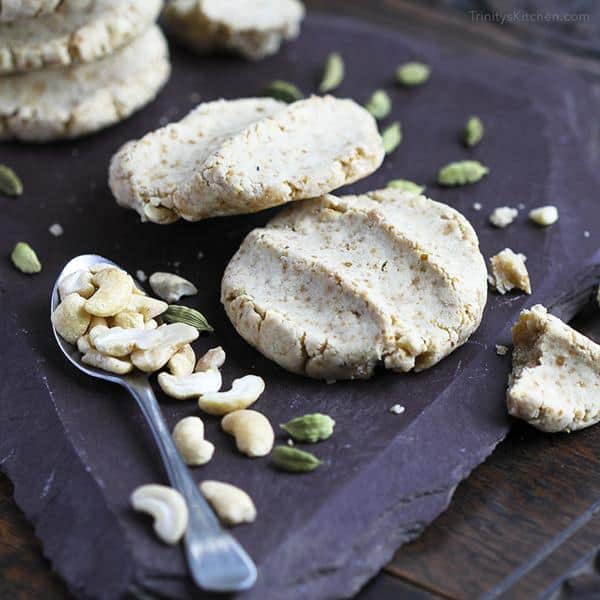 If you're looking for a quality recipe that's unique and perfect for a gift, grab this one!
For all you cardamom fans out there, this is an absolute must.
You'll be surprised how few ingredients you need to make these wonderful looking cookies. Every bite has a hint of vanilla and coconut. Wonderful!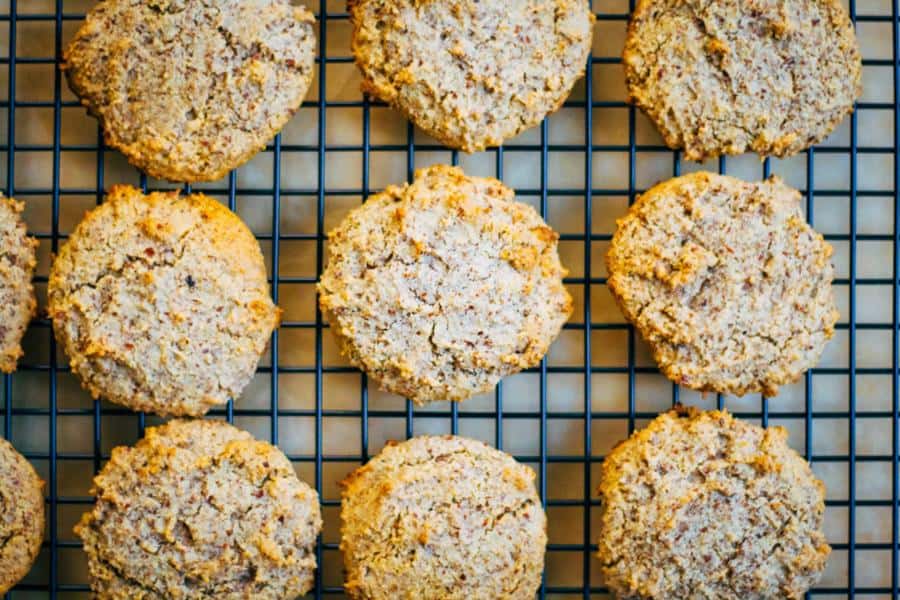 Are these cookies magical?
Other than a little water and a teaspoon of salt, you're looking at just five ingredients.
10 minutes prep time and the same for baking, I don't know about you but that in itself is pretty magical.
These must be on your list. Gluten-free and paleo friendly. Delicious!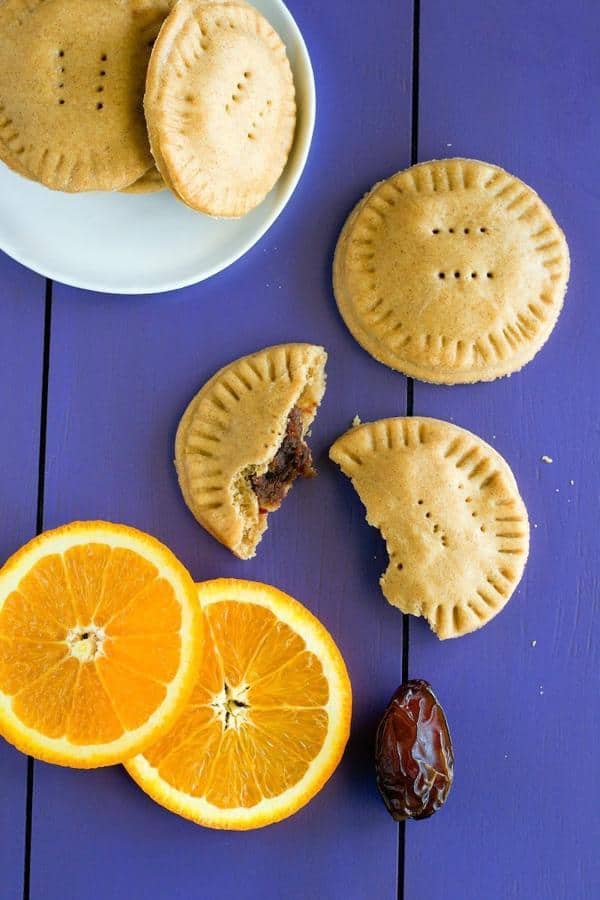 If you want to make a cookie with a difference, look no further.
Stuffed cookies, how awesome is that?! The filling is a beautiful mixture of medjool dates, ginger, and just a couple of other goodies.
The author has described how to make these clearly and you'll be a pro in no time. Stunning!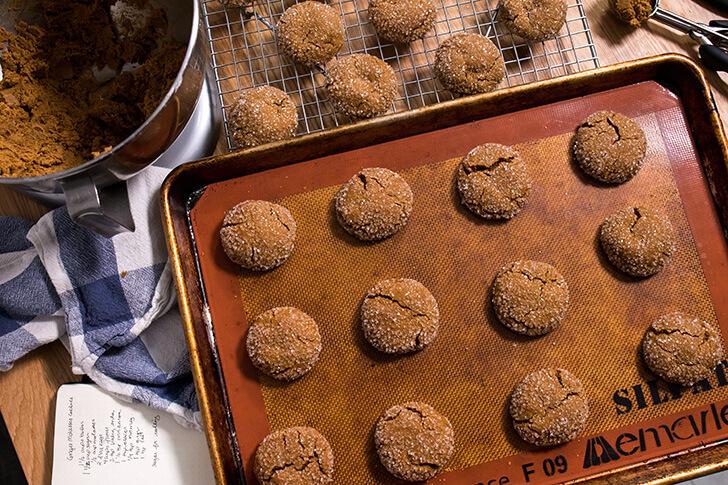 If you're a ginger fan, these must make your list.
The ingredients are great, but the preparation is the secret to this recipe. The cookies are slightly crispy on the outside and then they melt in your mouth.
The perfect cookie? Possibly.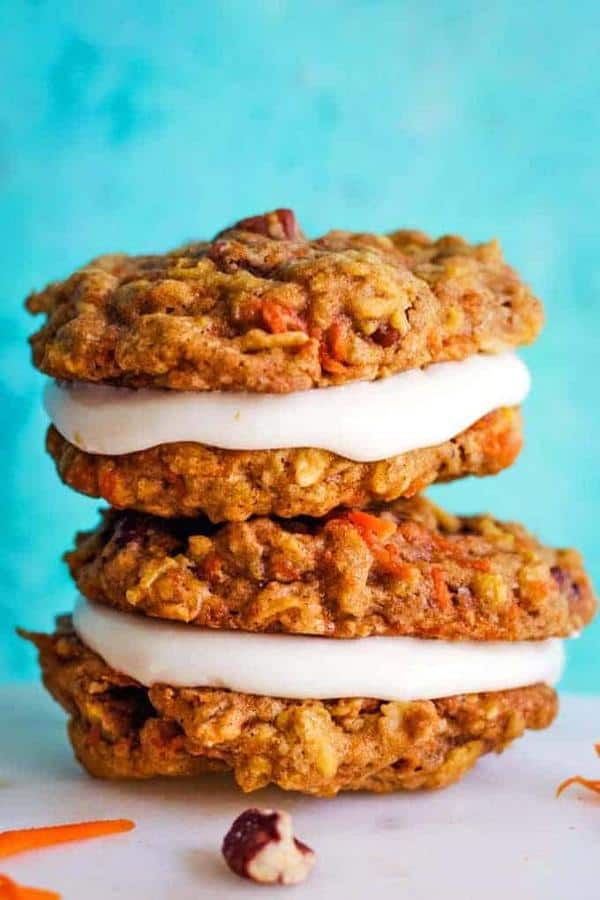 Do these cookies really taste like carrot cake?
If you're a fan of carrot cake you simply can't pass this up. It's uncanny how you get all the flavors in a cookie.
Karissa, the recipe author, has done a great job here. An absolute must.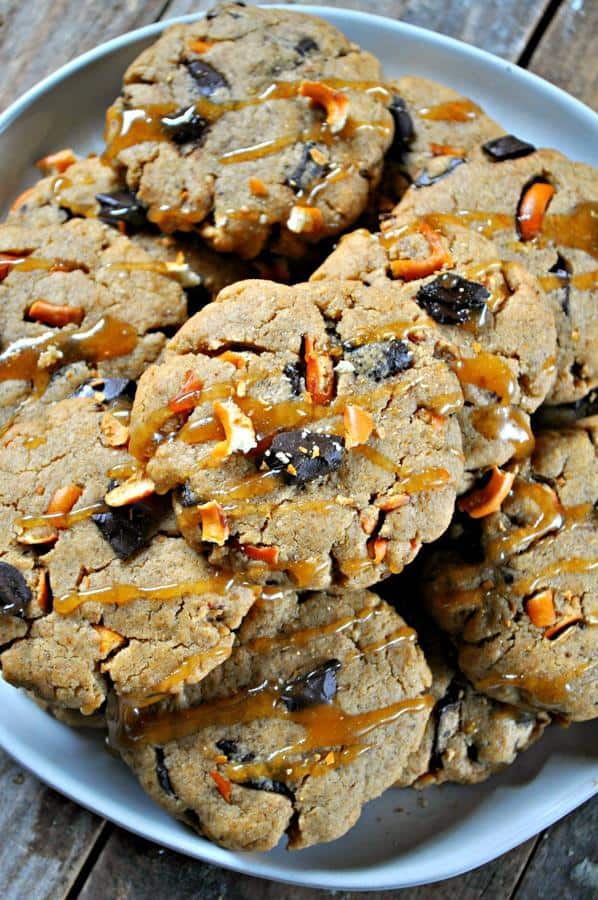 The title sold me immediately!
Dark chocolate, pretzel, caramel, peanut butter, all in a cookie? What more is there to life? Easy to make and even easier to eat!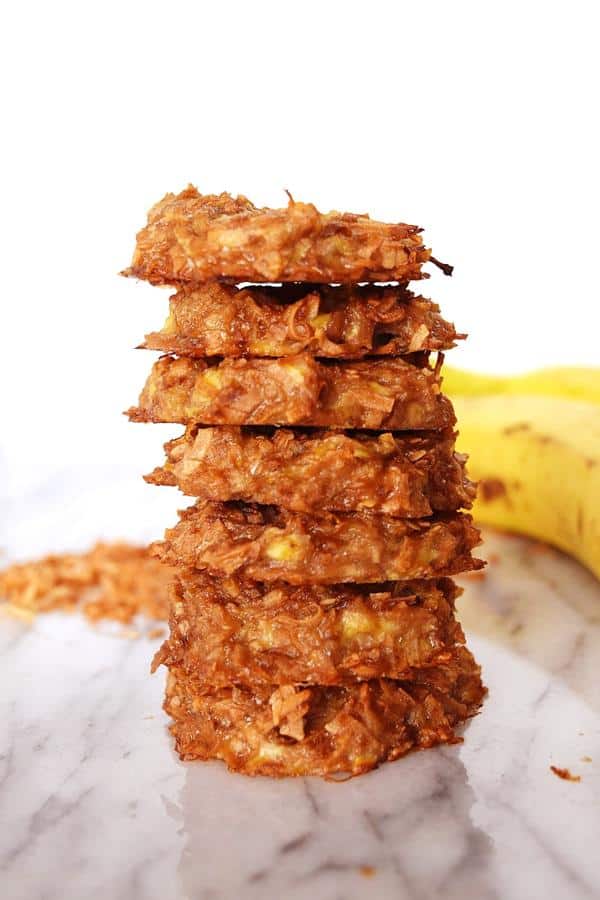 A taste of the tropics in a cookie!
Beautifully moist and chewy cookies and if you think they look a little unique, you'd be right. How many ingredients do you think?
Just two!
Follow the instructions because these are totally worth it.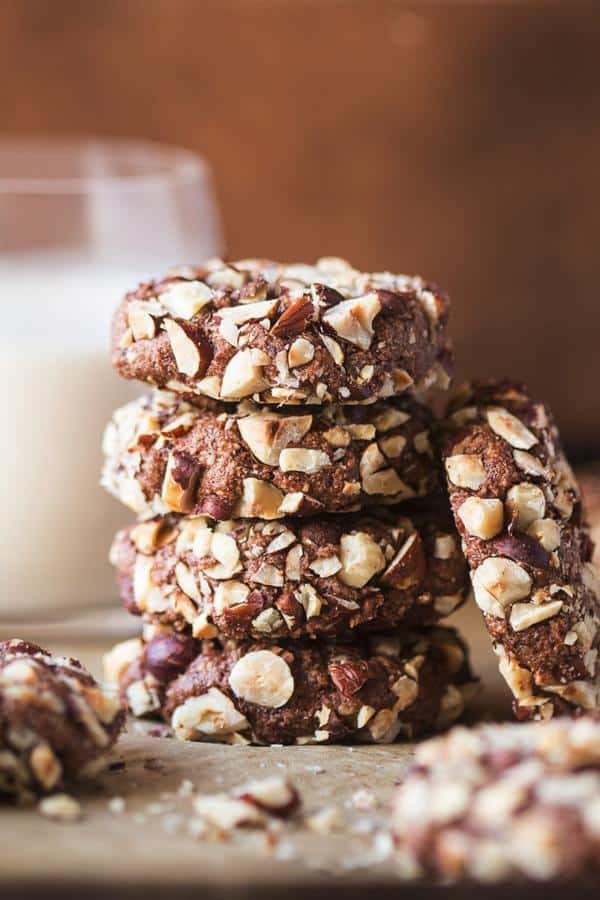 A fabulous gluten-free cookie recipe.
Chocolate and hazelnuts have gone together for a long time and here you get to enjoy them in a super easy recipe great for anyone with a gluten intolerance.
Don't make the mistake of passing this up if you don't have any problems with gluten, you'll be missing out!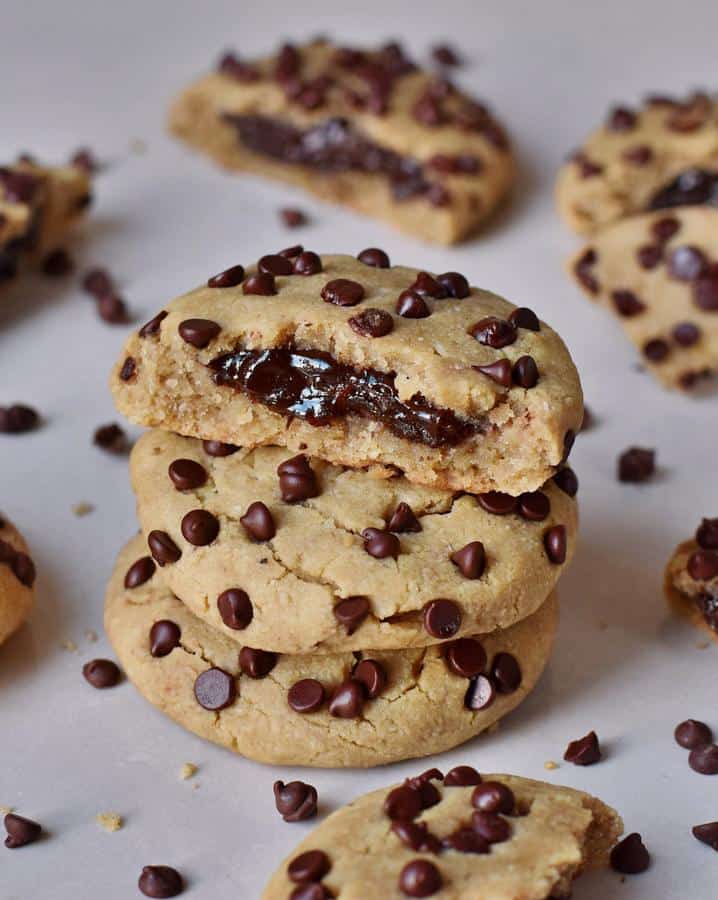 The first two words of this recipe should be enough to convince you to make these, they were for me!
Beautifully moist and sweet these are surprisingly easy to make.
Whether it's for a celebration or you just want to treat yourself and your family, these are fantastic.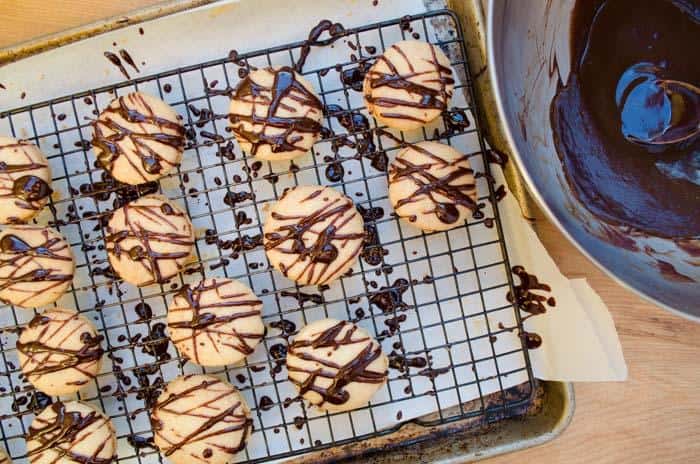 No doubt about it, this is a delicious recipe. The ingredients are divided into three easy sections, everything you need to make the cookies, the filling and the glaze.
The recipe page is laid out perfectly with great photos and instructions. Delicious!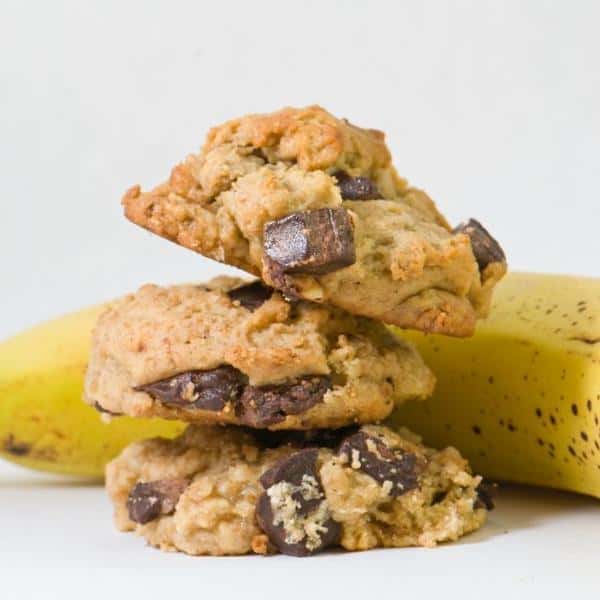 Anything called chunky monkey deserves attention in my book!
Looking at the list of ingredients, I think you have most of it in your kitchen already.
I think the secret ingredients in this recipe is the whole wheat pastry flour. It gives each cookie a wonderful texture.
10 minutes prep time and about 30 minutes baking is all you need. Are you ready? Go!
Wrapping Up
Whether it's for the holidays, parties or just for yourself, every cookie you could possibly want is on this list.
Cookies are so great because they are easily portable, and I love some of the recipes that are packed with protein making the cookies a perfect post-workout treat.
Fruity, filled and even a raw recipe. Will you pick a handful of favorites, or you go through all of them? I recommend the latter.
Time to get your cookie mojo on!