The essence behind these dishes is somewhat similar to the original idea. Use whatever you have in the kitchen that needs eating, put them together and enjoy!
This means every dish we feature in this roundup is completely flexible so feel free to swap out any ingredients with something else.
If you want to have two roundups that'll see you through any occasion, this'll be one of them and the other I recommend, would be this one.
For now, let's see what we have!
Brilliant Buddha Bowl Recipes
Creamy Buddha Bowl Dressing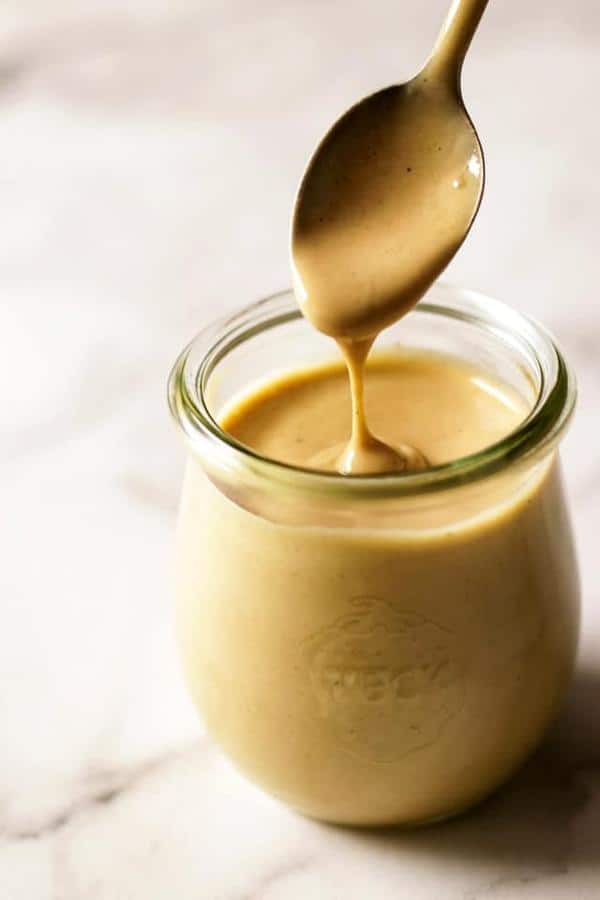 Not strictly a Buddha bowl recipe, but one thing you can guarantee is that every bowl needs a great dressing, and this is what we have here.
The base of this drizzle is tahini and it's delicious. It's sweet, zesty and will go on anything you can imagine so make sure you keep this handy!
Easy Buddha Bowl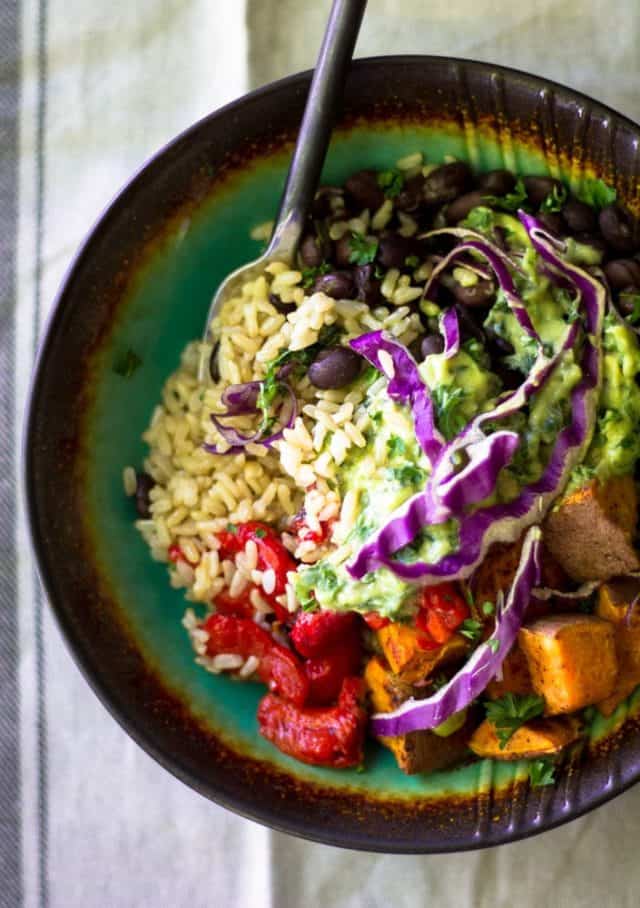 If you're new to Buddha bowls, this recipe would be a great place to start.
Everyday ingredients come together in a beautiful dish. Colorful, super healthy and quick. Love it!
Lentil Buddha Bowl with Quick Hummus Dressing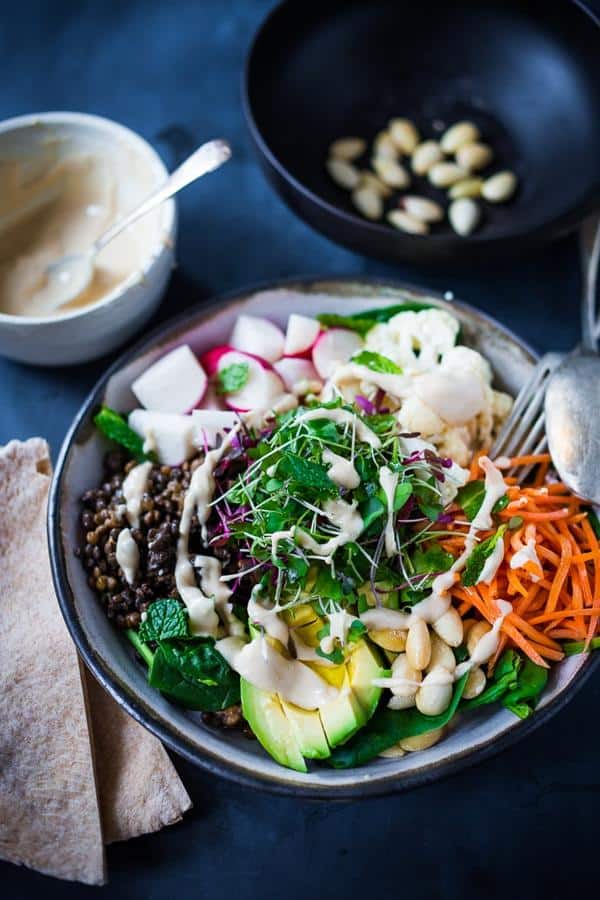 Doesn't this just look fantastic!
Wonderful colors, textures and flavors. The lentils provide that hearty satisfaction, they are the perfect foundation for all the other ingredients. How will you serve yours?
Roasted Garlic Buddha Bowl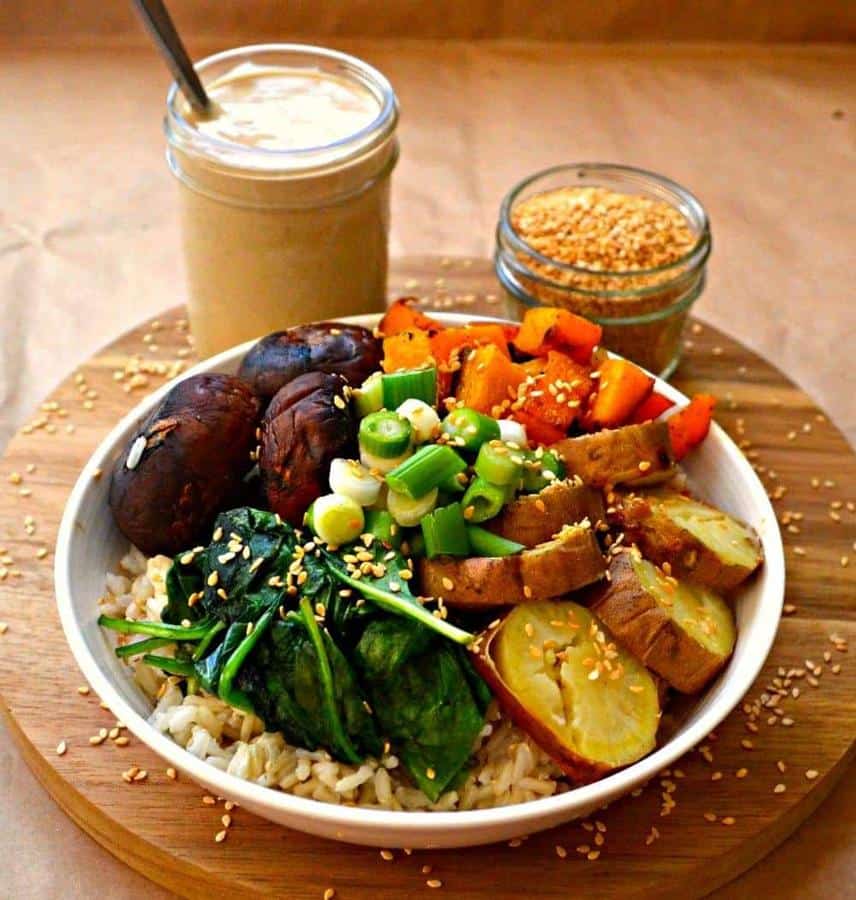 I said recently while reviewing another recipe that I love roasted garlic. As soon I saw this recipe I knew it had to be included in this roundup.
It's actually a sauce made with two roasted bulbs.
Pour over your perfectly cooked sweet potatoes, mushrooms, rice and everything else, and you're ready to rock!
Healthy Buddha Bowl with Shiitake Mushrooms and Cilantro Tahini Dressing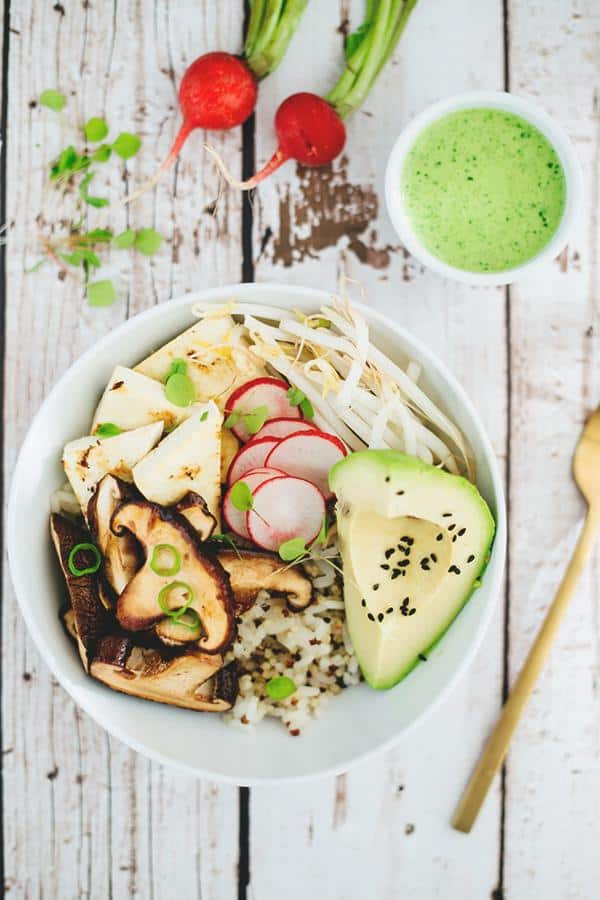 If you're on a health kick this would be the perfect place to start.
The shiitake mushrooms are cooked to perfection and make the perfect partner to the tofu.
Add the other ingredients, drizzle cilantro tahini sauce and you have a meal fit for a king!
Butternut Squash Buddha Bowl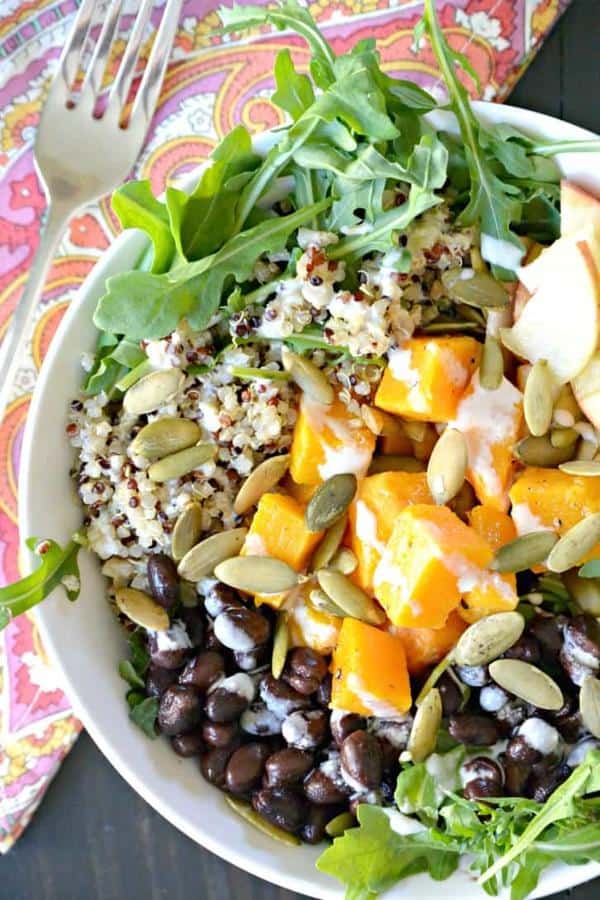 When Squash is in season, this is the recipe you need.
You get some arugula, black beans and one of my favorites, quinoa!
The tahini lime dressing is so good I'll also be using it over my salads. Perfect!
Roasted Tamari Broccoli Buddha Bowl with Soba, BBQ Red Lentils and Parsley Tahini Sauce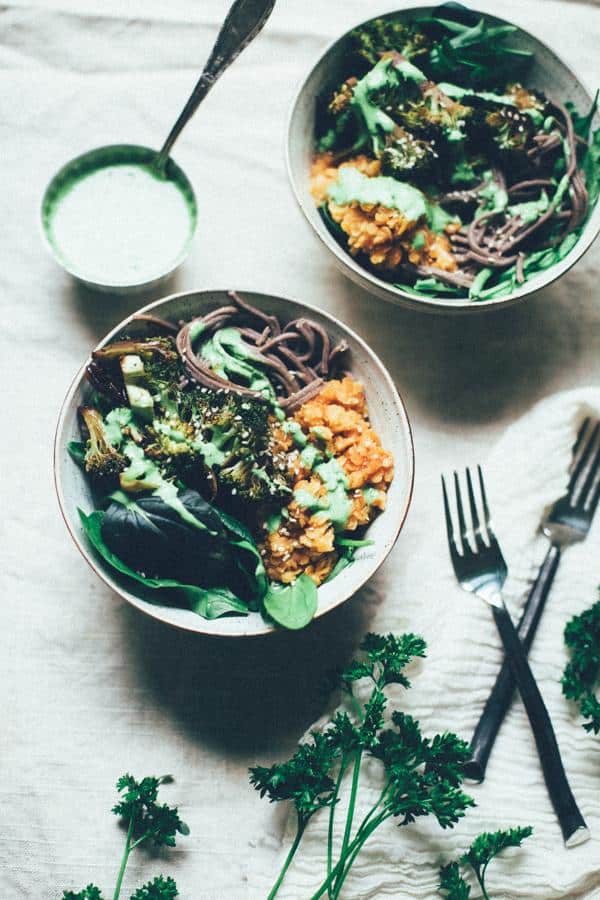 If you want a Buddha bowl that's simple but contains wholesome food, look no further.
The roasted tamari broccoli tastes so good I guarantee you'll be using it with other dishes too. The lentils, the special sauce, it's all so good!
Portobello Fajita Buddha Bowls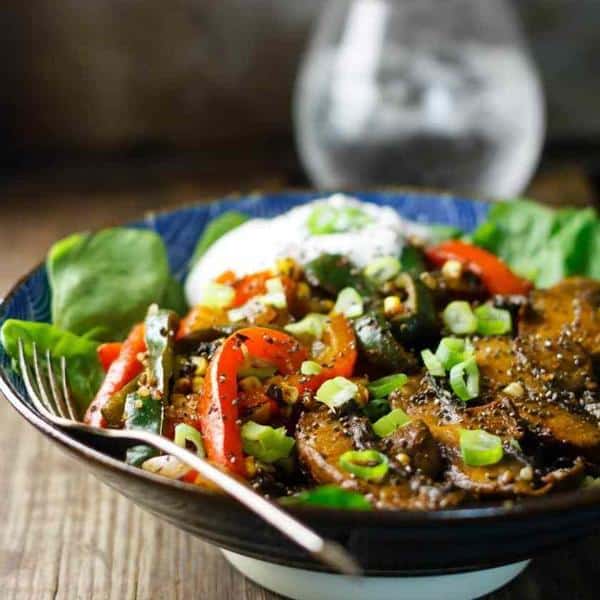 If you like fajitas where portobello mushrooms are the main event, you're going to love this.
Super healthy and it somehow feels as though you're eating two recipes. Naturally gluten-free, this dish looks good and tastes even better!
Buddha Bowl with Peanut Sauce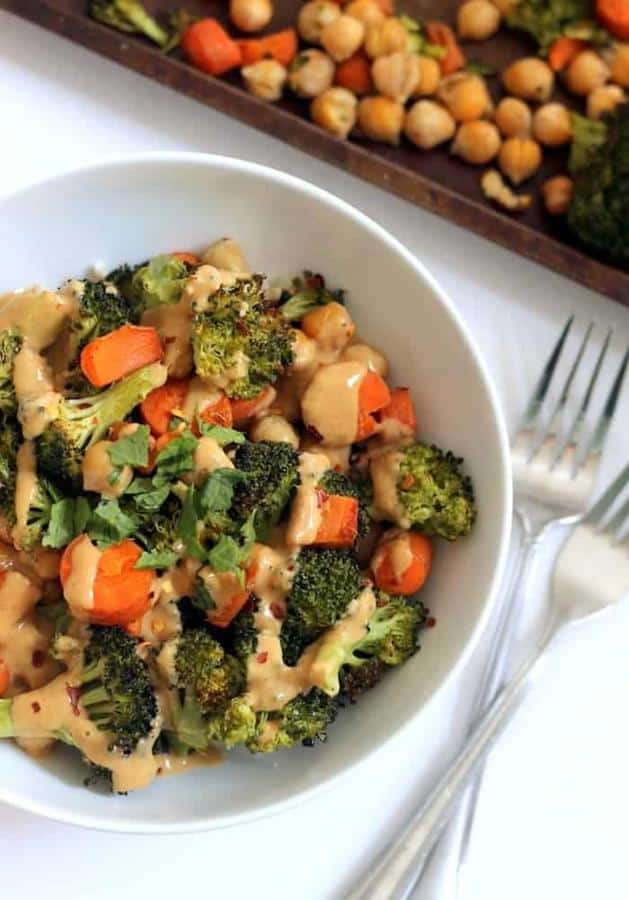 If there's one thing I love, and that's peanut sauce.
Protein filled, this bowl will keep you going for the rest of the day and then some! The vegetables are roasted and work together beautifully.
Really simple recipe even though it looks quite the opposite.
Sorghum Buddha Bowl with Veggies and Avocado Sauce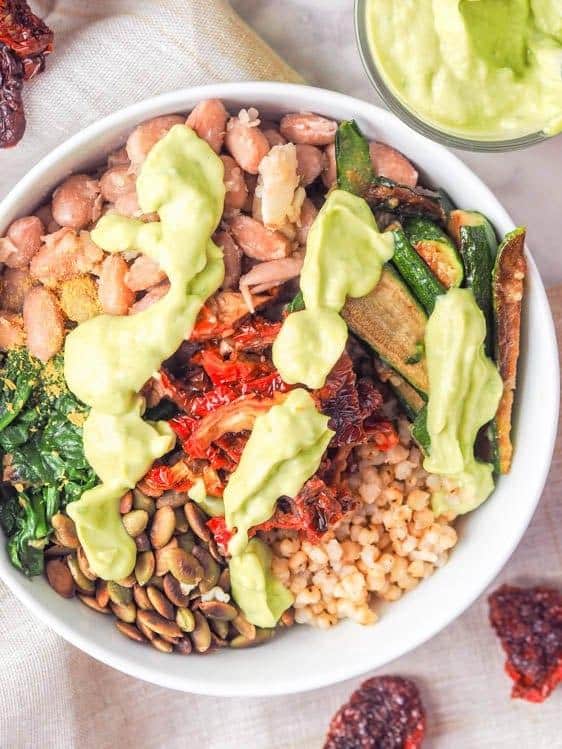 Another gluten-free gem!
A superfood filled bowl of goodness! Zucchini, sun-dried tomatoes and the pièce de résistance, cranberry beans! If you've never happened before, now is the time to start!
Spicy Chickpea Freekeh Buddha Bowl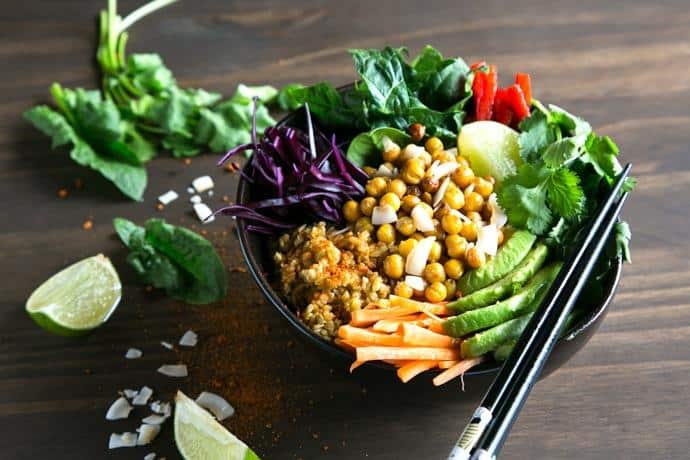 For when you want to include more greens in your life, this recipe gives you everything.
I adore the spicy chickpeas in this dish, they are cooked to perfection and beautifully moist. Throw in everything else and you have a feast!
Rainbow Buddha Bowl with Lemon Basil Dressing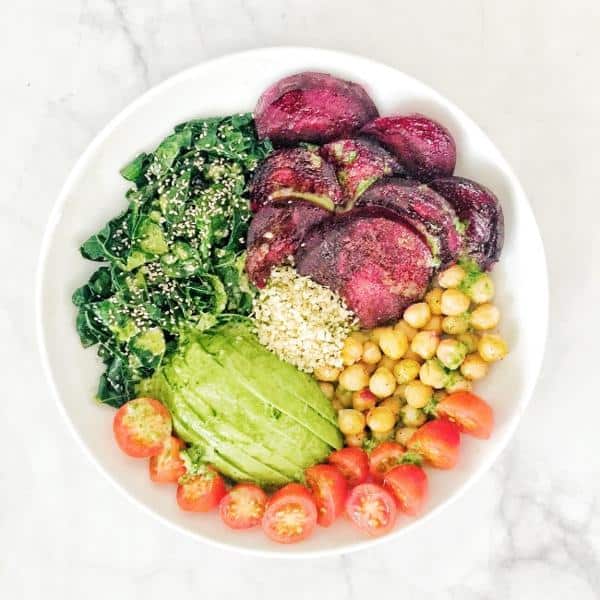 Somehow, I would describe this as a Buddha bowl with a difference. I can't define why I think it's different, yet somehow there is a certain uniqueness about it.
Perfectly roasted vegetables and a delicious dressing will leave you wanting more!
Green Power Bowl with Creamy Cilantro Lime Sauce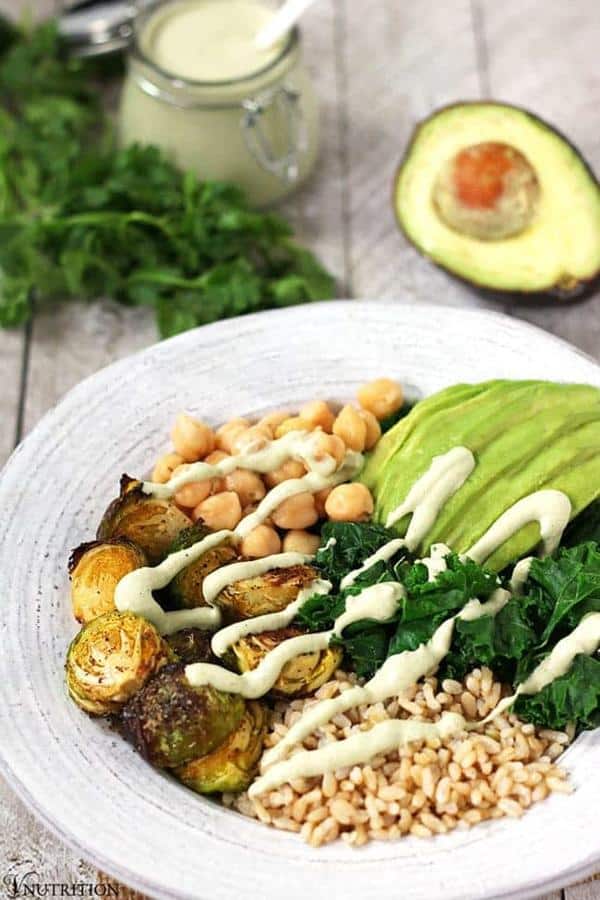 If you're looking for a quick lunch or dinner, look no further.
Kale, brown rice, a can of chickpeas and roasted Brussels sprouts are the main ideas behind this fantastic recipe.
The cilantro lime sauce is so creamy it brings all the flavors together beautifully.
Buddha Bowl with Tasty Chickpeas and Red Pepper Chimichurri
A beautifully loaded bowl with nothing but healthy and satisfying foods.
Straightforward ingredients and the perfect recipe if you have some leftover quinoa.
A can of chickpeas for speed, pumpkin seeds, bell peppers to name but a few of the gems in this dish.
Roasted Veggie Buddha Bowl with Quinoa and Avocado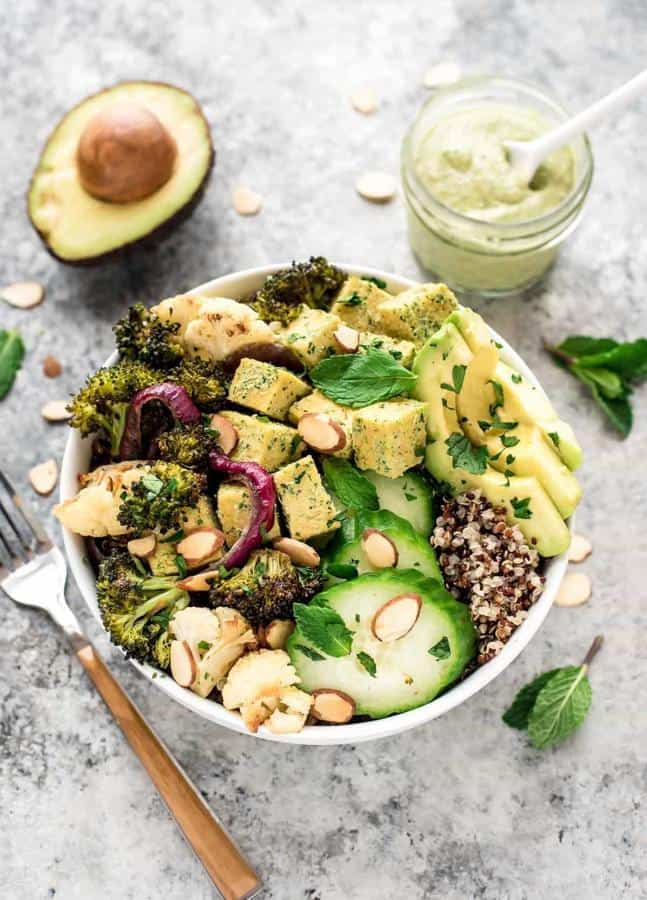 If you're a fan of tofu, this bowl is a must. You could easily leave it out if you wanted to, but I recommend you don't!
Perfectly roasted vegetables, to creamy avocados and a beautifully balanced dressing make this a fantastic bowl of goodness!
Chili Lime Walnut Buddha Bowls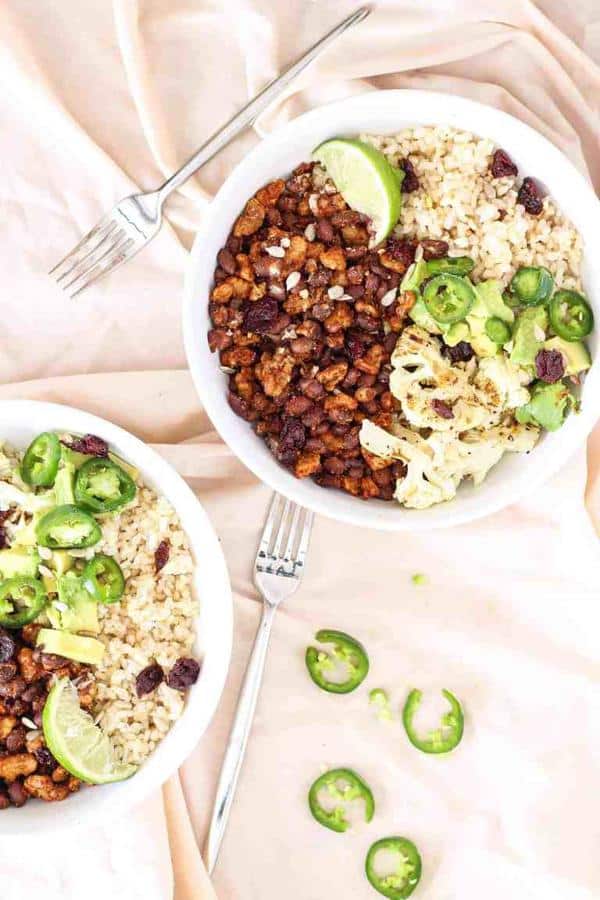 Black beans and the perfect blend of chili spices is what this beautiful dish is all about.
If you want a quick lunch or dinner, loaded with flavor and super healthy, reach for this dish and you won't be disappointed!
Buddha Bowls with Sweet Potatoes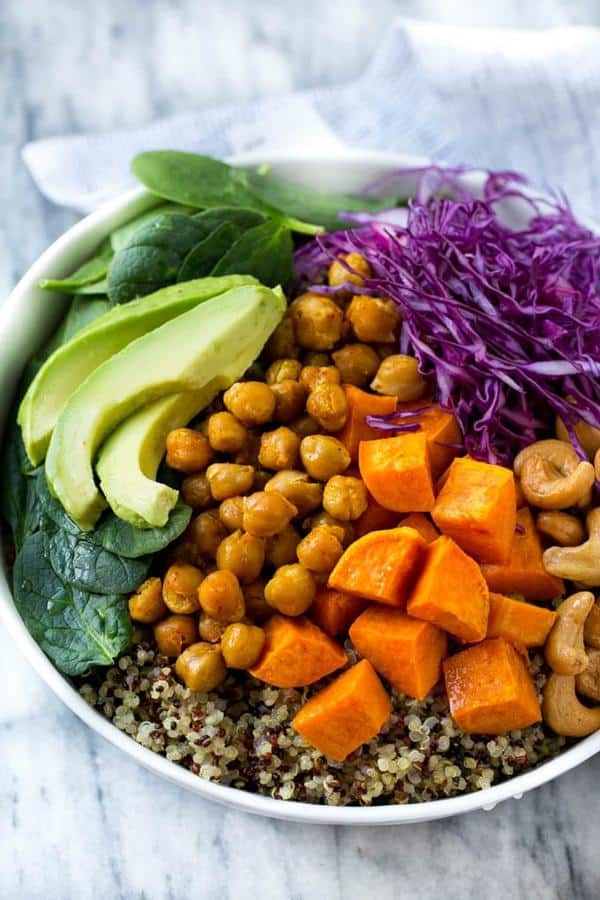 The something about sweet potatoes that make them go really well with chickpeas.
You get everything in this recipe, quinoa and even some beautifully roasted cashew nuts!
You're looking at just 15 minutes prep time and about 25 minutes to cook. Bursting with flavor and no matter how you throw it together, it will look like it was prepared by a top chef!
Buddha Bowl with Kale and Edamame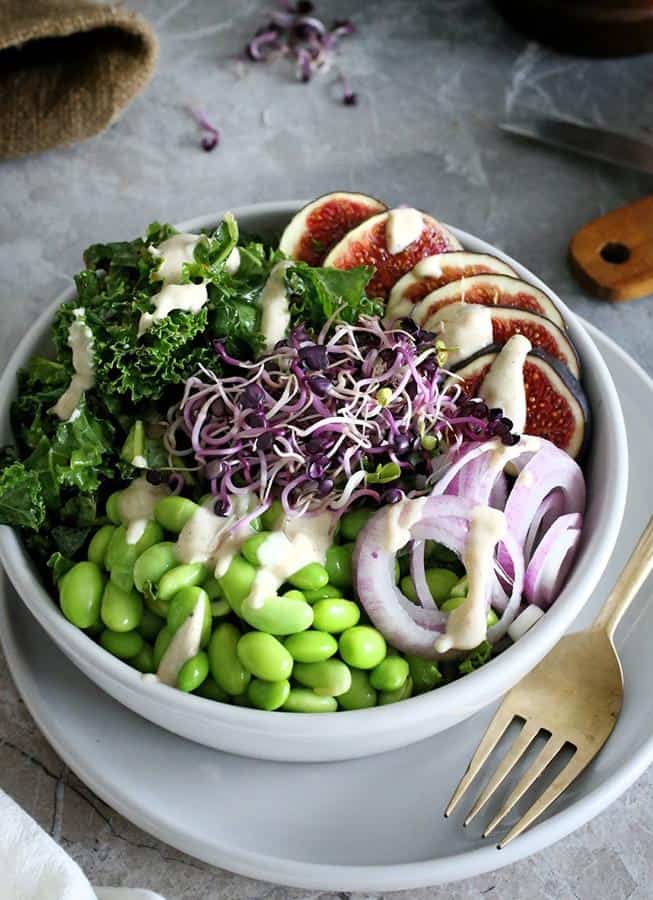 I love everything about this recipe!
When figs are in season you have to include them in this dish. They balance all the other ingredients out to perfection. Perfect for a quick lunch and really healthy as well!
Buffalo Cauliflower Buddha Bowl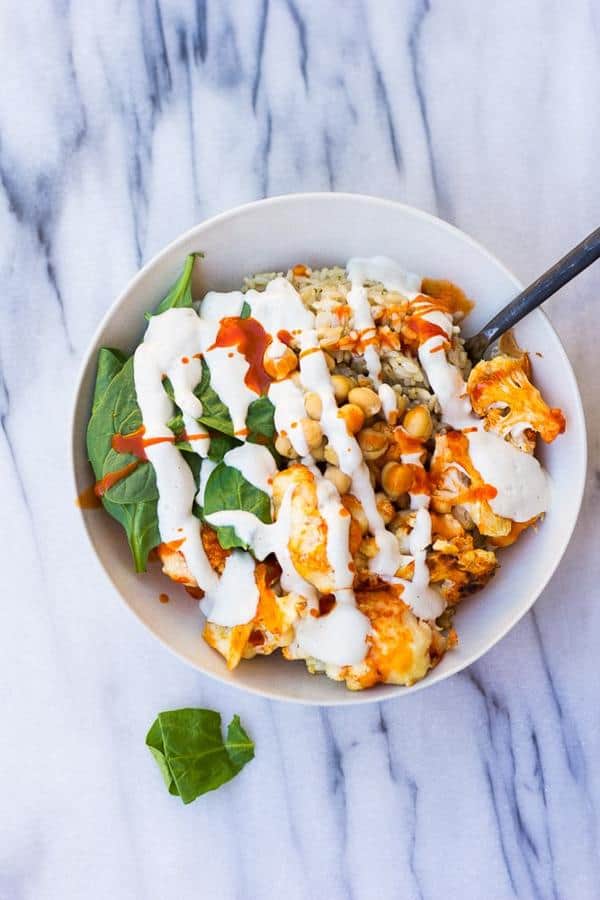 Buffalo roasted cauliflower is where it's at!
If you're a fan of this white vegetable, this is going to be your favorite as they are cooked with the herbs and spices to perfection!
And yet somehow the savory cashew cream drizzle wins the day!
Glowing Winter Quinoa Buddha Bowls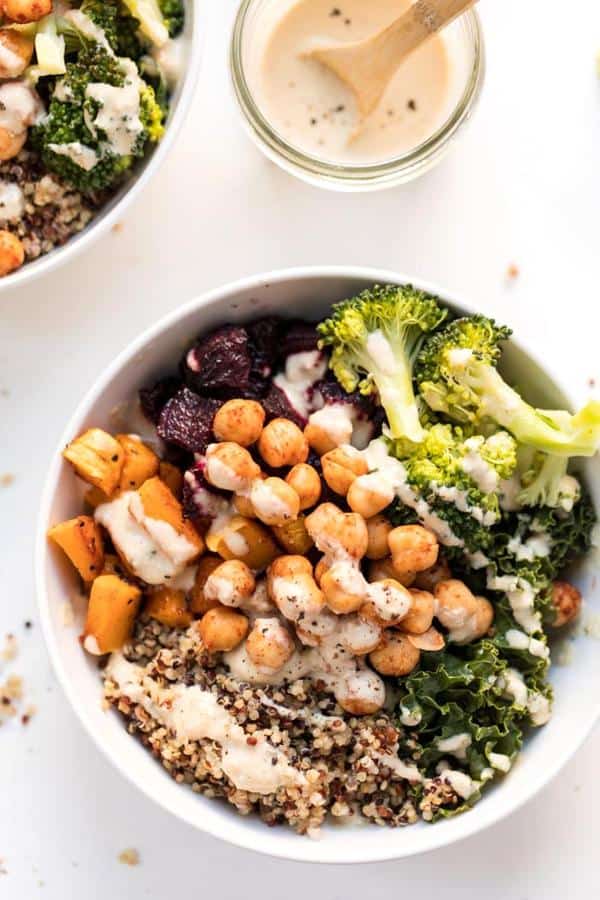 I love butternut squash and have had many variations of it, this is certainly one of the best.
The squash is roasted with paprika alongside beets, chickpeas, kale and broccoli. Of course the quinoa comes along to join the party.
The tahini miso dressing finishes everything off to perfection.
Plantain Buddha Bowl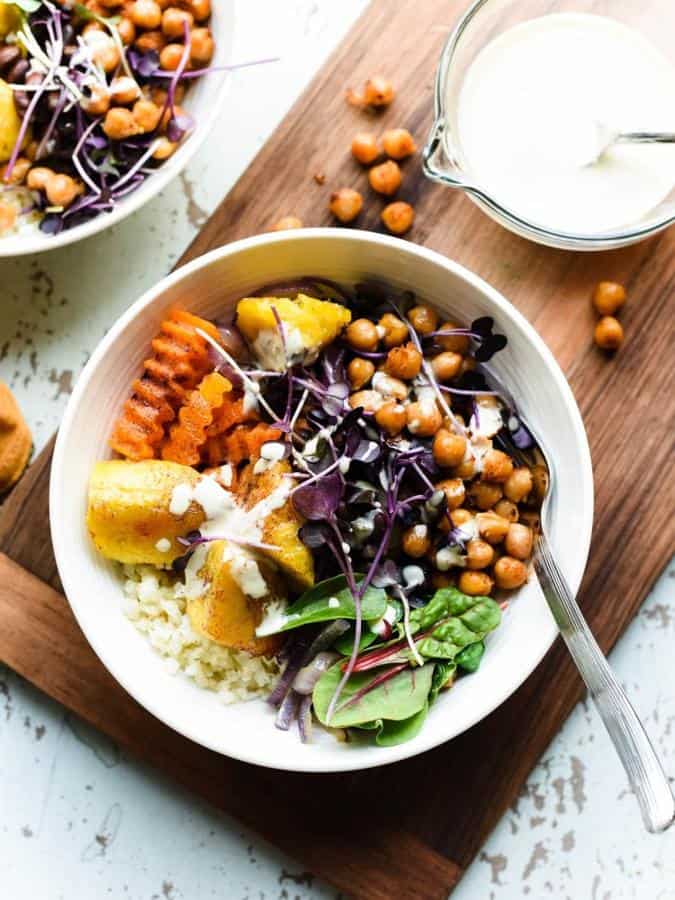 If you've never had plantain before, try it in this dish first as it's superb.
A rainbow of colors guarantee a bowl of contrasting flavors, textures and above all satisfaction. Super healthy and ready to go!
Nourishing Garden Veggie Buddha Bowl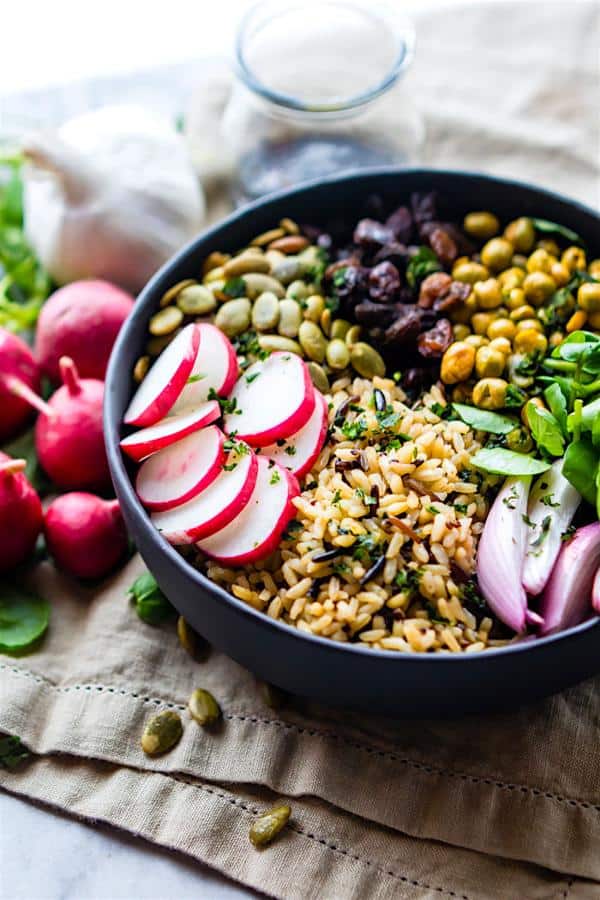 Superfoods the name of the game. Naturally gluten-free and loaded with goodness.
I love how the rice is mixed with quinoa, it somehow makes the dish lighter without sacrificing any of the satisfaction.
Roasted chickpeas are delicious, throw in everything else and you're good to go!
Roasted Broccoli Buddha Bowls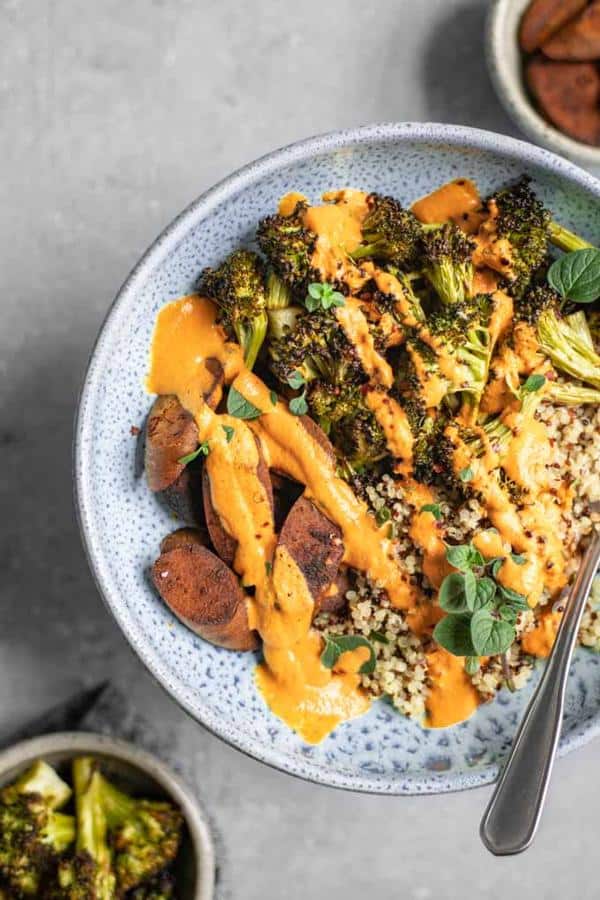 All Buddha bowls are meals, but this recipe is a super meal. Is there such a thing? There is now!
The roasted broccoli is wonderful, add the red pepper sauce and it's the perfect match. The recipe calls for vegan seitan sausage, if you can source this, great! Otherwise your favorite plant-based alternative and it will work just fine.
Rainbow Broccoli Buddha Bowl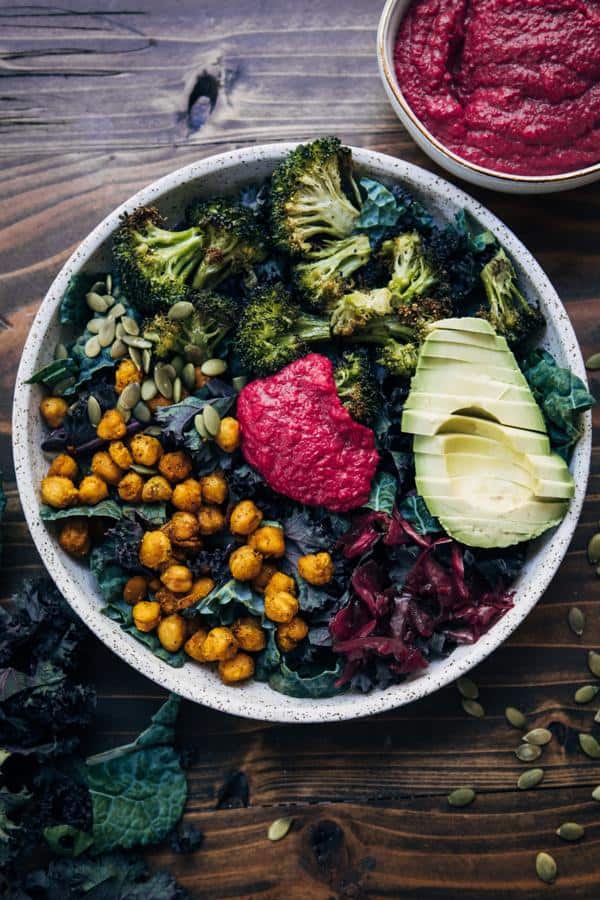 If you find it hard to get greens into your kids, make mini versions of this bowl.
Beautiful dark green colors and the roasted chickpeas are like little golden nuggets waiting to be discovered. Absolutely delicious!
Sweet Potato, Squash and Kale Buddha Bowl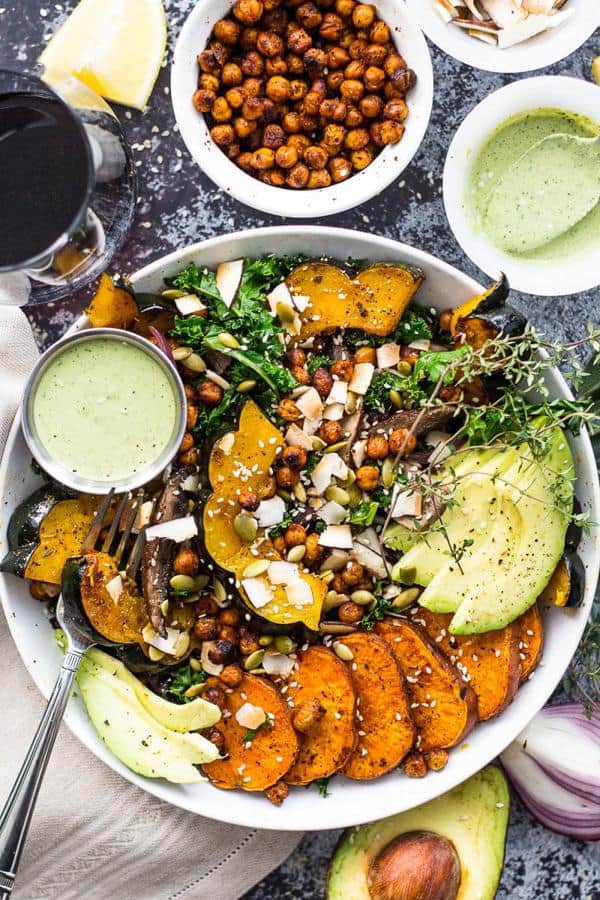 Looking for a post-workout recipe? You may have found it!
Around the fall is the perfect time for Root vegetables. There is no better way eat them that this recipe.
Don't skip out on the presentation, even if you're just making this for yourself, all the colors look so great together.
Vibrant Spring Broccoli Buddha Bowl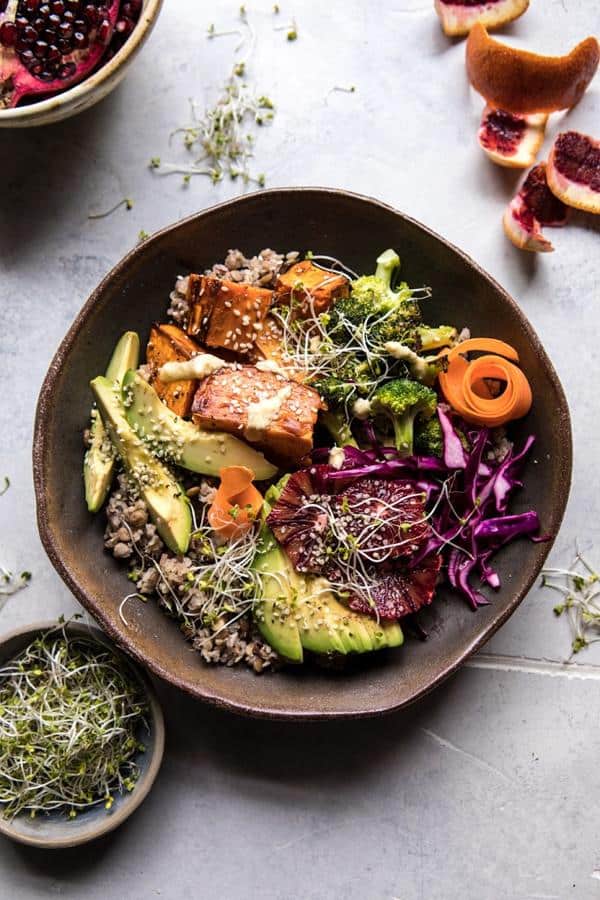 Just one look at this picture and you can see why it's called, 'vibrant'.
Not only does it look good, it tastes even better. The broccoli and the sweet potato are perfect partners with the avocado coming in to make sure everyone plays fair!
One of the loveliest dishes I've seen.
Chili Sin Carne Buddha Bowl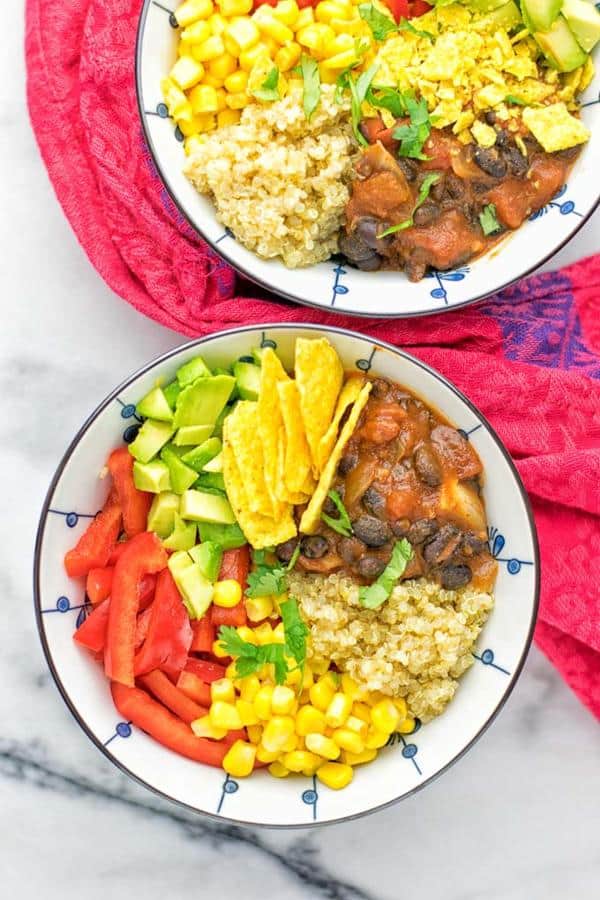 Fancy a chili? Who doesn't right?
Florian from Contentedness Cooking serves up another gem. This is literally two recipes merged together to make a wonderful meal.
Healthy, light and totally satisfying.
Roasted Vegetable Buddha Bowl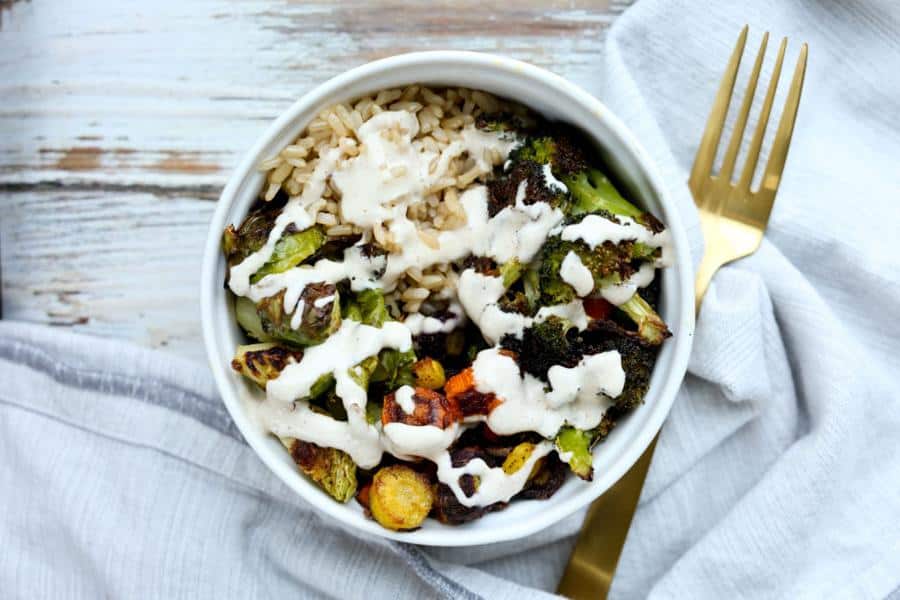 If you have some vegetables leftover that need eating, this would be the time to reach for this recipe.
Roasted to perfection, this gluten-free recipe ensures you don't throw away any food from your kitchen. A little rice and the perfect drizzle all make for the perfect meal.
Orange Tofu Buddha Bowl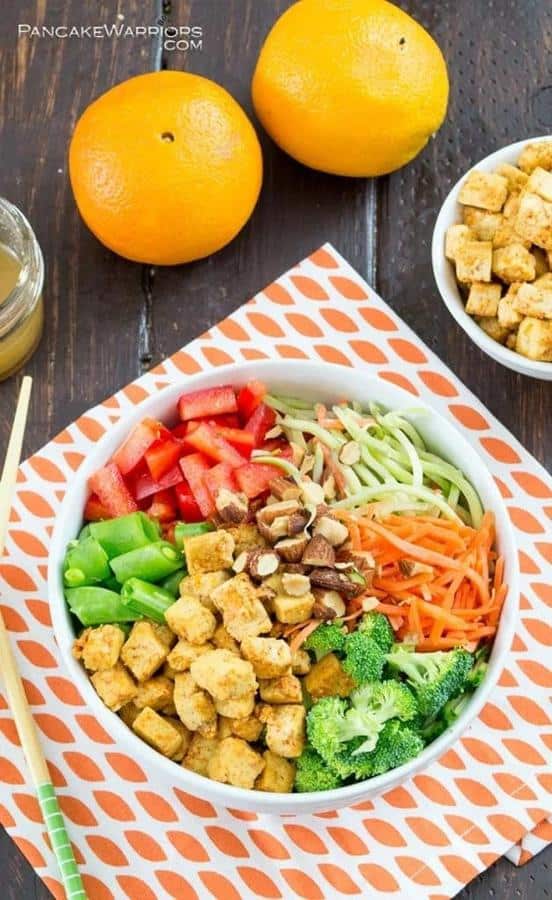 If you love tofu, I doubt you've never had it like this! Delicious!
This Asian method of making the tofu is new to me, I couldn't stop eating it!
The other additions for this bowl are not only super healthy but make this one lightning fast meal, you'll have it on the table in no time.
Curry Peanut Buddha Bowls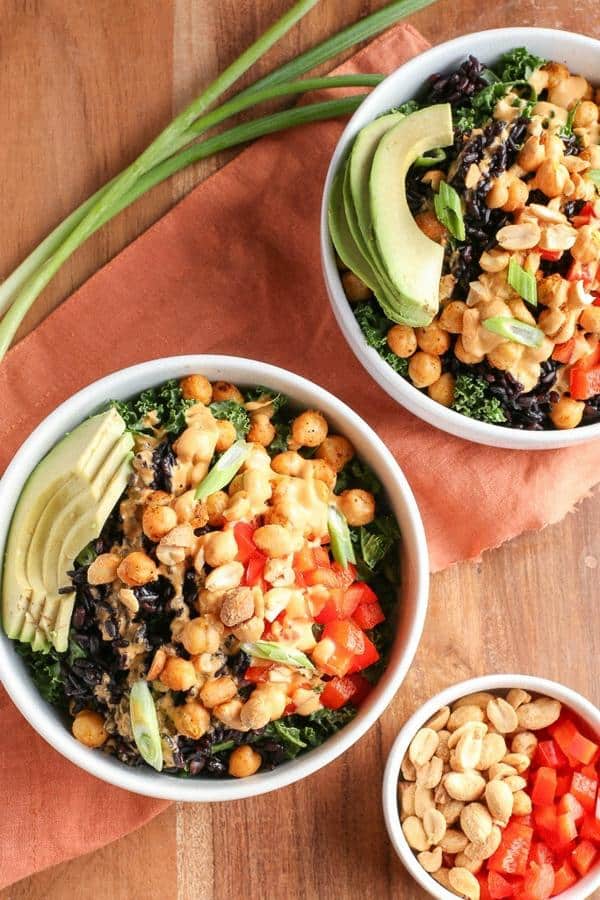 You don't often see a curry flavored Buddha bowl, but why not, right?
I'm a big fan of curry so was excited to see this.
The recipe is divided into three sections, the chickpeas with all their seasonings, the dressing and everything else. Together they make a winning team!
Mediterranean Buddha Bowl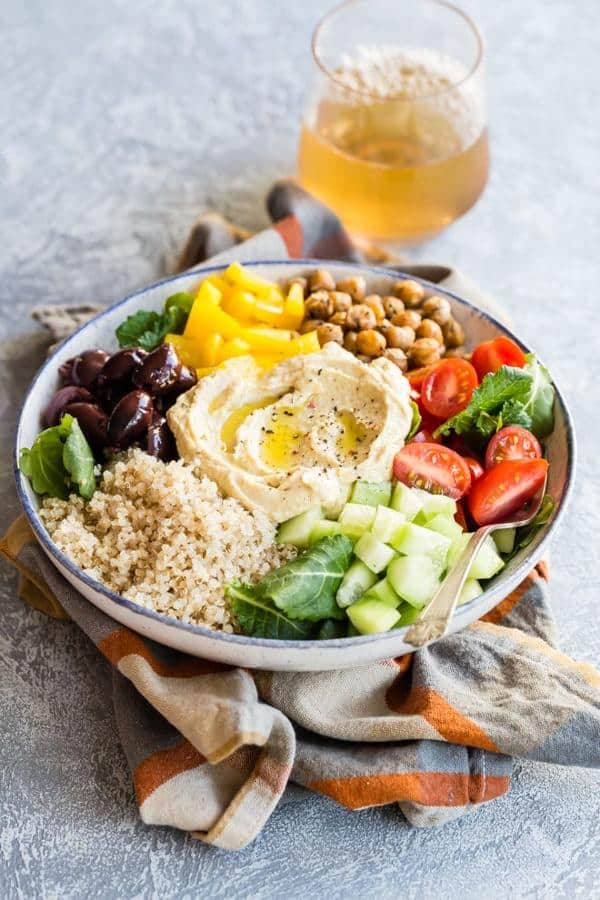 This is what I call delicious!
Whether you'll be buying the ingredients for this recipe, or if you have leftover salad, there is no better way to eat it this.
The hummus in the middle (home-made or store-bought) is just perfect!
Roasted Veggie Bowl with Cashew Dressing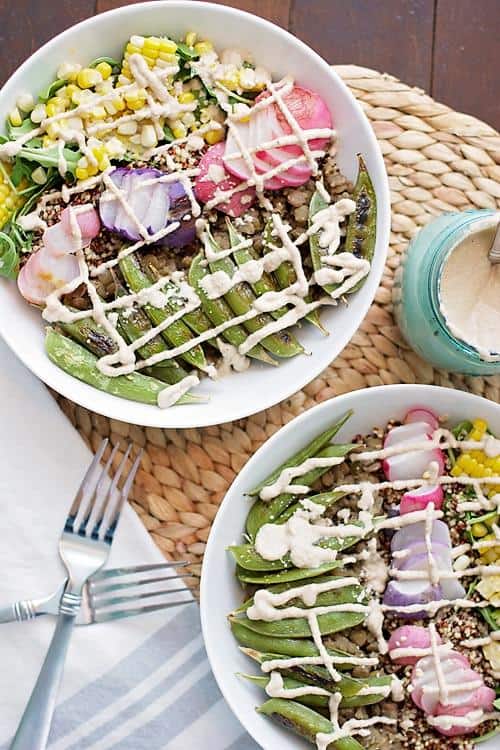 Quinoa and lentils are the perfect match in this dish.
The bowl is great, the cashew dressing is really what steals the show here. I can only say, wow!
I'm going to use this on salads, potatoes, everything!
Chickpea Sweet Potato Buddha Bowl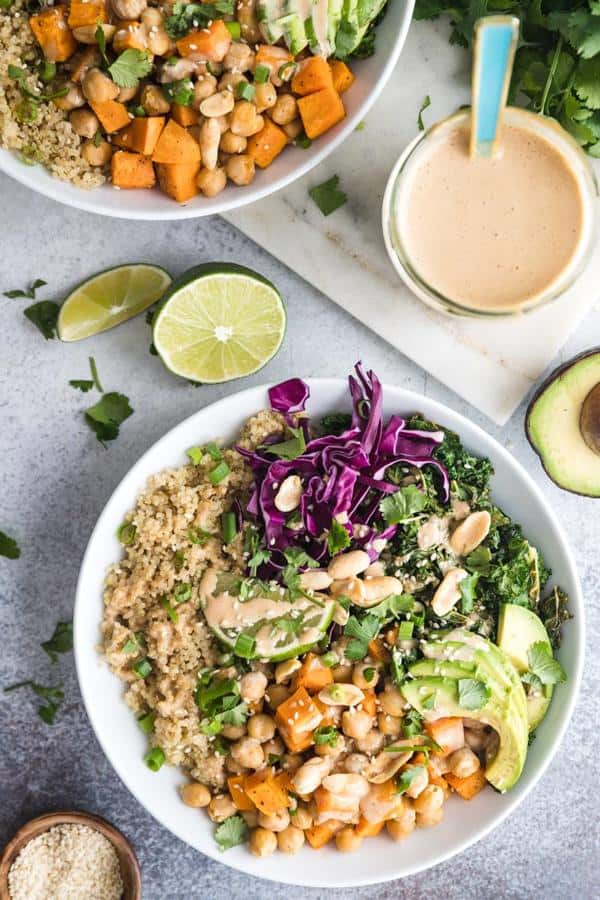 Chickpeas and sweet potato really do go well together and this recipe takes advantage of this partnership.
Perfect for a weeknight dinner or a weekend treat, it won't leave you feeling hungry yet you won't feel lethargic either. It's simply fabulous!
Coconut Curry Tofu Buddha Bowl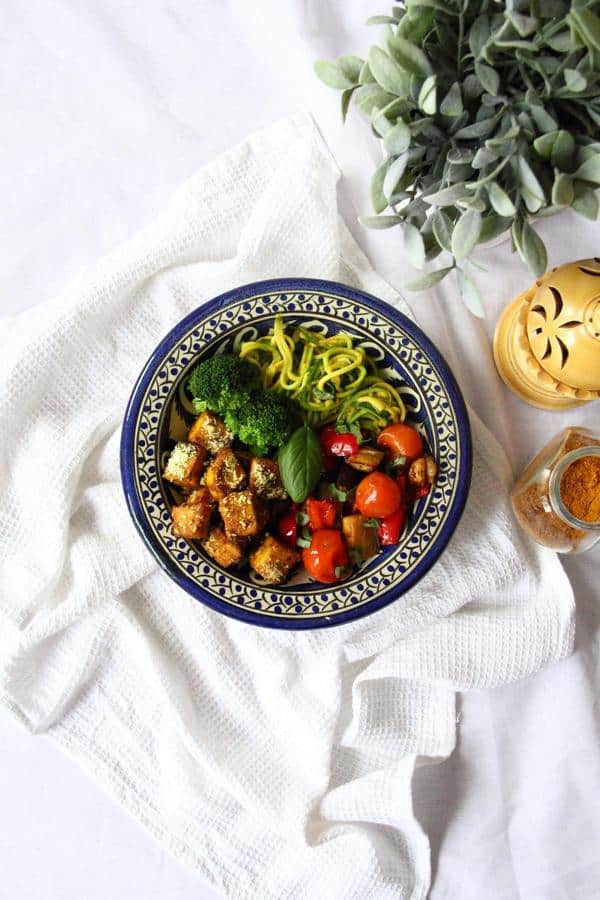 I love tofu and the way it's prepared here was such a delicious surprise to me.
Having eaten tofu in so many ways, I didn't think anything could surprise me, but this did and in a good way!
Try it, you won't be disappointed.
Peanut Tofu Buddha Bowl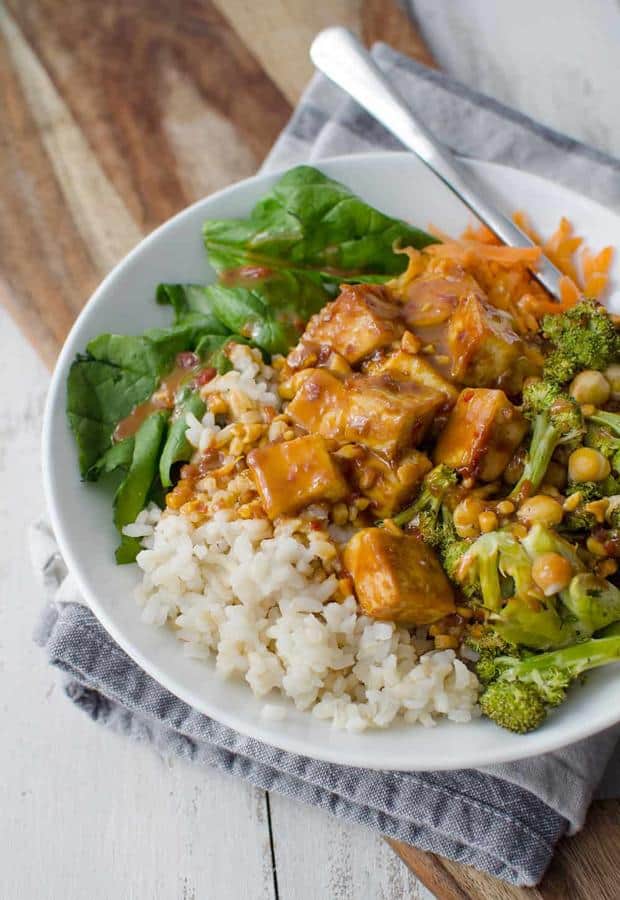 I'm not quite sure what the definition is for an exact Buddha bowl. But really, when you're talking about great food it doesn't matter, right?
However you describe this dish, it's just awesome. The tofu is cooked with a peanut sauce and is to die for.
Throw in the broccoli and chickpeas, rice and everything else and you're good to go.
Glazed Tofu Buddha Bowl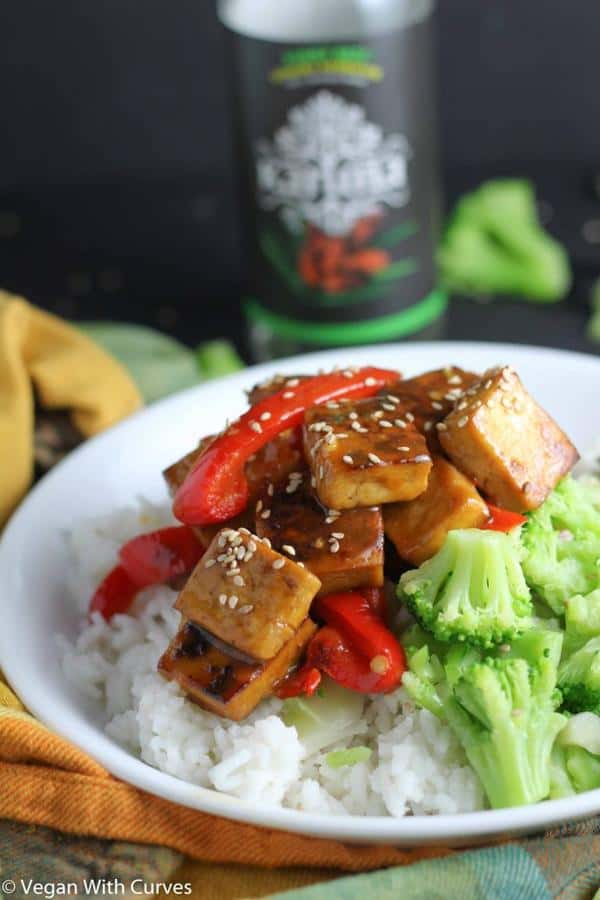 A delicious glazed tofu recipe. The characteristic sign of sesame seeds sprinkled over the tofu means I already like it before I tried it!
Steam some broccoli (or any other vegetable) along with rice or quinoa and you have a delicious meal.
Buddha Bowls with Spicy Mango Sauce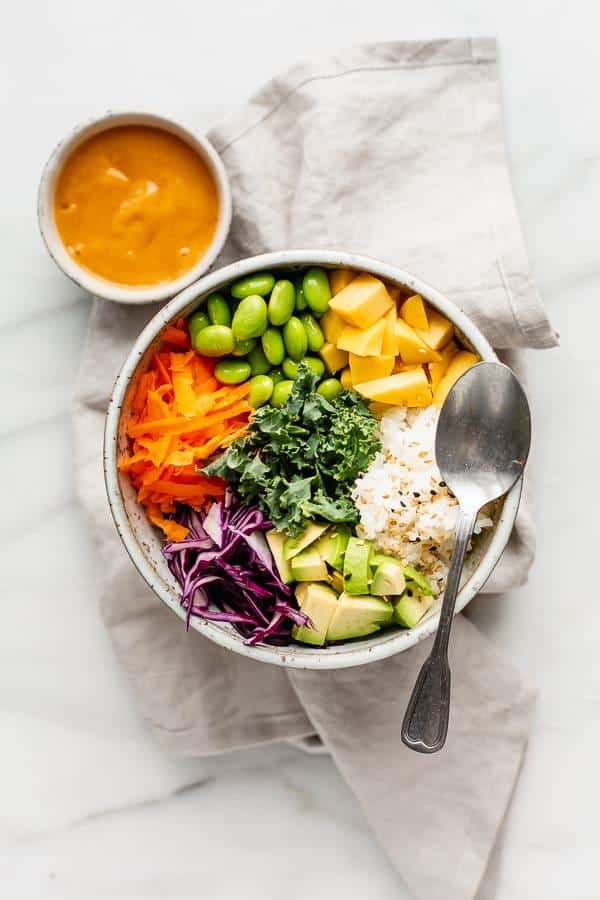 If you've never had a Buddha bowl before this would be a great place to start.
There are only a handful of ingredients but my goodness they go well together. If you are unable to get sushi rice, just use your favorite and it will work just fine.
The best part? The Spicy Mango sauce that you drizzle all over it, or in my case, pour!
Budget Friendly "Buddha Bowl"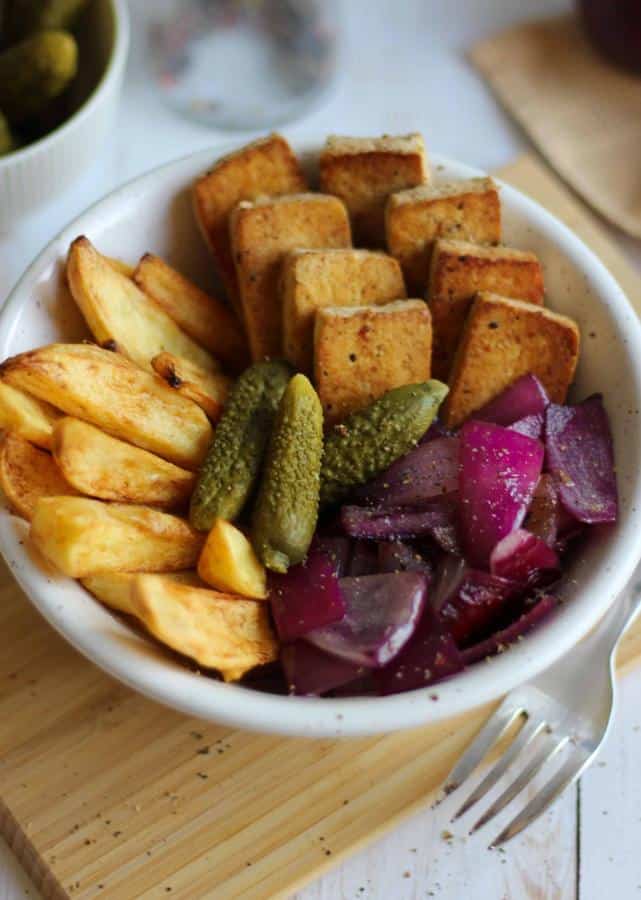 If you're very efficient in your kitchen and hardly have any leftovers, buying food just to make a Buddha bowl can be expensive depending on where you shop and what you buy.
Go light with this supercheap and super healthy plant-based meal. No rice or beans in sight.
If this looks simple, it's because it is and that's where its beauty lies. Delicious? You bet!
Falafel Buddha Bowl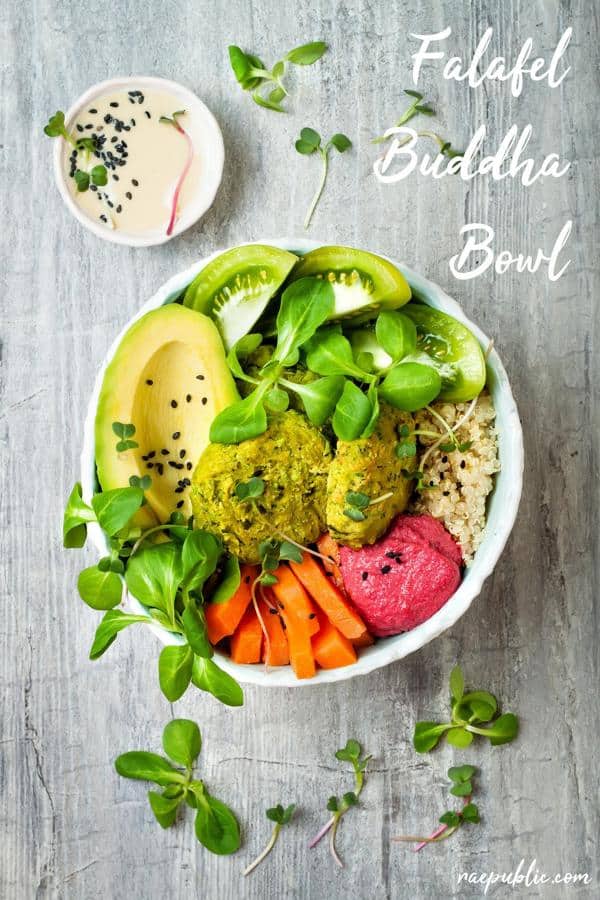 I've seen a lot of falafel recipes and tried most of them. The common problem with these is that they can be a little dry. Not so here.
Along with these perfect patties you get the perfect accompaniments, simple foods that go together perfectly. You won't be hungry, you will be satisfied!
Nourish Buddha Bowl with Harissa Tahini Dressing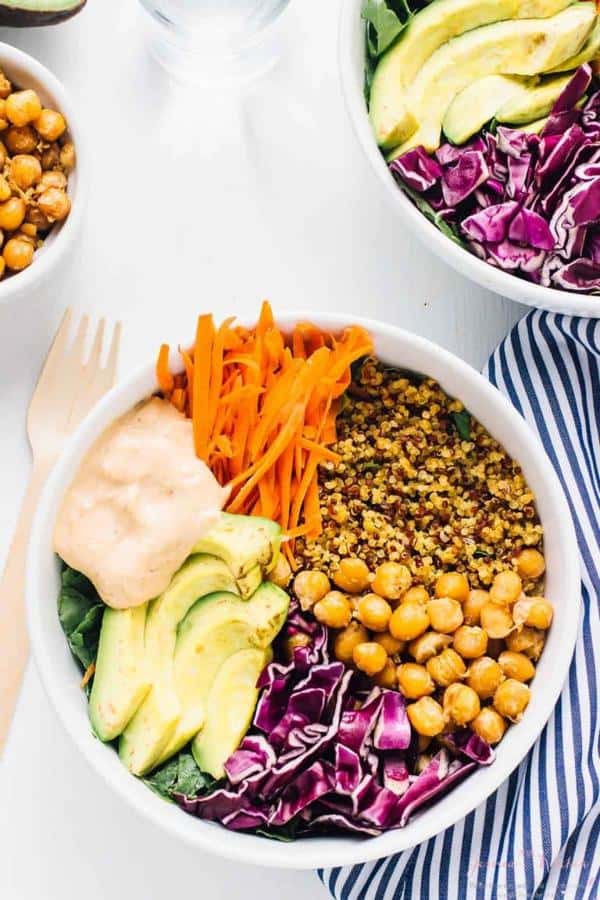 Another great recipe that looks great and tastes even better.
If you have some cabbage in the kitchen that needs eating, this bowl is where it needs to go.
The chickpeas are cooked to perfection and so is the quinoa. The dressing, however, is the star of the show and makes the dish a blockbuster!
Balsamic Dijon Tempeh Buddha Bowls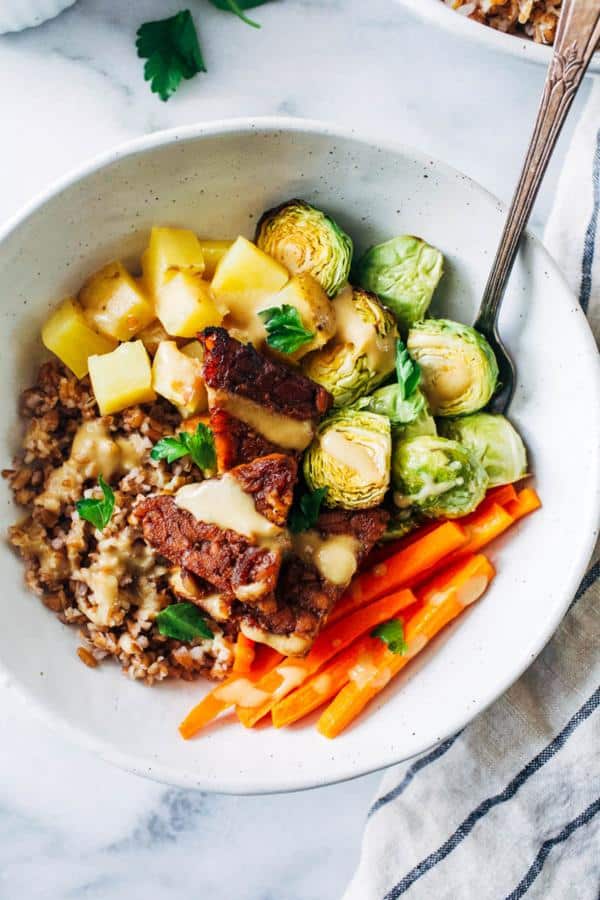 If you love tempeh, you must try this dish!
Even if you've never had it, this would be the perfect place to start.
The vegetables are wonderful, and the Dijon sauce is simple and delicious. What a combination!
Buddha Bowl with Turmeric Infused Roasted Potatoes and Quinoa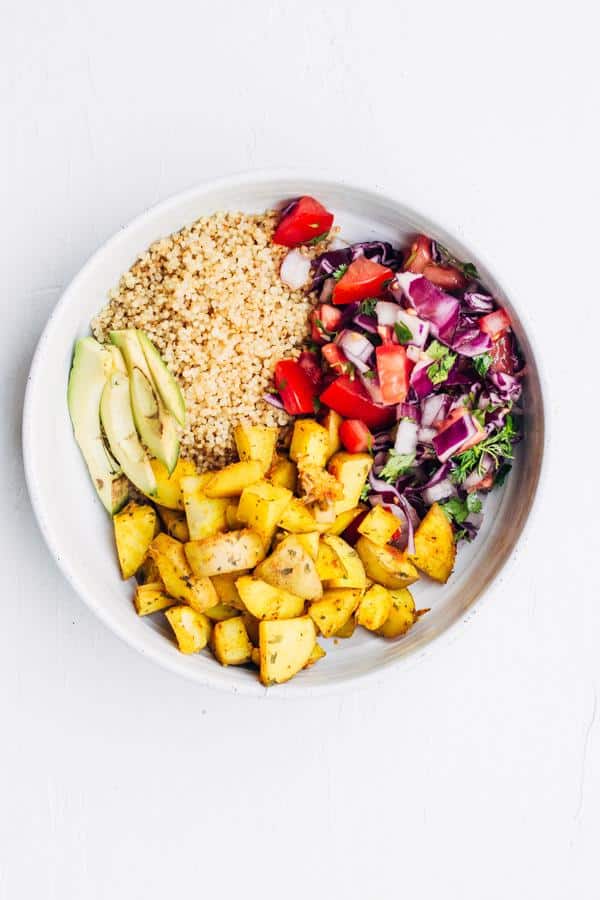 I guarantee you've never had roast potatoes quite like these.
For me, this is totally unique as I've never had turmeric infused potatoes. They really are the star of the show and not the side vegetable.
Add the quinoa and the delicious salad and get ready to drizzle the yummy sauce over the top!
Turmeric Chickpea Buddha Bowl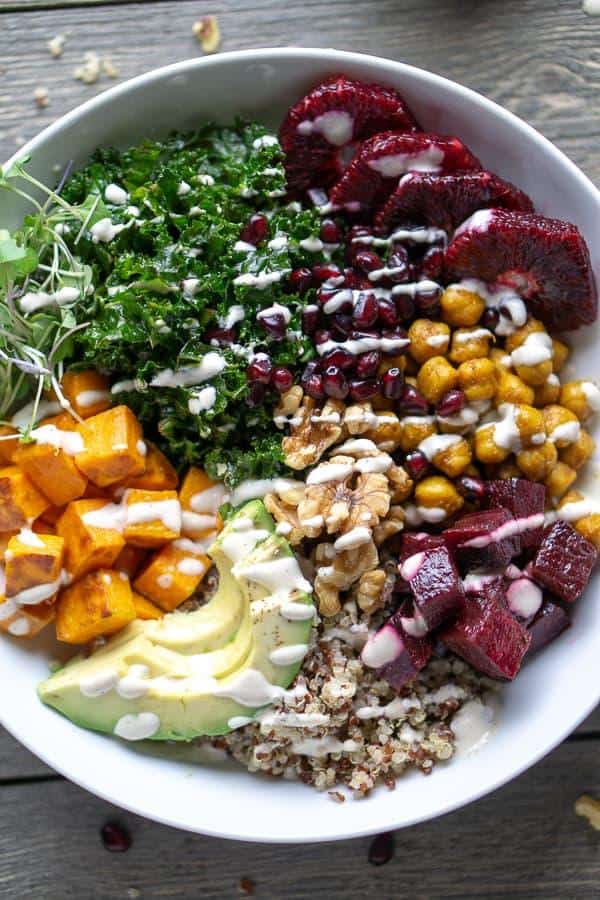 Turmeric is well-known for its anti-inflammatory properties and here it makes chickpeas taste even better!
Beets, walnuts and more make for a vibrant looking dish that tastes better than you can imagine.
Winter Harvest Buddha Bowls with Maple Miso Glazed Tempeh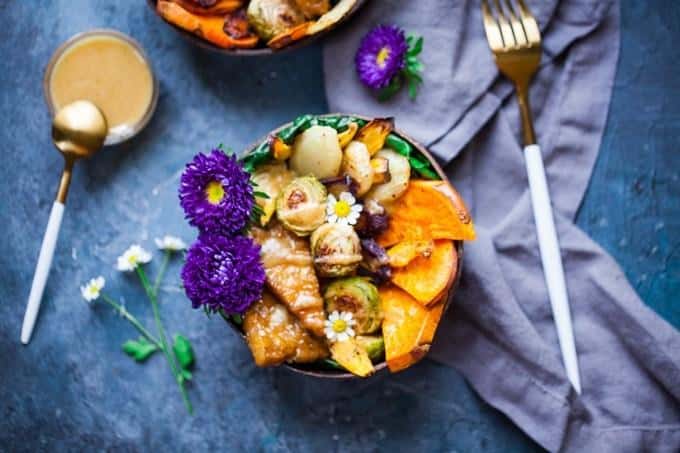 A Buddha bowl with a difference. I guess it's all in the presentation, this is one of those recipes where it doesn't matter how you put it together, it's always going to look fantastic.
The tempeh is cooked with a maple miso glaze which makes it delicious! In those fall months when the root vegetables are abundant, make this!
Roasted Root Vegetable Buddha Bowls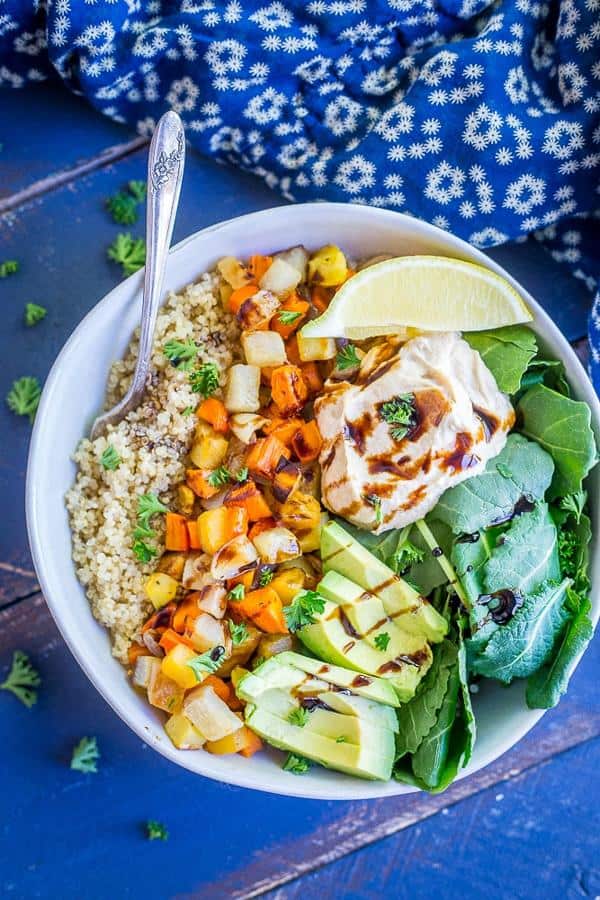 Certainly, the perfect recipe for the fall. However, if you can source these veggies at any other time of the year, go for it!
Super healthy and extremely satisfying, this colorful dish will keep you going for the rest of the day.
Tahini Beet Power Bowl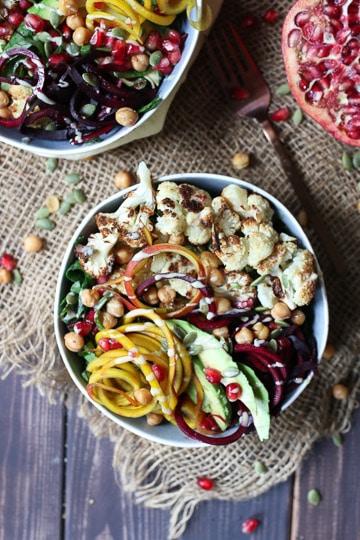 You don't often see a bowl such as this. When you look at the same types of recipes over and over again, you may be tricked into thinking they all look the same.
Every so often, one stands out from the crowd and this recipe would be it!
Packed with super foods this would be great after a workout or if you just need a pick-me-up. Perfect!
Fig, Kale and Pumpkin Seed Buddha Bowls with Basil Tahini Pesto Sauce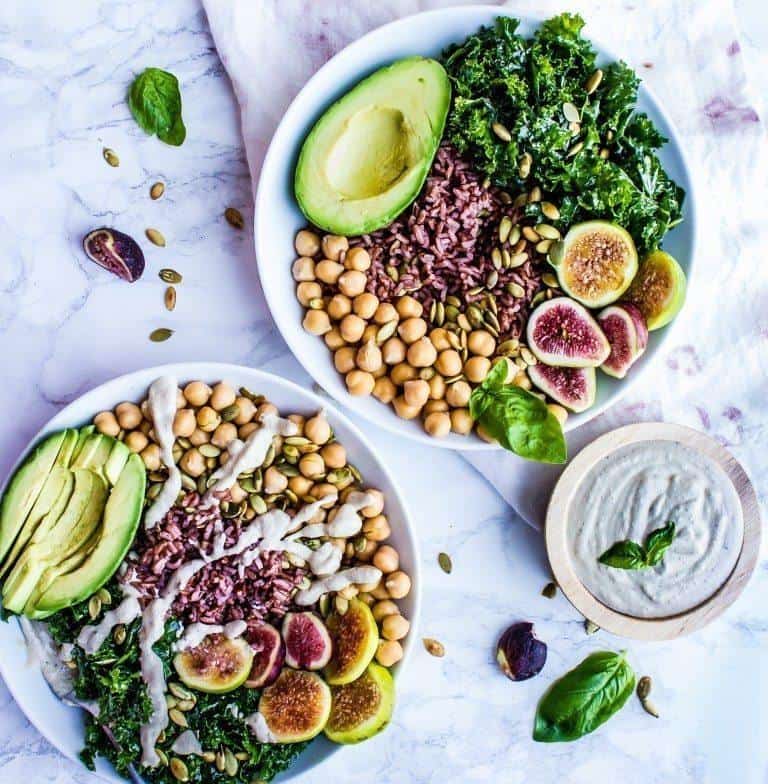 You don't often see figs in recipes, at least, I don't! If you love them, grab this recipe!
Chickpeas, kale and pumpkin seeds make this bowl a super healthy meal.
Whether you are making this for yourself or your family, leave a space for me at the table please!
Fall Pumpkin Buddha Bowls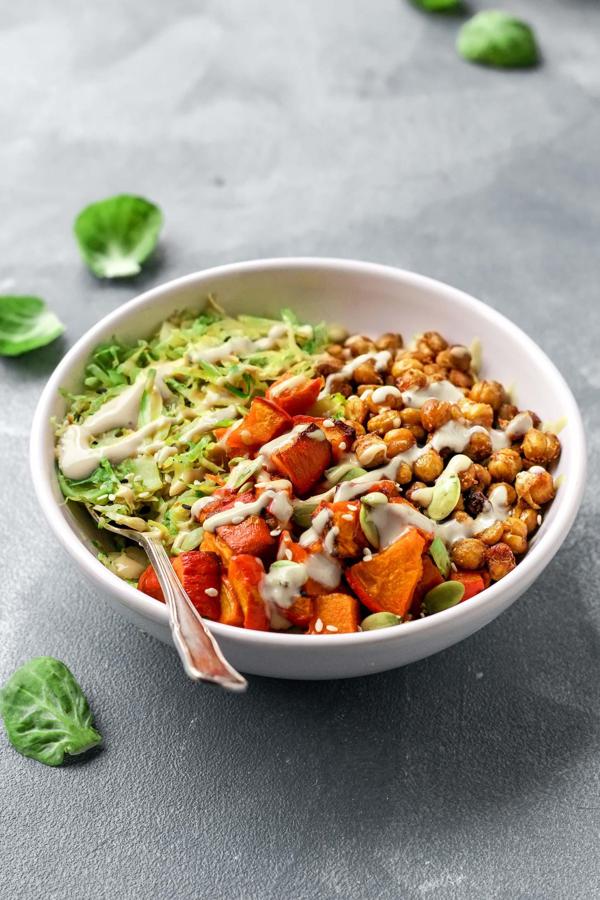 This is so tasty it would be a shame to leave it just for the fall. If you can get pumpkin at any other time of the year, I urge you to try this recipe.
The Brussels sprouts are lying in the background trying not to be noticed but I think they are the hidden secret.
If the foods weren't delicious enough, wait until you try the orange tahini sauce. Fabulous!
Lentil Fall Harvest Buddha Bowl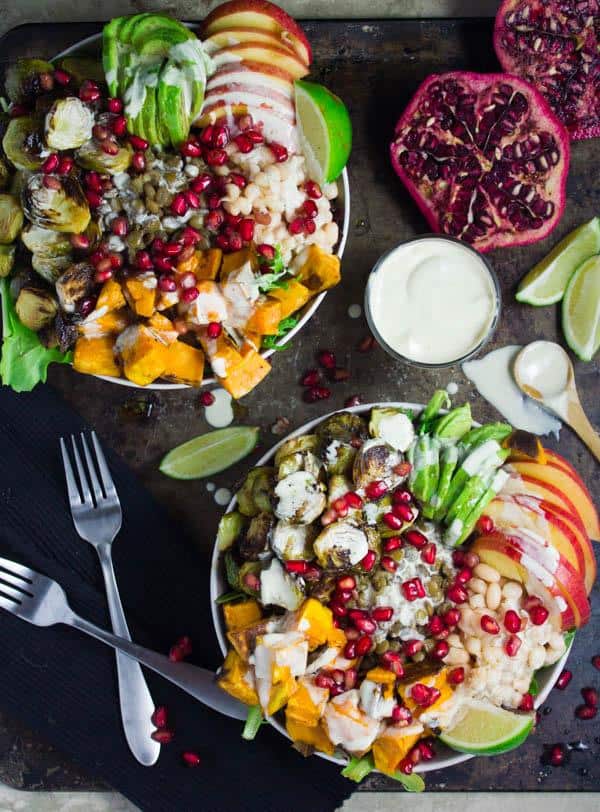 If you're having a friend over and they never had a Buddha bowl, or even if they have and you want to knock their socks off, you need to make this for them.
This is in a different league to regular recipes in this category. Loaded with colors, textures and above all super tasty. Go for it!
Roasted Vegetable Buddha Bowl with Maple-Dijon Vinaigrette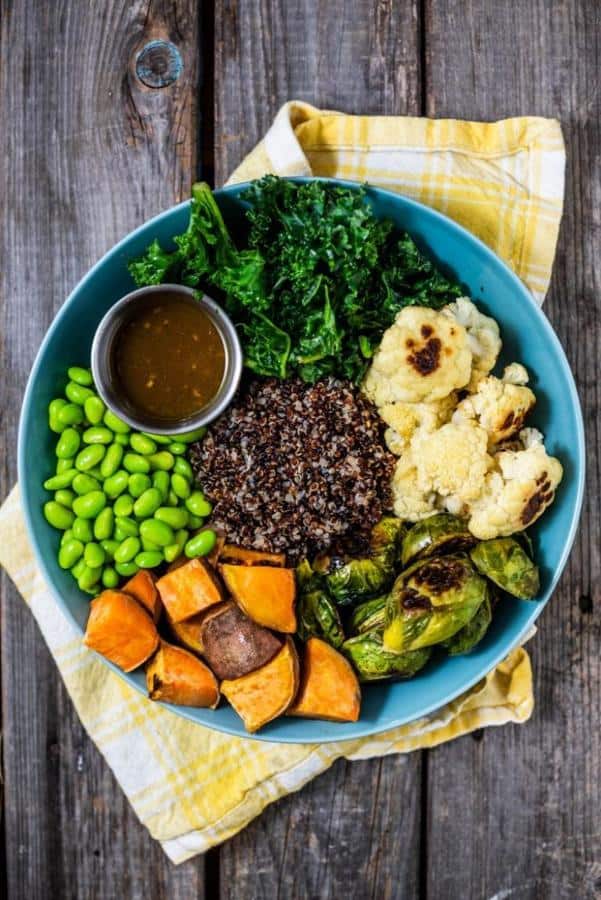 Do you have any vegetables that need eating? If so, this recipe will use them up perfectly!
I especially love how the cauliflower and Brussels sprouts come out in this. Totally yummy! The maple-Dijon vinaigrette is all mine!
Wrapping Up
Well, there you have it!
If you're into Buddha Bowls I think this collection should be at the top of your bookmarks.
We searched for them, we tasted them, and we added them to the list.
No matter your taste, there is something here for you.