We scoured the online world and found the very best for you. If you're following a gluten-free lifestyle we have something for you too.
Rest assured you won't need a bread-maker for any of these recipes although if you have one, all the better!
If you're looking at what to eat with your bread, check out this roundup of 101 different dishes!
For now, let's bread it up!
Bountiful Bread Recipes
Basic White Bread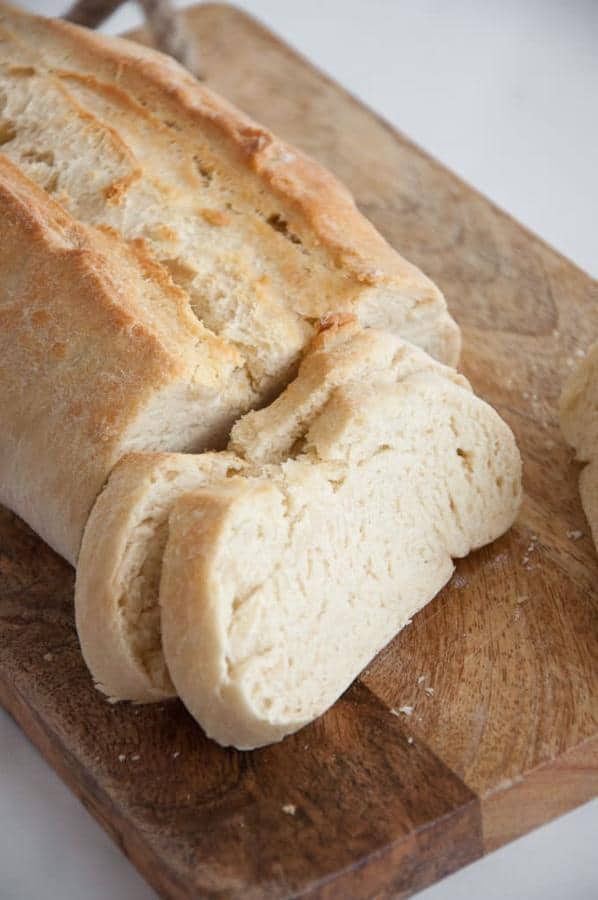 We can't have a Roundup without the basics. Something that has stood the test of time.
If you've never made bread before, this is the place to start. Simple ingredients, simple instructions and an oven.
Want your home to have that fragrance of freshly baked bread? Here's how you do it.
Easy French Bread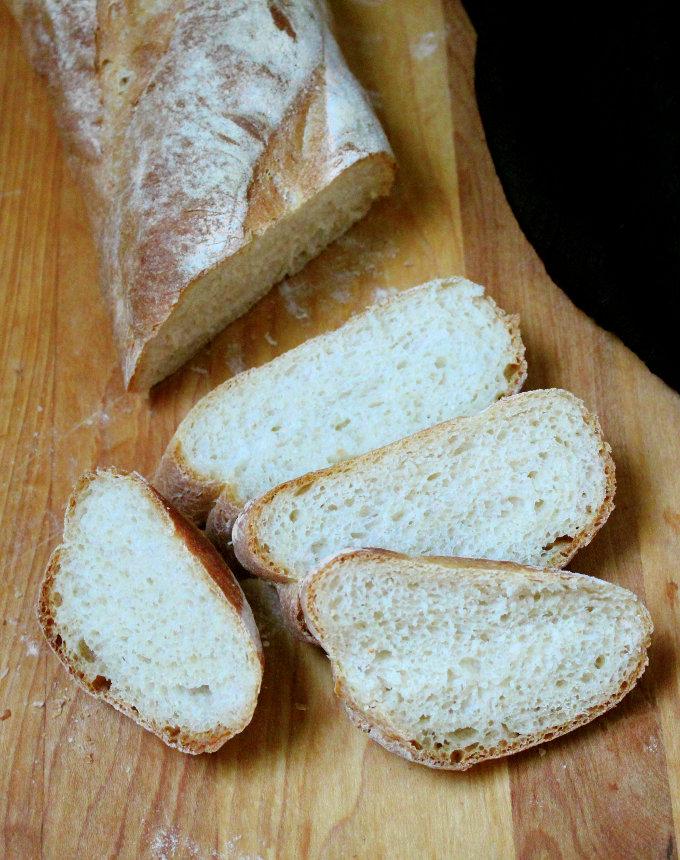 Who doesn't love a good baguette? Are they difficult to make at home? Not when you have the right recipe!
The instructions are very easy to follow and may seem a lot at first glance, but they're really not, they literally hold your hand through the entire process. Fabulous!
Best Homemade Gooey Cinnamon Bread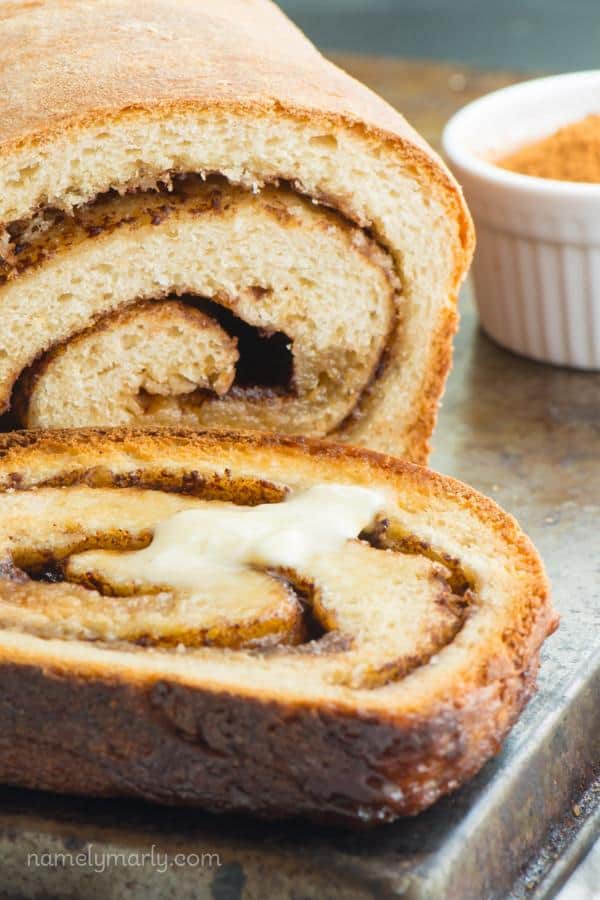 What a great recipe!
This is like cinnamon rolls, but with bread! Sweet, delicious and simply perfect!
Cinnamon Swirl Banana Bread (Gluten-Free)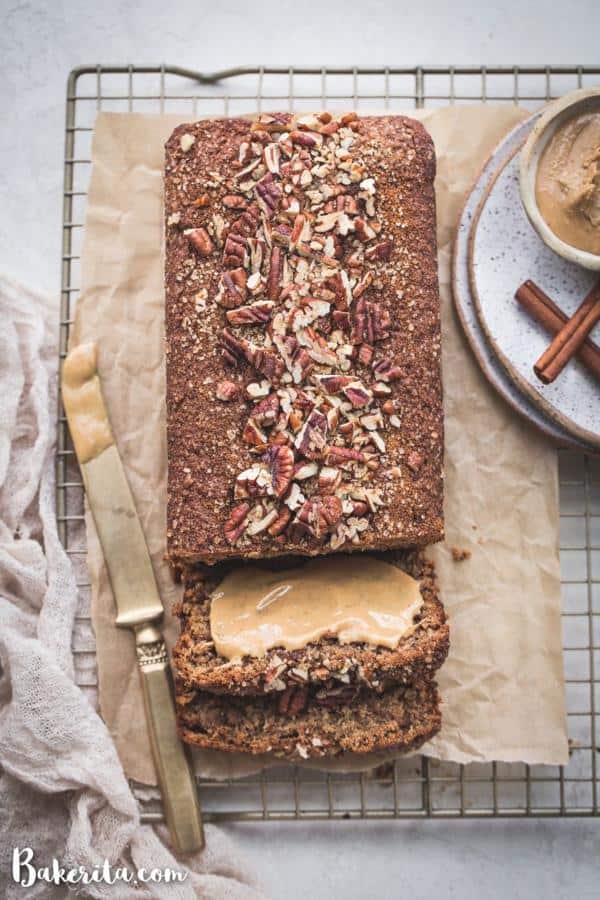 This is like two awesome recipes in one!
You get to make banana bread, which is beautifully moist and flavorful, then an amazing topping/spread which oozes cinnamon.
The two go together as if they were made for each other!
Pita Bread (Gluten-Free)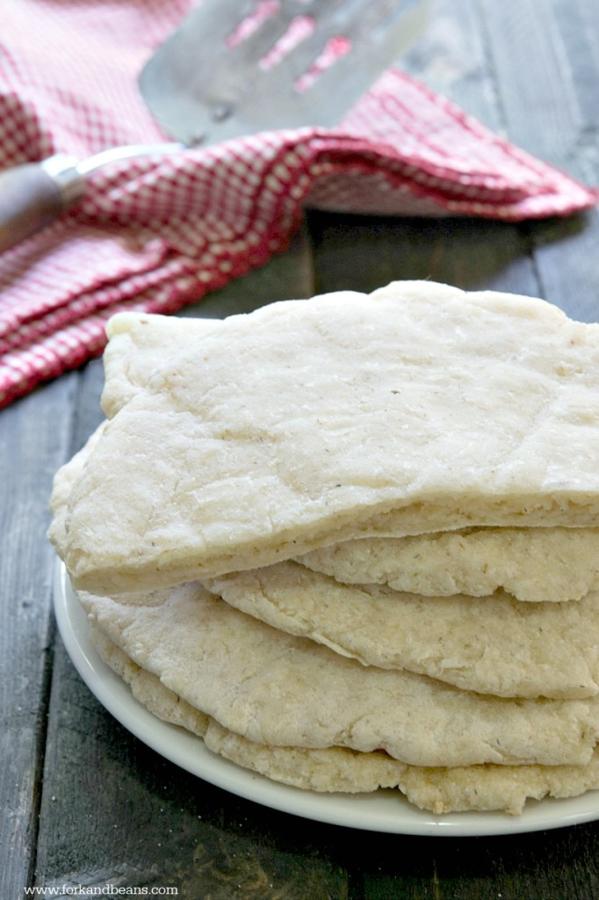 This is a standby isn't it? I love them and here's my own recipe; warm pita pocket in the oven, then fill with sliced cucumber and hummus. Go for it!
The recipe is divided into the dry and wet ingredients; simple and straight forward instructions and you're done!
Banana Zucchini Bread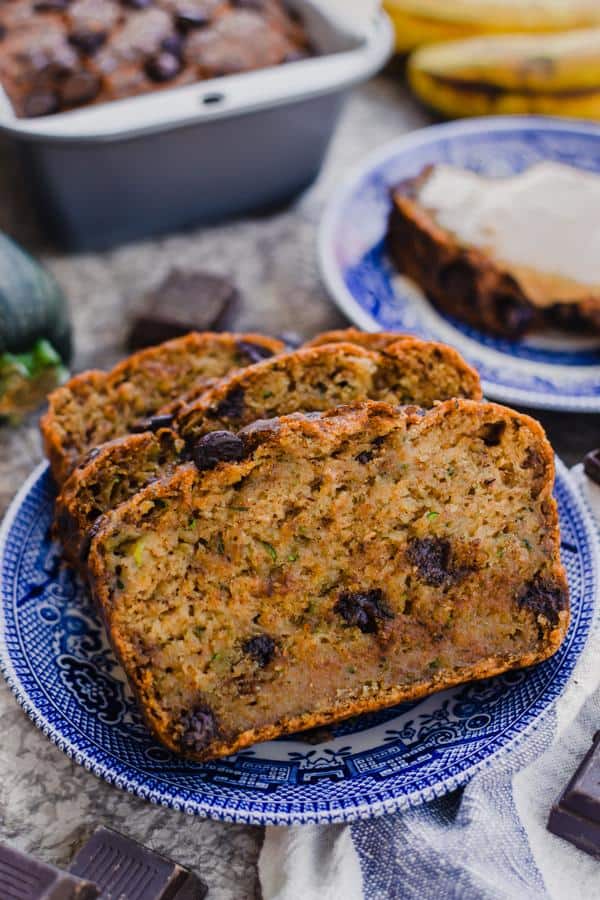 What a wonderful idea this recipe is!
Zucchini beautifully fill this bread making it lighter as there is less flour. As they have quite a benign taste, you essentially have a great banana bread that's light and fluffy with a hint of cinnamon in every bite.
Soft Wheat Sandwich Bread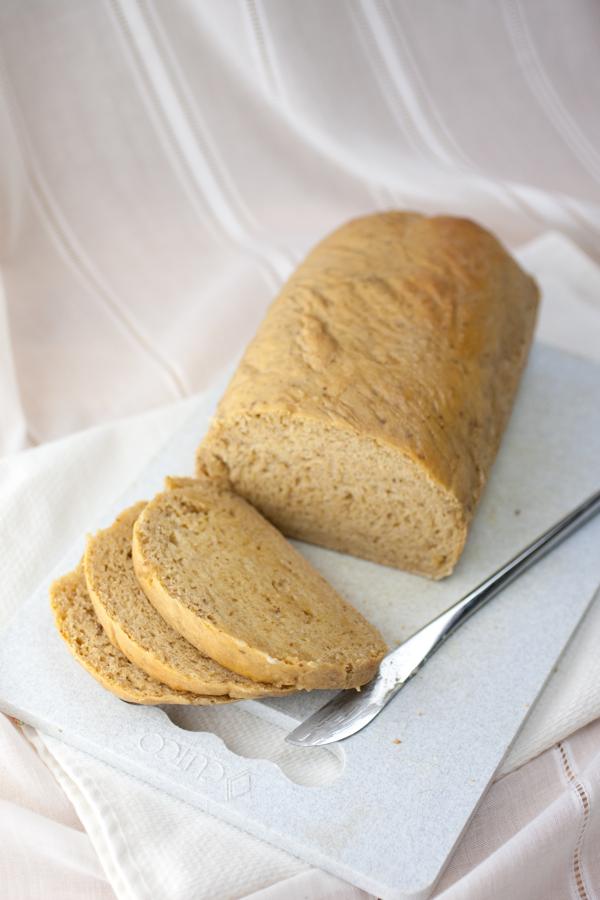 If you're looking for great bread to make sandwiches with, you absolutely need this recipe.
You don't need a bread machine, and the recipe page is devoted to showing you how to make this step-by-step.
Simple ingredients and I guarantee you'll come back to this again and again.
Hearty Pizza Pull-Apart Bread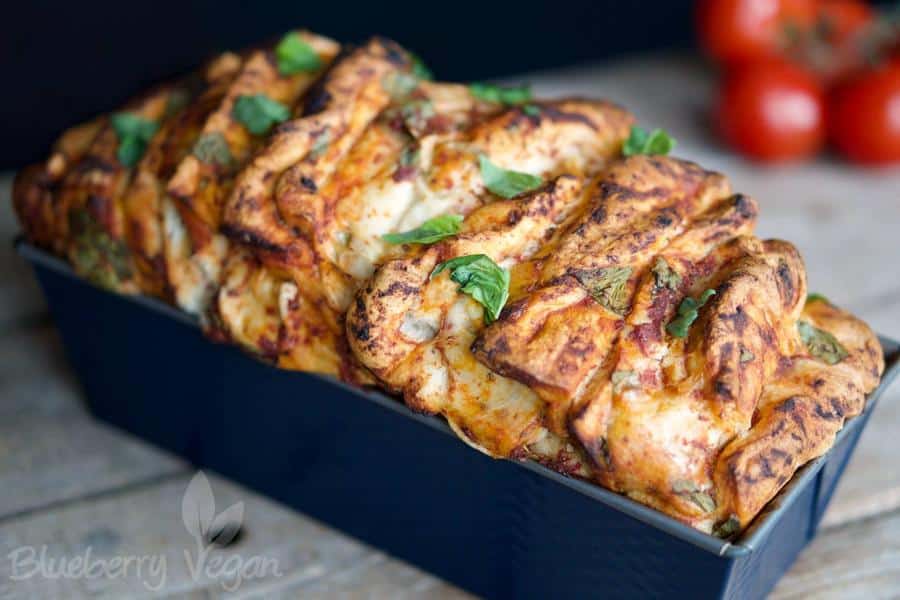 Well, there's so much to say about this bread, it's like comfort food heaven.
The ingredients are divided into three sections, the bread itself, how to make cashew mozzarella, and the tomato sauce.
This is light, fluffy and before you know it, it'll be gone!
Buckwheat Millet Bread (Gluten-Free)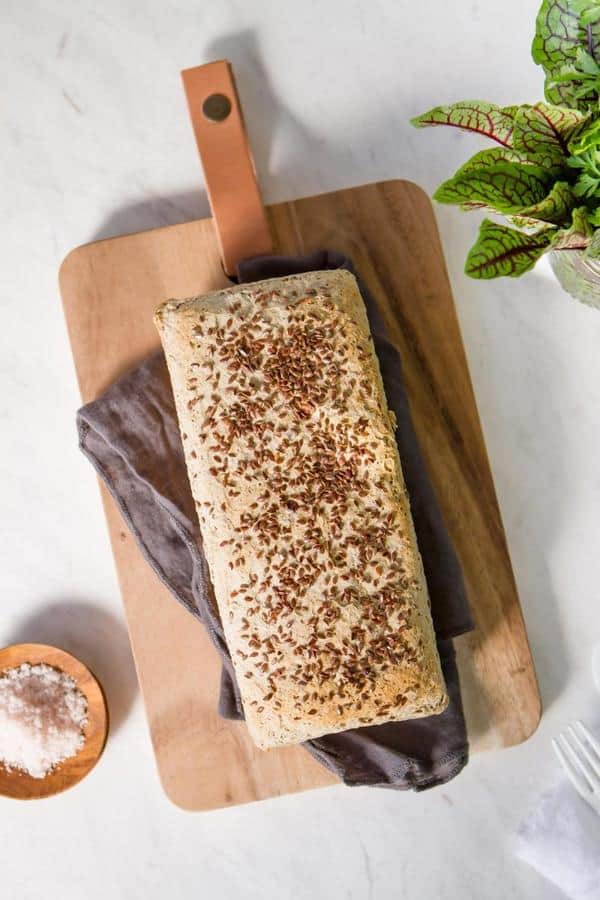 A wonderful allergy-friendly bread.
I love this bread as it's so versatile. Yes, it's easy to make and the ingredients are wonderful.
The best part is, it's just as tasty with a sweet spread as with something savory.
Vegan Sour Cream Chive Bread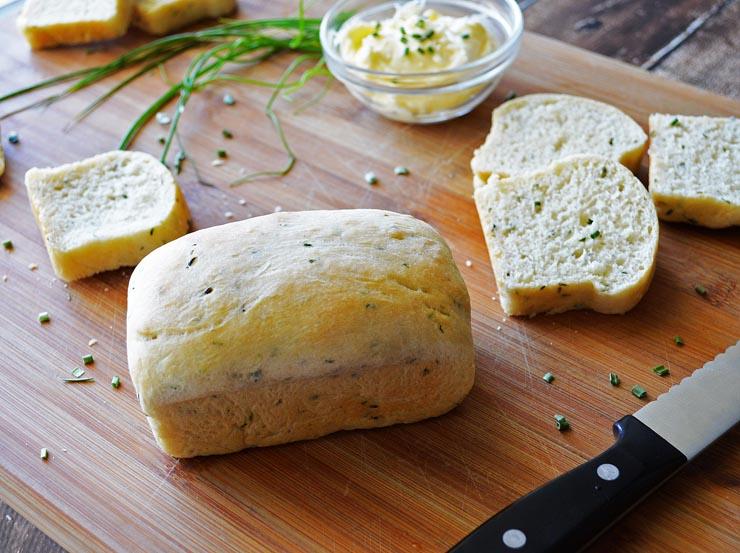 Not just a great bread recipe, but every mouthful has a wonderful hint of sour cream and chives!
You'll make this in no time, and you'll be eating it probably before it's completely cooled down as it smells so good!
German Braided Nut Bread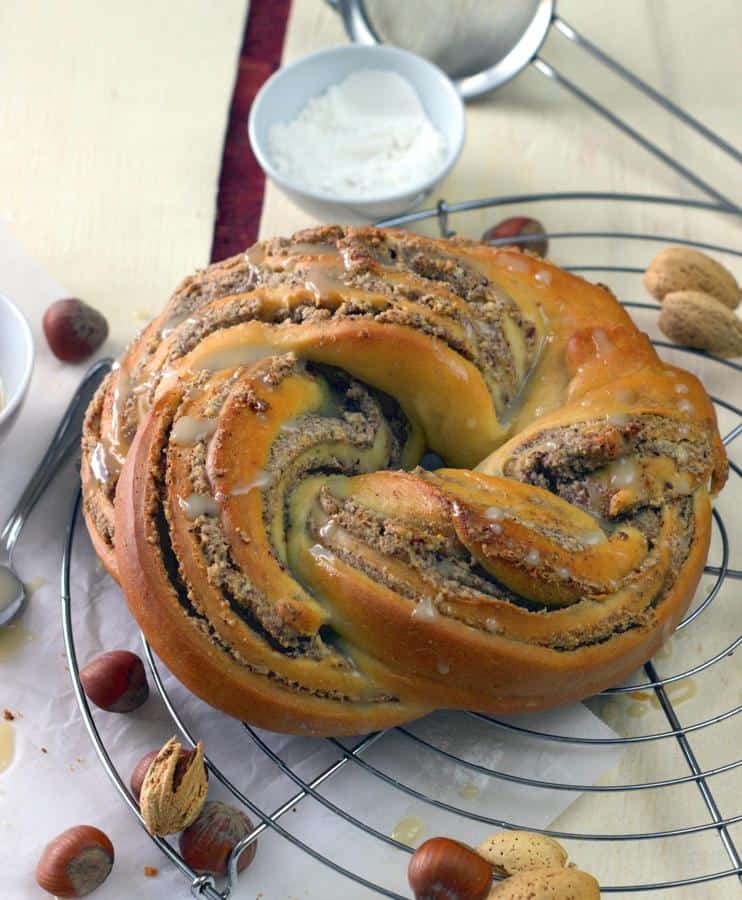 If you love baking bread and want something different and incredibly tasty, reach for this recipe.
The picture certainly looks delicious, and that's because it is. Despite what you may think, this bread is not complicated to make.
Great ingredients, simple instructions and worth every bite!
Homemade Sunflower Seed Bread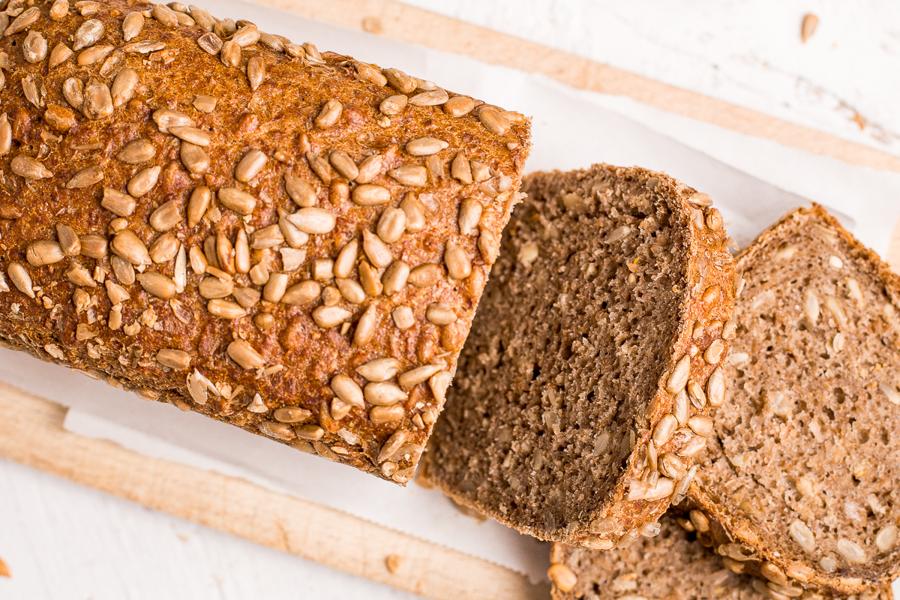 This recipe makes some of the most delicious bread you'll ever bake. It's seedy and full of flavor, hearty, yet soft. It's also quite beautiful to behold!
The use of spelt flour helps the bread become loftier and gives it its grainy texture. So, make sure to stay true to the recipe in that respect. Spelt flour is fairly easy to find, and you'll be glad you did.
If you've never tried baking bread at home, give this a whirl. This is the Sam's (author) first attempt at bread-making and it's a winner!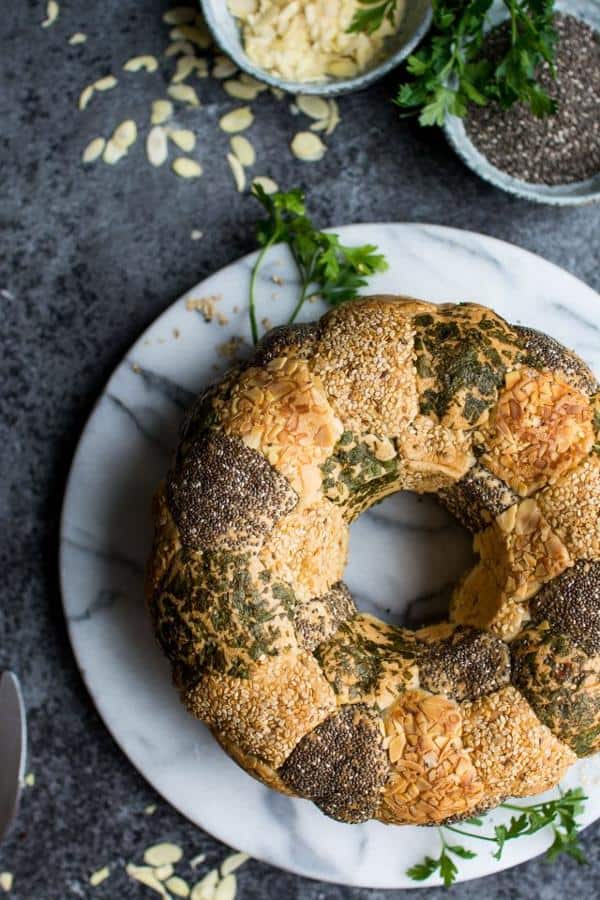 I love this bread so much and the recipe title is perfect.
This is, to all intents and purposes, a super easy recipe.
You end up with light and fluffy bread they can be used for just about anything. Wonderful!
Multi-Grain Nut and Seed Bread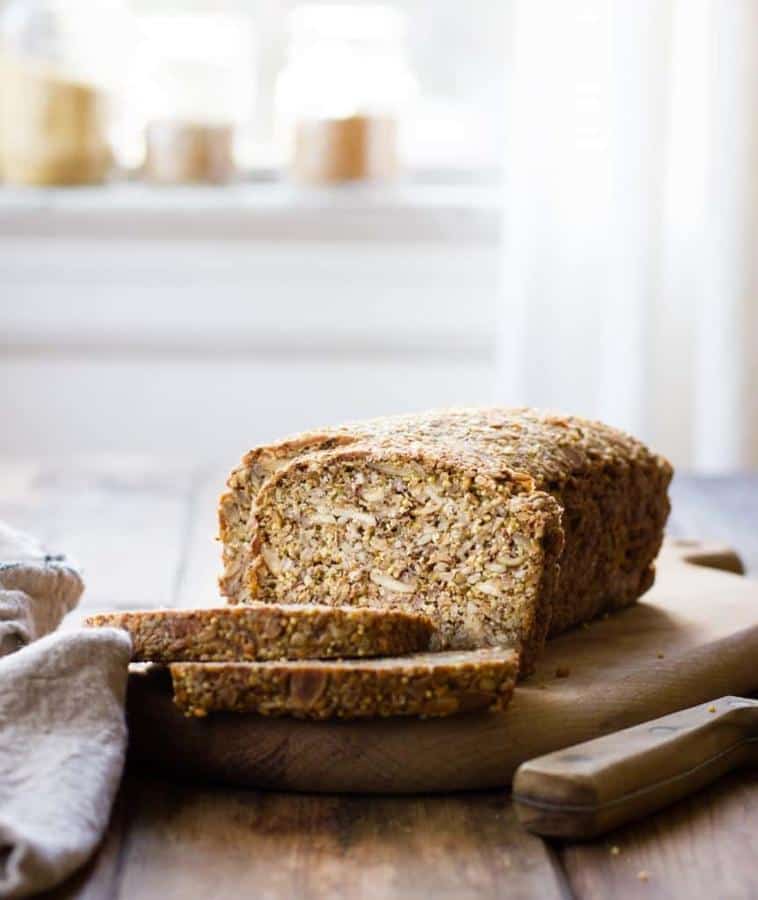 Not only multigrain, this bread also contains nuts and seeds.
I love how there aren't endless hours of kneading with this recipe, you're looking at no more than 15 minutes to prepare the dough.
Wonderful ingredients and wait until you taste it!
Lemon Bread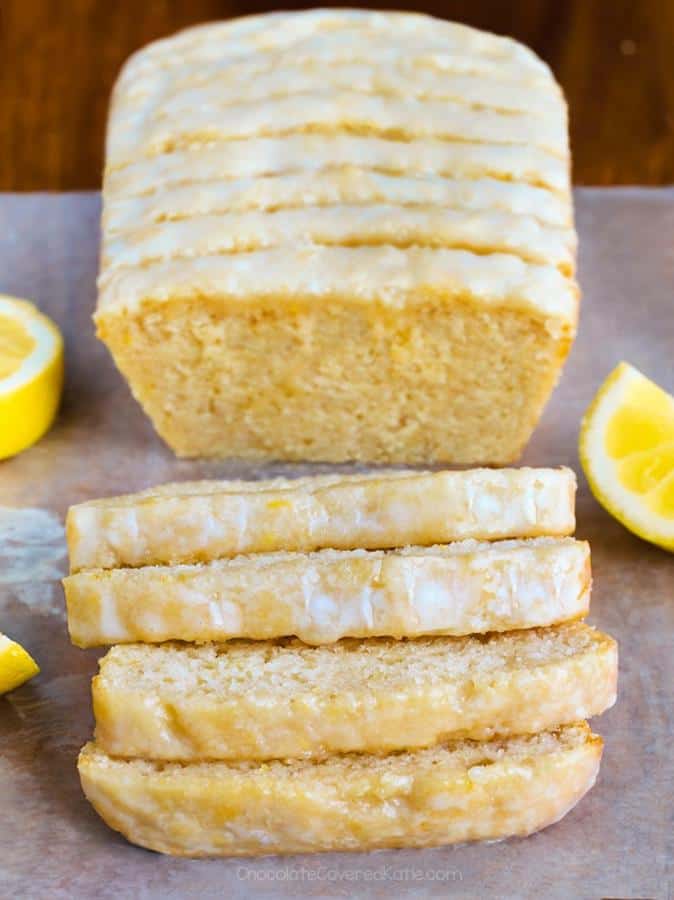 If you want something different from traditional bread, there's nothing like a zesty champion like this one!
This bread is incredibly moist and light. Unmistakable zesty lemon is there in every bite, I guarantee this will be a definite hit.
Naan Bread (Gluten-Free)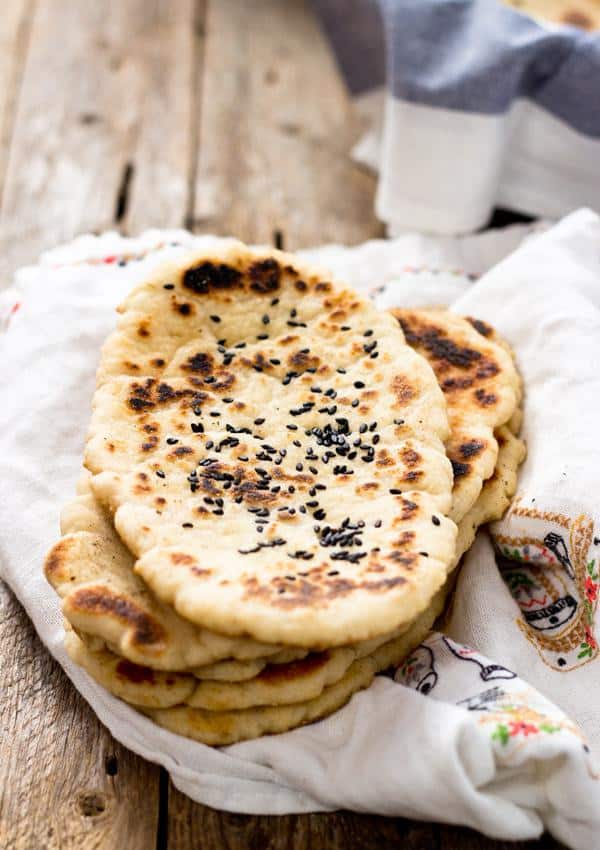 If you're anything like me and love Indian food, you're going to need a great naan bread. They're often not vegan, obviously this recipe is and it's gluten-free as well!
No need to miss out on this beautiful Indian flat bread if you have a gluten intolerance. Super easy recipe that produces perfect naan.
Orange Poppy Seed Bread (Gluten-Free)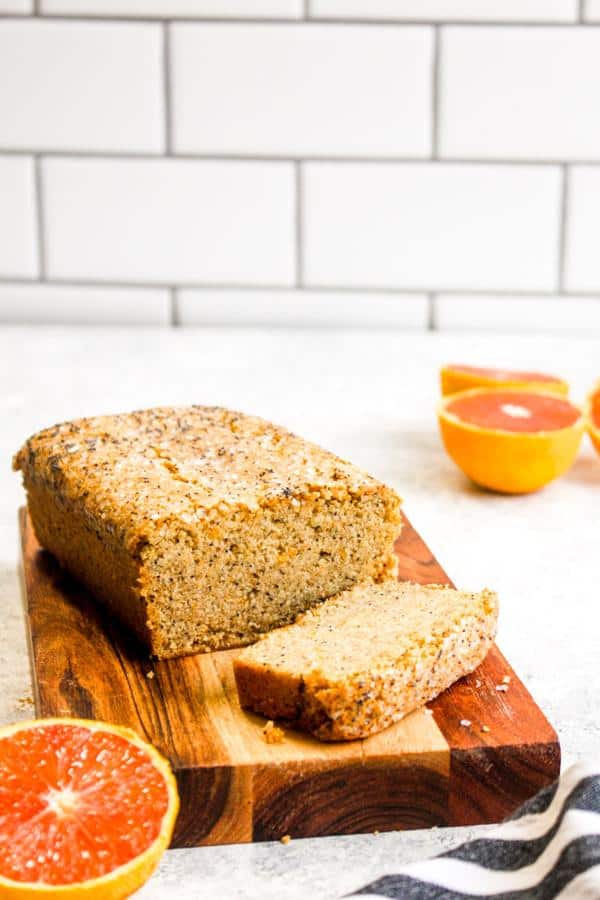 I've had poppyseed bread before, but never made with orange zest.
An absolutely delicious bread recipe, as well as being great for allergies, it's also free from refined sugar.
Yes, you get great bread but unusually the instructions are probably the simplest I've ever seen, just three steps!
Easy Banana Bread (Gluten-Free)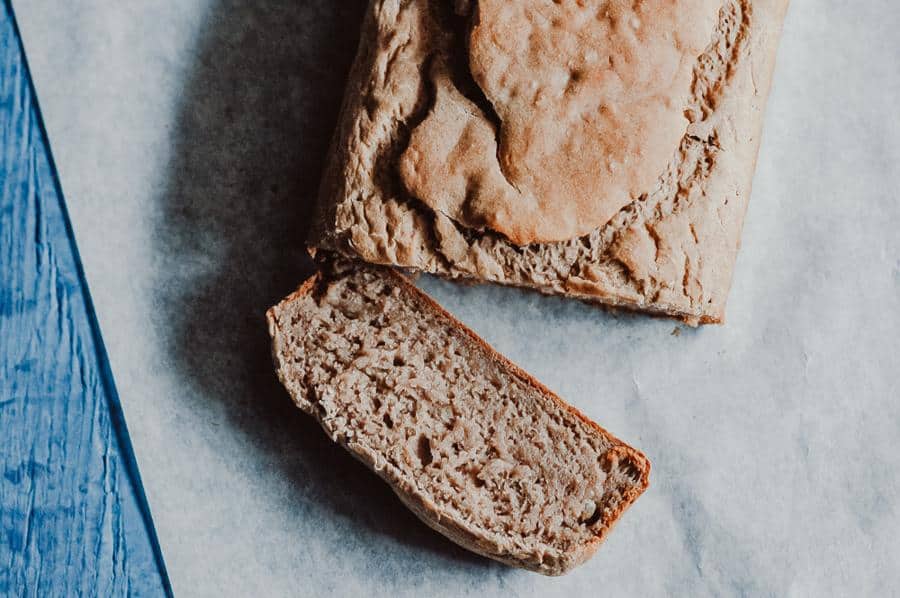 This certainly is an easy recipe to make, there's no doubt about it.
Sometimes banana bread tastes more like bread than banana, not here!
It's light, fluffy and if you love bananas, you going to make this time and time again.
One Bowl Sweet Potato Bread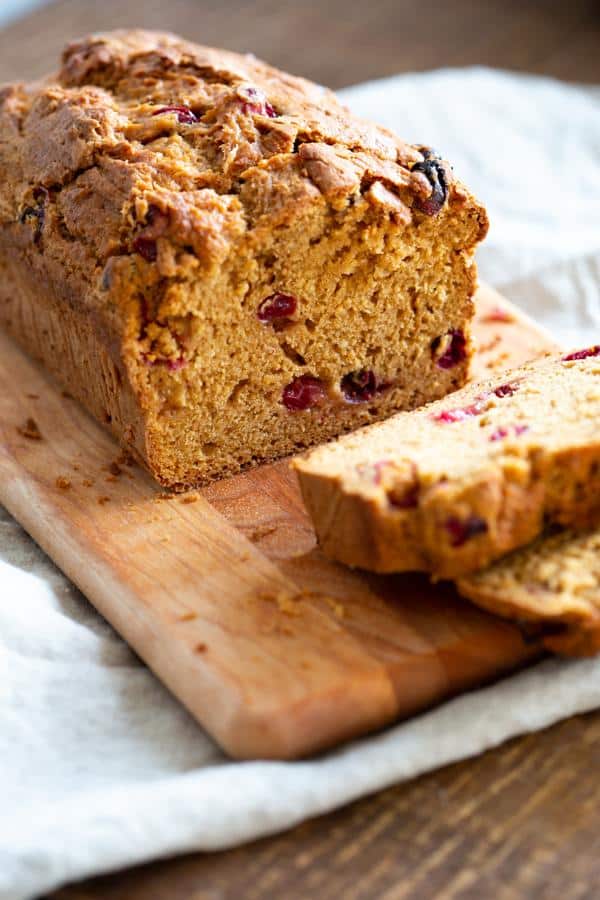 Your perfect winter recipe!
A delicious sweet potato bread dotted with cranberries although you could swap these out for other berries the prefer.
You could also change the sweet potato to pumpkin. I love the versatility of this recipe, how will you make yours?
7-Ingredient Muesli Bread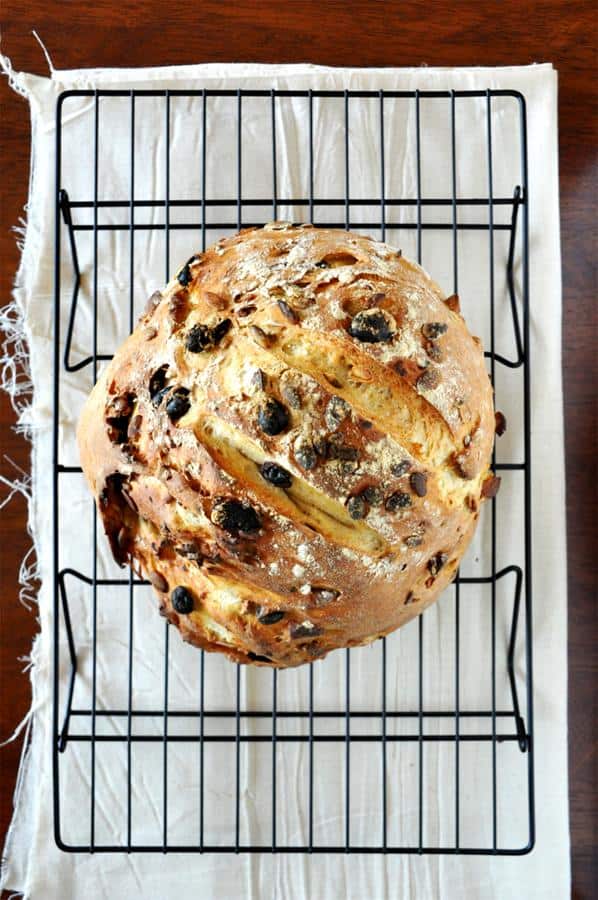 If you want super healthy bread, we have it right here.
A delicious bread great for sandwiches, toast and even French toast. Fill it with your favorite seeds, raisins and even nuts. Fantastic!
Cloud Bread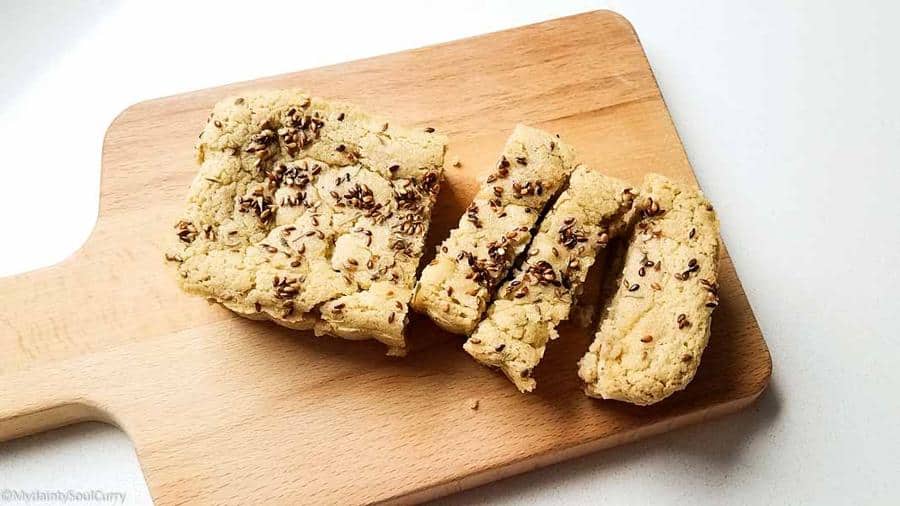 I had never heard of anything like this before so was excited to tried it out.
This recipe is low-carb despite being bread! You're looking at just 25 minutes prep time and guess what? Bake for just 15 minutes!
Just before placing in the oven, sprinkle with your favorite seeds. Delicious!
Hearty Quick Bread (Gluten-Free)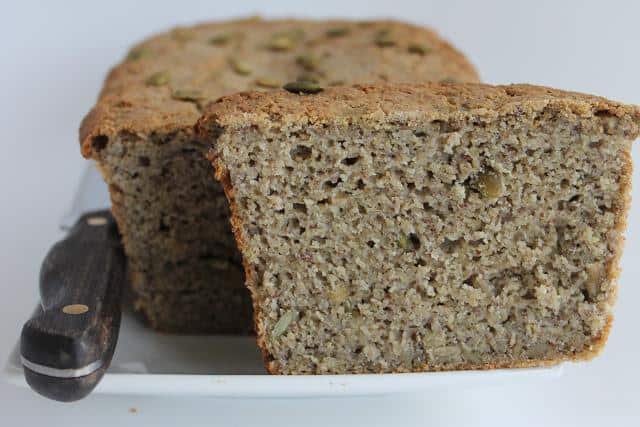 I love so many things about this recipe, it yields a great loaf suitable for virtually anything from sandwiches to toast.
With ingredients such as flaxseed and pumpkin seeds, you know this is not a simple and plain white loaf, your body is getting good stuff. Enjoy!
Chocolate Chip Zucchini Bread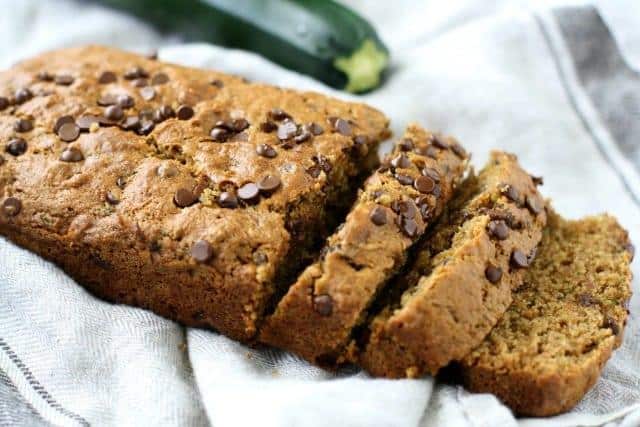 Zucchini and chocolate? Absolutely!
As zucchini has a neutral taste, it's perfect for a recipe such as this. Think about it, it's a great filler which means you're needing less flour.
This bread is perfect for breakfast or a snack anytime of the day (or night!)
Pandan Coconut Bread (Gluten-Free)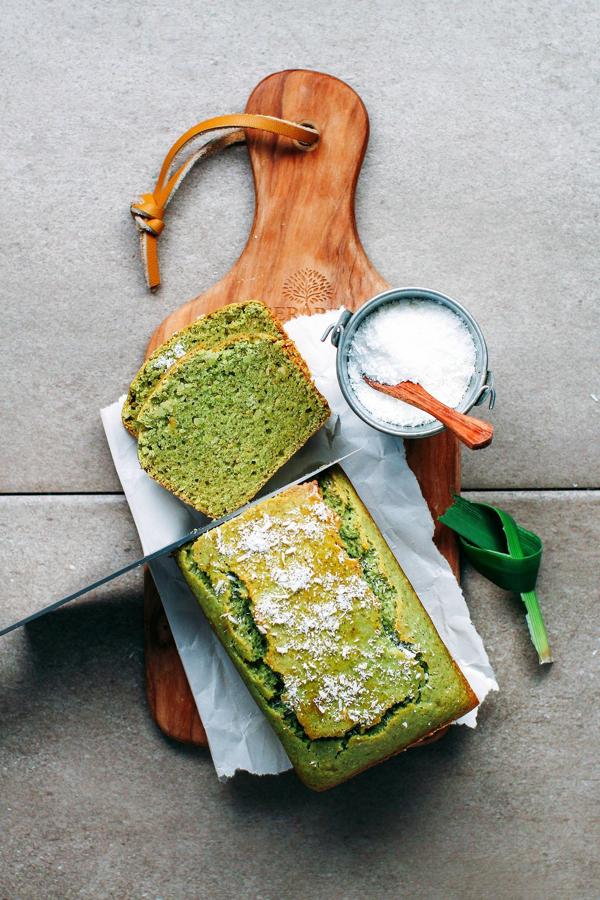 We know there are many bread recipes around, some with nuts and seeds, others made with sweet ingredients. How about a green bread?
If you can get some pandan leaves, you're in for a treat.
The rest of ingredients are very straightforward. This is well worth the effort and looks amazing.
Pumpkin Bread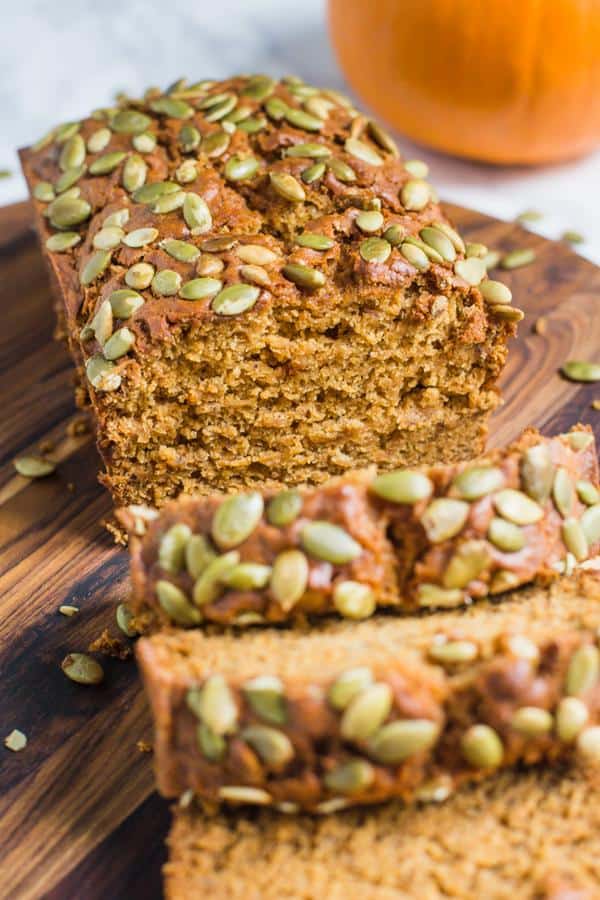 When we are approaching the fall and want something seasonal, this would be perfect recipe.
Every bite filled with cinnamon, banana and a slight hint of nutmeg and cardamom.
Incredibly easy to make and other than allowing the bread to cool, the instructions are just four steps!
Brown Bread Baked in a Can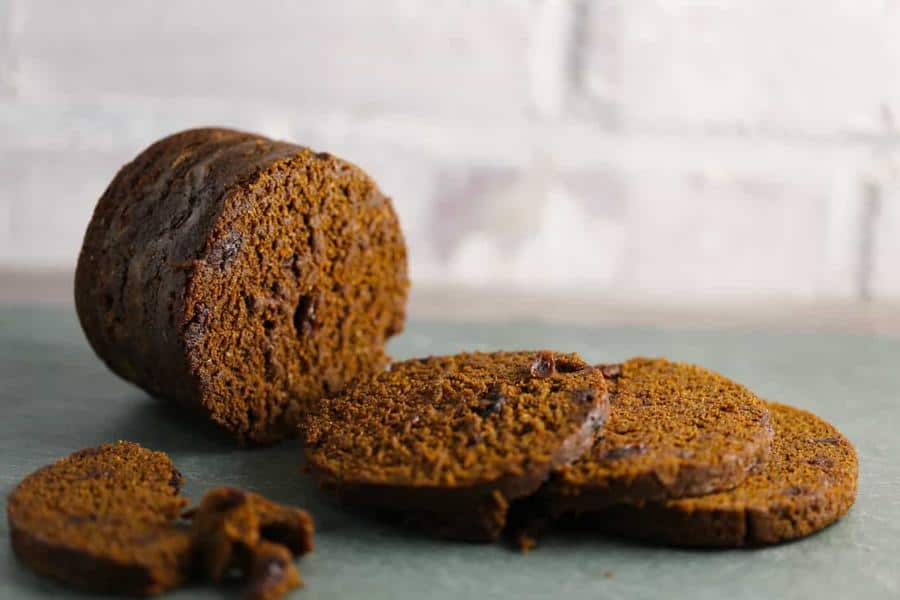 When I first saw this, I did a double-take; bread baked in a can?
It's actually a really great idea. It means your prep time is just five minutes! I don't think there's any arguing with that.
Most importantly the bread tastes delicious.
Herbed Skillet Pull-Apart Bread with French Onion Dip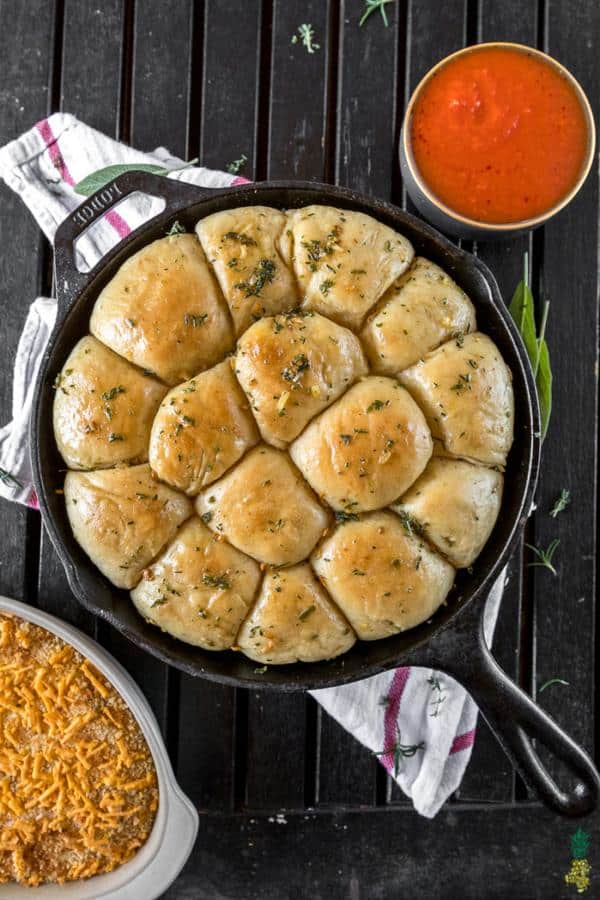 Two recipes in one!
Oh my goodness, if you like savory and you like bread, you just have to make this. The plant-based French onion dip is light yet bursting with flavor.
If this wasn't enough, you also have a super easy recipe for vegan garlic herb butter to have with your bread. Make it today!
Easy Whole Wheat Artisan Bread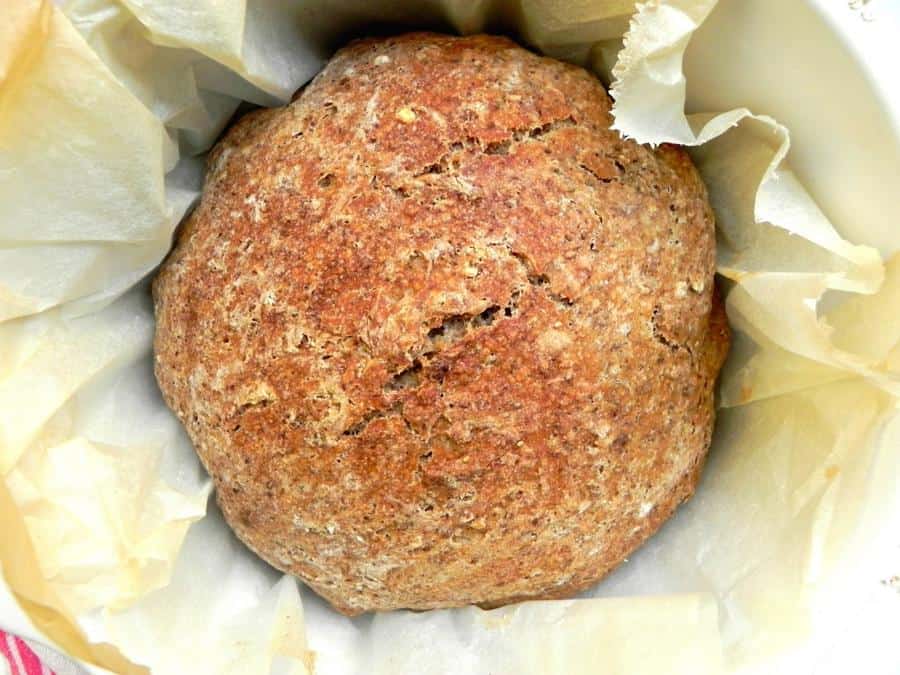 When you want to simplify things and go back to basics, this is a high-quality recipe that will satisfy your needs.
This bread tastes, looks and smells like you bought it from a French boulangerie. Merci!
Chocolate Chip Pumpkin Bread (Gluten Free)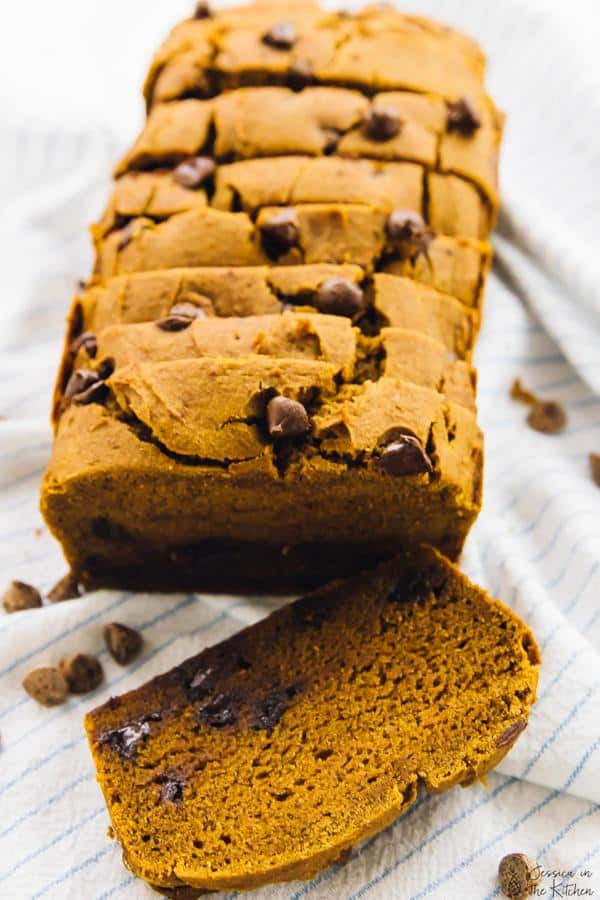 Perfect for Halloween or the Fall.
Deliciously sweet and the chocolate chips just melt in your mouth. Please note, the author has included a video on the recipe page that takes you through each step on how to make this super easy recipe.
You don't often see videos as they take a lot of work so treasure this one!
Rhubarb Orange Quick Bread (Gluten-Free)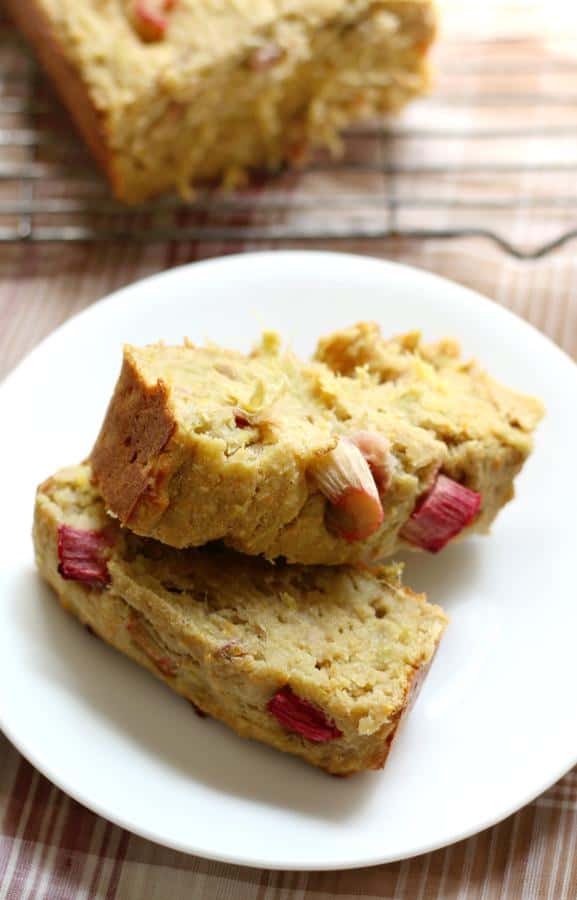 I love this bread for so many reasons.
It's made with wholegrain and filled with protein as one of the ingredients is quinoa. If you like a citrus tart flavor, this is the one for you!
Protein "Bread" with Cherries and Walnuts (Gluten-Free)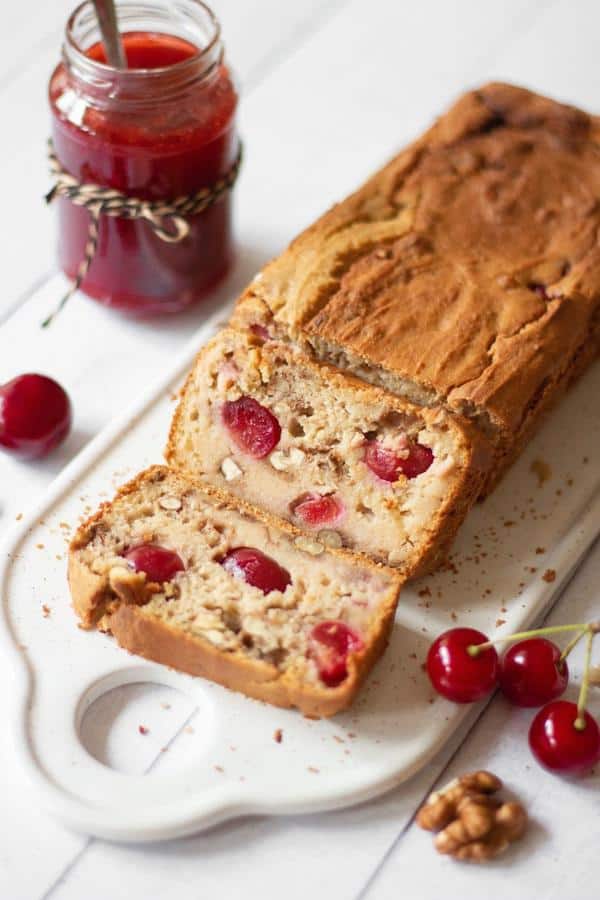 Whether you're looking for the perfect breakfast bread or a post-workout snack, this is for you.
Packed with protein, this bread has walnuts, cherries and is made with oat flower and soy yogurt. Delicious!
Soft Wholemeal Sandwich Bread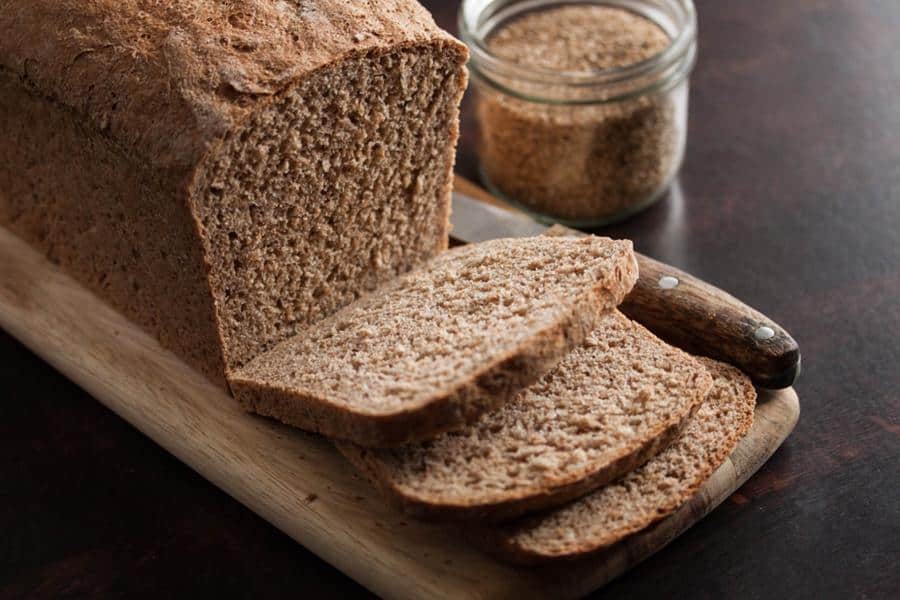 We've seen a few standard recipes of classic breads. This is another to add to your list.
Inexpensive, convenient as a standby and very tasty. This simple recipe will give you the perfect wholemeal bread perfect for sandwiches, toast and anything else you fancy. A must for your list of favorite recipes.
Beer Bread (Gluten-Free)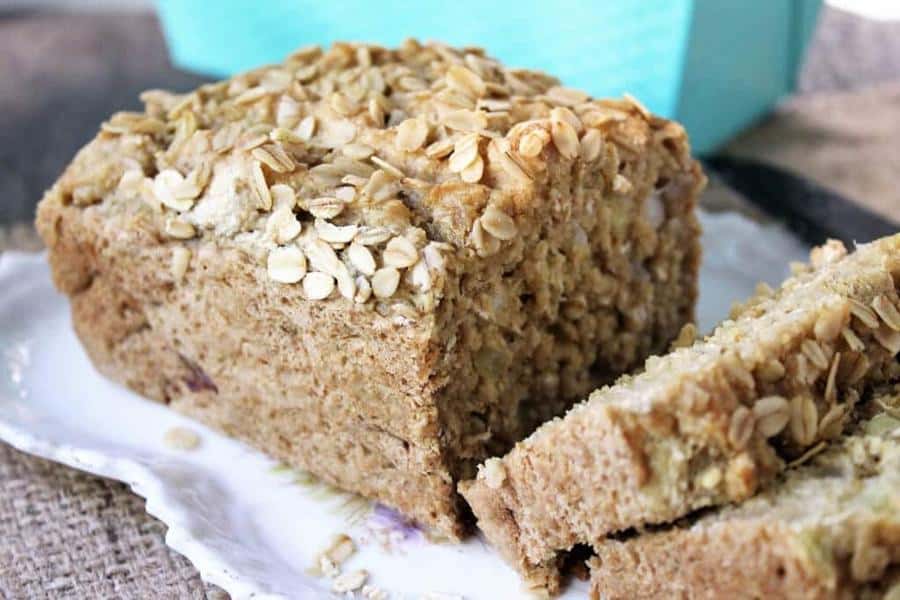 An interesting bread recipe that makes one of the tastiest breads I've ever had!
Obviously, the alcohol evaporates during baking. You're left with a delicious bread with a hint of onion (an optional ingredient) in every bite.
I love it and you will, too.
Pineapple Coconut Bread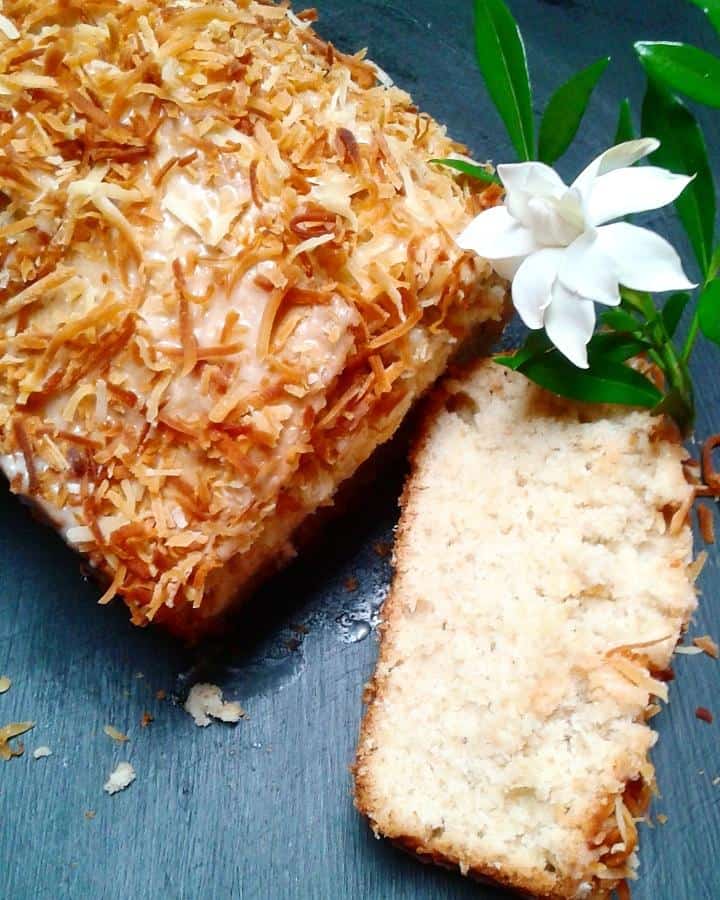 We don't often think of bread and the tropics, so it's about time we did!
This is everything you want it to be, light, sweet and a taste of the tropics in every bite.
Super easy to make, the question is, when will you make it, today or tomorrow?
Irish Soda Bread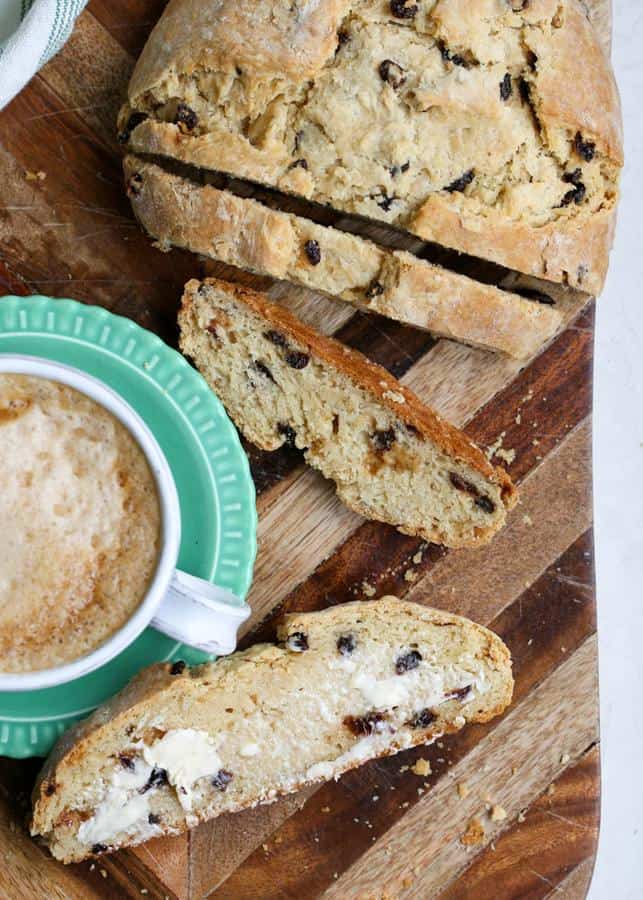 This is one of my favorite breads, so I was super excited to see this recipe.
I consider myself an expert on soda bread as I've had many variations of it. I can tell you this is right up there as one of the best.
I love the simplicity of this recipe, just 10 minute prep time and also a little over 30 minutes baking. Delicious!
Roasted Garlic Vegan Garlic Bread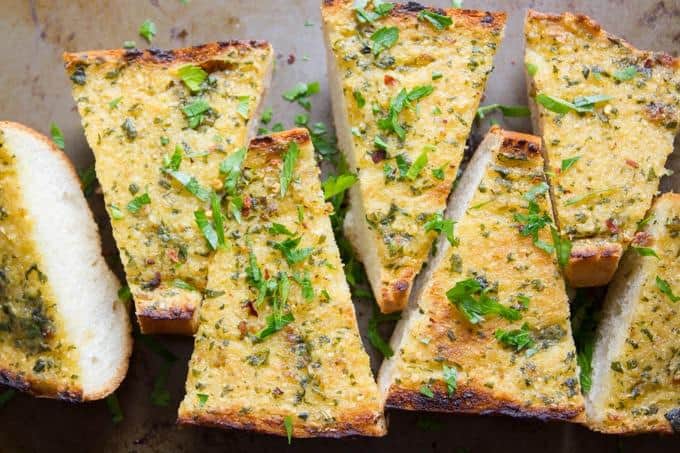 Whenever I see words 'roasted garlic' my attention is like a laser!
Hand on heart, this is one of the best garlic breads I have ever tasted and of course, it's vegan. Perfect to go with any meal, especially Italian!
But also wonderful as a snack and to have with a tomato-based dip.
No-Knead Vegan Cheddar Onion Bread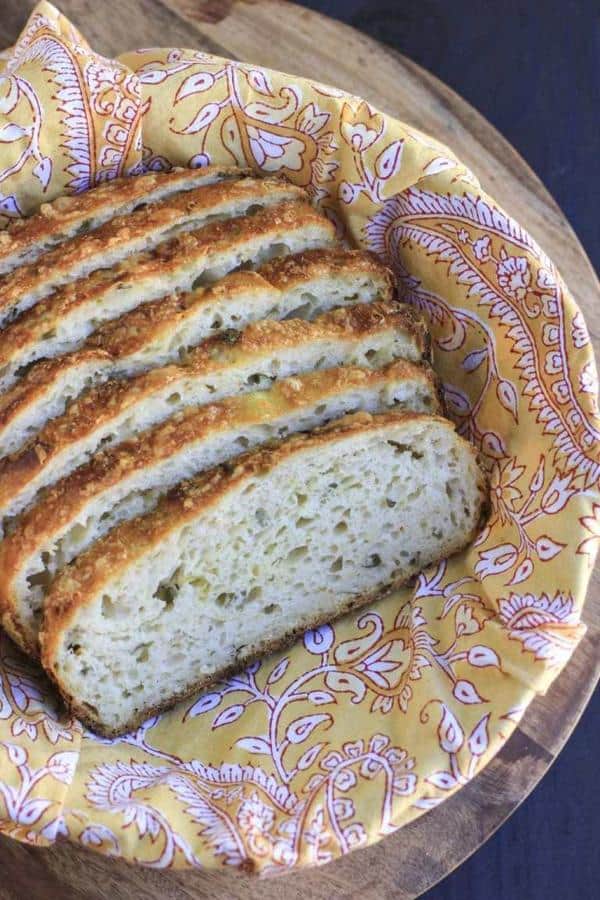 The downside of making some bread is the kneading. What if I told you, you could make delicious bread without the effort?
Grab yourself some vegan cheese and onion along with the rest of ingredients and make this fantastic flavorful bread, you'll probably need to make more than one loaf!
Orange Cinnamon Pull Apart Bread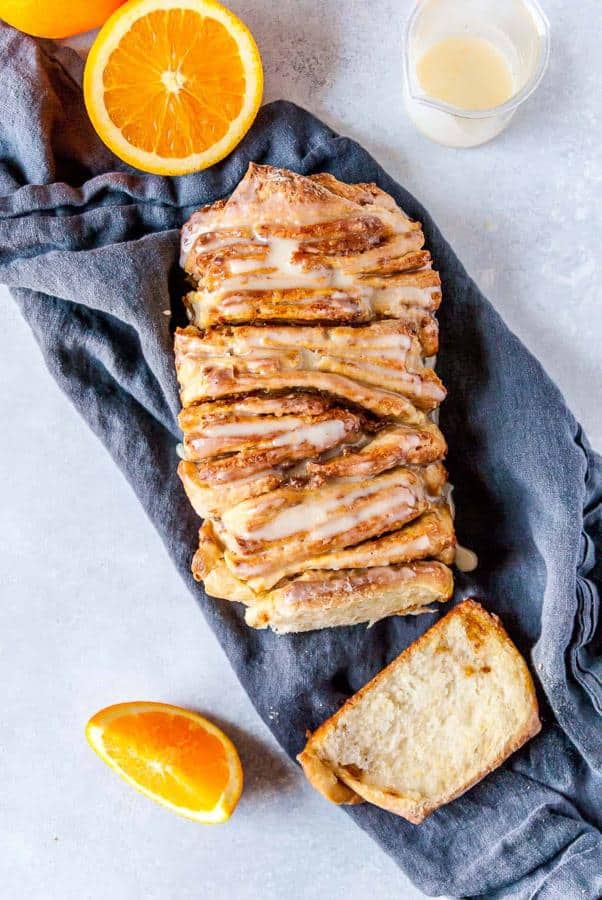 Apple and cinnamon we all know go together, but what about orange and cinnamon?
This bread is so light and yes, cinnamon is the perfect partner to orange, who knew?
I certainly didn't! This is so easy to make, and the orange glaze is delectable!
Easy Ciabatta Bread Recipe with Garlic and Basil Bruschetta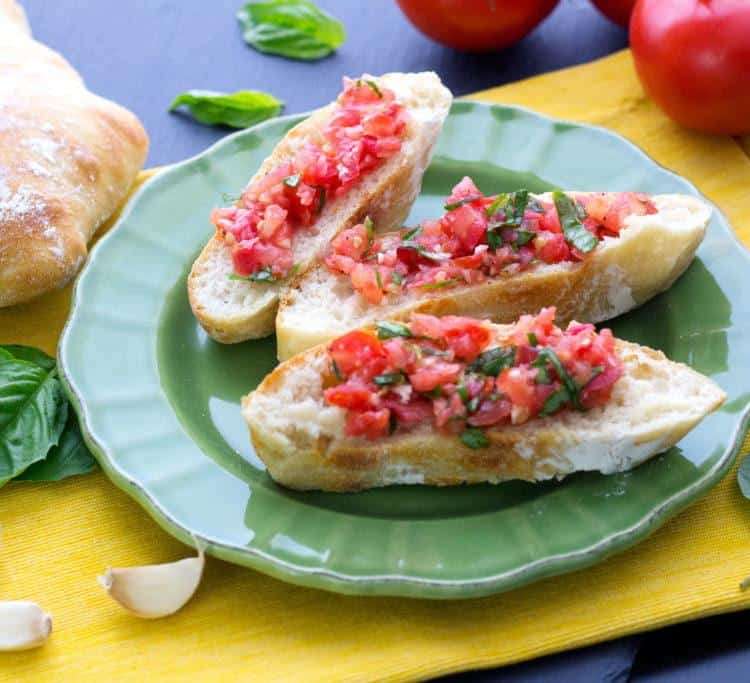 Let me tell you, bruschetta is a lovely starter as I'm sure you're aware. But having the best bread makes all the difference.
Ciabatta bread is something you can make at home and it's easier thank you think. Follow this easy recipe and it'll be like you're in Italy.
If you want to make bruschetta as well, the recipe page includes ingredients for that too. Perfect!
Zopf Bread (Swiss Braided Bread)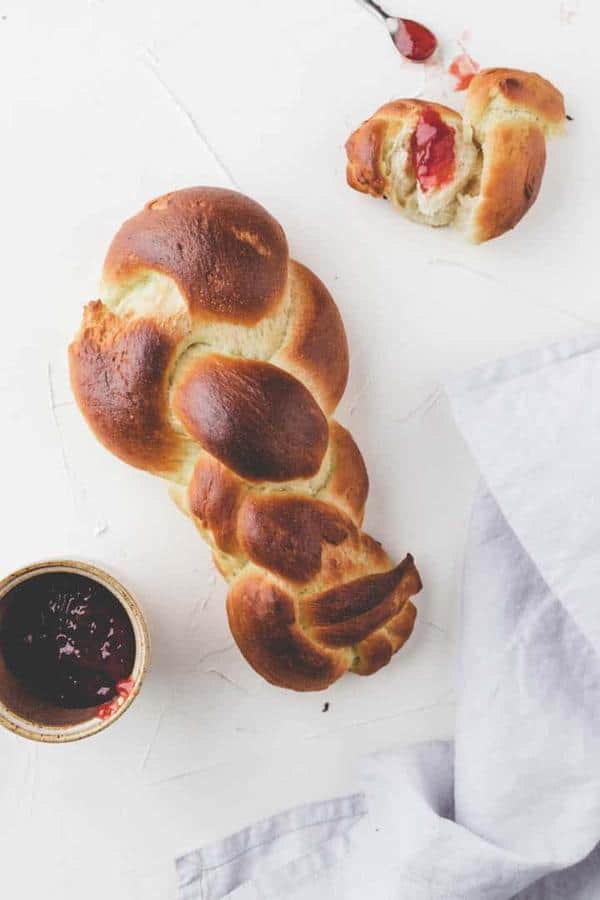 Switzerland is known for many great things, and this braided bread is certainly one of them.
Make no mistake, this is not a big five-minute recipe, but I promise you it's worth the effort. Perfect for breakfast or brunch.
If you want to impress someone who may be expecting a standard recipe, this will knock their socks off!
Quinoa Flour Pumpkin Bread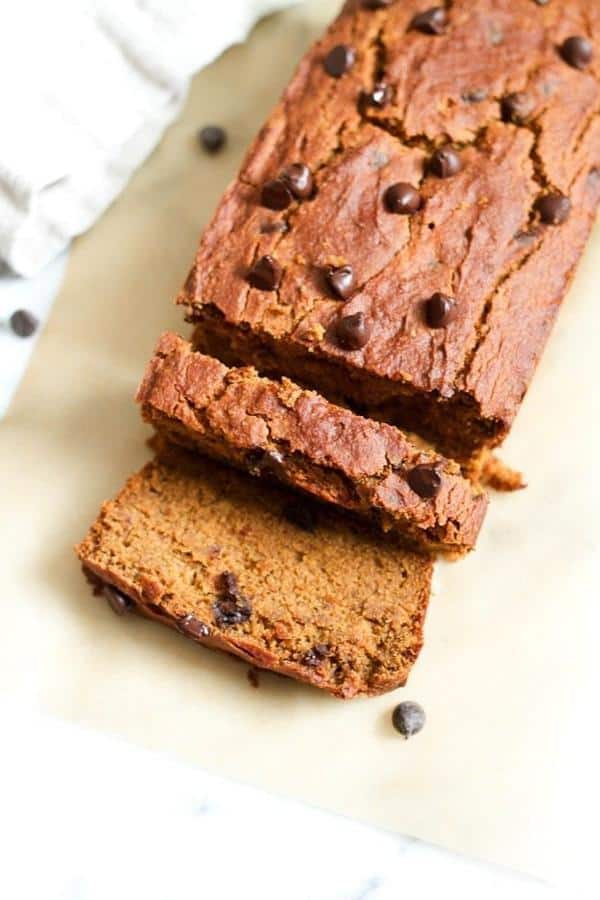 If you've never been sure about making pumpkin bread, or you may have had it before but not been enamored by it, this is the recipe you need.
Cinnamon, ginger and allspice are amongst the luscious ingredients. A hint of vanilla in every bite and sweetened with applesauce.
If there was bread perfection, it would be this.
Homemade Yeast-Free Spelt Flour Pita Bread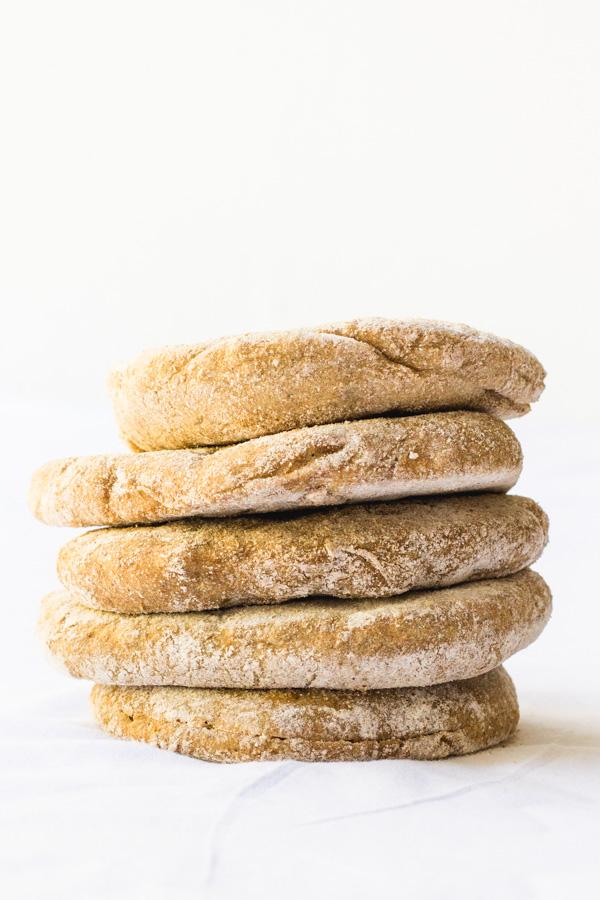 I love the simplicity of this bread.
If you thought making pitta bread at home would be too difficult, think again.
The recipe page also has a video that walks you through the whole process, step-by-step. Stuffed with your favorite fillings or dip into hummus. Yum!
Swedish Crisp Bread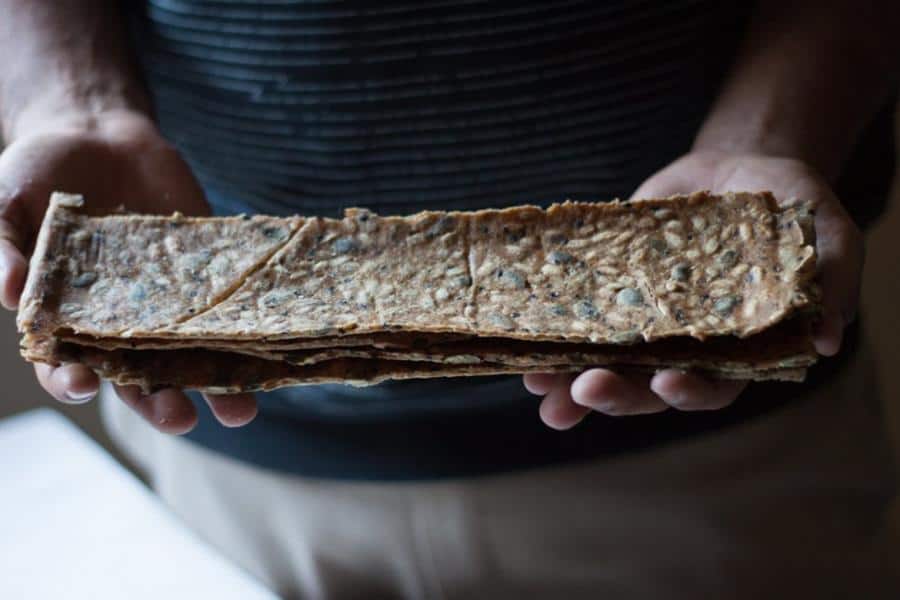 We're all familiar with different bread recipes, but what about crispbreads?
I love this because you literally get four different ways of making it. They're all easy and straightforward and the ingredients couldn't be simpler. Which do you prefer?
Butternut Squash Rosemary Bread (Gluten-Free)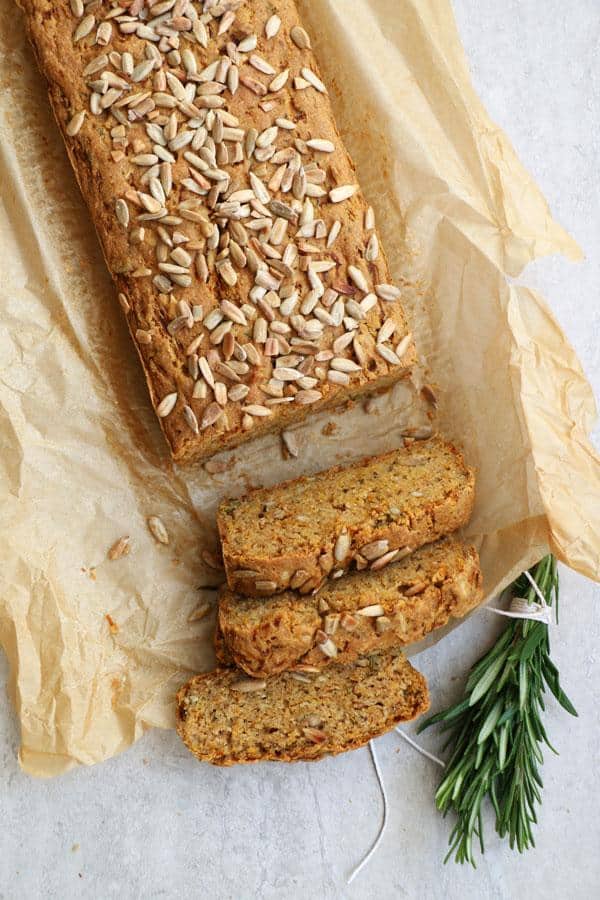 I don't know if you've ever had rosemary in bread, if you haven't, this is the recipe to try.
Delicious ingredients such as buckwheat flour, oregano and even a garlic clove mixed with everything else including, of course, the main ingredients to make this deliciously moist and flavorful bread.
Amazing Vegan Blueberry Loaf Bread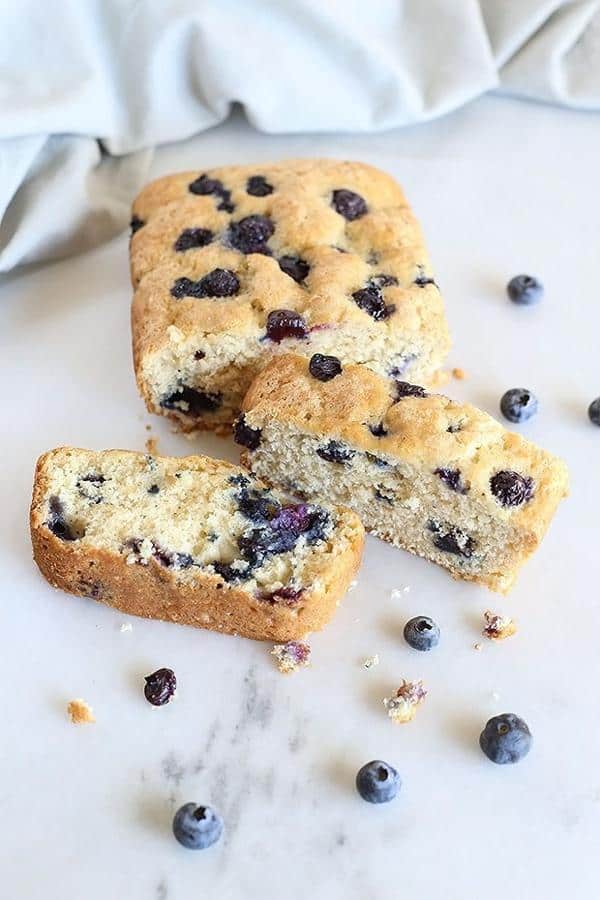 A delicious fruity loaf!
When you want a sweet treat that's healthy and makes the perfect breakfast, grab this. The bread is moist and beautifully soft. You're going to love it!
Persimmon Bread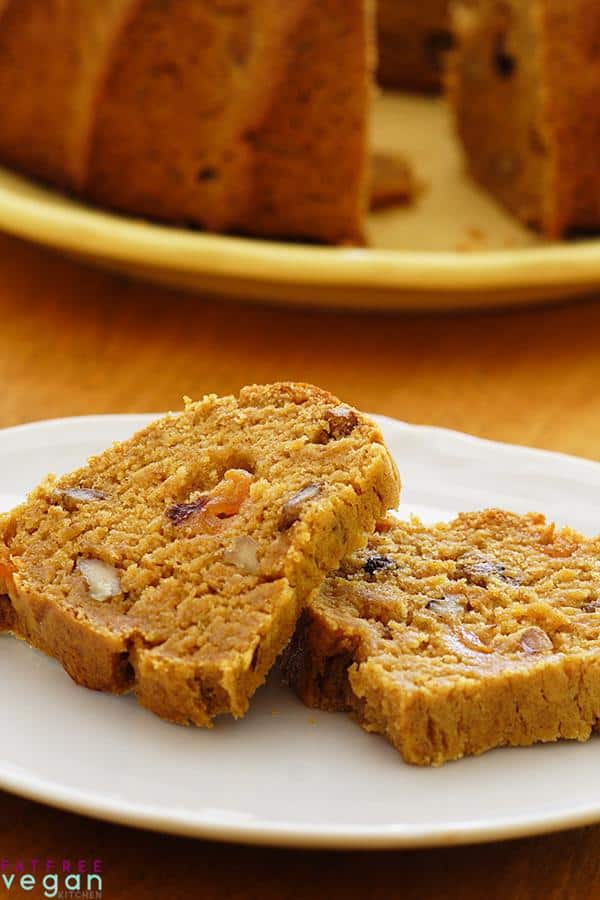 I love how this recipe is oil free and does not contain any refined sugar.
Made with 100% whole wheat flour this makes for a perfect treat during those winter months. It has a vibrant color and the taste is heaven!
Double Chocolate Banana Bread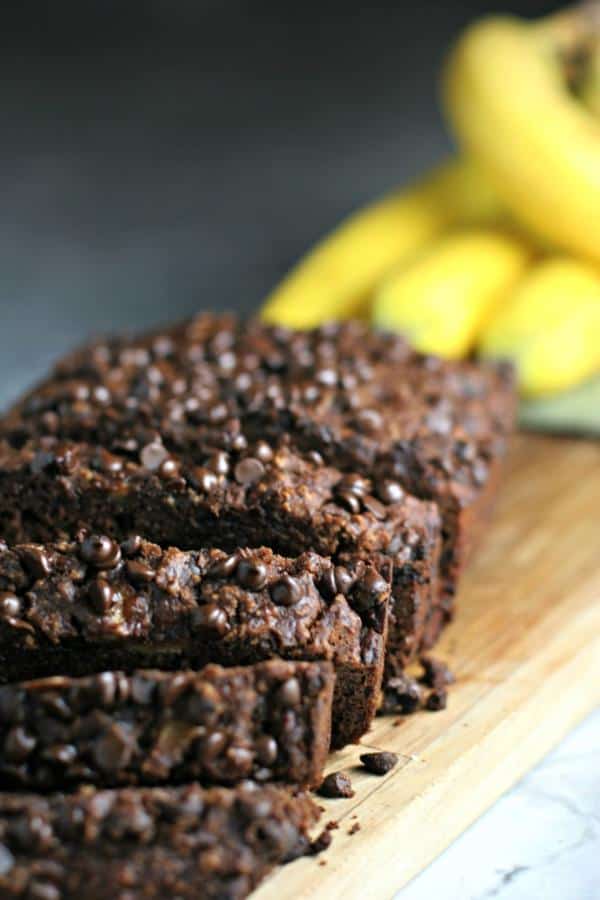 We all know chocolate and banana were made to go together.
If you want something to surprise the family with, this makes for the perfect treat.
Not just chocolate but make it a double! Not only does it look great and taste even better, your home will smell delicious!
Healthy Strawberry Banana Bread (Gluten-Free)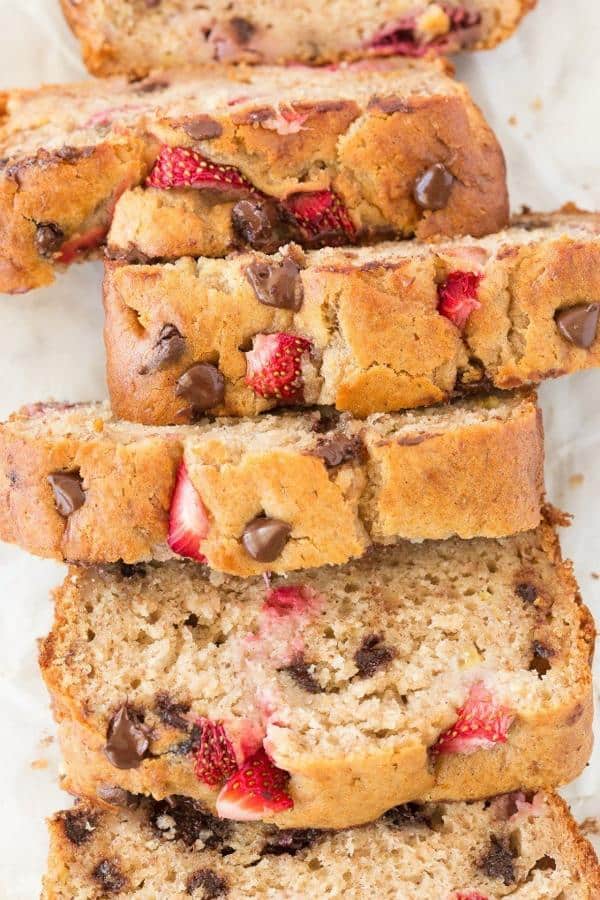 Is there such a thing as a healthy bread? Some people avoid carbs, others go for carbs.
One thing you should be aware of is that this bread is grain-free! It's moist and you can taste the strawberry and banana in every bite.
I would certainly say this is healthy. Enjoy!
Carrot Cake Banana Bread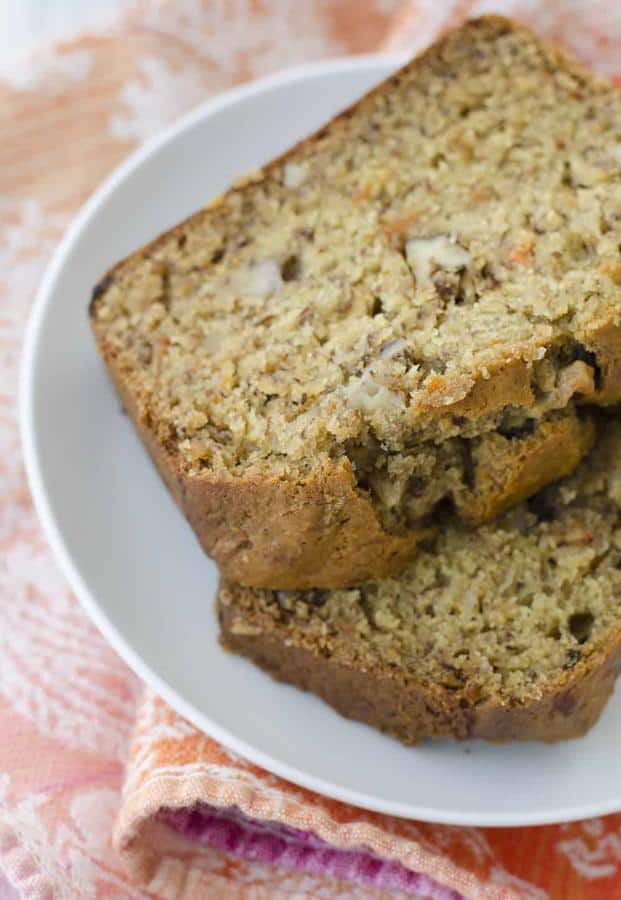 If you're a fan of carrot cake, you can't skip this recipe!
This low-fat bread is a great treat and yes, it's like carrot cake in every bite.
Beautifully moist and bursting with flavor, it will quickly become a family favorite!
Pretzel Bread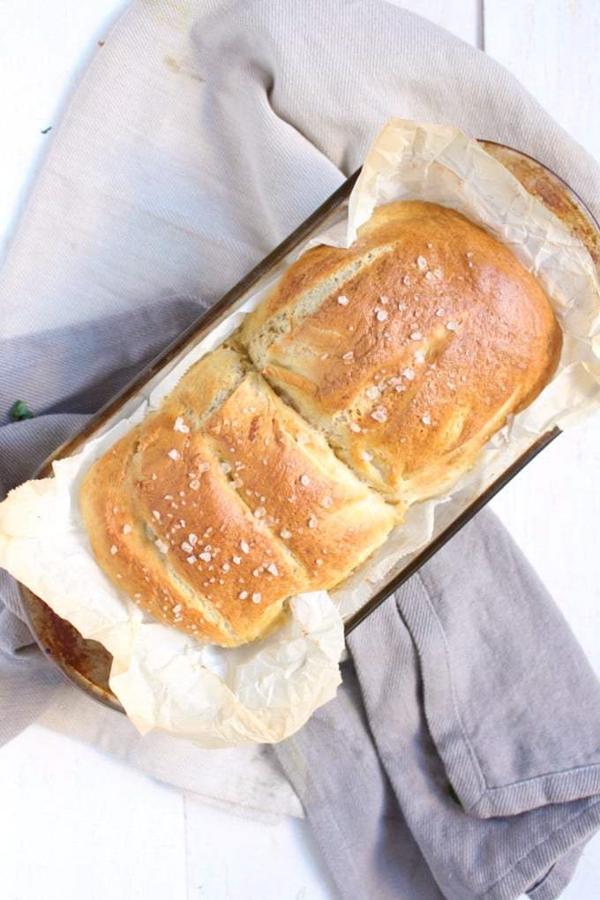 Do you love soft pretzels? I do!
As this comes in a bread-form, this is like a mega pretzel!
Eat this with something sweet such as chocolate spread, toasted, use it as a burger bun, the choices are endless. A definite must!
Wrapping Up
What we set out to do with this roundup was not just have a great selection of bread recipes, we also wanted it to be wide-ranging and diverse.
If you have a breadmaker then time to crank it up, however, none of these recipes require any special equipment so take your pick!
Sweet or savory, it's all here. Enjoy!