Quick Digest: Pros, Cons and Verdict
Here's What We Think
The Omega NC900HDC Nutrition System is a surprisingly versatile juicer with a powerful juice extraction process. While it requires a slight learning curve, it's a superb juicer for hard produce and leafy greens.
Pros
Really good for juicing leafy greens and hard produce
Efficient juice extraction, leaving dry pulp
User-friendly setup for beginners
Impressive 15-year warranty
Cons
Some plastic parts seem fragile when juicing tough produce
Bulky and takes up a bit of space
Requires slight learning curve to avoid difficulties and pulpy juice
Prone to terrible performance with soft fruits
Interested In This Product?
What Is the Omega NC900HDC Nutrition System Juicer?
The Omega NC900HDC Nutrition System is a horizontal single auger masticating slow juicer from Omega. (What a mouthful!)
While color is the only difference, it's still considered the successor to the NC800HD.
If you're ready to level up your juicing experience and get into juicing veggies, leafy greens, and wheatgrass, this juicer is an excellent choice.
Like other masticating juicers, it also features dual-stage juice extraction processing, where the pulp is thoroughly crushed and pressed against a juicing screen to separate the juice out of the pulp.
Does it "juice" other things? Absolutely. In fact, Omega calls this a nutrition system because you can use the machine for things like:
baby food
chopping
coffee grinds
frozen fruit ice cream
mincing
nut and soy milk
nut butter
pasta and breadsticks
sorbet
I'm telling you, this thing will serve you breakfast in bed, walk your dog, do the laundry… yeah, I'm dreaming a bit there, hehe.
But still makes you curious for more details, right? If so, awesome, let's dive in!
Video Overview
Product Details and Usage
Product Specs
Type
Masticating Juicer
Application
Home & Personal Use
Juice Quality
High
Juice Shelf Life
72 Hours
Build
Plastic (BPA Free)
Design
Horizontal
Chute Size
2 x 1.5 Inches (Oval)
Wattage
150 Watts
Motor
80 RPM, 2 Horsepower
Noise Level
Low
Dishwasher Safe
Yes
Best for Juicing
Hard Produce, Leafy Greens, Wheatgrass, Nuts
Warranty
15 Years
Notable Product Features
150-watt, 2 horsepower motor rotates auger at 80 RPM, allowing for efficient juice extraction with minimal oxidation
Dual-stage juice extraction processing allows for maximum yield
Varying nozzles for making different types of foods
Juicing screen and blank cone used for juicing or food processing respectively
Parts that come in contact with food are BPA-free plastic
Operates with an on/off/reverse button
15-year warranty
Build Quality and Design
With its chrome finish, I think the Omega NC900HDC is a beautiful and slick-looking kitchen appliance. When completely assembled, it clocks in at:
6.5 inches wide (16.5 cm)
15.5 inches tall (39.4 cm)
14.5 inches deep (36.8 cm)
20 pounds (9 kilograms)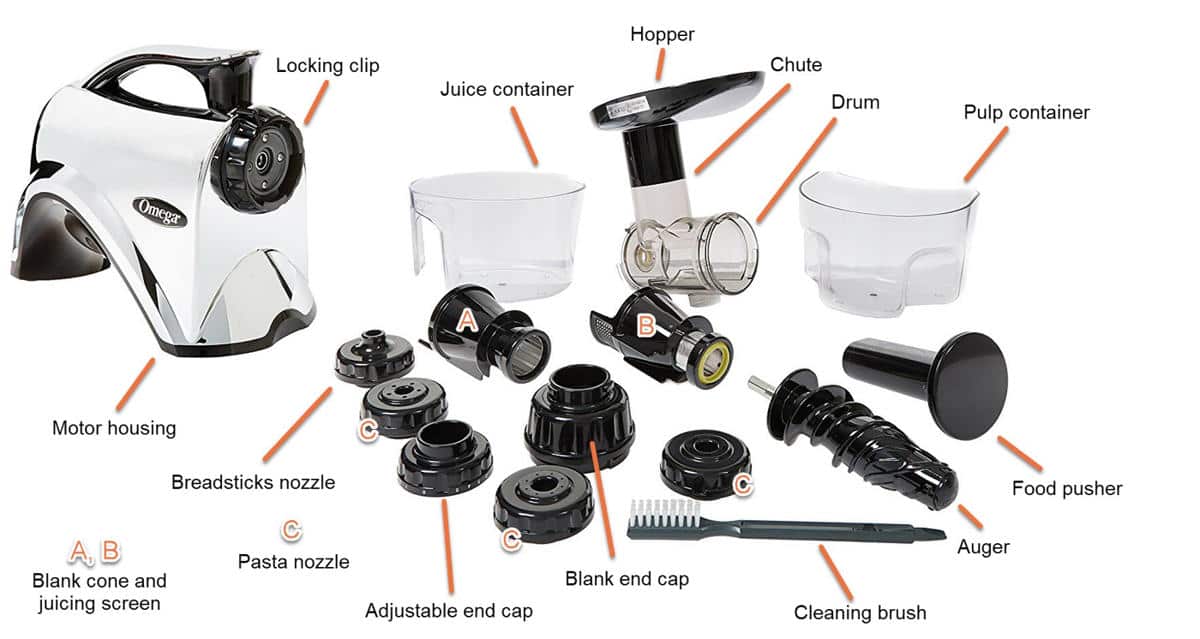 All plastic parts coming in contact with food are BPA-free.
Truth be told, because of its horizontal design, I do feel it's a bit bulky as it ends up occupying a lot of space on the kitchen countertop.
Moving and carrying it around is a piece of cake as the juicer is outfitted with a nice handle on top.
Multiple reviewers have said when juicing tough produce, some parts of the juicer, particularly the feed chute and drum, seem fragile and can make you question how durable the juicer is and whether or not it will last long term or with frequent use.
Fortunately, though, you don't have much to worry about considering Omega's warranties.
Along with two containers, one for juice (measured to 34 oz.) and the other for pulp collection (measured to 42 oz.), you'll get a juicing screen and blank cone, and a set of various nozzles for pasta and breadsticks.
You use the juicing screen when you want to juice—or replace it with the blank cone when processing food.
The feed chute opening is oval shaped, measuring 1.5 x 2 inches so will require you to spend time pre-cutting all produce.
How Long Is the Warranty?
This juicer is fully covered under Omega's awesome 15-year warranty for both motor and parts.
Juice Quality and Yield
I'm impressed with the Omega NC900HDC's ability to extract juice from produce, usually producing a very dry pulp you can't squeeze a single drop from.
But to get this kind of result every time takes practice; as we've realized, masticating juicers tend to require a slight learning curve to master.
Once you've got a good hang of how to rotate the ingredients you put into the juicer, giving the juicer time to process things, and adjusting the end cap setting according to how soft or hard the produce is, you'll typically get a decent amount of extraction and dry pulp.
Also, you'll avoid causing jams, blockages, and having lots of wet pulp from soft fruit ending up in your juice.
But until then, expect a few bloopers as you go. I also recommend you purchase a sieve or gravy separator for when you do end up making juice with too much pulp or foam for your liking.
Hard produce like carrots and apples is usually processed nice and easy.
On the flip side, some ingredients can cause the Omega NC900HDC's juicing screen to clog very quickly, such as cranberries, pineapple, and soft fruits.
When this happens, you'll need to separate the parts, clean the screen, then put everything back together and continue juicing.
If you're juicing a mix of hard and soft ingredients, remember to finish your juicing with hard produce to help clear out leftovers from soft produce.
All in all, what you get from the Omega NC900HDC, is high-quality and great tasting juice with very minimal oxidation that can be stored for up to 3 days.
Performance and Noise
The Omega NC900HDC comes with a 150-watt, 2 horsepower motor. Match that up with the patent designed screw auger made out of Ultem plastic, and you have a juicer easily capable of crushing tough produce.
While it's not at all noisy, I want to point out this juicer is slightly louder compared to previous masticating juicer reviews we've done on the Omega VRT350 Heavy Duty Dual-Stage Juicer and Kuvings Whole Slow Juicer B6000.
So far, it's also been my observation that vertical masticating juicers are typically less noisy than horizontal models.
You can absolutely juice with this machine on mornings or late evenings without waking or disturbing anyone!
Is It Easy to Use?
Now, I said earlier there's going to be a learning curve, and there will be. But if you've never used a juicer before, you shouldn't be afraid of this one because it's actually user-friendly and comes with good documentation.
Here's an example of how to use the Omega NC900HDC juicer from a beginner:
The first one or two times, assembling the parts can seem tricky, but the key is to look at the manual you get with the juicer. Here's a quick diagram: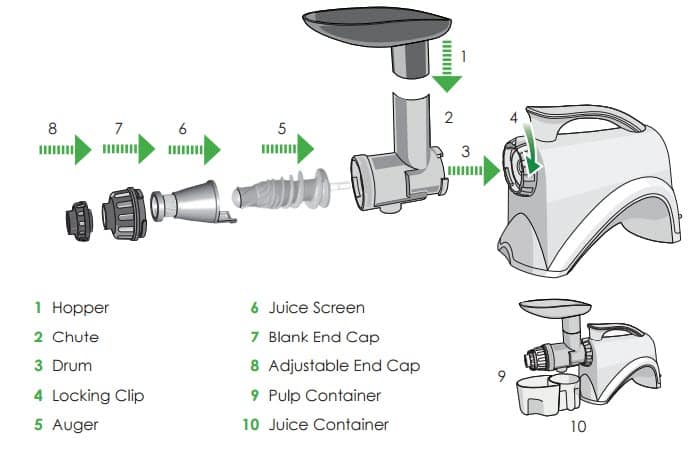 (Source)
You operate the juicer using the on/off/reverse button located on the rear.
Once you drop produce through the hopper, use the food pusher to push things down and the auger takes care of the rest.
Is It Easy to Clean?
I always recommend you start cleaning your juicer immediately after you finish using it.
You can clean this juicer three ways:
Immediately wash, rinse and dry (or set aside to dry) by hand, which should take no more than 5 minutes
Fill a dishwashing basin with warm water and some baking soda, then place detachable parts in the basin and allow to soak for 30 minutes; rinse off thoroughly at the end
Place detachable parts in dishwasher on top rack (all parts are dishwasher safe)
Here's a video showing how to clean the Omega NC900HDC juicer by hand:
Should I Buy the Omega NC900HDC Nutrition System Juicer?
I have to admit, I think it's awesome how this one machine can be so versatile and will definitely try making frozen banana ice cream!
If you're a complete beginner to juicing, this is a steep investment to start with and I would suggest you think about getting a cheaper centrifugal type juicer to "dip your toes in."
Once you've been juicing for a while, and you're still excited and ready to upgrade to a premium machine that is excellent for juicing leafy greens, then the Omega NC900HDC is worth buying.
Either way, keep in mind this juicer works best for hard produce, kale, leafy greens and wheatgrass. So if you're looking for a juicer that's great for juicing a lot of soft fruits (melons, citrus fruits, berries, etc.) this won't be your best option.
That said, the Omega NC900HDC is functional, fairly quiet and delivers great quality juice!