Quick Digest: Pros, Cons and Verdict
Here's What We Think
The Kuvings Whole Slow Juicer B6000 is a powerful juicer, producing high-quality juice with efficient extraction. While it has a learning curve, and the quality of construction could be better, it's a machine that delivers on all other fronts.
Pros
Makes a high-quality, great tasting juice
Is efficient at extracting juice from produce, giving higher than expected yields
Is quiet when juicing so can easily be used on mornings and late evenings
Horizontally compact
Is easy to clean and comes with a tool to help with clean-up
Cons
Still requires pre-cutting for most produce despite 3-inch wide feed chute
Makes pulpy juice which may require straining
Requires a trial-and-error learning curve to avoid causing jams and blockages
Struggles with fibrous and stringy fruits and vegetables
Slightly high price tag in relation to quality of construction
Interested in This Product?
What Is the Kuvings Whole Slow Juicer B6000?
The Kuvings Whole Slow Juicer B6000 is a series of single auger vertical masticating slow juicers from Kuvings. At initial release date, it was the first of its kind to feature a 3-inch wide feed chute for fitting larger pieces of produce, hence the "Whole" bit.
It's the predecessor to the C7000 Whole Slow Juicer Elite and comes in 3 distinctive colors:
Red – B6000PR
Silver – B6000S
White – B6000W
Many people like and prefer slow juicers because their slower rotations (RPM) result in very little air being pulled into the juice, causing much less oxidation and yielding a more nutritious and better-tasting juice.
Let's get right into it!
Video Overview
Product Details and Usage
Product Specs
Type
Masticating Juicer
Application
Home & Personal Use
Juice Quality
Great
Juice Shelf Life
72 Hours
Build
Plastic (BPA Free)
Design
Vertical
Chute Size
3 Inches (Round)
Wattage
240 Watts
Motor
60 RPM, 3 Horsepower
Noise Level
Low
Dishwasher Safe
No
Best for Juicing
Soft and Hard Produce, Citrus Fruits
Warranty
10 Years
Notable Product Features
Is efficient at extracting juice from produce, generally leaving dry pulp
Is very quiet and easy on the ears, running at 60 RPM
3-inch wide feed chute allows for bigger chunks of produce compared to other masticating juicers
All plastic parts are BPA-free
Can be used for making nut milks and frozen desserts
10-year limited warranty
Build Quality and Design
The Kuvings Whole Slow Juicer is built with ABS, Ultem, and BPA-free plastics. It clocks in at:
8.2 inches wide (20.8 cm)
17.6 inches tall (44.7 cm)
9 inches deep (22.9 cm)
14.1 pounds (6.4 kilograms)
If you've been used to using a centrifugal juicer, you'll quickly notice masticating juicers can come with several more parts than you're used to dealing with.
In the video, you'll notice there are 11 pieces not including the motor base.
Below is a chart of the most important parts you need to know about.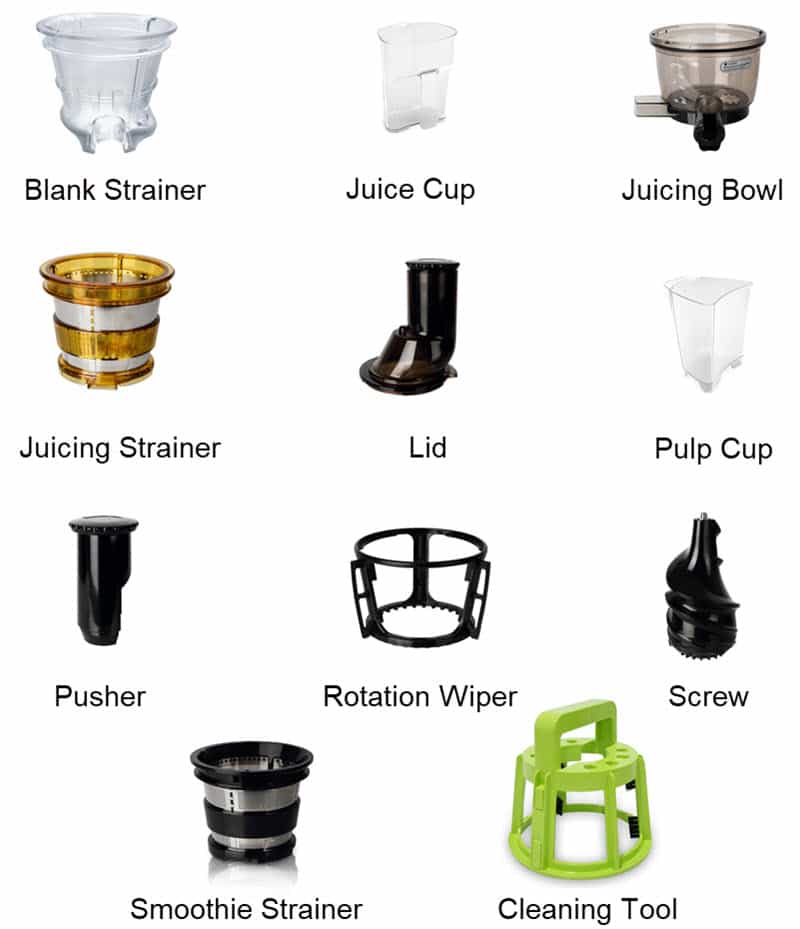 I like the smokey look of the lid and juicing bowl, but it's not entirely functional for troubleshooting when the juicer is jammed or the flow of juice has slowed up for no reason—so a transparent plastic would've been better instead of having to partially take the juicer apart to check what's going on.
The 3-inch wide feed chute will reduce your juicing time but not by a whole lot.
Many reviewers have said the juicer generally doesn't handle whole produce well.  Heck, even the manual that comes with the juicer suggests you should do some pre-cutting in advance.
You also have to be extra careful with fibrous and/or stringy produce like:
alfalfa
carrots
celery
ginger
pineapple
romaine lettuce
You should cut celery and ginger into small half-inch pieces before using them.
Large leaves tend to wrap around the juicing screw, while carrots are widely prone to clogging the Kuvings juicer even when you add them a few chunks at a time, so be advised!
Because of this, some people have gone as far as saying the wide feed chute is really just a marketing ploy as you pretty much still need to cut up your produce just like when using other masticating juicers. But I'll leave that for you to decide.
As for space, this juicer is wonderfully compact horizontally speaking, but if you plan on placing it on your kitchen countertop, you'll need a bit of vertical space to accommodate a 17.6-inch tall machine.
Along with the juicer, you get a 32 fl. oz. juice jug and a good size pulp container, allowing you to make enough juice for at least 2 people without interruption.
I'm really pleased with Kuvings' 10-year warranty on this juicer in case anything does go wrong.
Juice Quality and Yield
There's no doubt about it; if you've used a palatable combination of ingredients, you'll get a very nice tasting juice out of this machine.
A 3-horsepower motor drives the crushing screw at around 60 RPM, meaning very little air suction and much less oxidation. If you're coming from a centrifugal juicer, you're very likely to notice a difference in quality and taste. You'll also be able to store the juice for up to 3 days.
The Kuvings Whole Slow Juicer does a good job at extracting juice from both soft and hard produce as well as citrus fruits, generally leaving behind a fairly dry pulp.
If you like making nut milk, you won't necessarily need a powerful blender because this juicer can handle that as well.
One downside to mention, is you're likely to get an undesired amount of pulp in your juice; this is characteristic of masticating juicers. To combat this, one reviewer suggests purchasing a gravy separator (instead of using a regular strainer) and simply pouring from your juice jug into the separator.
Here are two more tips for you:
1. If you're using multiple ingredients, alternate the ingredients you put into the Kuvings juicer. For example, put a few chunks of apple, then a few chunks of celery, then carrot, orange, etc. Then just repeat the cycle.
Before you wrap up, end your juicing with some kind of hard produce like carrots or apples.
2. Remember not to shove your ingredients in too quickly, giving the juicer time to catch up.
Performance and Noise
If you're not into noisy kitchen appliances, you'll really enjoy the quiet operation of this juicer. This is also great if you're into making healthy juice on mornings or late evenings as you won't have to worry about waking or disturbing your family or neighbors.
If you're making large batches of juice, try to avoid running the juicer for more than 30 minutes, as you'll cause an overheating situation.
As long as you follow a few guidelines, the Kuvings Whole Slow Juicer is very efficient at crushing and powering through whatever you feed it. But you do have to help it out in order to avoid causing jams and blockages.
Is It Easy to Use?
The first one or two times, assembling and disassembling the juicer will probably feel overwhelming with all the parts you need to put together but it's pretty straightforward once you are used to it.
The juicer has a 1-speed multipurpose button for switch-on/switch-off/forward rotation and reverse rotation. You will use the reverse function to spin the crushing screw backward when you need to clear jams and clogged produce.
Using the Kuvings Whole Slow Juicer does require a bit of trial and error and following guidelines, so be prepared for this.
For example, when using the food pusher, you should only give the produce a quick press down and pull back out. Otherwise, continually pressing down can cause produce to jam up the juicer. Here's an example video on how to juice with the Kuvings Whole Slow Juicer:
Is It Easy to Clean?
I was a bit disappointed none of the removable parts are dishwasher safe. However, clean-up by hand shouldn't take more than a few minutes and most feedback I've come across suggests the juicer is easy to clean.
Some tips are:
When finished juicing, pour a full juice jug of lukewarm water through the lid to rinse out the juicing bowl, crushing screw, and other internal parts, then proceed with disassembly
The juicing bowl can be soaked in warm water with baking soda for a thorough cleaning
Use the cleaning tool you get to clean the juicing strainer
Should I Buy the Kuvings Whole Slow Juicer B6000?
Some will feel the price tag on this juicer is a bit high, and for the money, I would've expected a more premium and durable construction but who can say no to a 10-year warranty?
The juicer can be a bit finicky with ingredients and requires a slight learning curve to get used to.
All in all, if you're looking for a juicer that's quiet, easy-to-clean, doesn't take up much horizontal space, and will absolutely give you a high-quality juice that can be stored for three times as long compared to juice from a typical centrifugal juicer, the Kuvings Whole Slow Juicer is a great choice.