Quick Digest: Pros, Cons and Verdict
Here's What We Think
While the Omega NC800HD Nutrition System Juicer can be considered a versatile "Jack of all trades, master of none," it's still a worthwhile upgrade from previous generation models and a very effective juicer for leafy greens, grasses, and sprouts.
Pros
Efficient for juicing leafy greens, grasses, and sprouts
Quiet motor operation so you can juice anytime
Impressive 15-year warranty on entire unit
Cons
Some plastic parts seem fragile when juicing tough produce
Horizontal design and dimensions gives it a bulky footprint
You'll need to commit to a slight learning curve to get best results
Prone to terrible performance with soft fruits
Interested In This Product?
What Is the Omega NC800HD Nutrition System Juicer?
So, you're looking for a juicer, but not just ANY juicer. You want a machine that'll let you make an absolute bounty of different food products.
If that's the case, then let's talk about the Omega NC800HD Nutrition System Juicer, which was Omega's upgrade of the 8006 Nutrition System Juicer. Both can be described as a super versatile, horizontally-designed masticating juicer, thus calling them a "Nutrition System."
This unit is the successor to Omega's J8004/J8006 models, and predecessor to the identical NC900HDC model, which we've reviewed. The only difference between the NC800HD and NC900HDC is the latter's chrome color finish.
The NC800HD comes in two color flavors: Red (NC800HDR) and silver (NC800HDS) metallic finishes, and lets you do and make things like:
baby food
chopping
coffee grinds
homemade pasta
juices
mincing
nut and soy milk
nut butter
pasta and breadsticks
purées
smoothies
sorbet
With this review, I hope to help you decide if this is the right juicer for you.
Video Overview
Product Details and Usage
Product Specs
Type
Masticating Juicer
Application
Home & Personal Use
Juice Quality
High
Juice Shelf Life
72 Hours
Build
Plastic (BPA Free)
Design
Horizontal
Chute Size
2 x 1.5 Inches (Oval)
Wattage
150 Watts
Motor
80 RPM, 2 Horsepower
Noise Level
Low
Dishwasher Safe
Yes
Best for Juicing
Hard Produce, Leafy Greens, Wheatgrass, Nuts
Warranty
15 Years
Notable Product Features
150-watt, 2-horsepower motor rotates auger screw at slow 80 RPM, producing juice with minimal oxidation
5 adjustable settings for controlling juice output
Multiple nozzles for making different food products
Larger oval feed chute compared to previous Omega generation juicers
Convenient grip-handle for moving and carrying the juicer
All parts coming in contact with food are BPA-free
Impressive 15-year warranty on the entire machine
Build Quality and Design
The Omega NC800HD features a horizontal design with a useful grip-handle you can use to easily move it around as it's a relatively heavy machine.
While silver is the most popular choice, it's also available in a visually appealing red finish.
How much space does it occupy? Well, this unit clocks in at:
6.5 inches wide (16.5 cm)
15.5 inches tall (39.4 cm)
14.5 inches deep (36.8 cm)
20 pounds (9 kilograms)
If BPA worries you at all, you'll be pleased to know the Omega NC800HD is built using BPA-free parts.
Compared to previous generation Omega juicers, this unit comes with a larger, oval-shaped hopper feed chute measuring 2 x 1.5 inches, which slightly reduces the amount of time you'll spend precutting produce to fit through.
The underside of this model features 5 rubber feet to help it stay firmly in place.
The on/off switch is located on the rear end.
You get two containers for collecting juice and pulp. The juice container has a 34 oz. capacity, while the pulp container's volume is 42 oz.
These capacities are usually sufficient for making juice for two people without having to stop and unload the containers.
As one reviewer rightly pointed out, the design of the Omega NC800HD's ejection system can become frustrating, especially if you want to use a larger juice container or when you need to remove and unload the container.
The juice container has to fit right beneath the drum, as when removed, juice will drip from the drum. You then have to wipe away the dripped juice and quickly place the empty container under the juice outlet.
In the box, you'll also find among other things:
a juicing screen and blank cone
a set of four nozzles for making pasta and breadsticks
an adjustable end cap for the juicing screen
a blank end cap for the blank cone
The juicing screen is what you'll use when making juice while the blank cone is for food processing.
The adjustable end cap gives you a 6-setting (0-5) control for juicing various types of produce with maximum efficiency.
How Long Is the Warranty?
Should something happen with your juicer, Omega is known for having one of the most impressive warranties, spanning 15 years and covering both the motor and parts. It's particularly the coverage of parts that make this a really decent warranty.
Juice Quality and Yield
As mentioned before, one of Omega NC800HD's relatively unique features is the adjustable end cap (a.k.a. pressure cap), a simple cap with a tube ring, which controls the amount of pressure within the juicing chamber.
The settings range from 0 (loose/low pressure) to 5 (very tight/high pressure).
For hard and firm produce, Omega's supplied manual says to use a higher setting, which increases juice yields.
However, a high pressure makes it more difficult for the juicer to eject pulp from softer produce causing your juice to be more pulpy. So that's where you need to adjust to a lower setting for best results.
This unit has a 150-watt motor powering the auger screw at 80 RPM, which is the typical RPM for horizontal masticating juicers.
A slower RPM usually results in less oxidation of your juice and higher juice yields and nutrient retention compared to higher RPM juicers, but there are exceptions depending on other design features and components.
The slower rotation speed and auger style mastication gives the juicer more time to efficiently process ingredients, hence you get more bang for your buck, which is true for the NC800HD.
The juice can be refrigerated up to 72 hours.
I've however come across many complaints from reviewers saying that their juice contained more pulp than they expected.
This unit doesn't come with a strainer, so you'll either need to purchase one separately or opt for an entirely different juicer altogether.
For strainers, I highly recommend gravy separators or fine mesh nut milk bags.
Also, other reviewers have found this model doesn't handle soft fruits on their own very well. These include apples, citrus fruits, very ripe peaches, etc.
It ends up turning these ingredients into a mush or thick purée, which then backs up to the top of the feeding tube or remains stuck within the juice chamber.
The trick to avoiding this problem is three-fold:
Adjust the pressure cap to 1 or 2 so pulp can be ejected more easily
Always juice soft produce with more firm and fibrous ingredients, which help push out pulp
Always finish with the hard produce to push out leftover pulp
Some other standard tips I can share for using masticating juicers include:
taking your time to cut produce into small enough pieces
feeding in ingredients slowly to not overburden the juicer
rotate the ingredients you put in, especially since juicing just soft produce creates poor results
While the Omega NC800HD tries to be a do-it-all nutrition system, this also means it suffers from being a "Jack of all trades, master of none."
So, while it can make pasta, breadsticks, nut milk and more, its actual strength is juicing leafy greens, sprouts, and grasses.
For example, Omega's VRT350 and VRT400 models are better at making nut milk and processing soft fruit, but they're not great with leafy greens.
An actual pasta or breadsticks maker would be more efficient for their respective purposes than the NC800HD.
So, I'll say this, if you want to juice things like kale and other leafy greens, wheatgrass, sprouts, and various hard produce (carrots, celery, etc.), this juicer is a great option.
For anything else, I think you can find other juicers that'll serve you better.
Performance and Noise
With a rotation speed of 80 RPM, you know this is a juicer you'll need to have some patience using, as is the case with most masticating juicers.
With the Omega NC800HD, you can expect a typical juicing session to take somewhere between 15-20 minutes from start to finish.
Noise levels are low despite being slightly louder than most vertical slow juicers, so you can easily use this unit on mornings and late evenings without being afraid of disturbing the household or neighbors.
Is it Easy to Use?
If you're new to juicing, I'll suggest you don't get the Omega NC800HD.
Why? The extra nozzles, end cap pressure settings, and somewhat thin instruction manual make this juicer more difficult to master than most masticating juicers.
Assembly and disassembly are straightforward once you get the hang of it after a few tries. Do as follows:
Attach the hopper and drum to the motor housing
Insert the auger
Insert the juicing screen or blank cone
Attach the pressure adjustment cap or blank end cap
If making pasta or breadsticks, attach the appropriate nozzle at the end
Assembly diagram for juicing: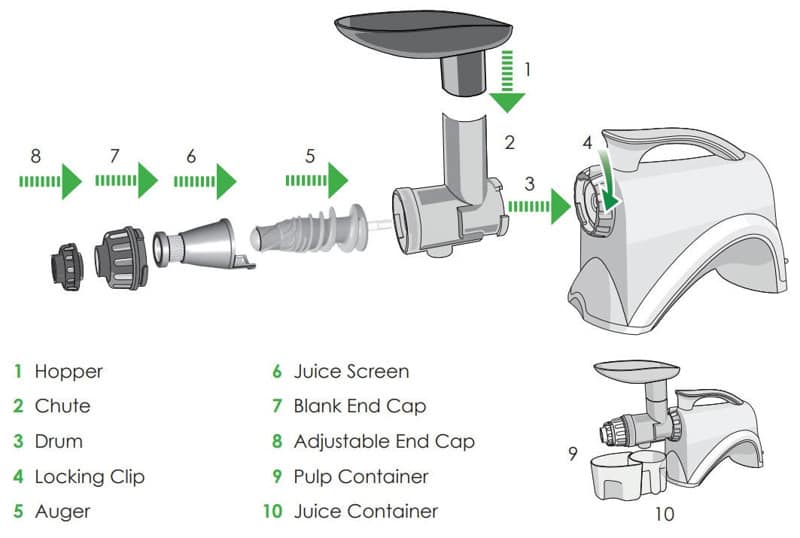 (Source)
If juicing, simply arrange the containers next to each other below the juice drum/chamber, and keep the food pusher handy.
Assembly diagram for food processing: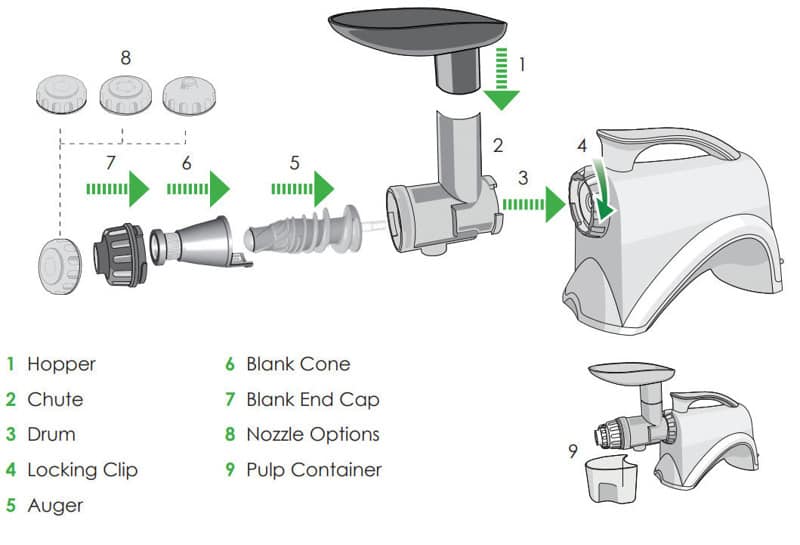 (Source)
You then operate the unit with an on/off switch sitting on the back of the juicer.
Is it Easy to Clean?
The Omega NC800HD is surprisingly fast to clean. You can pull it apart and clean it by hand in a matter of 2-3 minutes.
If you prefer using a dishwasher, the detachable parts are dishwasher safe placed on the top rack, set at the lowest temperature.
I always recommend you begin cleaning your juicer as soon as you're done juicing, as it saves you the trouble of dealing with sticky bits and pieces which can be difficult to remove and increases cleaning time.
How Does It Compare?
Let's take a look at how this product compares with some of the competition.
Omega NC800HD vs. NC900HDC Nutrition System Juicer
So, what's the difference between these two? One thing: color and finish!
The NC900HDC is available in a slick chrome finish.
That's pretty much it. So, what you've read in this review applies to the NC900HDC and vice versa.
Omega NC800HD vs. J8008C Nutrition System
The biggest takeaway difference here, is the J8008C, as well as predecessors to the NC800HD, having a smaller, round-shaped feed chute measuring 1.5 inches.
This means you'll need to spend slightly more time getting the produce small enough to fit compared to the NC800HD.
The NC800HD is slightly more expensive.
Should I Buy the Omega NC800HD Nutrition System Juicer?
If you're new to juicing and this would end up being your first juicer, I'd say you should consider going for a more beginner-friendly masticating juicer, perhaps a vertical unit as they're slightly easier to use.
This juicer is, however, a worthwhile upgrade from previous generation models because of the higher juice yields, and for experienced folks who want a versatile juicer that's excellent for juicing leafy greens, wheatgrass, and sprouts.