Quick Digest: Pros, Cons and Verdict
Here's What We Think
We like the quiet operation and efficient juice extraction we get from the Omega VRT350 Heavy Duty Dual-Stage Juicer. It's a great machine if you can commit to a slight learning curve.
Pros
Compact and doesn't take up much space
Quiet and easy on the ears
Efficient at juice extraction, giving you more bang for your buck
Cons
Struggles with fibrous produce
Often yields more pulp in your juice than desired
Requires learning curve to avoid causing jams and blockages
Interested In This Product?
What Is the Omega VRT350 Heavy Duty Dual-Stage Juicer?
The Omega VRT350 Heavy Duty Dual-Stage Juicer is a vertical single auger masticating slow juicer with a horizontally compact design.
These types of juicers have received general recognition for producing high-quality, low-oxidized juice which gives good taste and higher nutrient value.
Pricewise, this model is a premium investment but one worth considering.
Let's get into the juicy details!
Video Overview
Product Details and Usage
Product Specs
Type
Masticating Juicer
Application
Home & Personal Use
Juice Quality
High
Juice Shelf Life
72 Hours
Build
Plastic (BPA Free)
Design
Vertical
Chute Size
2.25 x 1.5 Inches (Crescent)
Wattage
150 Watts
Motor
80 RPM, 1/5 Horsepower
Noise Level
Low
Dishwasher Safe
No
Best for Juicing
Soft and Hard Produce, Citrus Fruits
Warranty
10 Years
Notable Product Features
Compact 7-inch-wide vertical design
150-watt motor rotates auger at 80 RPM, squeezing juice from produce with minimal oxidation
Two 64 oz. containers, one for juice and one for pulp
All plastic parts coming in contact with food are BPA-free
10-year warranty
Build Quality and Design
The Omega VRT350 is built from BPA-free plastic composite material and clocks in at:
7 inches wide (17.8 cm)
15.5 inches tall (39.4 cm)
8.5 inches deep (21.6 cm)
11 pounds (5 kilograms)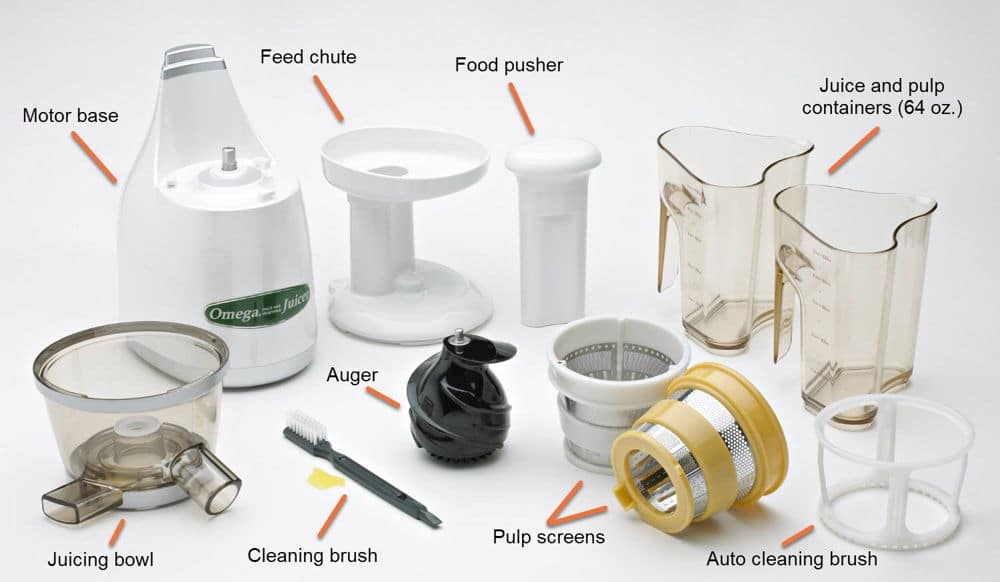 I appreciate the compact vertical design as it makes kitchen countertop space less of a problem for most people. As an added bonus it's lightweight to carry in case you need to move it around a lot.
Its design allows gravity to handle most of the heavy lifting by pulling down the produce as you drop it into the crescent style feed chute. In most cases, you shouldn't have a need for the food pusher at all.
One potentially frustrating design flaw is the pulp ejection port's narrow opening, which makes it difficult to clean especially after juicing stringy produce that tends to get stuck there, such as celery.
If strings get caught and jam near the ejection port, you'll need to very carefully pry them out with a thin knife as to avoid damaging the plastic. A pain worth mentioning.
The 2.25 x 1.5-inch crescent feed chute means you'll need to spend extra time pre-cutting your produce small enough to fit into the opening, so bear this in mind.
You get two 64 oz. containers, one for collecting juice and the other for pulp. At this size, each container should have enough room to let you juice without interruption. If you're juicing more than 32 fl. oz. worth of pulp, I've noticed you may need to press down the pulp with your hand before it overfills the container.
You also get two strainers with different size filtering holes which lets you control the amount of foam and pulp you want in your juice.
Juice Quality and Yield
To get the most yield and bang for your buck, you should use only fresh and firm produce—nothing mushy or wilted—otherwise I've found the Omega VRT350 isn't going to work very efficiently for you.
Now, here's an important heads up for you: This is a juicer you'll need to have patience and go gently with, especially if juicing fibrous or hard produce like carrots, celery, kale, and pineapple.
Cut things small, and feed the pieces into the juicer a little at a time. Each time you add something, wait for the juicer to squeeze and process it before you add more.
If you feed things into the juicer too quickly,  the following may happen:
you end up creating jams
you push more pulp into the juice container because the pulp is rushed past the ejection port
Another tip is to watch for pulp coming out of the ejection port. If it's coming out at a nice pace, it means the juicer is busy doing its thing and you should wait before dropping in more produce.
A few more important tips:
This juicer is not very effective at juicing purely leafy greens, so mix with other kinds of produce
If using a variety of ingredients for your juice, alternate the ingredients you put into the juicer (e.g. a little bit of apple, a little kale, then orange, etc., and repeat)
Always end the juicing with something hard like apple or carrot to help push out the softer produce
If you plan on juicing a lot of celery, parsley, swiss chard, and wheatgrass, you might have to consider not getting this juicer because these things often cause a lot of clogging and jams
The Omega VRT350 is very good for juicing a variety of produce as long as you follow these tips.
Here's a video showing how it performs with a few basic ingredients, apple, carrot, cucumber and kale:
I've come across a lot of reviewers saying you can expect to have more pulp in your juice than preferable. In this case, I recommend you buy a gravy separator and simply pour from the juice container into the separator when you're done juicing. This will remove excessive foam and pulp.
As for the pulp that comes out of the ejection port, you'll normally find it very dry, which indicates the juicer has done a good job at extracting juice from your produce.
Provided you're using a palatable combination of ingredients and follow the guidelines for this juicer, you'll get a great tasting juice that can be stored in the refrigerator for up to 3 days.
Performance and Noise
Like most masticating juicers, the Omega VRT350 is a quiet machine when juicing, so you won't have to worry about disturbing neighbors or someone else you live with. If you're a morning or late-evening juice type person, this is a juicer worth considering.
It operates at 80 RPM, slowly squeezing and crushing as much juice as possible. If you hear squeaking sounds while juicing, don't worry; it's just produce being broken down.
Is It Easy to Use?
The Omega VRT350 is fairly straightforward to assemble and disassemble and features a multipurpose on/off/reverse button.
Using some masticating juicers, including this one, comes with a slight learning curve until you get the hang of it. Common mistakes include:
filling too much produce into the feed chute too fast and not giving the juicer time to process each piece
not cutting things small enough
These mistakes will cause jams and blockages but in some cases, you can clear these quickly by using the reverse button to rotate the auger backward.
Is It Easy to Clean?
Unfortunately, none of the juicer's removable parts are dishwasher safe, so you'll need to do clean-up by hand, using the brush that comes with it.
Despite this, the juicer is simple enough to clean.
Cleaning time will, however, go up by a lot if you've juiced something stringy like celery, as you may need to carefully clean out the ejection port with a knife.
When you're finished juicing and ready for cleaning, you can turn on the juicer and pour water through it for a quick rinse before you disassemble the parts.
Here's a video on how to clean the Omega VRT350:
Should I Buy the Omega VRT350 Heavy Duty Dual-Stage Juicer?
What you need to think about is if you feel you'll have time and patience for juicing with a masticating juicer. It's a commitment, but the quality, nutrient retention, taste and longevity of the juice you'll get is hard to match by centrifugal (faster) juicers.
Once you've got the hang of using it, the Omega VRT350 is a powerful, quiet and compact juicer worth considering.