Quick Digest: Pros, Cons and Verdict
Here's What We Think
The Kuvings C7000 Whole Slow Juicer Elite brings great improvements, reducing common issues from its predecessor. While you'll still need your cutting knife, you don't need to spend as much time pre-cutting.
Pros
3-inch wide feed chute reduces time spent pre-cutting produce
Low noise level lets you juice whenever you feel like
Versatile 3-in-1 juicer, letting you make juices, smoothies, and frozen fruit sorbets
BPA-free plastic components
Cons
Despite wide feed chute, you do still need to cut produce for best performance
Parts are not dishwasher safe
Steep price, especially for beginners
Interested In This Product?
What Is the Kuvings C7000 Whole Slow Juicer Elite?
The Kuvings C7000 Whole Slow Juicer Elite is Kuvings' updated successor to the B6000 model and features some distinctive design changes and improvements.
This series comes in 3 color flavors: gold (C7000G), red (C7000R), and silver (C7000S).
While there are now several vertical masticating juicers with wide feed chutes available in the market, Kuvings was first to the table with their patented 3-inch feed chute design.
What is there to love about a wide feed chute on a slow juicer?
A wide feed chute helps save time spent pre-cutting produce and you'd normally only get this with centrifugal juicers
As opposed to cutting blades, a slow juicer rotates a spinning auger at a very slow RPM, processing your produce with extremely little oxidation
Combining these two features, you get the best of both worlds.
And having a vertical design usually means gravity and the auger screw will do most of the work for you, without needing to use a food pusher.
Let's dive in and find out more!
Video Overview
Product Details and Usage
Product Specs
Type
Masticating Juicer
Application
Home & Personal Use
Juice Quality
High
Juice Shelf Life
72 Hours
Build
Plastic (BPA Free)
Design
Vertical
Chute Size
3 Inches (Round)
Wattage
240 Watts
Motor
60 RPM, 3 Horsepower
Noise Level
Low
Dishwasher Safe
No
Best for Juicing
Soft and Hard Produce, Citrus Fruits, Nuts
Warranty
10 Years
Notable Product Features
3-inch wide feed chute reduces time spent pre-cutting
240-watt motor drives auger at slow 60 RPM, producing juice with little to no oxidation
Compact vertical design makes it easy to fit in your kitchen
Two 33.8 oz. capacity containers for juice and pulp collection
Innovative non-drip Smart Cap with metal finish prevents juice from dripping on table when removing juice container
Comes with a custom-designed sieve to strain your juice
Build Quality and Design
Like its predecessor, the Kuvings C7000 features the same compact vertical design and has a small horizontal footprint, clocking in at:
9 inches wide (22.9 cm)
17.5 inches tall (44.5 cm)
8 inches deep (20.3 cm)
13.9 pounds (6.3 kilograms)
It's a tall unit at 17.5 inches but you should manage OK storing it under your kitchen cabinet at standard clearance height and just pull it out when needed.
These are the different parts: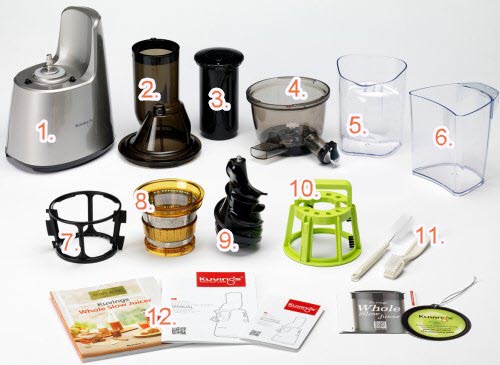 Motor base
Drum lid (feeding tube)
Food pusher
Drum (juice bowl)
Pulp container
Juice container
Rotation wiper
Juicing strainer
Auger screw
External rotating easy-brush
Standard and spout brushes
Recipe booklet and manuals
A few things weren't included in the above image: Blank strainer, smoothie strainer (purchased separately), spout brush, and funnel piece which attaches to the drum lid.
All parts coming in contact with food are BPA-free plastic. Extra durable GE Ultem plastic material has been used for the auger and juicing screen.
The 3-inch wide feed chute is wide enough to fit most produce, saving you time on pre-cutting.
However, you may run into issues juicing hard produce if the pieces are too big, causing the juicer to jam and switch itself off.
Most users run into this with large carrots and beetroot.
As I also mentioned in my B6000 review, how far you can go without doing any pre-cutting at all is questionable and really depends on what you're juicing.
Also, stringy produce, particularly celery and chard stems, are things you'll need to spend extra time cutting because the strings tend to clog near the pulp ejection port, which is a common problem for vertical juicers.
I recommend you cut them down to ¼ inch pieces before use.
You get a funnel attachment with walled edges to place on top of the feed chute, so you can worry less about missing the chute hole by mistake and having your produce drop to the table or floor.
There are also two strainers:
A strainer for juicing
A blank strainer for making frozen fruit sorbets
The juice outlet spout has an attached non-drip smart cap, which can be used for three purposes:
Prevent dripping when you remove the juice container
Allow ingredients to mix more thoroughly in the juice bowl before releasing into juice container
Using the juicer's self-cleaning system where you close the smart cap and fill the juice bowl with water for quick rinsing
The smart cap's metal finish design gives it a more solid feel compared to the B6000's cap.
With the two strainers you get in the box, the optional smoothie strainer you can purchase separately, and the smart cap, you end up having what Kuvings calls a versatile "3-in-1" kitchen appliance that can make juices, smoothies and sorbet/ice cream.
You get two 33.8 oz. containers, one being for collecting juice and the other for pulp. This is a good enough capacity to make juice for two people uninterrupted.
Kuvings has also provided a custom-designed sieve which you'll love if you prefer an absolutely pulp-free juice. The sieve fits perfectly into the juice container.
Kuvings made a series of changes from the B6000 model and part of their goal was to make the C7000 easier and quicker to assemble and clean.
Let's briefly cover the most important changes.
Motor base:
The motor base is now sleeker and sturdier, and the on/off/reverse switch has been moved to the back.
Juice drum:
The 15.2 oz. drum (or juice bowl) has been changed to remove the two rubber and silicone pieces on the bottom.
These pieces sometimes caused leakage problems and made cleaning more difficult with the B6000, this is a good improvement.
Juice screen:
Instead of the juice bowl, the bottom of the juicing screen has been changed to now feature a rubber piece.
Blank strainer:
Kuvings removed the blank strainer's bottom edge rubber and inserted a rubber piece in the center instead.
They also redesigned the outlet to feature a Y-shape.
Auger:
To make the juicer even better for leafy greens, they improved the bottom edge of the auger screw.
Also, they made the bottom side of the auger hollow to reduce pulp content in your juice.
The Kuvings C7000 comes with a decent 10-year warranty on the entire machine.
Juice Quality and Yield
With a 240-watt motor driving the auger at a slow 60 RPM, the juice is efficiently extracted from your produce through a dual stage extraction process:
First, the produce is crushed into small bits and travels down the auger
Second, the bits (pulp) are thoroughly squeezed against the juicing screen
This way, your juice doesn't oxidize rapidly, as will happen with a centrifugal juicer.
The nutritional integrity stays intact and the juice can last much longer (up to 72 hours).
The Kuvings C7000 performs quite well with most produce, but like many vertical masticating juicers, I've come across some reviewers saying they've experienced some difficulties with carrots and celery, just as I explained earlier.
All this really means for you, is if you plan on buying this juicer to juice a lot of carrots and/or celery, you should either:
be prepared to spend extra time cutting the produce into small pieces, defeating the purpose of a wide feed chute masticating juicer
go for a different juicer that handles carrots and celery better
A centrifugal juicer, like the Breville Juice Fountain Cold with Cold Spin Technology, could be a better choice.
Apart from this, the Kuvings C7000 is effective and extracts decent amounts of juice leaving a dry pulp.
To get the best results with this juicer, here are some tips to help you along:
When using multiple ingredients, start with the softest produce first, then rotate the ingredients you put in (for example, put in some orange, then carrot, apple, etc.)
Avoid overloading the juicer and give it time to process each ingredient you drop in
Always finish juicing with hard produce, which helps push out leftover pulp inside the juice bowl
As per Kuvings' advice for all their juicers, beetroot should be cut in half and then further cut into 6-8 pieces in the shape of half-moons
If for any reason you end up jamming the juicer, simply use the reverse switch for a second or two.
Performance and Noise
Performance-wise, and despite a wide feed chute, it's still a "slow juicer," so expect to have a bit more patience, especially if you're upgrading from a centrifugal juicer.
From seeing this unit in action, I find it slightly more powerful than 150-watt vertical juicers, meaning it doesn't jam as frequently with hard produce.
Worried about the noise level? Well, with this juicer you can put those worries to rest.
This juicer is fairly quiet in use and allows you to make juice at any time without causing disturbance to others.
The loudest it gets is with a squeaking that happens when certain produce is being chewed by the auger, but it's still a very acceptable with a low noise level.
You can run this juicer for 30 minutes straight after which you'll need to give it a break.
Is it Easy to Use?
I've come across some understandable feedback that when you unbox the Kuvings C7000 and stand there with all the parts spread out, it can look really overwhelming.
But once you've assembled it two or three times, you'll see it's easy as 1-2-3.
Fit the juice bowl onto the motor base
Insert one of the strainers into the rotation silicone wiper
Fit the strainer and rotation wiper into the juice bowl
Insert the auger
Place the drum lid (feeding tube piece) on top
Attach the funnel to the drum lid
Finally, arrange the two containers to collect juice and pulp
This juicer is pretty straightforward to use even if you're a beginner.
Here's a video showing how to use the Kuvings C7000:
When finished, disassembling the parts is just as easy.
If you follow the juicing tips I shared earlier, you should get good results from the start.
Is it Easy to Clean?
Most feedback I've seen from users say the Kuvings C7000 is pretty easy to clean.
You'll have to wash and rinse all parts by hand, as this unit isn't dishwasher safe, but you can easily clean it in under 5 minutes.
The juicing strainer's new design does make it slightly more difficult to reach into the bottom area using Kuvings' provided standard cleaning brush.
Also, the hollow space on the bottom side of the auger encourages pulp to fill up there, but this you can quickly remove using a finger.
Like other vertical juicer models, this unit also has a "self-cleaning" system, where you close the smart cap and pour water into the drum (juice bowl).
This is quite handy when you want to make different recipes successively without stopping.
My two tips are to:
line the pulp container with a plastic bag so it doesn't need cleaning when you finish
start cleaning the parts right after you finish juicing so nothing sticks and becomes tough to remove
Unlike most other companies, Kuvings provide a really convenient spout brush, so definitely make sure to use this as well.
Should I Buy the Kuvings C7000 Whole Slow Juicer Elite?
Overall, I think Kuvings has done a great job upgrading the B6000 to this C7000 model.
In my view, it's a great masticating juicer for complete beginners, and well-worth an upgrade from the B6000 model if you feel the time has come.
It's not as prone to jamming with hard produce and feels like a solidly built machine.
Now, if you're looking at this as your first juicer, the price might be a bit steep, but consider it a solid investment in your health.