Quick Digest: Pros, Cons and Verdict
Here's What We Think
While lacking versatility, the Hurom HP Personal Series manages to make itself relevant as an affordable entry-level masticating juicer with decent juice extraction abilities.
Pros
Affordable entry-level masticating juicer with good performance
Compact and stylish vertical design with small footprint to fit in most kitchens
Quiet motor, letting you juice when you want without disturbing anyone
Cons
Is prone to jamming often if produce isn't cut small enough
Not powerful enough to process hard produce like carrots consistently without jamming
The least versatile Hurom juicer
All parts, except auger screw, aren't dishwasher safe
Interested In This Product?
What Is the Hurom HP Slow Juicer?
So maybe you've read all about the benefits of slow juicers and you're trying to narrow down on your final choice.
But you're also looking for a good juicer that's not exceedingly expensive and way over budget.
That's where the Hurom HP Slow Juicer comes in.
The Hurom HP is part of Hurom's 2nd generation Personal Series vertical masticating juicers, which come in 4 different color flavors: Mint, pink, sandy gold, and white.
An advantage to Hurom's 2nd generation juicers is that they no longer have the infamous small hole at the bottom of the juicing screen that is prone to clogging with pulp and causing backups.
This model is Hurom's most affordable, yet also least versatile slow juicer. However, if the juice is all you want to make, it's a decent option worth considering.
Let's find out more, shall we?
Product Details and Usage
Product Specs
Type
Masticating Juicer
Application
Home & Personal Use
Juice Quality
High
Juice Shelf Life
72 Hours
Build
Plastic (BPA Free)
Design
Vertical
Chute Size
2 x 1.5 Inches (Crescent)
Wattage
150 Watts
Motor
43 RPM
Noise Level
Low
Dishwasher Safe
No
Best for Juicing
Soft and Hard Produce, Citrus Fruits, Leafy Greens, Nuts
Warranty
10 Years (Motor)
2 Years (Parts)
Notable Product Features
150-watt motor rotates auger at slow 43 RPM, producing yields with little to no initial oxidation
Parts built with ABS, Tritan and Ultem plastics for higher durability
Compact vertical design
All plastic parts coming in contact with food are BPA-free
10-year warranty on motor, 2 years on parts
Build Quality and Design
The Hurom HP features a stylish and compact vertical design. I think it's more on the "cute" side compared to previous Hurom juicers I've reviewed.
Its small footprint clocks in at:
7.6 inches wide (19.3 cm)
15.5 inches tall (39.4 cm)
6.9 inches deep (17.5 cm)
9.5 pounds (4.3 kilograms)
This unit doesn't take up much horizontal space, and it's not exceedingly tall either, so you shouldn't have much trouble finding a good spot on your kitchen countertop for it.
Here's an overview of the parts: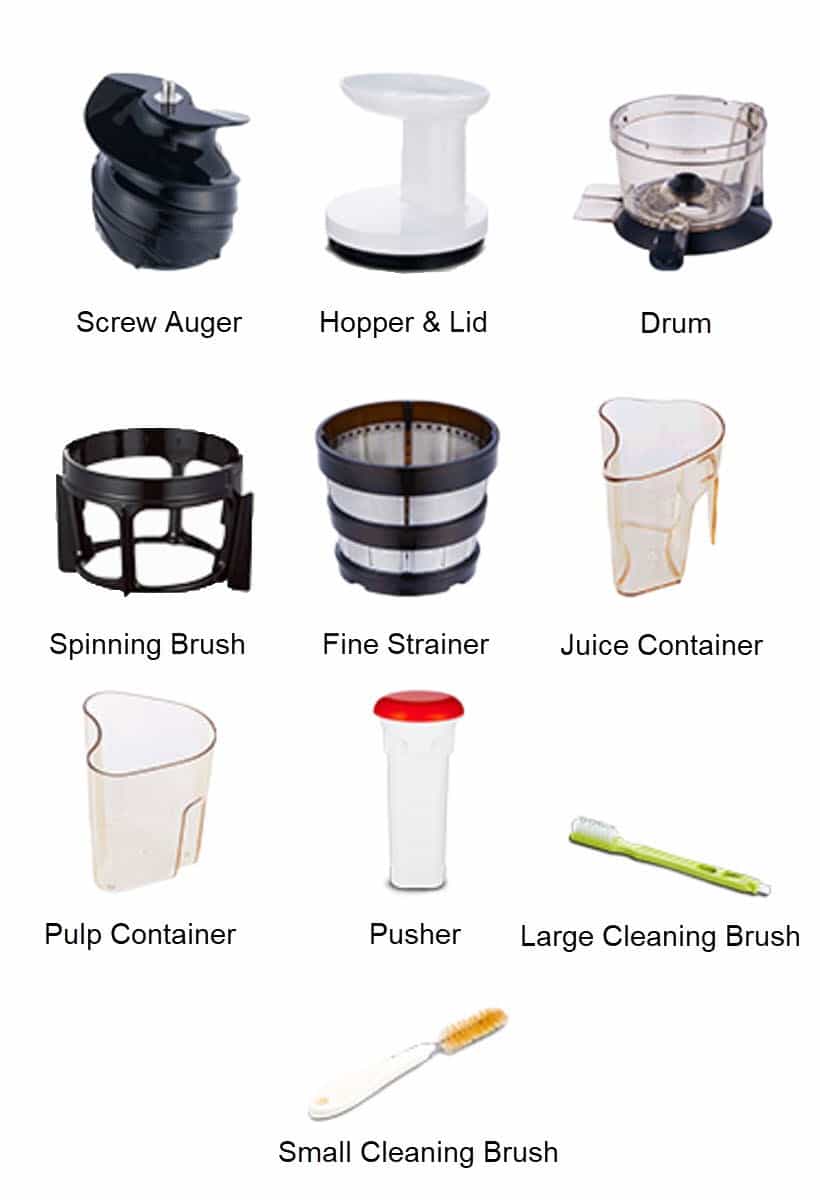 The juicer's outer casing and hopper are built using dent resistant ABS plastic. Other materials include Tritan (juice chamber), GE Ultem (auger screw and fine strainer), and stainless steel (fine strainer).
GE Ultem is an extra durable plastic regarded to be 8 times stronger than typical plastics.
All plastic parts coming in contact with food are BPA-free.
The hopper's crescent-shaped feed opening measures a small 2 x 1.5 inches. For safety reasons, Hurom chose to make the chute narrower at the opening end.
But a feed chute this size means you'll need to spend additional time pre-cutting produce to make it fit, compared to, say, Omega's VSJ843Q and VSJ843R models, which don't have the narrowed opening.
The juice chamber's outlet has a convenient cap attachment, which serves two purposes:
Lets you thoroughly mix ingredients inside the chamber before you release contents into the juice collector
Is part of the Hurom HP's auto-cleaning system, which lets you quickly rinse the chamber's interior between recipes or when you're finished
With Hurom's more expensive models, you get 3 strainers adding lots of versatility to what you can make. But you only get a fine strainer with the HP series.
This means you won't have an optimal (coarse) strainer for making things with thicker textures, such as purées, smoothies, homemade sauces, and baby food.
You also won't get Hurom's blank strainer for making frozen fruit sorbets.
But if you're only interested in making smooth juices, you'll be totally fine with this model.
Accompanying the juicer, you get two containers. The first is 32 fl. oz. for collecting juice, and the other measures 35 oz. for collecting pulp.
These are sufficient capacities for making juice for two people without interruptions.
While you do get a food pusher, the key benefit of vertical style juicers is you shouldn't need to use it most of the time, as gravity and the auger screw do all the work.
So, what if your juicer breaks or stops working? Well, in this case, the Hurom HP is covered by a long 10-year warranty on the motor, but a much shorter 2-year warranty on parts.
This kind of warranty deal isn't really in your favor, because it's well-known that the motor is the least likely part to malfunction or break with pretty much any juicer, while the removable parts break more frequently.
You might see all sorts of decade-long or lifetime motor warranties with comparatively shorter coverage for parts. These aren't impressive deals so just keep that in mind.
Juice Quality and Yield
The Hurom HP has a 150-watt motor powering the auger screw at a slow 43 RPM, which is among the slowest of all masticating juicers on the market.
A slow RPM means the juicer has time to thoroughly squeeze and chew your produce for maximum extraction.
The absence of high-speed rotation also means little to no oxygen is pulled into your juice, as happens with centrifugal juicers, which would cause your juice to oxidize and spoil faster.
The Hurom HP takes advantage of Hurom's patented Slow Squeezing Technology, where the auger crushes produce into bits and pulp, which is then thoroughly squeezed against the juicing screen to separate out the juice.
All in all, this makes for high juice yields and longer storage time (refrigerate up to 72 hours).
To get the best results using the Hurom HP, here are some tips you can apply:
Precut the produce into sizes that fit through the feed opening without force
If juicing multiple ingredients, rotate what you put into the feed chute (for example, put in a chunk of apple, then a chunk of carrot, then some celery, and repeat)
Don't overburden the juicer by feeding ingredients too fast; give it time to process each chunk you put in
Also, some produce leaves strands inside the juicer, such as celery, chard stems, and wheatgrass.
These can often clog near the pulp ejection port or wrap around the auger screw forcing you to stop juicing to clear things out.
The trick is to cut the celery and chard stems into very small pieces, possibly an 8th of an inch.
In a vertical style juicer, wheatgrass (and sprouts) should always be juiced with other ingredients where you rotate them.
This juicer works quite well with most produce, especially all the common staples like apples, beetroot, carrots, celery, citrus fruits, cucumber, ginger, mangoes, melons, pears, pineapples, and more.
If you follow these tips, you'll typically end up with high juice yields, dry pulp, and little to no pulp in your juice.
Performance and Noise
If you're looking for speedy juicing sessions you can wrap up in under 10 minutes, you'll be disappointed with just about any masticating (slow) juicer, especially one that runs at 43 RPM.
In their 2nd generation juicers, however, Hurom did try to reduce the time with the new twin-wing auger style design, which makes the auger able to process ingredients twice as fast.
But either way, a slow juicer gives you a higher quality juice where more of the nutritional value has been preserved. Most of the time, you'll also get higher yields compared to centrifugal juicers.
The Hurom HP is a quiet juicer, just a tad louder than Omega's VSJ843 models.
You can easily use this unit to juice on mornings or late evenings without worrying about waking the household or disturbing neighbors.
Is it Easy to Use?
Ease of use is really important, otherwise, you'd probably give up after the first few times.
The Hurom HP is pretty easy to use once you're comfortable with how to assemble and take it apart.
There are 7 parts to arrange and assemble. Two of these being the juice and pulp containers, which you just place beneath the juice outlet and pulp ejection port.
The other 5 parts to put together:
Place the juice chamber (a.k.a. juice bowl or drum) on the motor base
Insert the fine strainer inside the spinning brush
Place the strainer and spinning brush inside the chamber
Insert the auger screw
Place the hopper onto the chamber and lock into place
Keep the food pusher handy just in case you need it.
To disassemble the juicer, you just go in reverse of the above. You'll be a ninja at this after the first couple times.
You operate the juicer with an on/off/reverse button located on the back. The reverse function is for loosening things that have gotten stuck within the juice chamber.
Is it Easy to Clean?
People usually look for the added convenience of dishwasher-safe parts. Unfortunately, the only part of any Hurom juicers you can place in the dishwasher is the auger screw.
But doing a manual cleanup by hand doesn't take longer than a few minutes, especially if you do a quick rinse before disassembly.
To do so, simply:
Place an empty container under the juice outlet
Close the juice outlet cap
Switch on the juicer and pour about 2 cups of water into the juice chamber and allow wiping blades and water to work for 20-30 seconds
This helps clear out leftover pulp and pieces. Then just empty the chamber.
One tip you can apply before you begin juicing is to line the pulp container with a plastic bag that you can then dispose of once you're done. That's one less part to clean.
Here's a quick how-to video you can follow to clean your Hurom HP:
Should I Buy the Hurom HP Slow Juicer?
The Hurom HP is a stylish vertical juicer that'll definitely get the job done if you just want to make juice.
It produces decent yields and good quality juice.
Considering that Hurom manufactures the parts for Omega's VSJ843 models, one thing that struck me as odd is Hurom releasing the Hurom HP in 2016 with pretty much no improvements over Omega's units, which have had the same features since their release in 2014.
Either way, one thing you should think carefully about is the warranty. If you're OK with the parts only being covered for 2 years, then, by all means, this is a juicer worth considering.
And with budget-friendliness in mind, this can be a great entry-level masticating option, also for beginners.