Quick Digest: Pros, Cons and Verdict
Here's What We Think
Despite a few years on its back, the Omega VSJ843Q is still a strong and durable contender among masticating juicers, and you simply can't ignore its attractive 15-year manufacturer's warranty.
Pros
Very silent motor lets you juice whenever you like without disturbing anyone
Auto-Cleaning System reduces clean-up time
Juice flap prevents juice from dripping and lets you quickly rinse juice bowl between recipes
Long 15-year warranty on motor and all parts
Cons
Hollow auger screw design leads to pulp buildup, increasing cleaning time
Doesn't perform well with soft fruits
Weak magnet or lack of motor power can sometimes cause juicer to stop
Interested In This Product?
What Is the Omega VSJ843Q Slow Juicer?
Omega's VSJ843Q and VSJ843R series masticating slow juicers are among their most popular juicers, featuring a complete redesign from the VRT series.
This VSJ843Q model has a cube or square design, while the VSJ843R is round.
VSJ843 stands for vertical slow juicer running at 43 RPM. It remains unclear what the '8' means.
The square model comes in 3 flavors: silver (VSJ843QS), red (VSJ843QR), and white (VSJ843QW).
What you're getting here's a versatile machine you can also use to make:
frozen fruit sorbets
nut milk
smoothies
Let's dive in and learn more!
Video Overview
Product Details and Usage
Product Specs
Type
Masticating Juicer
Application
Home & Personal Use
Juice Quality
High
Juice Shelf Life
72 Hours
Build
Plastic (BPA Free)
Design
Vertical
Chute Size
1.62 x 1.25 Inches (Oval)
Wattage
150 Watts
Motor
43 RPM, 1/5 Horsepower
Noise Level
Low
Dishwasher Safe
Yes
Best for Juicing
Hard Produce, Leafy Greens, Wheatgrass, Nuts
Warranty
15 Years
Notable Product Features
Self-cleaning feature, allowing you to conveniently rinse internal parts between recipes
Quiet motor, letting you juice at any time without disturbing anyone
Convenient juice flap prevents dripping and allows contents to be thoroughly mixed inside juice bowl
Attractive 15-year manufacturer's warranty on entire machine
Build Quality and Design
The Omega VSJ843Q brings onboard all the great qualities of vertical slow juicers in a neat and fairly compact design.
You shouldn't have much trouble fitting this machine on your kitchen countertop. It clocks in at:
7 inches wide (17.8 cm)
15.5 inches tall (39.4 cm)
8.5 inches deep (21.6 cm)
22 pounds (10 kilograms)
At 22 pounds, it's twice as heavy as the VRT models and even slightly heavier than Omega's bulkier horizontal model juicers.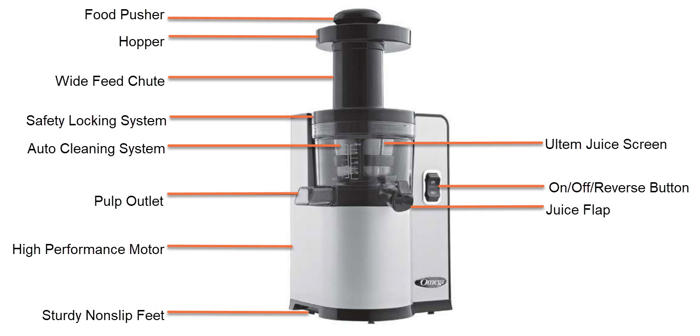 Having no carrying handles, it's not a juicer you'll want to move and shift around a lot, so I suggest you find a permanent spot to place it.
Heightwise, you should be able to fit it under most kitchen cabinets.
From earlier models, and with a much slower rotation speed (43 RPM), the auger screw has been slightly changed to feature a twin-wing (propeller shape) design, which achieves two things:
helps pull produce into the juice bowl faster
the twin wings latch onto the wiping blades, powering the auto-clean system
So as the auger spins around and rotates the silicone wiping blades, your produce is processed and the juicing screen is wiped clean simultaneously, preventing pulp buildup and increasing juice yield.
All plastic parts coming in contact with food are BPA-free.
The juicing screen is quite compact, built out of stainless steel and Ultem plastic, and features smaller mesh holes to reduce pulp content in your juice.
Ultem plastic is known to be 8 times stronger and more durable than other plastics and is therefore often used to build the augers in many juicers, including this one.
There's a convenient flap attached to the juice spout, which lets you release or stop the contents within the juice bowl from flowing out of the juice spout.
Normally, you'll close the juice flap when:
trying to achieve thicker textures (purées, frozen fruit sorbets, and smoothies)
filling the juicer bowl with water to clean it
One of the neat advantages of vertical juicers is how some of them not only clean themselves partially, but they're also self-feeding.
This means, you simply drop produce through the hopper's feed opening and a combination of gravity and the auger screw handles the rest, without you constantly having to use the food pusher.
In fact, the less you use the pusher, the better.
The oval-shaped feed opening measures 1.62 x 1.25 inches, meaning you'll need to be ready to spend some time pre-cutting your produce small enough to fit, and even smaller yet for a smooth performance (i.e. not causing the juicer to jam).
You get two 30 oz. containers with the juicer. One for collecting juice and the other for pulp. If you're making juice for more than two people, these containers will not be big enough for uninterrupted juicing.
Despite the Auto-Cleaning System, one design aspect I'm not too excited with is how pulp can easily end up getting stuck in the juice bowl instead of being ejected.
The worst part is the hollow space on the underside of the auger screw, as pulp sometimes ends up filling it entirely. While not a big problem, it can increase cleaning time and sometimes makes the auger feel like it's stuck (it's just wet pulp creating a sealing effect).
A second issue worth highlighting is the point where the hopper lines up with the base and is "locked" into place by magnets. When the juicer is on, the alignment must be perfect, otherwise, the juicer stops automatically.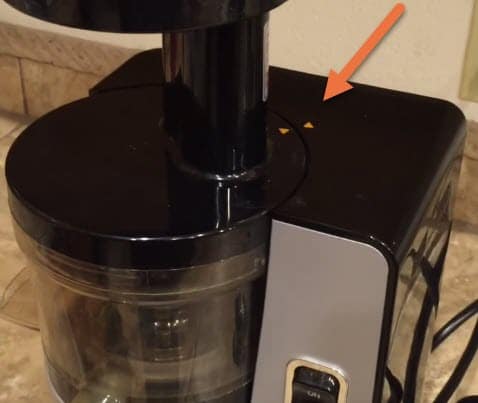 Because of a combination of a weak magnetic pull and the motor sometimes not being strong enough to process pieces of hard produce if they're too big, the hopper can end up vibrating and rotates slightly to the left, which misaligns the arrows and stops the juicer.
If you experience this, the usual fix is to cut your hard produce smaller or get creative, like this video shows:
While it does feel like a durable machine built to last, I'm positively impressed with Omega's whopping 15-year warranty, covering all parts including the motor.
Juice Quality and Yield
With a slow rotation speed of 43 RPM and a compact strainer with smaller holes, the Omega VSJ843Q efficiently extracts the juice from your produce, giving you a nice quality smooth juice with very little, if any pulp.
Slow rotations also mean much less air being pulled into the juice, hence very little oxidation and a longer lasting juice you can refrigerate for up to 3 days.
Apart from certain produce like citruses and cucumber, the pulp from most produce will be dry, and in any case isn't worth the messy hassle of trying to put it through the juicer again for a few extra drops.
This juicer performs especially well with hard produce, leafy greens, and wheatgrass.
If, however, you're mainly looking to juice only soft fruit most of the time, a vertical masticating juicer won't be your best choice for a juicer. In this case, I recommend you try looking at horizontal style slow juicers.
To get the most out of this juicer, I'll share with you some tips:
Pre-cut your produce as small or thin as possible, especially if it's hard or stringy veggies like carrots, celery, chard stems, etc.
If using multiple ingredients, alternate between them as you put them into the feed opening (e.g. drop in some apple, then some carrot, then lemon, back to apple and repeat)
Drop in one or two pieces at a time, and give the juicer a chance to process each ingredient before you add more, which helps avoid jams
Always finish juicing with hard produce if you've used soft ingredients, to help push out leftover pulp
As you learn the ropes, you may run into problems with hard produce getting stuck, in which case, you simply use the reverse button to dislodge.
I've also come across reviewers experiencing trouble with celery strings getting stuck by the pulp ejection port, sometimes requiring tools (e.g. sharp knife, pliers, tweezers, etc.) to get it out.
Performance and Noise
If you're looking for a quiet juicer, you won't go wrong with this unit as the motor is virtually silent.
You'll be able to juice anytime you like without disturbing neighbors, anyone sleeping or sensitive pets.
Is It Easy to Use?
Masticating juicers usually have a slight learning curve before you master them and get consistently good results, so be prepared for this.
That aside, the Omega VSJ843Q is quite straightforward to piece together and disassemble, and the manual can be helpful the first couple of times you use it.
With the juice and pulp containers in place, there are 5 parts to put together including the: juice bowl, wiping blades, juice screen, auger, and hopper.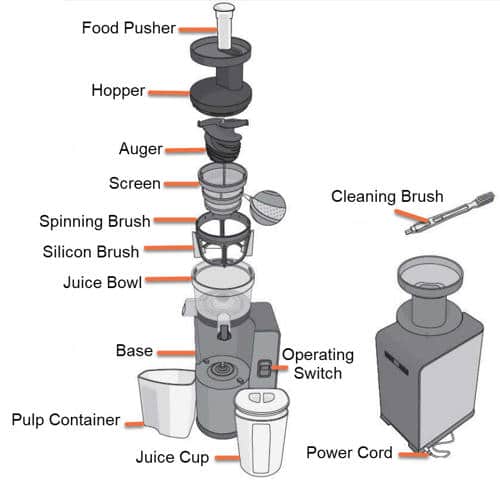 Once assembled, you simply operate the juicer with the on/off/reverse switch and start dropping in a piece or two of produce at a time.
Here's a video on how to assemble the Omega VSJ843QR:
Is It Easy to Clean?
One thing I really enjoy about the Omega VSJ843Q is the convenient functionality it provides when you want to juice different recipes successively, especially if the first recipe includes something with a strong and distinct flavor, like ginger.
Once you've finished the first recipe, simply:
close the juice flap
replace the juice container with an empty one
make sure the juicer is switched on, then pour water into the juice bowl (up to 15 fl. oz. max to avoid overflow)
Within a few seconds, the rotation of the auger and wiping blade will help the water pickup pulp and give the juice bowl a good rinse.
Once the water looks dark and murky or discolored, simply release it into the empty container. Your juicer is now ready for the next recipe without you having to disassemble everything.
This is also a good way to give the parts a quick rinse in preparation for the thorough clean-up.
You can clean this juicer three ways:
Immediately wash, rinse and dry (or set aside to dry) by hand, which should take no longer than 10 minutes
Fill a dishwashing basin with warm water and some baking soda, then place detachable parts in the basin and allow to soak for 30 minutes; rinse off thoroughly at the end
Place detachable parts in dishwasher on top rack (all parts are dishwasher safe at low temperature)
You might want to give the juicing screen's mesh filter a little scrub by itself before doing any of the above.
Sometimes pressure will build up within the juice bowl, making the hopper hard to remove. If this happens, hit reverse to turn back the auger. This will release pressure and you can safely remove the hopper.
Here's a great video on how to clean the Omega VSJ843Q:
Should I Buy the Omega VSJ843Q Slow Juicer?
Overall, I'm impressed with the Omega VSJ843Q. It has a few years on its back already and seems to have built up a positive reputation.
It feels like a machine built to last, which I like. On top of this, you even get a generous 15-year warranty.
If you're looking for a quiet, compact and durable juicer that'll give you decent yields of juice for your money, you won't go wrong with this one. While the price is fairly steep, it's worth it.
If you're a complete beginner, you have good patience, and you're prepared for the slight learning curve with masticating juicers, you can absolutely start with this model.
Otherwise, for beginners, I recommend getting a cheaper centrifugal juicer first to get a feel for it, to see if juicing is something you'll enjoy long-term.