Quick Digest: Pros, Cons and Verdict
Here's What We Think
The Hurom HH Elite is a beautiful, compact and one of the quietest juicers we've reviewed so far. It's a versatile machine that'll give you quality juice.
Pros
Versatile, capable of making juices, purées, nuts and soy milk, baby food, etc.
Very quiet in operation, letting you juice on mornings and late evenings without disturbing anyone
Compact vertical design makes it easy to fit in most kitchens
Self-cleaning system helps make up for non-dishwasher-safe parts
Cons
Is prone to jamming often if produce isn't cut small enough
Not powerful enough to crush hard produce like carrots consistently without jamming
Feed chute's narrow width causes frequent pulp blockages
Steep price point for people new to juicing
Interested in This Product?
What Is the Hurom HH Elite Slow Juicer?
The Hurom HH Elite is a modern-looking masticating slow juicer from Hurom and comes in two flavors: silver and wine red.
Let me tell you something: This is a VERY versatile machine and can make just about anything you'd wish a juicer could make, including:
baby food
homemade sauces
ice cream
juices (of course!)
milkshakes
nut and soy milk
smoothies and purées
So, let's jump right in and find out more!
Video Overview
Product Details and Usage
Product Specs
Type
Masticating Juicer
Application
Home & Personal Use
Juice Quality
High
Juice Shelf Life
72 Hours
Build
Plastic (BPA Free)
Design
Vertical
Chute Size
2 x 1.5 Inches (Crescent)
Wattage
150 Watts
Motor
40 RPM
Noise Level
Low
Dishwasher Safe
No
Best for Juicing
Soft and Hard Produce, Citrus Fruits, Leafy Greens, Nuts
Warranty
10 Years on Motor
2 Years on Parts
Notable Product Features
150-watt motor rotates auger at a slow 43 RPM for efficient juice extraction
35 fl. oz. juice container and 50 oz. pulp container
Self-cleaning system
Patented dual-stage slow juice extraction processing yields higher amounts of juice
Fine, coarse, and ice cream strainers
Plastic parts coming in contact with food are BPA-free
Build Quality and Design
The Hurom HH Elite series juicer is a beautiful machine with a body constructed of impact resistant and BPA-free ABS plastic.
Like other vertical masticating juicers, it has a small footprint with its compact design, clocking in at:
9.8 inches wide (24.9 cm)
15.7 inches tall (39.9 cm)
6.7 inches deep (17 cm)
13.6 pounds (6.2 kilograms)
So you won't need to worry much about kitchen countertop space.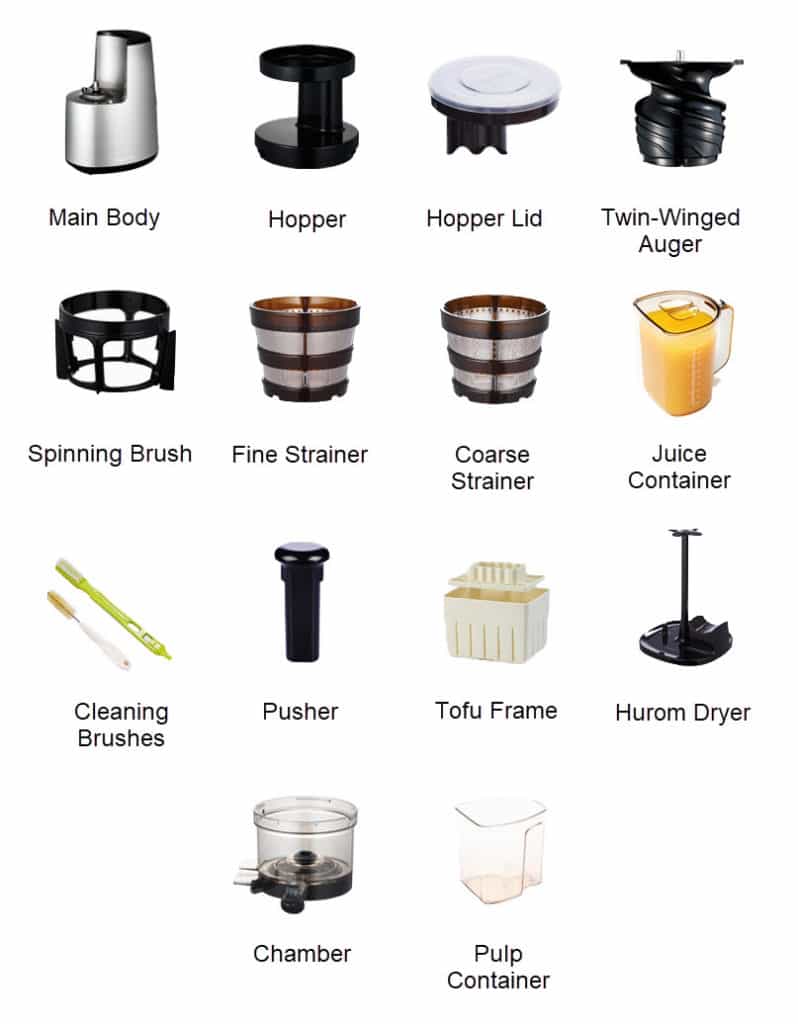 Part of what makes this a great multipurpose juicer are the three different strainers you get:
Fine strainer (for making smooth juices and milk)
Coarse strainer (for making smoothies, baby food, purées, milkshakes, etc.)
Ice cream strainer (not featured in the above diagram)
The fine strainer will put the least amount of pulp and fiber in the juice, while the coarse strainer will produce thick and pulpy textures.
For more fine-tuned control of pulp and fiber content, the drum features a Pulp Control Lever, which allows you to shut off or open the drum's pulp ejection port (when fully closed, the juicer almost becomes a blender).
The juice ejection port has a useful closing cap serving two purposes:
preventing dripping when juice container is removed
holds the contents inside the juice drum while being processed until the desired texture has been reached
You also get two containers with measuring labels for juice and pulp collection at 35 oz. and 50 oz. respectively.
If you're making juice for more than 2 people, you may have to interrupt your juicing to empty the containers, then continue.
One design issue I have with this model, which I also found with the Omega VRT350 Heavy Duty Dual-Stage Juicer, is the ejection port's narrow width.
Pulp and stringy bits from produce like celery sometimes get stuck, blocking the ejection port. You then need to clear this manually either while juicing or during clean-up.
Finally, the juicer comes with a lengthy 10-year warranty on the motor and 2 years on parts.
Juice Quality and Yield
This juicer features patented dual-stage slow juice extraction, which works much like a pestle and mortar, slowly squeezing and separating juice from your produce.
And with the auger rotating at a slow 43 RPM, you'll get good quality and low-oxidized juice, preserving important nutrients. This juice can be stored for up to 3 days.
The hopper's feed chute opening measures 2 x 1.5 inches. If you're upgrading from a centrifugal juicer or any juicer with a larger feed chute, you'll need to prepare yourself for spending extra time pre-cutting your produce into small, 2-inch chunks.
I'll give you a few tips for using this juicer:
Close the juice spout's cap, allow the drum to fill up, then release the juice into the juice container
Cut your produce into small chunks and slowly drop in one or two pieces at a time
If you're making a juice with multiple ingredients, you can help the juicer by alternating between the different ingredients (i.e. put in a little carrot, then some spinach, cucumber, apple, and repeat.)
Give the juicer time to process things before you add more
Before wrapping up, finish with hard produce to clear leftovers from soft produce and leafy greens
I've come across a few users saying the Hurom HH Elite can be prone to jamming often, especially with hard produce like carrots if the pieces are too big, or if the pieces fall in at the wrong time or angle.
Either way, all you need to do is switch off the juicer and put it in reverse to dislodge the jam.
This unit performs well with both hard and soft produce, kale, leafy greens, and wheatgrass. With most produce, you can expect efficient juice extraction and dry pulp thanks to the dual-stage juice extraction and slow processing.
Using a combination of the strainer, Pulp Control Lever, and the juice spout's cap, you have full control over the fiber and pulp content, which determines whether the final product comes out in a smoothie, purée, sauce, or a smooth pulp-free texture.
This video will show you the Hurom HH Elite's efficient extraction:
Performance and Noise
Hurom slow juicers are known for their quiet operation, and the Hurom HH Elite is no exception. This juicer has one of the quietest motors I've come across in a masticating juicer.
So if low noise is at all a priority for you, you can't go wrong with this juicer. You'll easily get away with juicing on mornings or late evenings without disturbing or waking anyone.
I came across a review from a student who mentioned he could juice without disturbing his roommates.
As for raw performance, this is a "slow juicer" after all, so expect to have some patience using this appliance.
Some users have found it can struggle with certain hard produce because the motor isn't powerful enough to crush these items if the pieces are too big. Again, this mostly has to do with carrots.
While you won't need the food pusher most of the time, it does come in handy when things get stuck.
Is It Easy to Use?
Masticating juicers normally have a slight learning curve to master before you get consistently good results.
If you follow the tips mentioned above and read the user manual, you'll do just fine.
The Hurom HH Elite is actually quite intuitive and user-friendly and allows you to get really creative or just make simple, refreshing juices.
Is It Easy to Clean?
Some vertical masticating juicers, including this unit, feature a nifty self-cleaning system. It's straightforward: simply close the juice spout's cap, switch on the juicer, and pour about 12 fl. oz. of water through it for a good rinse.
Then detach removable parts and wash them by hand.
The self-cleaning function slightly helps make up for the removable parts—except the auger screw—not being dishwasher safe.
Here's a good video on how to clean the Hurom HH Elite juicer:
Should I Buy the Hurom HH Elite Slow Juicer?
If you're completely new to juicing, this juicer's price point might be a bit steep and you could try starting out with a more affordable centrifugal juicer instead.
But if you're in the market for a quiet, versatile and compact juicer that'll give you high quality, low-oxidized juice ready to be stored for up to 72 hours, you'll be in for a treat with the Hurom HH Elite.
I appreciate its intuitive and user-friendly operation, and the self-cleaning function is the sweet cherry on top.
Highly recommended!