Quick Digest: Pros, Cons and Verdict
Here's What We Think
While it's been available on the market for several years, the Tribest Slowstar Slow Juicer SW is still going strong. Its efficient extraction, powerful motor and 3-stage speed reduction gear mechanism gives it an edge over many other vertical slow juicers when it comes to juicing tough ingredients.
Pros
Powerful motor and gear mechanism lets this juicer easily handle tough produce
Horizontally compact vertical design makes it an easy fit in most kitchens
Efficient juice extraction gives you decent bang for your buck
Mincing attachment adds plenty of possibilities for what you can make
Low noise level lets you juice whenever you want
Cons
Requires a learning curve to get consistently good results
Built with potentially fragile and cheap plastic parts
Steep price-point, especially for beginners
Interested In This Product?
What Is the Tribest Slowstar Slow Juicer SW?
Okay, so you're ready to upgrade your juicing experience, get much more out of your produce, and enjoy a good quality juice.
Or maybe you're totally new to juicing and looking for a powerful slow juicer.
Heck, let's take it a step further and say you also want to mince herbs, grind coffee beans, and make frozen fruit sorbets.
In either case, you're covered with the Tribest Slowstar Slow Juicer SW, which is a compact and visually appealing vertical masticating juicer.
It's available in two models with the only difference being color variation: red/black (SW-2000) and silver/black (SW-2020).
This unit will let you make great-tasting juice and flex some creative muscle in the kitchen as you experiment with recipes.
So let's dive straight in and find out more!
Video Overview
Product Details and Usage
Product Specs
Type
Masticating Juicer
Application
Home & Personal Use
Juice Quality
High
Juice Shelf Life
72 Hours
Build
Plastic (BPA Free)
Design
Vertical
Chute Size
2.5 x 1.5 Inches (Oval/Crescent)
Wattage
200 Watts
Motor
47 RPM
Noise Level
Low
Dishwasher Safe
No
Best for Juicing
Hard Produce, Leafy Greens, Wheatgrass, Nuts
Warranty
10 Years
Notable Product Features
Mincing attachment lets you make many other things besides juices
200-watt motor with 3-stage speed reduction gears gives the juicer higher than typical crushing power for hard produce
Quiet motor operation
Compact vertical design makes it easier to fit in small kitchens
Auger and wiping blade powered auto-cleaning system
Parts coming in contact with food are BPA-free
Decent 10-year warranty on entire unit
Build Quality and Design
The Tribest Slowstar should be an easy fit for your kitchen with its vertical design and small footprint clocking in at:
7.5 inches wide (19.1 cm)
18 inches tall (45.7 cm)
8.9 inches deep (22.6 cm)
20 pounds (9 kilograms)
However, being 18 inches tall, you may have some difficulty fitting it under kitchen cabinets at standard clearance height.
One key benefit of vertically-designed juicers, is they have a self-feeding ability where you simply drop your pre-cut produce into the feed opening and gravity handles the rest from there.
In fact, some experienced juicers say if you use the food pusher at all unless there's an actual jam, you're doing something wrong. So 99% of the time you shouldn't need to apply force with a food pusher.
Applying a lot of force with the pusher overloads the juicer and puts unnecessary pressure on the plastic parts, which can cause them to break.
This juicer features a BPA-free motor housing and casing construction and has a total of 12 parts you'll be dealing with regularly. You can see them here: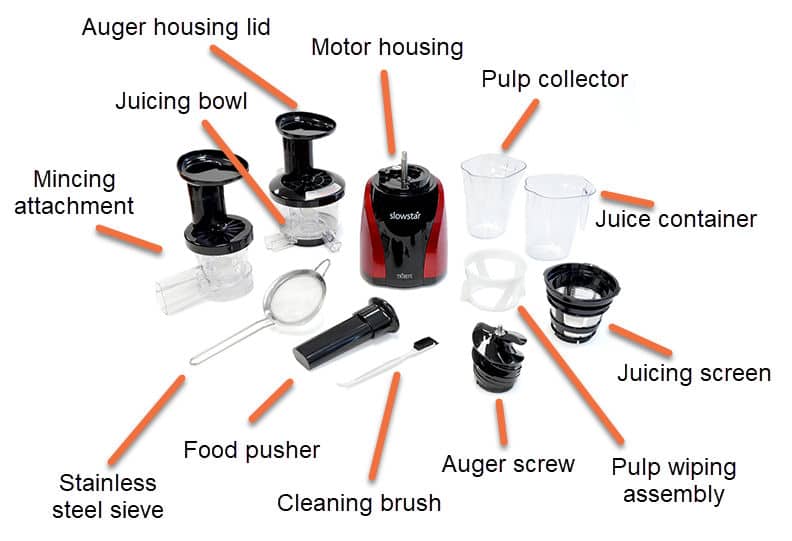 The auger and juicing screen are built out of extra durable GE Ultem plastics, which is known to be 8 times harder than typical plastics.
The auger screw has a patented "Duoblade Double-Edge" design, which, compared to single-blade augers in most vertical slow juicers, means your produce is processed faster.
However, the dual-blade design also slightly reduces the juicer's ability to "self-feed" when you drop produce into the feed chute.
To open the possibilities for what you can make with this unit, Tribest developed the Mincing Attachment, which lets you make and do such things as:
frozen fruit sorbets
nut butters
grinding coffee beans
mincing herbs
As vertical masticating juicers tend to produce more pulp than their horizontally-designed counterparts, with the Tribest Slowstar being a huge culprit at this, you receive a convenient stainless steel sieve to help separate the pulp from your juice.
Otherwise, I always recommend buying a gravy separator or fine mesh nut milk bag.
But if you do like some pulp and texture in your juice, easy-peasy, just leave the pulp in.
The auger housing lid's oval-crescent shape feed opening measures 2.5 x 1.5 inches, which means you'll need some patience to pre-cut produce small enough to fit.
You get two 32 oz. capacity containers, one for juice and the other for pulp collection.
The juice bowl's juice outlet features a cap attachment, which can be closed to prevent dripping or to mix ingredients more thoroughly before releasing them.
For added convenience, I really like how the juicing and mincing attachments have a carrying handle on the back so you can easily lift the juicer when fully assembled.
I've come across feedback from some other users saying the plastic parts feel fragile and cheap, and there were also multiple reports of cracks and parts breaking.
So this may be a juicer you'll need to treat with care and keep the food pusher usage to a minimum.
How Long Is the Warranty?
The Tribest Slowstar comes with a generous 10-year warranty on both the motor, motor-housing, and parts. Not as great as Omega's 15-year warranties, but still pretty good!
Juice Quality and Yield
If you're looking for a speedy juicing experience or a juicer that makes pulp-free juice, the Tribest Slowstar won't be your best choice.
But to make up for that, you do get a sieve and a juicer with a slow 47 RPM rotation speed and a lot of crushing power thanks to its motor and 3-stage speed reduction system.
So, pulp aside, you'll be able to make high-quality juice with minimal oxidation, which translates into preserved nutritional value and a longer-lasting juice you can refrigerate up to 72 hours.
This unit is very efficient at extracting juice from your produce, giving you high yields. Very little is wasted and you get dry pulp coming out the other end.
Optionally, you can put the pulp through the juicer again for a few more tablespoons-worth of juice.
It performs best with leafy greens, grasses, sprouts, and hard produce, so if you're getting into green juicing, this juicer can do wonders.
On the matter of pre-cutting produce, some common complaints against the Tribest Slowstar and most other vertical masticating juicers are how stringy produce tends to clog the juicers if you don't cut these ingredients small enough.
This usually happens with things like:
Celery
Chard stems
Pineapple cores
Wheatgrass
So, the solution is to cut these ingredients into very small, 1/8th inch pieces. This prevents long strings from wrapping around the auger screw or getting stuck by the pulp ejection port.
To achieve the best results on a consistent basis, I'll give you a few tips you can work with:
Pre-cut your produce as small as possible
Try to always use at least 2 ingredients so you can rotate what you put into the feed opening
Always combine soft ingredients with hard and fibrous ingredients to help the juicer move out mushy leftover pulp
Feed the ingredients slowly into the feed opening, which gives the juicer a chance to process things
When you have finished juicing, wait until pulp and juice stops moving from the pulp ejection port and juice outlet before switching off the power
If you follow the above:
you'll avoid the need for using a food pusher
you won't overburden the juicer
you'll effectively avoid jams and blockages
the juicer's plastic parts will last longer
you'll help prevent staining of the motor housing from juice bowl leakage
Performance and Noise
Compared with most other vertical masticating juicers, the Tribest Slowstar has some extra leverage with its 200-watt motor and 3-stage speed reduction gears, which translates into 9 horsepower performance.
You'll especially notice the extra power when juicing hard and fibrous produce such as beetroot, carrot, and parsnip, as these won't cause the Slowstar to jam frequently like other juicers.
Unlike centrifugal juicers, the noise level is low so you can feel at ease when juicing at times when others may be sleeping or not wanting to be disturbed. Even sensitive pets will be happy.
Is it Easy to Use?
If you're a beginner and have never used a masticating juicer before, I'll be honest with you and say the Tribest Slowstar is probably not an ideal choice for you.
Small-chute masticating juicers are usually not the most beginner-friendly kitchen appliances, and this unit is no exception.
But if you're willing to commit yourself to a slight learning curve, the quality and longevity of juice, efficient extraction, and low-noise performance are absolutely worth it.
This juicer is easy to assemble and pull apart once you've done it a couple times.
Here's how you assemble it:
Place the juice bowl onto motor-housing
Insert juicing screen into silicone wiping blade assembly
Insert the auger into juicing screen
Slide juicing bowl into lock position
Align and place the auger housing lid on top
To take the juicer apart, you just go in reverse.
Here's a video on how to use the Tribest Slowstar:
Is it Easy to Clean?
If you prefer the convenience of using your dishwasher, you'll have to opt for a different juicer, because the Tribest Slowstar, unfortunately, isn't dishwasher safe.
However, cleaning it by hand isn't all that bad either, and should take you no longer than 5 minutes.
I always encourage people to begin cleaning their juicers immediately after they finish using it.
If you do this, you'll avoid the liquid and bits of pulp drying and sticking to the plastic components, making it more difficult to clean.
Before you disassemble the juicer:
leave the pulp collector in place and place any empty container below the juice outlet
make sure the juicer is switched on and pour 32 fl. oz. of water through the auger housing lid
This gives the top parts a quick rinse, pushing out leftover pulp and reduces cleaning time.
This juicer comes with a handy cleaning brush which has a double-brush end and flat end. The brush has proven really useful for cleaning difficult-to-reach areas like the pulp ejection port and other nooks and crannies.
Use the flat end of the brush to:
clear out the hollow space on the underside of the auger screw
dislodge pulp from juicing screen
clear out pulp from pulp ejection port
The brushes can then be used on the juicing screen and other parts.
All it really takes is a good rinsing and scrubbing (most of the time with no soap needed) to do a good cleanup.
Should I Buy the Tribest Slowstar Slow Juicer SW?
For beginners, I think there are other juicers you'll enjoy using more as a starting point because they're easier to learn.
But if you're up for the learning curve and follow the tips I've shared with you, you almost can't go wrong with the Tribest Slowstar.
For a juicer priced as high as this model, I do, for example, feel it could've come in a more durable construction using stainless steel or other sturdy material so it wouldn't be prone to easy breaking or cracking.
Outside of that, I'm intrigued with how well it performs with tough produce without frequent jams, unlike most other vertical masticating juicers we've reviewed.
If you're serious about juicing greens, I can highly recommend this as a great option.