Quick Digest: Pros, Cons and Verdict
Here's What We Think
The Breville 800CPXL Citrus Press Pro comes with beautiful design and efficient function but is slightly hindered by poor material choices. You'll absolutely enjoy how effortless you can make fresh orange juice.
Pros
Very beautiful stainless steel design
Super fast and easy to use for beginners
Whisper-quiet motor lets you juice at any time without disturbing anyone
All detachable parts are dishwasher safe, which adds convenience
Cons
Some parts are low quality plastics prone to breaking
Questionable durability despite premium-pricing
Interested In This Product?
What Is the Breville 800CPXL Motorized Citrus Press Pro?
When you want to make a simple glass of orange juice, you probably dread having to manually squeeze all the oranges required for 8 oz. of juice.
Maybe you've already got a full-fledged juicer, but that would almost be overkill just for a quick cupful, right?
Well, say hello to the Breville 800CPXL Citrus Press Pro!
This stylish, electric citrus press juicer makes it super convenient and quick for you to make a full cup of citrus juice, often within a minute.
If repeated squeezing causes your hands to fatigue quickly, or you're dealing with arthritis or other joint pains in your fingers, this citrus press gives you an easy way to make and enjoy the fresh-squeezed juice.
With this review, I'll help you find out if the Breville 800CPXL is the right citrus press for you.
Video Overview
Product Details and Usage
Product Specs
Type
Citrus Press
Application
Home & Personal Use
Juice Quality
High
Juice Shelf Life
48 Hours
Build
Stainless Steel
Design
Vertical
Wattage
110 Watts
Noise Level
Low
Dishwasher Safe
Yes
Best for Juicing
Citrus Fruits
Warranty
1 Year
Notable Product Features
Compact vertical design making it easy to fit in most kitchens
Most parts are brushed, rust-resistant stainless steel
Quiet motor operation
Dishwasher safe parts
Build Quality and Design
The Breville 800CPXL features a compact vertical design with a slick-looking, brushed and rust-resistant stainless steel build.
I'll be the first in line to say this is one of the most beautiful electric citrus presses I've come across. It has quite a premium feel to it.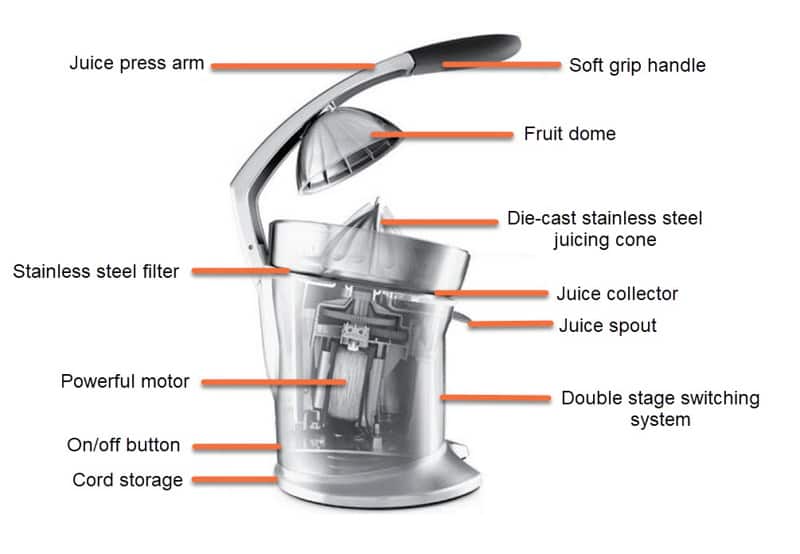 There are 5 removable parts, including the:
fruit dome
juicing cone
2 juice filters
juice collector
When fully assembled, its small footprint clocks in at:
11 inches wide (27.9 cm)
18 inches tall (45.7 cm)
9 inches deep (22.9 cm)
10.4 pounds (4.7 kilograms)
When the juice press "active-arm" is in a vertical position, this citrus press gets quite tall at 18 inches, which is the exact standard clearance height between the kitchen countertop and cabinet in most homes.
This means you'll need to pull it out from beneath the cabinet when you want to use it, but that shouldn't be a big deal.
The active-arm system is outfitted with a nice soft-grip handle you'll use to pull the arm down.
The active-arm also features a sensor, which monitors the arm's position to determine when it's safe to start the juicing cone.
This unit normally comes with two (fine and coarse) stainless steel juice filters, giving you control over how much pulp you want in the juice. Sometimes the fine filter must be purchased separately.
Breville also equipped this unit with a one-size-fits-all, patented "Quadra-Fin" juicing cone, meaning you simply use the same cone for both small limes and larger citruses.
The Breville 800CPXL citrus press is covered by a short 1-year warranty for the entire unit.
While it appears to be a sturdy unit with a commercial-grade build, I think it's worth pointing out many users have reported the Breville 800CPXL to have some design weaknesses which seem to limit its longevity to 6-12 months of moderate usage, before an important part gives out.
The most frequent complaint is when the "O-ring" plastic piece, which connects the fruit dome to the juice press arm, breaks.
This causes the fruit dome to become loosely or permanently detached from the arm and the citrus press is then unusable.
Another reviewer took the juicer apart to find out why it seems to only last around a year's time before giving up and concluded some of the internal parts are held together by low quality plastic parts which aren't durable.
I don't think this is acceptable, as the price alone should warrant a durable construction that'll last.
This may also be why the warranty is so short.
Juice Quality and Yield
The Breville 800CPXL is an efficient and fast electric citrus press.
As opposed to when using a centrifugal juicer, there's no rapid oxidation of your juice with a citrus press, so the full quality of your juice stays intact.
The one-size-fits-all cone lets you easily juice all sizes of citrus fruits with no fuss.
You can make a cup of great-tasting juice for yourself in under half-a-minute.
Performance and Noise
If you're at all concerned about noise, you already know manual citrus presses make absolutely no sound.
But Breville shows us even a motorized citrus press can be whisper-quiet, and that's what you'll experience with the 800CPXL.
So, by all means, you can make fresh citrus juice whenever you feel like without worrying about disturbing anyone.
As mentioned, this unit gets the job done fast!
Is it Easy to Use?
If you've ever used a centrifual or masticating juicer, you probably already know a citrus press is a lot more straightforward to figure out and use.
Even with an electric citrus press, there are usually fewer parts involved and fewer opportunities for things to go wrong.
The Breville 800CPXL is no exception. It's super easy to use!
Assembling takes a matter of seconds and you'll pretty much master it on your first attempt.
You simply:
place the juice collector on the motor base
place your filter of choice on top of the juice collector
insert the juicing cone in the center of the filter
attach the fruit dome to the juice press arm
You're now ready to roll!
Place each half of citrus fruit face down on the juicing cone, then simply pull the arm all the way down to push on the fruit and activate the cone.
When finished, click up the juice collector's spout, which prevents dripping, and remove your cup or container.
To disassemble, just go in reverse of how you assembled it.
Here's another video on how to use the Breville 800CPXL Citrus Press:
Is it Easy to Clean?
There are 4 parts to clean, including the:
fruit dome
juicing cone
juice filter
juice collector
I always recommend you clean your juicing appliance as soon as you're done using it, which prevents contents from becoming sticky and tough to remove.
The Breville 800CPXL's parts are dishwasher safe, which adds convenience to the cleaning process.
But if you want to do some cleaning by hand, simply rinse off the parts thoroughly under warm running water or use warm soapy water.
The most difficult area to clean is the plastic interior of the fruit dome, which can require some thorough brushing.
Should I Buy the Breville 800CPXL Motorized Citrus Press Pro?
From a performance, visual appeal, and ease-of-use point of view, the Breville 800CPXL is an excellent electric citrus press and worth every recommendation.
There's little doubt you'll absolutely enjoy using it. Even kids can easily learn how to use it.
What concerns me, however, is the high potential for short longevity, despite the fairly steep price.
This a premium-priced product which Breville unfortunately designed with some weak components.
You shouldn't get this citrus press if you're planning to use it commercially or multiple times per day long-term because it likely won't cope with high usage without breaking.
But if you want a fast and effortless way to make a nice glass of juice a few times a week, this citrus press will let you do so.