Thankfully with the invention of shaving cream, our job is easier! Shaving cream helps the razor glide with ease and leaves soft and moisturized skin.
However, not all shave creams on the market today are safe, which is why we have rounded up the best vegan shaving cream brands for both men and women to help you find a perfect, all-natural one that works great for you!
Our List of Top Picks for Men
Our List of Top Picks for Women
Why Use Shaving Cream?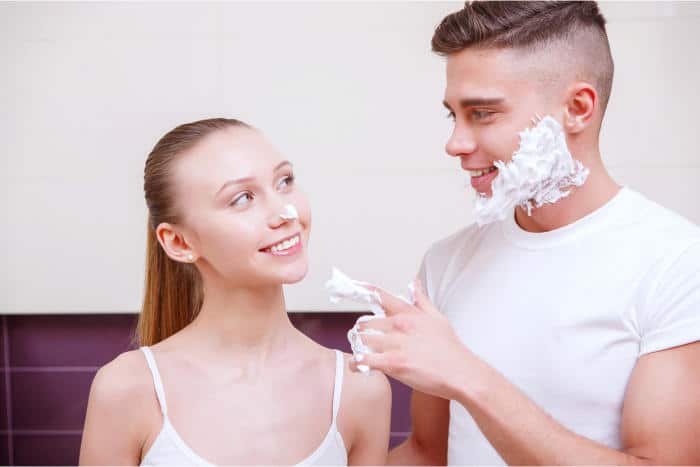 The hair we normally want removed from our bodies is often, especially when considering the hair on men's faces, and women's bikini lines or underarms, coarse and hard to deal with.
Usually when shaving, we are left with bumps, burn, rashes and ingrown hair. Also, depending on your nationality, you may deal with what's called "pseudofolliculitis barbae."
This condition occurs with coarse, curly hair. The hair tends to curl back into the skin causing lots of troublesome bumps.
Yet, ingrown hairs and other conditions arise due to shaving on nearly all kinds of skin types.
The solution? Shaving cream! Sure you can use soap or body wash to create enough of a slick surface for you to shave, but you aren't going to achieve the smooth, bump-free appearance you are trying to achieve.
Shaving cream is effective at hydrating the skin, while also protecting from razor burn and bumps.
Creams normally also contain ingredients which soften and lift hairs so you don't miss any while shaving, and you are left with only smooth skin – no hairy strips up your legs which happens to everyone not using shaving creams!
Finally, natural shaving creams also contain beneficial ingredients to treat your skin and hair so you are gaining healthy skin as well.
All Shaving Creams Are Not Created Equal
Typically, shaving creams are found in aerosol spray cans and/or come in crazy, unnatural colors like bright blue.
Not only are these products unsafe for the environment, but they are also unsafe for your body and health.
Everything you apply to your skin will be absorbed through the pores and make its way into your system; so choosing a safe and natural product is always your best bet.
Chemicals normally found in shaving creams include propylene glycol which is usually found in antifreeze and brake fluid.
Triethanolamine, or TEA, is an emulsifying agent and keeps oil and water from separating.  TEA is a skin irritant and is linked to cancer.
Sulfates such as sodium lauryl sulphate (SLS) and sodium laureth sulphate (SLES) are also problematic since they are carcinogenic and are hormone disruptors mimicking estrogen.
Other ingredients to look out for are parabens, artificial colors and fragrances, among other things you most likely won't be able to pronounce when reading the label.
There may be animal byproducts lurking in your typical shaving cream as well. For instance, stearic acid is commonly found in shaving cream and it's a fatty acid derived from animals.
Choosing to look for only plant-derived and all-natural shaving creams will not only ensure you are not exposing yourself to harmful chemicals, but you are also protecting animals from being used for testing or parts of them ending up in the products you use.
Things to Look For That Differentiate These Products
Here you'll find the best shaving creams for men and women, but please note all products are suitable for both.
Depending on what you are looking for, you'll find some which lather up really well and others which don't lather at all.
If you prefer a translucent cream to see around the edges of your mustache or beard, there's a product here for you!
Also, there are earthy, tropical, or relaxing scents and even one which is unscented.
If you are looking for a multi-tasker we have one and there's even a shave set including an exfoliant and shave oil.
All will give you a great, smooth shave while moisturizing your skin and delivering beneficial essential oils and extracts to treat your skin free of chemicals and animal byproducts.
5 Top Picks for Vegan Shaving Creams for Men
Whether you shave your beard, head, or other areas of your body, here you will find a perfect shaving cream to meet your needs with only all-natural ingredients!
Dr. Bronner's Spearmint Shaving Gel
Treat your skin while achieving a close, smooth shave with Dr. Bronner's organic shaving soap.
Dr. Bronner's is a well-known soap company supplying households with everything you and your home needs to stay fresh and clean naturally.
This shaving cream is no different – made with only plant-based ingredients and essential oils like coconut, olive and hemp oil to create castile soap lather.
Organic white grape juice and organic, fair trade sugar (from Brazil) leaves skin moisturized and nourished after a shave. Plus, the peppermint and spearmint oils are cooling and calming.
Another unique ingredient is shikakai powder, derived from a tree pod and traditionally used in India for hair and body care, also contributes to skin's hydration.
The shave cream has a caramel color and sweet aroma due to the all-natural ingredients.
Being all-natural means this product does not contain aerosol, petrochemicals, detergents or artificial fragrances, which are bad for the environment and also your health.
This is not only for shaving your face, it can be used anywhere else you shave and it's great for both men and women.
What We Like
Close shave
Safe for razors
Nice, fresh scent
Moisturizing, all-natural ingredients
Non-irritating
What We Don't Like
Some may find product too runny
May not lather enough for some people's preference
Jack Black Beard Lube Conditioning Shave
Jack Black Beard Lube is a multi-purpose, 3-in-1 conditioning shave cream – use as a pre-shave oil, shave cream, and facial treatment.
Unlike traditional shave creams, Jack Black Beard Lube holds in moisture and was awarded Best Shave Cream by Men's Health in 2011.
Key natural ingredients include macadamia nut and jojoba oil, menthol, peppermint and eucalyptus.
Macadamia nut oil is used for its ability to penetrate the skin and hold moisture, and jojoba is also a widely used ingredient for hydrating skin and hair.
Menthol provides antibacterial protection and is cooling to the skin, while the phospholipids contain essential fatty acids which maintain skin's moisture barrier.
A fun fact – this shave cream doesn't lather! Instead it goes on light and creamy while spreading smoothly and it won't clog your blade.
It's also translucent to allow you to see around the edges of sideburns, beards, and mustaches.
While this isn't suitable for electric razors, it can be used with single, double-edged or cartridge razors.
This product is safe for sensitive skin, and is free of paraben, artificial colors and harsh surfactants.
What We Like
Great as a pre-shave and shave oil
Close shave without razor burn or bumps
Smells good
Conditions skin and hair
What We Don't Like
Issues with the tube and dispenser
Some may prefer more lather to guide shaving
Pricey
Pacific Shaving Company Natural Shaving Cream
No products found.
Packed with all-natural ingredients, Pacific Shaving Company's shaving cream is all you will need for a smooth shave without redness, irritation or bumps.
If you travel often, you can take this non-aerosol product with you in your carry-on since it is the TSA-compliant size of 3.4 oz.
A little goes a long way too – in one tube you can expect to get approximately 100 shaves!
The vegan formula includes many beneficial ingredients to include soothing aloe and moisturizing shea butter, which is safe for sensitive skin.
The naturally-derived formula also contains sunflower seed oil, green and white tea extracts, lavender, comfrey, clover, marshmallow root, and vitamins E, A, and D.
As you can imagine, it smells wonderful and with essential oils, vitamins, and extracts, you are treating your skin while also achieving a nick-free shave.
It lathers well and doesn't contain alcohol, parabens, or any other harsh chemicals which could lead to irritation.
Overall, a very nice product and you can use it anywhere you shave!
What We Like
Compact size
Product goes a long way
Smells nice
All-natural, vegan formula
Great for sensitive skin
What We Don't Like
Issues with tube's seal splitting on the bottom
Consistency may not work for everyone
Nurture My Body Natural Shave Cream
No products found.
Nurture My Body shave cream is verified with a rating of 0 by the Environmental Working Group so it is ideal for sensitive skin and contains only the best, natural ingredients for your skin.
The certified organic ingredients include skin emollients, and it rinses away clean for super smooth and moisturized skin.
It has a non-foaming cream which helps glide your razor, and you only need a thin layer since a little goes a long way.
Each ingredient is extensively researched, not synthetically produced in a lab, and are all plant-based (wild-crafted or organic).
Examples of these ingredients include coconut oil, seaweed extract, comfrey root and leaf, plantain leaf, slippery elm, dandelion root, burdock, jojoba and wheat germ oil.
The formula includes these through infusion or extraction, and each carry beneficial properties to the skin.
For instance, comfrey roots and leaves contain allantoin which helps new skin cells grow, and aids in reducing inflammation among other healing properties to the body.
There's no need to lather – to use, just apply a thin layer to the areas you shave, and rinse well after shaving.
What We Like
Natural, organic ingredients
EWG certified
Good for sensitive skin
Little goes a long way
Nice, neutral scent
What We Don't Like
May be hard to see where you've shaved
Resembles more of a lotion and some may prefer lather
Pricey
Mid Century Shaving Cream
Searching for a shaving cream anyone can use? Check out the Stellar Shave Cream from Ursa Major, a natural skincare company named for the largest visible constellation in the northern sky.
Ursa Major products are made for all genders and skin types, using clean, healthy ingredients. This shave cream is paraben-free, fragrance-free, cruelty-free and vegan.
The concentrated formula minimizes nicks, cushions against razor burn, and naturally moisturizes skin. Because the cream is so thick, a little goes a long way!
Natural ingredients like aloe leaf juice, sunflower seed oil, shea butter, and oat protein are ultra-nourishing and gentle enough to use on your face and other sensitive body parts. Ginger, grapefruit, vetiver, and bergamot give this shave cream a subtle, pleasant scent.
To use, apply a small amount to clean, wet skin by hand and massage thoroughly into skin for a super smooth shave.
What We Like
Soothing, hydrating formula
Allows for a close shave
Gentle enough to use on face or body
Made in the USA from natural ingredients
What We Don't Like
Skin can feel oily after use
May be too thick for some razors
High price point for its size
5 Top Picks for Vegan Shaving Creams for Women
Ladies have more area to cover when it comes to shaving, so we've rounded up the best vegan shaving creams especially designed for legs, underarms, and everywhere else!
Cremo Coconut Mango Moisturizing Shave Cream
Cremo Coconut Mango Moisturizing Shave Cream is formulated with unique and moisturizing ingredients for a close and comfortable shave.
Nicks and razor burn is avoided as the razor is able to glide effortlessly with the very slick molecules, and leaves skin smooth.
Nourishing ingredients such as aloe, calendula, and papaya extract make this a great product for women with sensitive skin.
Calendula is known for its healing qualities and is often used to treat skin inflammation.
Other great ingredients include lemon extract, macadamia seed oil, and olive leaf extract.
When mixed with water, this acts as a lubricant and helps glide your razor over your skin easily.
Compared to foams, all you need is a very thin layer to achieve even better results and it doesn't just disappear down the drain – it moisturizes your skin.
The formula is concentrated and one tube renders a 90-day supply, and the mango coconut scent is tropical, sweet and relaxing.
What We Like
Slick formula for easy shaving
Moisturizing ingredients
Nice, tropical scent
Small amount goes a long way
Reduces irritation and bumps
What We Don't Like
Not suitable for people with sensitivity to lemon oil
Tends to wash off easily while shaving
Scent may be too strong for some people
Kiss My Face Cool Mint Moisture Shave
Kiss My Face Cool Mint Moisture Shave contains a botanical blend of unique ingredients designed to soften, smooth, sooth, and moisturize.
Hydration is derived from the coconut and olive oil while aloe vera calms the skin.
As stated, there are several unique ingredients included in the formula such as lady's mantle, soapwort, and horsetail.
What are these you may wonder? Lady's mantle is a plant which has been used as far back as Medieval Times, and is good for treating wounds, and acting as an anti-inflammatory and antiseptic.
Soapwort contains saponin which is a naturally sudsing plant and is used for its cleansing properties. It also contains vitamin C and flavonoids and is used for treating skin conditions.
Horsetail is anti-aging, an antioxidant, and anti-inflammatory. It also helps promote healing of wounds, rashes and burns since it's also antimicrobial.
Allantoin and vitamins A and E also aid in treating, protecting and healing skin.
Extracts of lime, peppermint and peppermint oil create a cooling and calming effect on the skin.
To apply, wet your hands and lather in your palms – really easy!
What We Like
All-natural, vegan ingredients
Beneficial and moisturizing
Razor glides easily and gives you a close shave
Works well and doesn't leave a residue
What We Don't Like
Mint scent may be too strong for some people
Some may prefer a thicker consistency
BIKINI SOFT Coconut Oil & Sugar Perfect Shave Set
Ladies, here's your solution for a perfect shave without razor burn on your bikini line, under arms and legs!
BIKINI SOFT shave set includes a coconut oil and sugar exfoliating pre-shave scrub and a smooth shave oil.
This shave preparation will prevent razor burn, bumps, dryness, and ingrown hairs which we all have dealt with especially in the bikini line area.
The formula is also anti-aging since it contains vitamin E and the moisturizing coconut oil along with cane sugar naturally buffs and polishes skin.
Neem oil is also anti-aging and naturally protects against harmful UV sun rays while also retaining moisture, encouraging collagen production in skin along with enhancing elasticity and reducing wrinkles.
Exfoliation prior to shaving ensures dead skin cells don't mat down hair and block the razor from reaching the smallest hairs.
The hypoallergenic shave oil, containing oils such as grape seed, jojoba, avocado, and argan, is designed to lubricate your skin and give you super smooth skin and reduce friction as you shave.
Gentle massage the exfoliant over skin in circular motion and then follow with the shave oil!
What We Like
Moisturizing set
Reduces razor bumps and rash
Exfoliant preps skin well and is also anti-aging
Gives you very smooth, soft skin
What We Don't Like
Oil may clog up razor if not rinsed out
May not be suitable for really sensitive skin
Oil may not lubricate enough for some people
Cremo French Lavender Moisturizing Shave Cream
This moisturizing, slick formula is all you will need for an incredible shave without nicks, irritation or razor burn.
Cremo French Lavender Shave Cream is packed with aloe, calendula and papaya extract along with calming and feminine lavender scent derived from lavender essential oil.
The enzyme in papaya fruit extract, called papain, heals dry, flaky skin; helps remove impurities by acting as a natural exfoliant, and may even help fade scars, sun damage, and age spots.
Macadamia seed oil, aloe, lemon and olive leaf extract also aid in hydrating and calming skin.
Requiring only a thin layer for a shave, the uniquely slick formula is activated by water, and shave 'against the grain' for a long-lasting and close shave.
To use, rub skin with hot water and then apply an almond-size dollop until lather forms – this is highly concentrated so you only need a little.
One tube of this shaving cream should last you about 90 days due to its concentration!
What We Like
Nice, herbal scent
Slick formula activated by hot water
Highly concentrated to last you a long time
Moisturizing
What We Don't Like
Not suitable for people with sensitivity to lemon oil
May not work for some people looking for easier application or more lather
Scent may be too strong for some
Fieldworks Supply Company Shave Gel For Sensitive Skin
Fieldworks Supply Company's Another Close Shave is a concentrated shave gel specially formulated for sensitive skin.
Nicks, cuts, razor burn, and 'plucked chicken skin' are avoided with this lubricating shave gel, and your razor will last longer than with regular commercial brands.
The lather and lubrication are derived from the coconut, olive and sunflower oils, and skin is calmed by the aloe vera.
Other earthly ingredients include witch hazel and vetiver which are naturally antiseptic and astringent, and calendula is anti-inflammatory and healing.
Castor oil and shea butter hydrate and nurture skin, while rosemary and marshmallow root assist in skin circulation, healing and help it feel less raw after shaving.
Setting this product apart is the interplay of the essential oils and the use of bentonite clay.
Just like the Mesopotamians and Greeks used to use this beneficial clay in mud baths or for medicinal purposes, it is used today to draw toxins from skin's pores and wick dirt and grime.
The clay also helps hold the essential oils next to your skin for longer so you benefit the most from their healing properties.
This is a 100% natural, organic, and concentrated formula and you only need a little at a time.
What We Like
Combines bentonite clay and essential oils
Formulated for sensitive skin
Lubricating and moisturizing
Slick for easy razor glide and close shave
TSA-friendly size
Nice, earthy scent
What We Don't Like
Small amount for the price
Some ingredients may cause certain skin types to react
Some people may desire a thicker lather
Depending on preference, the scent may not work
Top Choice for Best Vegan Shaving Cream for Men
The shave creams for men are all great and include all-natural ingredients free of any harsh, drying chemicals.
There are lots to choose from as well depending on if you are looking for a thick lather, no lather or translucent.
However, for our top choice we select Jack Black Beard Lube Conditioning Shave!
The versatility of this shaving cream is awesome! It can be used as a pre-shave, shave cream and facial treatment all in one to cover all the steps in your shaving routine.
Plus, beneficial ingredients like macadamia nut oil and jojoba deliver hydration and help retain the moisture level in your skin.
Eucalyptus and menthol are cooling, refreshing, and are also antibacterial.
We really like how this product doesn't lather and is translucent so you can see around the edges of your beard or mustache for a perfect shave.
For its multi-purpose and beneficial qualities, plus its performance, we select Jack Black's Beard Lube as #1 for men in this roundup!
Top Choice for Best Vegan Shaving Cream for Women
All of the shaving creams for women are exceptional – honestly! Each ingredient in the products seems to have been carefully selected with the purpose in mind to deliver a smooth shave while leaving moisturized skin.
Since we have to select our top choice, all signs point to Kiss My Face Cool Mint Moisture Shave!
The ease of use and the beneficial, unique ingredients make this quite possibly the best shave cream you'll ever use!
Coconut and olive oil combined with aloe vera hydrate and calm skin, while the other beneficial ingredients such as allantoin, vitamins A and E protect and heal.
I also love the other unique ingredients such as lady's mantle, soapwort, and horsetail which each bring anti-inflammatory, anti-microbial and healing abilities which are perfect for a shaving cream product.
For these reasons, and just how easy it is to use, we vote Kiss My Face Cool Mint Moisture Shave as our #1 choice for women's shaving cream brand.