However, typical lipstick brands may not be vegan, cruelty-free or natural; so it's important to narrow your search for the perfect lip color to only the brands which are all of these and much more.
We've rounded up the best vegan lipstick brands which are just that, and we're sure you'll find one you can't live without!
In a Hurry? Here's Our Quick List of Top Picks
Bugs in Lipstick and Other Toxins
Yes, traditional lipsticks contain bugs. As if this doesn't gross you out enough, there are many more toxins to be concerned about (and certainly don't want entering your bloodstream).
The colors you see in many lipsticks on the market contain the guts of thousands of beetles!
What's commonly referred to as carmine originates from an insect species living in Central America and Mexico, and about 70,000 beetles are killed to produce just 1 pound of dye.
Other names for this dye include crimson lake, natural red 4, and cochineal extract.
Lead is another ingredient found in the majority of mainstream lipstick brands, and through a study conducted, it was discovered women could be ingesting and absorbing up to 87 milligrams of the product daily!
Lead, among other toxins found in lipsticks such as other heavy metals, are ending up in our bodies and could lead to conditions such as neurotoxicity, reduced fertility, hormonal imbalances, and delayed onset of puberty. There's no safe level of lead exposure!
Finally, lead and other heavy metals aren't the only thing lurking in most lipsticks.
On a daily basis you could be "swallowing" other toxins such as dyes and methylparaben and polyparaben suspected for being carcinogenic and acting as endocrine disruptors.
In conclusion, it's an important decision for your health (and of your child if you are pregnant) to choose an all-natural, non-toxic lipstick like the ones on our list!
How to Choose the Perfect Lip Color
Lipstick has come a long way since the time of Cleopatra when she would wear red lipstick made of triton shells and crushed carmen ants.
However, it's still important to find a color, or color range, suitable for your skin tone and undertone.
Undertone can be determined by looking at the color of your veins as illustrated in this chart: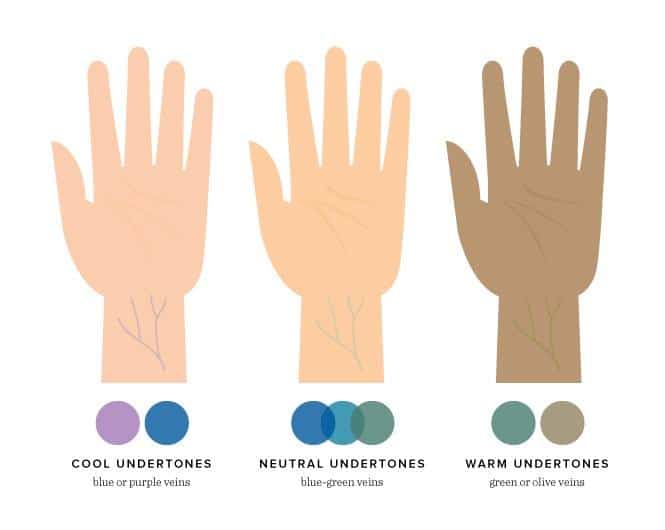 Cool toned skin is usually pink, red, or bluish, burns easily, and looks best with silver jewelry.
Warm is typically skin with a yellow, golden or olive hue, tans easily, and gold jewelry is complementary.
Neutral is a combination usually of cool and warm and both gold and silver look good.
Cool undertones look best with purple or blue hues, warm undertones should stick with red or orange, for those of us with neutral undertones, many shades work.
In this video, learn more about how to find the perfect lip color!
Interestingly, the right lip color can also make your teeth look whiter! That's right – wearing lip color can actually perform color correcting for your teeth!
Basically, a warm-toned lipstick will counteract cool tones in teeth and bring out yellow (a warm tone), and conversely cool-toned lipsticks will make teeth appear whiter.
Things to Look for That Differentiate These Products
The lipstick brands in our roundup are vegan, cruelty-free and natural – so no worries regarding bugs, lead, or other nasty ingredients!
However, there are a few differences among these products to look for when searching for your perfect lip color brand.
Some main differences include the texture and application. Some products are a liquid lipstick and others are the traditional 'bullet' shape and glide on.
They come in matte or glossy, opaque, sheer, or frosty, and vary greatly on color options.
Note how certain products are buildable; while others deliver bold, opaque color without layering.
Finally, if you are looking for color which will last you all day without reapplication there are a few products which specialize in this.
Others are better used for hydration and are best for people with dry, chapped lips in need of moisture.
As you can see, there's a product for every person and every skin tone here in our roundup!
8 Top Picks for Vegan Lipstick
Whether you are looking for bold lip color as a liquid or stick which is glossy or matte – you are sure to find one here in a perfect shade for you!
trèStiQue Lip Glaze and Primer
This product is a 2-in-1 lip glaze and primer which provides long-lasting, bold color!
On one end you have the primer and on the other the lip crayon which combines the best of a lip stain, balm and gloss and goes on smoothly.
The hydrating formula stays protected inside a magnetic seal cap; so you can bring it on the go and keep your makeup bag or purse clean!
The primer and glaze combo enable the color to remain all day, and it's also a lot less drying than traditional long-wear lip color.
It's also vegan and cruelty-free, which means no bugs (or other animal byproducts) are used and it's not tested on animals.
There are no toxins and it is infused with coconut oil to give your lips a balmy feel and helps the product glide on smoothly.
Choose from 6 shades including Georgia Peach, English Rose, and Rome Rouge.
What We Like
2-in-1 primer and lip glaze
Hydrating and long-lasting
Vegan; Cruelty-free
Non-toxic
What We Don't Like
Pricey
May need reapplication
Honest Beauty Liquid Lipstick (Fearless)
Honest Beauty offers a great variety of vegan, cruelty-free lip products, including their award-winning Liquid Lipstick in eight pigment-packed shades.
The featured Fearless is a deep plum color flattering for all skin tones. For best results, let this lipstick dry for five minutes after applying.
Unlike many matte lipsticks which feel cakey or dry, this one provides long-lasting moisture in addition to all-day color.
This patent-pending formula utilizes synthetic beeswax to create luxurious, smooth moisture you often can't find in vegan lipsticks.
Other ingredients include avocado oil and hyaluronic acid, both known to moisturize and improve the overall quality of the skin.
This product was an Allure Best of Clean Beauty Award winner in 2019.
What We Like
Bold colors with a matte finish
All-day wear and hydration
Avocado oil and hyaluronic acid improve the health of your lips
What We Don't Like
Color doesn't fully set for five minutes after application
May not last as long if eating or drinking
LIP INK 100% Smearproof Liquid Lipstick – Aurora Borealis
No products found.
LIP INK lives up to its name with their 100% smear proof liquid lipstick – it literally doesn't come off and won't require re-application throughout the day!
The vegan, organic, kosher, and all-natural ingredients include a formulation of over 40 vitamins, minerals, antioxidants, and extracts.
The ingredients include extracts such as goldenseal root, burdock, peppermint, dandelion, and sage to name only a few.
Its formula is wax and preservative-free and leaves a smooth texture while hydrating your lips and delivering 3 layers of buildable color.
Aurora Borealis tastes like cotton candy and is a sheer, light brandy color with amber shine which comes from the natural mica glitter.
The kit comes with everything you'll need to achieve long-lasting color and naturally plumped lips.
As part of the 3 product system (other products sold separately), start by exfoliating with the OFF cleanser, massage a small amount of the Shine Moisturizer, and follow with the color in even strokes up to 3 layers of color.
You can add more of the Shine Moisturizer on top if you prefer a glossy finish, and you may experience a tingle from the mint extracts in the lipstick.
What We Like
Lots of all-natural, healthy ingredients
3-product system
Very long-lasting and smear proof
Buildable color shades in 3 layers
What We Don't Like
Pricey
Color differs depending on person
Other products in the 'system' are sold separately
Milani Bold Color Statement Matte Lipstick
If you are looking for bold, matte color in a traditional stick, Milani Bold Color Statement lipstick is fantastic and does all of this and more!
It's certified vegan and cruelty-free by PETA, which means no animal byproducts are used and Milani doesn't test their products on animals.
The formula easily glides on and dries nicely while leaving statement-making color for up to 8 hours.
The glide-on formula is infused with Monoi oil which is natural perfume oil made from soaking Tahitian gardenia petals in coconut oil. It used widely in the French Polynesians to soften skin and hair.
Here the color I Am Cool is featured, and there are 16 other colors to choose from ranging from pinks, reds, and purples.
Milani's mission is to 'fuel your self-expression', they support diversity and have created these many shades to fit everyone.
This lipstick is perfect for an effortless pop of color; even if you enjoy minimal makeup.
What We Like
Glides on easily
Matte finish and lasts awhile
Many pretty shade options
Certified vegan and cruelty-free
What We Don't Like
Does not contain sun protection and is not waterproof
May rub off
REINA REBELDE Bold Lip Color Stick with Satin Finish
Born out of the founder's deep connection to her Latina roots, this lip color stick is highly pigmented and will give you full coverage with a satin finish.
You'll want to give this one a try if you are looking for bold, seductive lip color which pops and is especially created for women of color (but looks great on most other skin tones).
Emphasis is on the reds like the featured color Brava, and there are 5 other colors to choose from to find your perfect shade.
Each color was designed to create a bold, luxurious look and feel so you can be unapologetically and authentically yourself!
It is a long-wearing lipstick requiring little touch-ups and it contains a phthalate and paraben-free formula which is also vegan and cruelty-free (of course!).
This product is the beauty award winner in both HOLA! USA and Latina magazines and featured in several fashion and beauty publications.
What We Like
Bold color and satin finish
Stays well and doesn't smudge
Gives you a polished look
Phthalate and paraben-free
Scent-free
What We Don't Like
May not work for all skin tones
Color may differ slightly from what's pictured
Ingredients not listed on package
Color may bleed on some people
Luscious Cosmetics Candy Pink Super Moisturizing Lipstick
Luscious Cosmetics brings you this moisturizing lipstick using a unique creamy formula, which is pigmented to fit every skin tone.
The inclusive shade spectrum is developed by a diverse product development team and the company prides themselves on being a multicultural beauty brand.
There are 18 colors including the featured Candy Pink. Each deliver opaque coverage and there are satin and shimmer finish shades to fit your preference.
Not only does this product give you beautiful lip color, but it also treats your lips with vitamin E and grape seed oil.
Vitamin E protects and heals while promoting healthy lips and the grape seed oil contains antioxidants, moisturizes, and tightens skin.
Luscious Cosmetics is committed to safety and hygiene. They are a member of PETA and the Beauty Without Bunnies program.
Also, they conduct tests to include microbial and heavy metal tests which meet FDA standards ensuring product integrity, shelf life and safety.
This lipstick is great if you need extra moisture for your lips or you have aging skin and are worried about lipstick bleeding into fine lines around your lips.
What We Like
Moisturizing, creamy texture
Many universally flattering color options
Nice scent
Glossy sheen
What We Don't Like
Stick tends to break easily
Candy Pink color is more orange than pictured
Packing may lead to melting in hot climates
May seem greasy for some people
Better'n Ur Lips Vegan Lipstick – Sweet Pea 2.0
Skin2Spirit presents Better'n Ur Lips vegan lipstick is all-natural which is 85% organic and doesn't contain any nasty ingredients such as lead, parabens, petroleum, or talc.
This lipstick will last about 4 hours (matte colors last a little longer), and it is Leaping Bunny certified meaning it is certified cruelty-free!
The base consists of castor seed and coconut oils along with plant-based carnauba wax, glycerin, and candelilla wax.
Many beneficial ingredients are included such as hydrating coconut and grape seed oil, cocoa and capuacu butters, and avocado.
There are also several extracts such as thyme, lavender, goldenseal, and cinnamon bark which are all beneficial to the skin on our lips.
Capuacu butter may sound unique and it certainly is! It has rainforest origins and is used for its ability to create a protective moisture layer on the skin.
This is due to capuacu butter's high content of fatty acids and polyphenols which fight free radicals.
Sweet Pea 2.0 is light, frosted lavender pink which is a frost color. Other options include matte Lilac, Mauve Suede, Poppin Plum, and Berry Red 2.0. Purely Pink is the sheer option.
What We Like
Hydrating and all-natural
Toxin-free
Beneficial minerals, botanicals and extracts
Great for dry, chapped lips
Nice, pretty colors
What We Don't Like
Requires re-application throughout the day
Pricey
CLOVE + HALLOW Ballerina Slippers Lip Crème Lipstick
No products found.
Clove + Hallow lipstick gives you bold, creamy color while also benefiting your lips and improving your skin the longer you use it!
Unlike other traditional lipsticks, this unique formula includes jojoba, sunflower, and castor oils.
Jojoba is known for being an emollient and also having antifungal and antibacterial qualities, and castor and sunflower are anti-inflammatory and protective by fighting free radicals and other signs of aging.
This lipstick is part of the Clove + Hallow range of products which are part of their trademarked Clean 15 strategy – using 15 or fewer safe ingredients per formula.
The 9 shades (including featured Ballerina Slippers) are flattering to every skin tone, and range from pale peachy nude to deep berry wine, and everything in-between.
This product is mess-free and incorporates a magnetic closure with sturdy, metal packaging.
It is recommended you exfoliate your lips for best results, and to achieve a matte finish which lasts a long time, apply to your lips, blot with a tissue, and apply again.
If you desire a stain effect, then pat on your lips with your fingertips. It can also be used as a blush!
What We Like
Great color
Fragrance-free
Clean 15; minimal ingredients
Moisturizing, beneficial ingredients
What We Don't Like
Product tends to come off easily or break
Colors may not work for everyone
Pricey
Top Choice for the Best Vegan Lipstick
All of the lipstick brands in our roundup come with many attributes such as long-lasting wear, matte, glossy sheen and even moisturizing.
However, one brand stands out among the rest – Better'n Ur Lips Vegan Lipstick!
Better'n Ur Lips all-natural lipstick combines many of the qualities you'd expect from a lipstick into one.
It has numerous beneficial ingredients including hydrating cocoa and capuacu butters; along with coconut and grape seed oils plus plant extracts known for their benefits to the skin.
I also like the pretty color options which come in frosted, matte, or sheer finishes, and do not contain toxins such as lead, parabens, petroleum, or talc.
The product is 85% organic and is Leaping Bunny certified meaning it meets the highest standards for being a natural and cruelty-free product.
Most of all, having a product which contains skin-loving ingredients, which are non-toxic and deliver beautiful, bold color, makes all the difference and why this Skin2Spirit lipstick is our top choice.