Foundations not only provide a base for the rest of your makeup, but they work to conceal imperfections while treating your skin and can even clear up problem areas.
A foundation, which is cruelty-free and sans animal byproducts and toxic chemicals, is your best choice!
So we've rounded-up 6 of the best vegan foundation brands we think you'll fall in love with!
In a Hurry? Here's Our Quick List of Top Picks
How to Choose the Correct Foundation
It's very important to know how to find the right foundation and make your investment worth it.
Firstly, you'll need to determine your skin's undertone – cool, neutral or warm.  A common trick is to look at the veins in your wrist.
If your veins appear blue or purple, you most likely have a cool undertone. Green or olive means you have a warm undertone, and if these are mixed, then it's neutral.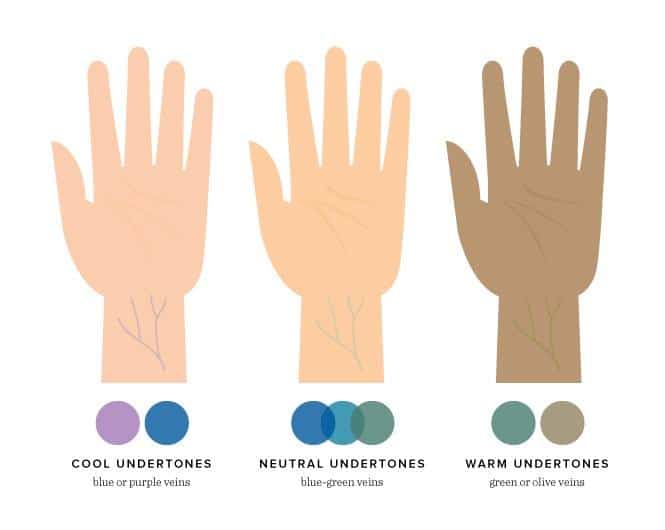 Next up, determine which level of coverage you prefer, or in other words, how much of your natural skin color do you want to show through.
Also, if you have signs of aging or acne you'd like to conceal, for instance, you may prefer to have more coverage as opposed to sheer.
Once you have nailed down your undertone, you'll need to look for your color match. The best way to determine if you've found the right one is to see if it 'disappears' on your skin.
Be sure to test in different lighting locations such as natural light and artificial light.
Your skin type is another factor in choosing the right foundation. If you have oily skin, look for foundations offering matte and oil absorbing features.
If you have dry or aging skin, it's probably best to stick with foundations which have moisturizing ingredients like aloe vera and shea butter.
Note – some foundations will cause your skin to feel even drier, so if this is a concern of yours, pay close attention to the ingredients.
Finally, word to the wise, you may notice a color selection looks darker in the bottle, but most times it will appear lighter once applied to your skin.
Foundation Application Tips
The correct foundation application is essential in order to achieve the flawless look you are going for.
Pressed powder foundations are a little easier since they can simply be applied using a powder foundation brush.
Also, there's little chance you'll see a line of demarcation on your jaw – a foundation 'no-no.'
Yet, when it comes to liquid foundation there are some dos and don'ts you should be aware of.
In this energetic video, you'll learn more about these dos, don'ts, and other helpful tips:
Keeping it simple, you should start with moisturizing your skin, and often it is recommended you use a primer.
Using a flat brush, kabuki, or a sponge, apply evenly on your face and remember to blend! Use whatever works for you, and this could be your fingertips as well.
Whichever tool you use, just make sure it's clean!
Too much foundation, or the wrong shade, may give you mixed results so make sure the foundation appears to 'disappear' on your face.
Pay attention to the areas of discoloration under your eyes and around your nose especially.
Setting the foundation with a setting spray or pressed powder is another trick of the trade to ensure it lasts long and doesn't rub off on anything (or anybody).
Things to Look for That Differentiate These Products
First of all, choosing a foundation free of toxic chemicals is the most important decision you'll make for your health and condition of your skin.
Quite often, you'll find foundations on the market containing ingredients which can negatively affect your health.
While this may seem obvious, our skin is very porous, and therefore anything you put on your skin will absorb into your system. So the healthier the better when it comes to cosmetics!
All of the foundations on our list are all-natural, non-toxic, vegan, and cruelty-free; meaning there are no harmful chemicals, animal byproducts and the products were not tested on animals.
There are a few differences among these products. While the ingredients may appear to be similar for the most part, the products differ in scent, coverage level, and matte or dewy finish.
Also, the foundations here are either liquid or powder which deliver different results, and this gives you options while you search for the best one for you!
6 Top Picks for Vegan Foundations
Whether you are looking for light, medium or full coverage in a liquid or pressed powder, there's a vegan foundation for you here!
BaeBlu Organic Aloe-Based LUX Liquid Foundation
BaeBlu's organic and all-natural liquid foundation is also a primer and it's anti-aging!
It's never too early to start using products to maintain and protect your skin from damaging elements which can lead to skin aging.
This foundation is non-greasy – it actually blots oil – and contains nourishing ingredients which naturally smooth fine lines and wrinkles.
The plant-based ingredients include shea butter and aloe to calm and treat the skin while protecting the skin's protective moisture layer and balance dry spots.
There are lots of wonderful extracts such as olive, lavender, goldenseal, rosemary, and thyme.
Anti-aging and protection go a step further with the addition of vitamin E and natural mineral sunscreen.
The company provides excellent guidelines to help you find the right color for your skin tone and undertone.
There are 12 different colors to choose from; and they range from the lightest color of 'Vanilla' to the deepest tone of 'Kona.'
In keeping with BaeBlu's commitment to us, animals, and our planet, this product is completely plant-based, vegan and cruelty-free!
What We Like
Non-greasy and non-toxic
Blendable and buildable but lightweight
Lots of color options
Good for dry and sensitive skin
Light vanilla scent
What We Don't Like
Pump design; hard to control amount dispensed
Water base creates a very liquid consistency
May not last or set for a long time
Might cause a reaction on some skin types
EVXO Organic Liquid Mineral Foundation
EVXO makes it easy to maintain your healthy lifestyle and create a 'natural' look – their liquid mineral foundation is all-natural and will help smooth your skin's texture with the power of plants.
This product has a unique gluten-free formula using a vitamin E not derived from wheat, which is usually how this vitamin is sourced in cosmetics.
Vitamin E is a wonderful vitamin for the skin helping with the healing process and protecting from free radical damage.
Additionally, there are lots of great ingredients and mineral sunscreen to improve and protect your skin and leave it looking great!
These include chamomile which is a natural anti-inflammatory and can calm reactive, sensitive skin. Also, thyme can naturally treat acne and is anti-bacterial!
Using a liquid foundation can be a bit daunting since the pumps usually don't allow you to control the amount dispensed.
EVXO uses a push button dropper instead of a pump – whether you want a little or a lot; you are in control!
There are 12 long-lasting shades to choose from to help you find your perfect match!
It's best when applied with a foundation brush, but you can use a sponge or even your fingers.
What We Like
Non-greasy; dewy finish
Buildable to medium coverage
Push button dropper
Gluten-free formula
Non-toxic and all-natural ingredients
What We Don't Like
May lead to streaking and some may not like consistency
Push button dropper design may be frustrating for some people
Coverage may be too light – depends on your preference
Some may not like the scent; similar to vanilla cake
100% PURE Fruit Pigmented Healthy Foundation
This foundation is not only packed with nutrient-rich super fruits, it is also pigmented using berries and fruits!
It provides full coverage with a lightweight, matte finish using rice starch to absorb oil and control shine.
If you're looking to conceal dark under-eye circles and blemishes this could be the foundation you are looking for.
As the brand's name suggests, this formula is 100% pure and natural including lots of vitamins and antioxidants to help your skin achieve ideal health.
Included among the super fruits is acai berry rich in vitamins A, B, C and E, minerals and antioxidants making it a great anti-aging ingredient.
Pomegranate is also a great anti-aging ingredient full of antioxidants and skin-brightening vitamin C.
I love the inherent benefits in all the ingredients and the mineral sunscreen for added protection, and especially the unique means of pigmentation!
For application, it's recommended to dot the forehead, cheeks, nose, and chin.
Then blend outward with foundation brush or fingers; applying more as needed to build the coverage you desire.
What We Like
Fruit pigments
Anti-aging ingredients
Beneficial super fruits and extracts
SPF 20 mineral sun protection
Good for sensitive and acne-prone skin
What We Don't Like
Colors are warm toned; not the best match for cool skin tones
May appear streaky or chalky if applied to non-moisturized skin
May be drying for some skin types
Problems with the pump design may arise
Skin2Spirit Better'n Ur Skin Organic Liquid Foundation
Skin2Spirit brings you a liquid foundation which feels better than your own skin! It isn't matte, so it leaves your skin with a powdery, dewy appearance.
This product is great for oily, dry or aging skin and it's infused with real vanilla for a delicious scent!
Rather than water, this is aloe-based making it naturally moisturizing and calming; great for covering blemishes and redness too!
I like the buildable feature in the formula and the natural mineral sun protection it provides.
The natural foundation is capable of reflecting light thereby making fine lines, and other signs of aging, less noticeable.
The color palette is unique; offering 12 different shades in cool, neutral and warm ranging from very fair to dark brown and everything in-between.
It is great for all ages, and especially people over 40 – with continued use it will actually improve the appearance of your skin!
The company offers a 100% satisfaction guarantee – if you end up with the wrong color, return it, and they will help you find the right one!
Apply a small amount to the face and neck with a brush or sponge. Skin2Spirit sells a vegan blender brush if you need one.
What We Like
Smooth and easy to blend
Nice scent
Buildable – sheer to medium coverage
Great color options
Gluten-free and all-natural healing ingredients
What We Don't Like
Can't control amount dispensed with pump
Coverage may be too light for some people
May not work for some skin types
Luscious Cosmetics Velvet Matte Oil Control Pressed Powder Foundation
Luscious Cosmetics' pressed powder foundation is perfect if you are looking for oil control and a matte finish.
This multi-tasking foundation can also be used as a touch up over liquid foundation or on its own, and it minimizes pores while evening out your skin tone.
Even more, it contains lots of minerals and vitamins great for your skin, and protects with UVA/UVB sunscreen.
There are 7 shades to choose from, and there are a few different undertones associated with the shades including gold, pink, neutral, and warm.
This long-lasting foundation delivers sheer to medium coverage, and can be used in combination with other foundations depending on your preference.
The pressed powder does not have any scent or added fragrance, and includes vitamin E and minerals to protect and heal.
Impressively, Luscious Cosmetics have been featured in fashion and beauty magazines like Allure and Vogue!
Apply with included sponge in downward strokes and increase coverage gradually as desired. If you prefer sheer coverage, use a powder brush.
What We Like
Great for oily skin; matte finish
Long-lasting
Cruelty-free and vegan
Mineral sun protection
Good skin tone and undertone options
What We Don't Like
Some may prefer more coverage
Harvest Natural Beauty Perfecting Organic Liquid Foundation
Harvest has formulated this color-adjusting liquid foundation designed to perfect your complexion with 100% all-natural ingredients, and it is breathable and lightweight.
There are 6 color options for cool, neutral and warm skin tones offering light and comfortable coverage, and it does not contain any toxic ingredients such as parabens and petroleum.
I like the natural mineral sunscreen included for added protection along with the nutrient-rich ingredients to help improve the appearance of your skin.
For instance, aloe vera, as the first ingredient, is soothing and naturally anti-inflammatory.
Shea butter is also anti-inflammatory and has high amounts of essential fatty acids and vitamins to tone the skin.
Several extracts like lavender, rosemary, goldenseal, and thyme are included, and protective, sunflower-derived vitamin E is in there too!
This product does not clog your pores, and helps improve the appearance of your complexion while simultaneously concealing imperfections.
Use your fingers, sponge, or foundation brush to blend into your skin and enjoy!
What We Like
Natural, non-toxic ingredients
Smooth and lightweight
Beneficial extracts, aloe, and shea butter
Effective concealer
Pleasant scent
What We Don't Like
Colors may not be as expected
Feel and texture may not be some people's preference
Top Choice for the Best Vegan Foundation
There are times when it's difficult to pick the top choice among so many awesome products, and this is one of those times!
All of the vegan foundations on our list are amazing with all-natural ingredients, free of toxic chemicals, and treat your skin as they conceal blemishes and/or signs of aging.
However, Skin2Spirit Better'n Ur Skin Organic Liquid Foundation stands out among the others!
I love the aloe base instead of water making it inherently wonderful for inflamed skin and a treatment for redness.
Also, it's smooth, buildable, and great for all skin types from oily, dry to aging.
It's even more unique because when used over time, it will actually improve the appearance of your skin.
Plus, there are so many colors to choose from, and excellent guidance to assist you in finding your perfect match!
This, along with its delicious vanilla scent, makes it our top choice for the best vegan foundation brand.