Eyeshadow can help create so many different looks, and also provide contour and dimension to your eyes!
Here's our list of top picks for the best vegan eyeshadow palettes for you to check out!
In a Hurry? Here's Our Quick List of Top Picks
Why Eyeshadow is a Make-up Must Have
Eyeshadow has been a popular means to bringing attention to one's eyes for centuries.
In ancient Egypt, about 12,000 years ago, kohl was invented which was used to adorn the eyes of royalty with pigment.
In ancient Greece, they would use eyeshadow in shades such as green and blue made from gemstones such as lapis lazuli and malachite.
Since then this custom has spread around the world and has become a staple in most people's make-up kits.
Eyeshadow is a make-up must-have for many reasons such as creating dimension and contour to your eyes and making your eye color pop.
Our eyes come in many different beautiful shapes and sizes. Eyeshadow is the key to accentuating their shape and making them stand out.
Eyeshadow also is useful for creating different looks such as a polished, casual look for work or a super glamorous look for a night out.
How to Choose the Right Palette for You
Your eye color is the most important factor to consider when choosing the right eyeshadow palette to make your eyes pop!
Here are some suggestions to help you find the right palette:
Brown – try shades such as taupe, hazelnut or chocolate on the crease and moss green, plum or champagne on the lid.
Blue – try deeper tones such as warm brown, and rose gold, pale gold or shimmery peach to the lid; you could even try grey or silver for the smoky eye look!
Green – shades of purple like plum, burgundy, and violet would look great, but also try soft tan or brown shades.
Hazel – since hazel eyes are usually a combination of colors you have the option to use earth tones such as browns and golds or even shades of purple.
Watch this informative video for more tips on choosing the right eyeshadow palette for your eye color:
Next you should consider your skin tone when selecting an eyeshadow palette,
For fair skin, look for sheer colors such as taupe, cool pink or soft green for example. You'll want to avoid grey or black such as those used to create the smoky eye.
When contouring, use a color a few shades darker than your natural skin tone so it won't overwhelm the rest of your face.
For darker complexions, it's best to avoid soft shades which may look faded or invisible. Instead try choosing brighter colors and warm pigmented shades.
Finally, consider your lifestyle. Are you a business person? Do you attend lots of parties or events? Are you casual 24/7?
Finding an eyeshadow palette for all of life's events is important and you may need to keep more than one in your toolkit.
Although some of us prefer to find a neutral palette useful for any occasion.
Things to Look for That Differentiate These Products
With so many eyeshadow palettes on the market today it's hard to know which ones to look for.
It's important to keep in mind whatever you apply to your skin is absorbed through your pores.
Narrowing your search to only natural make up will help keep unnecessary toxins from entering your body's system.
Specific toxins you'll find in some eyeshadow include talc, petroleum-based oils, and paraben for example.
All of the palettes on our list are natural, vegan, and cruelty-free. This means they have only naturally-derived ingredients, and no animal byproducts or testing are involved!
The eyeshadow palettes listed here each have their own special qualities so look for the attributes right for you.
For example, some palettes have multiple colors in one, while others may be a duo or single color. A few come with their own double-ended applicators and mirrors too!
The palettes have all shimmer, all matte colors, or a combination of both!
Plus, you'll see certain products have beneficial ingredients for moisture, waterproofing, and even anti-aging and sun protection.
Eyeshadow Application Tips
Eyeshadow application can be tricky. Most of us who are not professional make-up artists struggle when figuring out the correct method for applying eye make-up.
However, the benefit to learning the correct method will pay dividends when you are able to achieve the look you want to create and your eyes look stunning!
There are a few guidelines to follow to help you get started.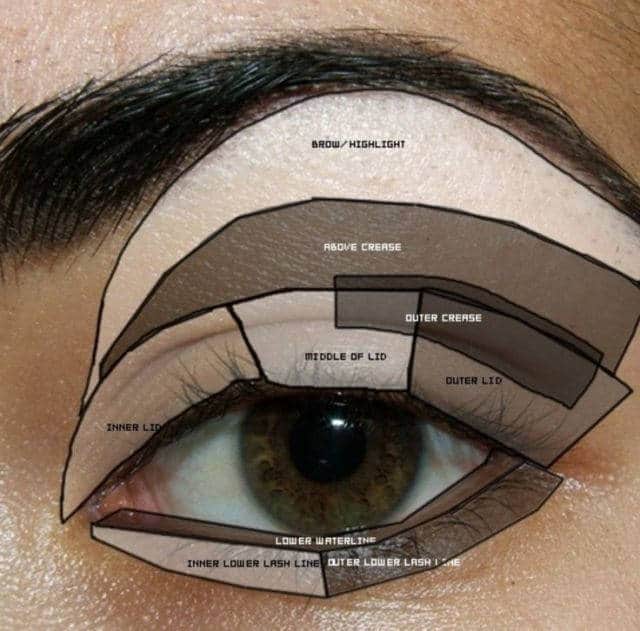 This chart illustrates the several areas of your eye when it comes to eyeshadow application such as eyelid, brow, lower lash line, crease and waterline as it's called.
Applying primer as a first step is recommended. Then choose a color lighter than your skin tone for the inner lid and the inner half of your middle lid.
Next, use a darker color on the outer half of your middle lid. For the outer lid, make a "V" going up and into the crease.
Applying color above the crease and a highlight to your brow line will help create dimension.
The lower lash line and waterline are perhaps a forgotten area of your eye involved in eyeshadow application.
Here you can apply a shimmery color to enhance your eyes and make them appear larger.
As you can see, many steps go into proper eyeshadow application and it's understandably overwhelming! Hopefully these tips have made it seem less daunting.
See this video to learn some splendid tricks of the trade:
6 Top Picks for Vegan Eyeshadow Palettes
From our top picks you are sure to find an eyeshadow palette that suits your needs and will help you put your best face forward!
VERONNI 12 Colors Eyeshadow Palette
VERONNI's eyeshadow palette contains 12 different colors to help you create any look you are going for!
This eyeshadow is non-toxic and waterproof to keep it from creasing or fading while wearing.
Fine particle technology is used to create a great variety of colors you can combine for any occasion.
So whether you want a smoky eye look for a night out, or a more toned down and casual look for work, VERONNI has you covered!
If you're looking for bronze and neutral colors to dress up or down you should definitely check this one out!
I love how versatile and customizable this palette is! Also, for the price you get a long lasting, highly-pigmented color to use for everything.
What We Like
Long-lasting and waterproof
Non-toxic
Matte, metallic colors great for blending
Nice packaging
What We Don't Like
Colors may not work for everyone
Applicator brush isn't the best
Pacifica Island Life Mineral Eyeshadow Palette
Pacifica Island Life's eyeshadow is all you'll need for a trendy, beautiful look!
The mix of coconut water and natural minerals makes this palette crease-free and velvety. Plus, it is talc and paraben-free!
The colors are not matte; so if you are looking for a subtle shimmery glow then this one is great for you!
Also, this is a mineral makeup and all the ingredients are vegan and non-toxic.
Mineral makeup has many benefits. It's good for sensitive, acne-prone, or irritable skin, you'll experience less irritation, and it's bacteria free.
Long ago I switched to using mineral makeup exclusively for these same reasons – and it works!
Finally, the applicator is double-ended to assist you with creating the perfect look.
What We Like
Beautiful colors
Good for sensitive skin
All-natural, non-toxic ingredients
What We Don't Like
Colors not dark enough for all skin tones
Not suitable for people with coconut allergy
BaeBlu 100% Natural Vegan Eyeshadow Makeup
BaeBlu's eyeshadow is all natural, non-toxic, and vegan! It comes in 18 shimmery or matte colors to choose from (the color "Bark" is featured in the photo).
You can apply this wet with a little water or liquid primer or apply it dry which I love!
All of BaeBlu's colors are entirely plant-based and are gluten and chemical-free. They also don't use petroleum-based oils, fillers or fragrances.
The color is buildable, highly pigmented and long-lasting! There are many different options to create any look from matte, shimmery, neutral, bright metallic, or sultry smoky.
With this eyeshadow you can achieve a variety of looks using a brush and a medium such as primer.
These looks include ultra-pigmented, buffed and blended, or even as a solid liner called the "foil effect" using the shiny metallic colors.
What We Like
Versatile and blendable
Good for sensitive skin; non-allergenic
Many colors to choose from
All natural and non-toxic
What We Don't Like
Colors may differ from how they are pictured
Color may come off easily
Too powdery when dry
Lauren Brooke Cosmetiques Pressed Eyeshadow Duo
Lauren Brooke Cosmetiques' eyeshadow offers 12 duos of complementary hues for contouring and dimension (Cappuccino/Pearl pictured). They're cruelty-free, non-toxic, and 100% natural!
These highly-pigmented pressed eyeshadows go on smoothly and blend well!
What makes this product so unique are the many nutrient-rich ingredients beneficial to your skin.
The zinc acts like a natural UVA and UVB protectant, while the broccoli seed is rich in vitamin A and essential fatty acids.
The orange peel wax is moisturizing and anti-microbial, and the jojoba, lecithin, and allantoin are all nourishing and anti-aging by encouraging new cell growth.
I love all the plant-derived ingredients and some are even listed as "edible plant-based oil."
I'm sure you won't try to eat your eyeshadow, but it's reassuring to know the ingredients are that safe!
Also, this is also EU and Cert Clean certified so it meets very high standards! It is eco-friendly, non-GMO, and gluten free as well.
What We Like
All-natural, plant-derived ingredients
Nutrient-rich pressed powder
Complementary color duos
Non-toxic and non-allergenic
What We Don't Like
May fade or crease on some skin types
May require more than one application; too light for some
Too shimmery for some people
BYS 12 Shade Matte Eyeshadow Palette Tin Collection with Mirror
BYS' eyeshadow palette has 12 shades to use to create looks from subtle to bold!
Everything you need is included in the tin – mirror, double-ended applicator and blender.
This is a great palette if you're looking for matte color and versatility. With so many colors to choose from, you're able to use your creativity to create many looks.
The palette is quite affordable, and considering it's an all-in-one tin, you can't go wrong!
BYS is an Australian company and pride themselves on their cruelty-free products. Their mission is to offer innovative, trendy products for everyone.
What We Like
Long-lasting, highly-pigmented color
Matte
Affordable price
What We Don't Like
May be chalky or flaky for some
Low quality packaging
Color may be too light for darker skin tones
Honeybee Gardens 'Skinny Dip' Refillable Eye Shadow Palette
Honeybee Gardens' 'Skinny Dip' eyeshadow palette will help you master the "nude look" while offering a great variety of shades.
Porcelain, Cameo, and Canterbury are all matte, and Tippy Taupe is the only shimmery color. They range from pale pink, warm rose, light dusty plum, to brownish grey/plum with shimmer.
The tin includes a mirror and double-ended applicator and blender. Plus, it's recyclable and refillable!
This eyeshadow palette is cruelty-free, vegan, and free of toxins like paraben, chemical dyes, talc, fragrances, and petroleum-based oils to name a few.
It's enriched with botanicals and vitamins like aloe vera, kaolin (beneficial clay), cucumber fruit extract, and vitamin E. Also, the palette is EWG Skin Deep Rating – 1.
What We Like
Universally flattering color palette
Non-toxic and good for sensitive skin/eyes
Recyclable and refillable tin
All natural and cruelty-free
What We Don't Like
Colors may be too light for some people
Packaging requires assembly of the pods
Top Choice for the Best Vegan Eyeshadow Palette
Our top picks have so much to offer from multiple color palettes, shimmery and matte colors, or combinations of both.
However, our top choice for the best vegan eyeshadow palette is Lauren Brooke Cosmetiques Pressed Eyeshadow Duo.
Lauren Brooke Cosmetiques gives you so much all in one eyeshadow palette! I love the complementary color combinations in the duos and the nutrient-rich ingredients.
This eyeshadow palette is unique for its all natural moisturizing, anti-aging ingredients that act like a skin treatment in an eyeshadow!
The palette is non-toxic and also provides natural UVA and UVB sun protection! Genius!
For all of these reasons, and of course all 12 of the beautiful color combinations, Lauren Brooke Cosmetiques for the win!